As a real estate agent, it can be a challenge to keep up with the latest marketing tools. However, if you don't have the right instruments to market your business, you could be leaving money on the table.
Fortunately, with Jigglar, you can access different real estate marketing tools to promote your business. Professionally designed templates such as newsletters and social media posts can help you create content that will draw in potential home buyers.
In this post, we'll discuss why marketing tools are essential for real estate agents. Then, we'll go over the best tools to help you get more leads. Let's get to work!
Why Marketing Tools Are Essential for Real Estate
Marketing your services can seem like another item on a long list of tasks to get done. However, the right real estate marketing tools can help you simplify the process and lighten your load. Plus, they can help you generate more leads and build brand awareness.
At Jigglar, we offer dozens of templates for your marketing content. You can use them to advertise open houses, create suburb profiles, and more: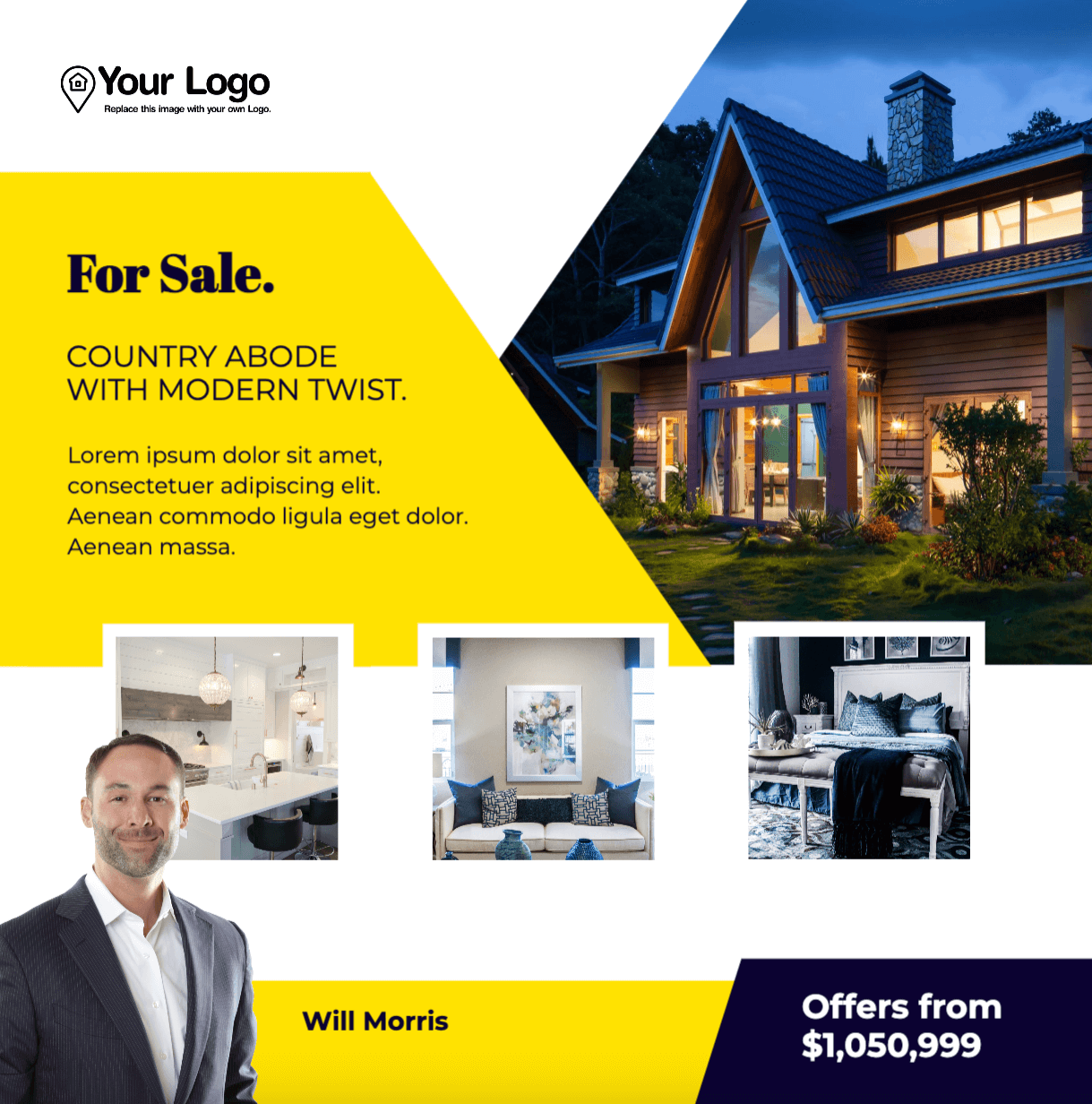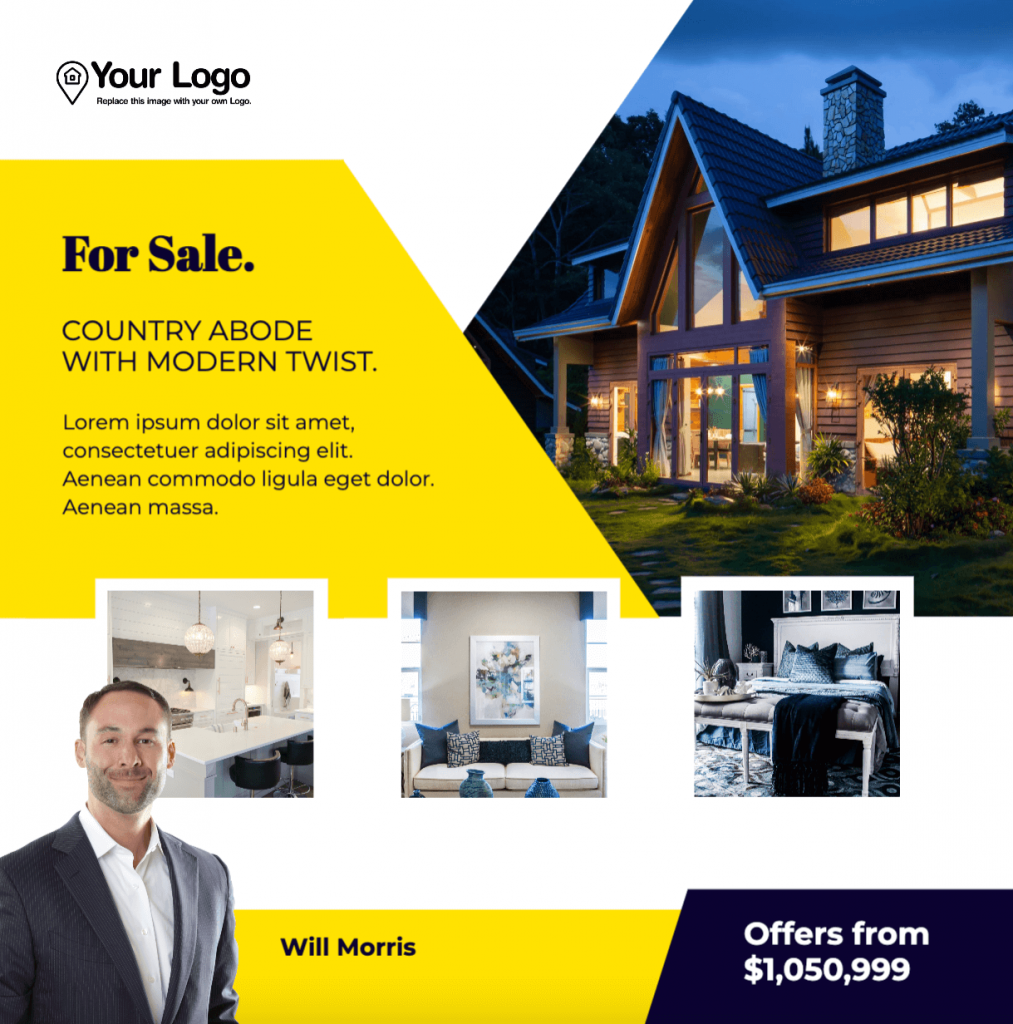 By leveraging the right marketing tools, you'll be able to expand your reach. This can help you gain more clients and sell more properties.
4 Marketing Tools Every Real Estate Agent Needs
Now that you know why marketing tools are essential for real estate, let's take a look at a few templates that can help promote your services and grow your business.
1. Newsletter Templates
A real estate newsletter is an effective way to connect with your prospects and keep in touch with old clients. It lets you communicate with your audience on a personal level and send them valuable content and updates directly to their inboxes.
Jigglar has numerous templates that enable you to create newsletters quickly and easily: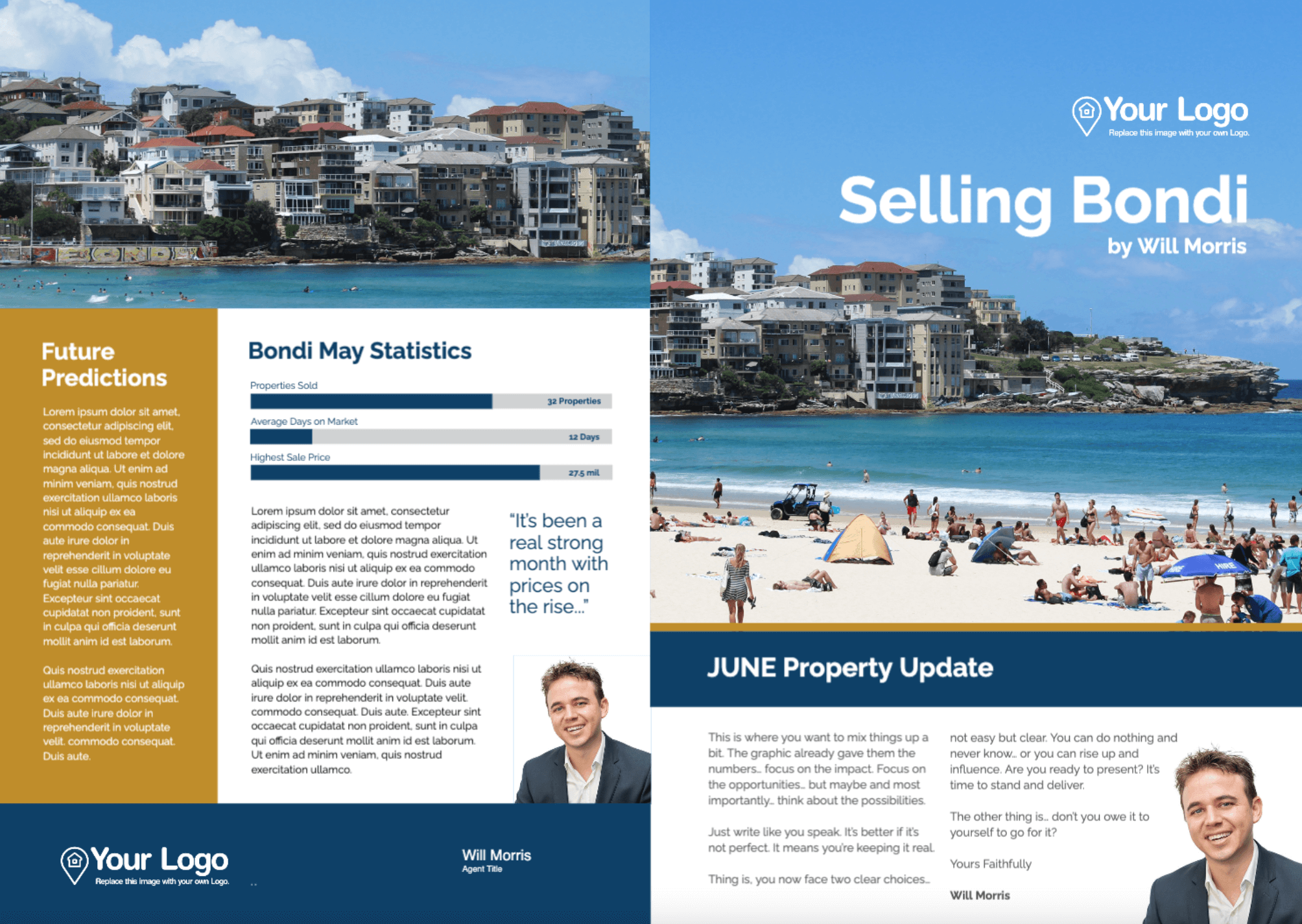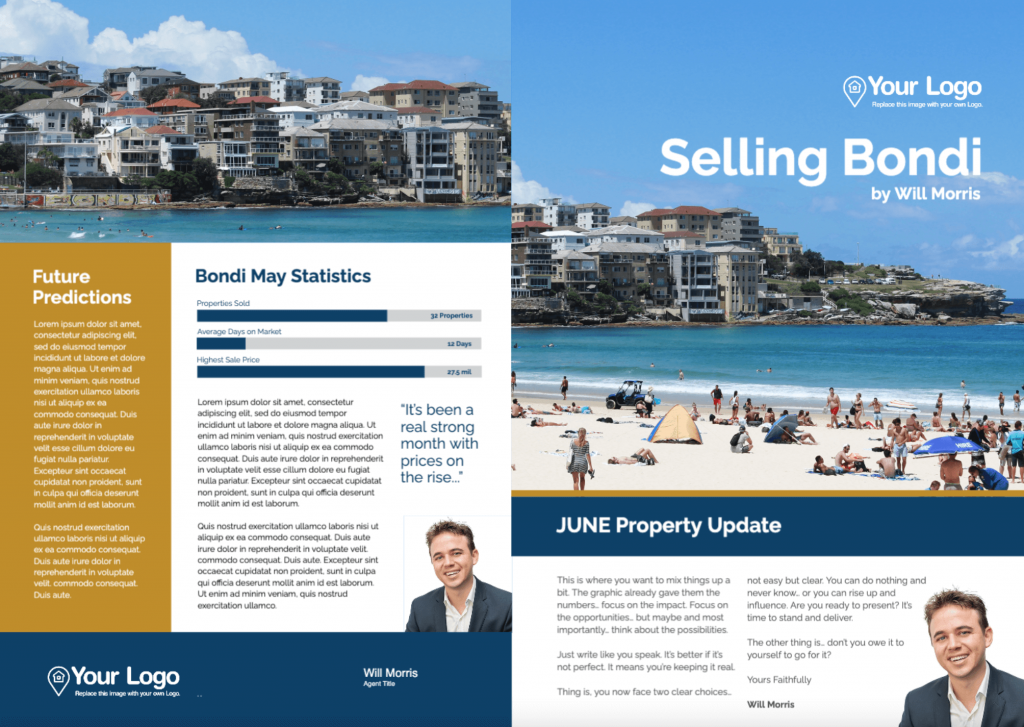 You can customize the template to suit your needs. For example, you can replace the default images with photos of your location or houses for sale. You can also add your logo and include a personalized message for your followers.
A newsletter enables you to share updates and new information about your business. Using this cost-effective method to touch base with clients can help you grow your following.
2. Social Media Post Templates
Social media is crucial to your real estate business. In fact, 60 percent of real estate professionals claim that social media is more important for business than a website.
Therefore, your presence on one or more platforms is essential to promoting your real estate services. Jigglar makes this easy by providing templates for Facebook, Instagram, and YouTube. Using our tools, you can easily create, customize, and post content across a variety of platforms.
For example, our Instagram post image provides a simple template that you can edit with your own information: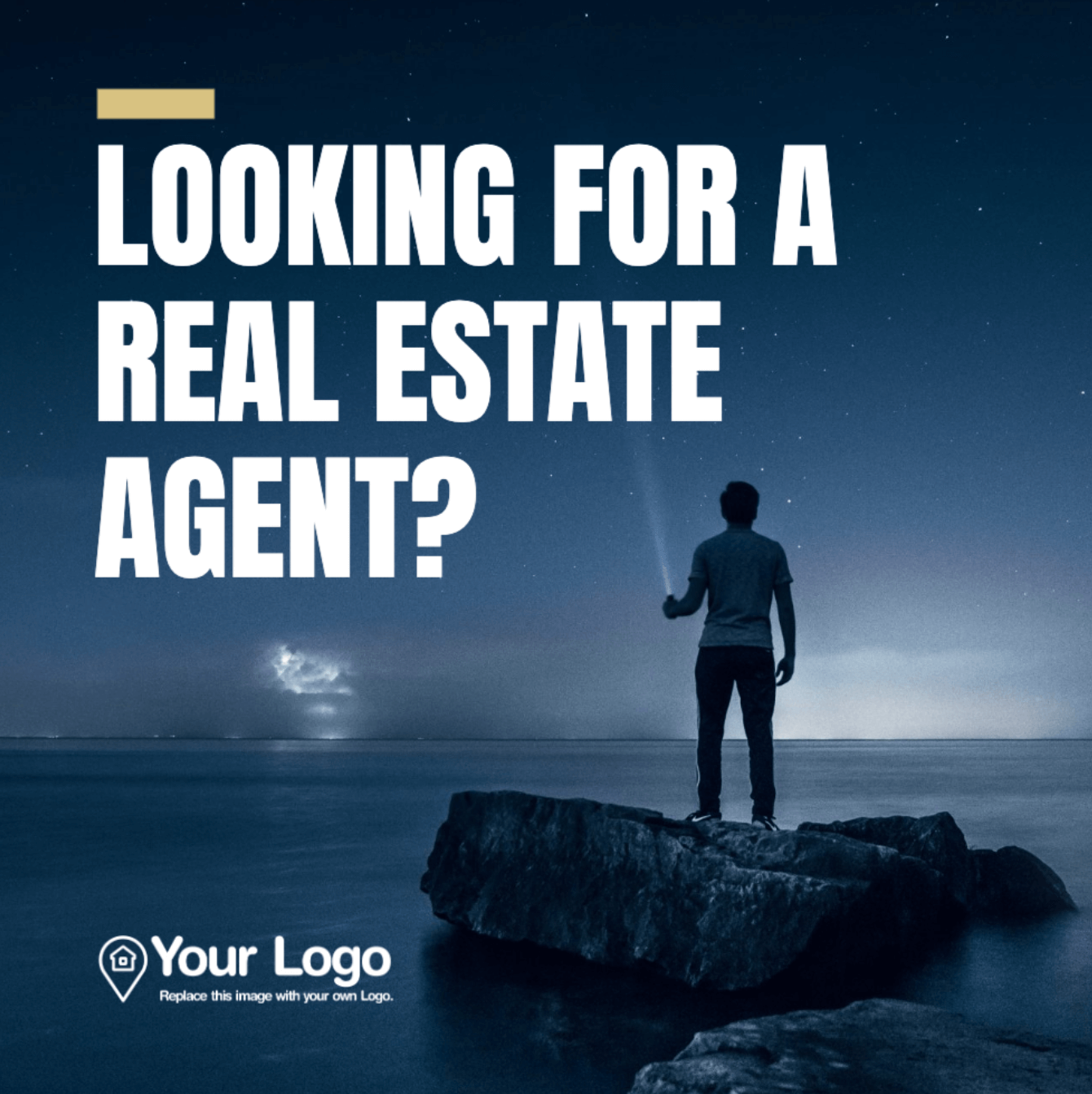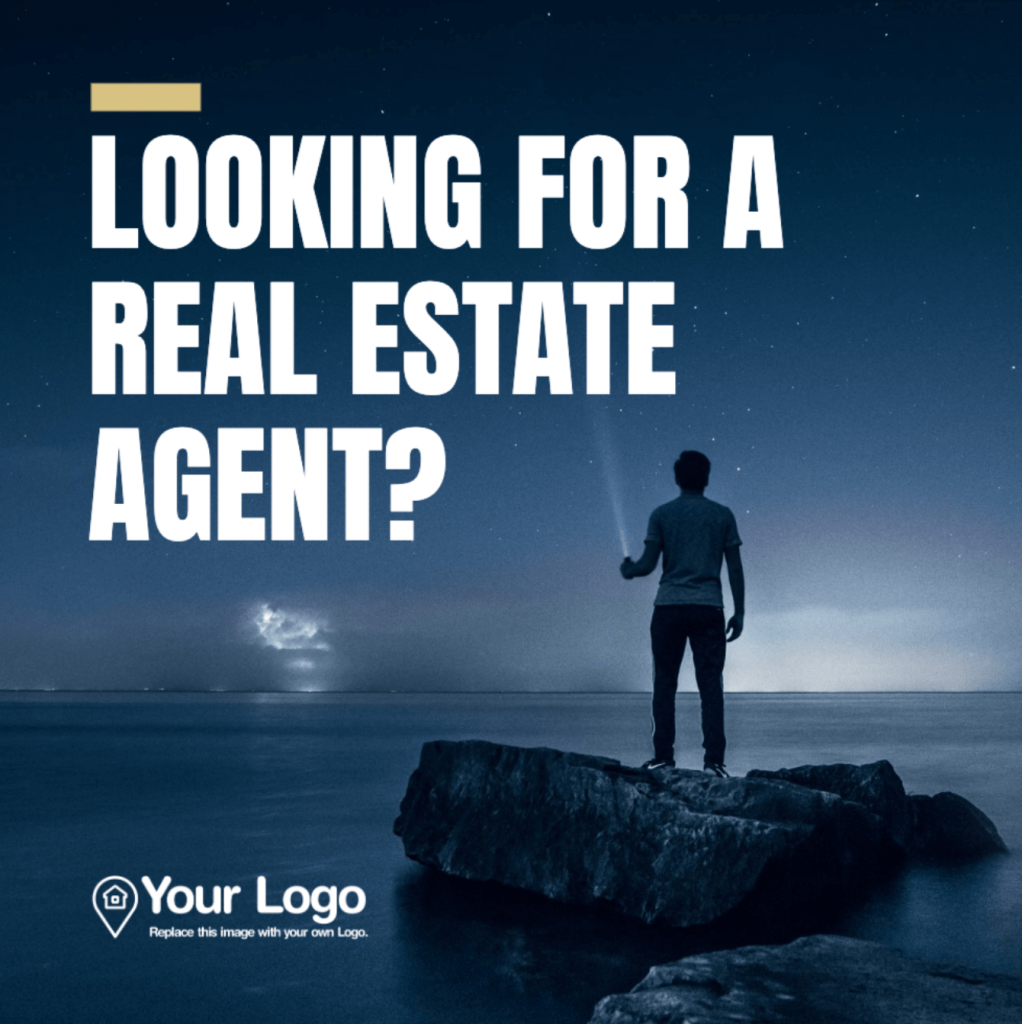 You can add your logo, change the background image, and even edit the copy. Then, you can post the image directly to your Instagram feed so that your followers know they can come to you when buying or selling property.
Although simple, this template provides all the essential information about your brand and services. Moreover, posting eye-catching content on social media can help you grow your following more quickly.
3. Agent Profiles
An agent profile is a way to introduce yourself, your background, and your services to potential clients. It enables you to show your personality while remaining professional.
Jigglar has dozens of templates to choose from. These contain design features such as your headshot, logo, and social media pages: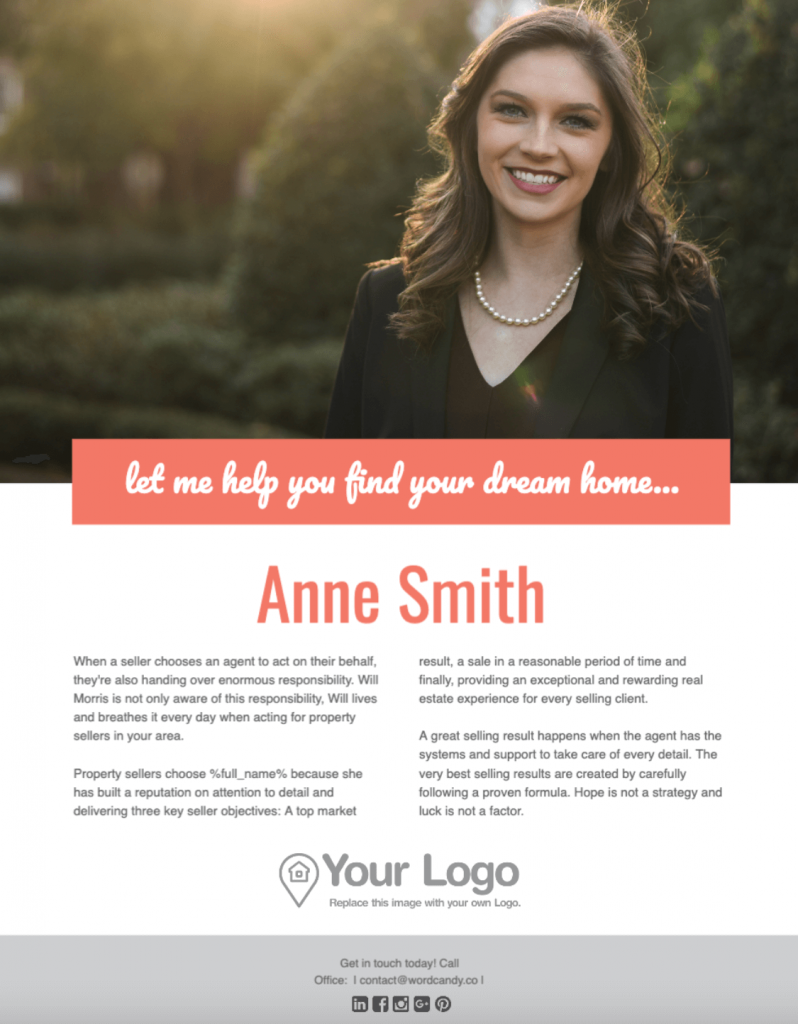 You can change the heading and edit the copy to tell your story. You'll also want to include your contact information so that interested buyers know how to contact you.
4. Listing Flyers
Real estate flyers are another important marketing tool to have. You can use them to display key information about a new listing, such as the address, price, and features of the property, as well as high-quality photos and contact details.
You can use this template to create beautiful listing flyers: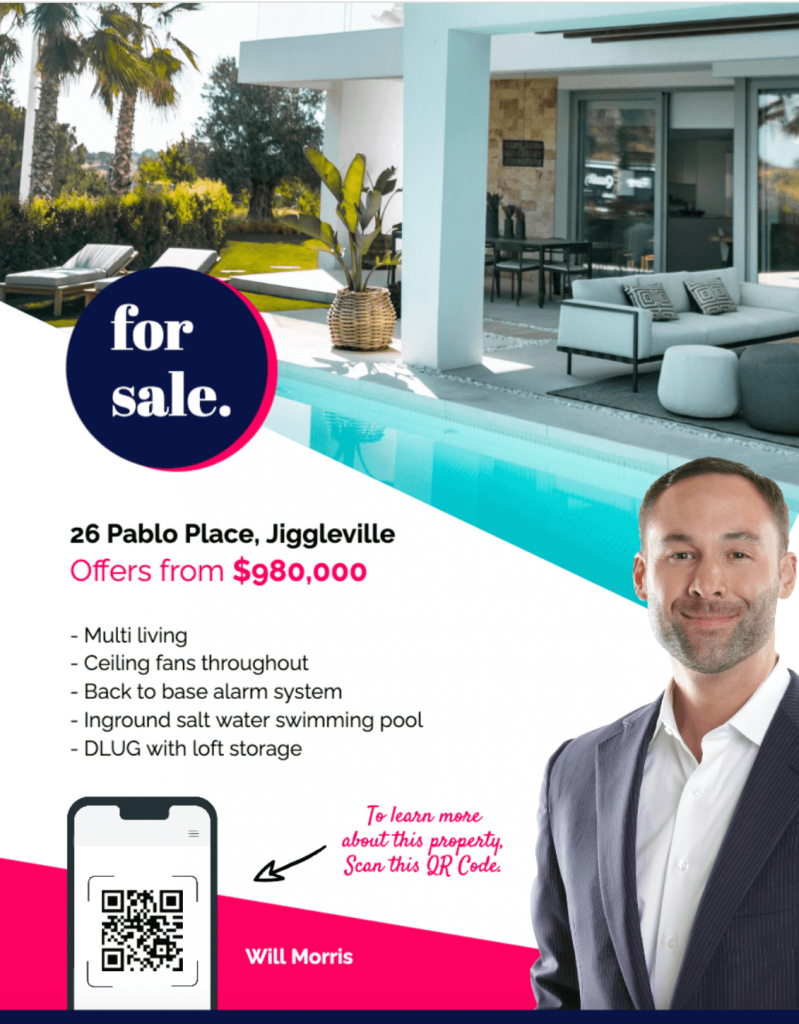 It even has a QR code that you can customize. This way, people can scan the code with their smartphones to quickly access your website, which will give them more information about your properties.
Conclusion
Implementing the right tools into your real estate marketing strategy is crucial to your success. With Jigglar, you'll have access to pre-made templates that can help you create professional content.These tools can help you promote your services more effectively and expand your client base.
In this post, we looked at four essential marketing tools:
Newsletter templates
Social media posts
Agent profiles
Listing flyers
Are you ready to leverage our professional marketing tools? Sign up for a free Jigglar account to access our extensive library of templates!