Being a realtor requires a lot of specialized knowledge. Much of this wisdom comes with time and experience, but there are lots of helpful resources and selling tips available to you. Having reference materials to provide to homebuyers, especially first-timers, can also be extremely useful when guiding them through the process.
In addition to flyers for marketing, social media, and events, Jigglar has some infographic templates chock-full of helpful advice. Some are strictly for agents while others are targeted at homebuyers. As a realtor, you can benefit from both.
In this article, we'll explain the advantages of using real estate templates in your sales strategy. Then, we'll talk about three of the best Jigglar flyers that include selling tips for agents. Let's get to it!
The Importance of Using a Real Estate Flyer Template
For real estate agents, standing out among the competition is crucial. Personality and a bit of pizzazz can go a long way when you're building your brand, but establishing yourself as a credible expert is equally important. A modernized real estate flyer can help you work towards both of these goals simultaneously.
Simply put, with the right real estate flyer templates, you can make a lasting impact with eye-catching yet professional layouts (for a variety of uses). Jigglar offers designs featuring selling tips you can share with your fellow realtors as well as infographics for educating clients. What's more, if you're a newbie or an aspiring realtor, our templates will likely serve as a welcome review of key real estate concepts.
There are flyers that can work great for hanging in an office, passing out to clients, or even sharing via email or on social media. Presenting yourself as a knowledgeable professional is key, and our templates can save you tons of time creating materials that do just that.
The 3 Best Real Estate Flyer Templates with Selling Tips
Below are three examples of real estate flyer templates with selling tips that you can use today.
1. The Real Estate Road Map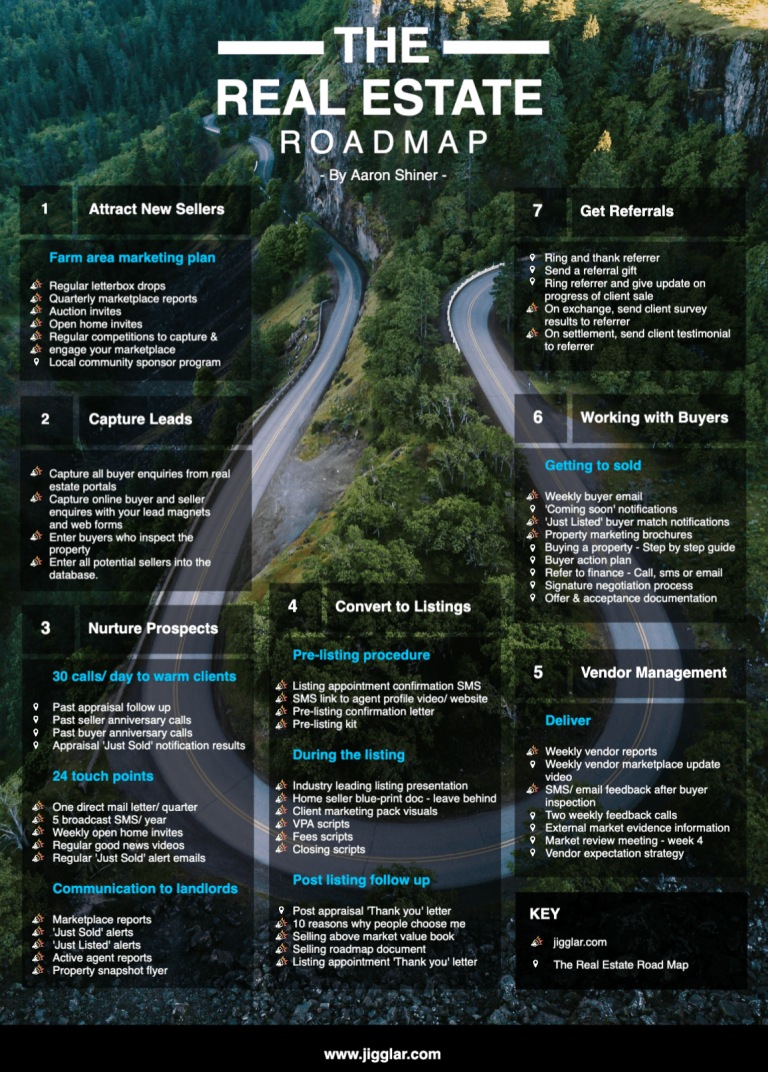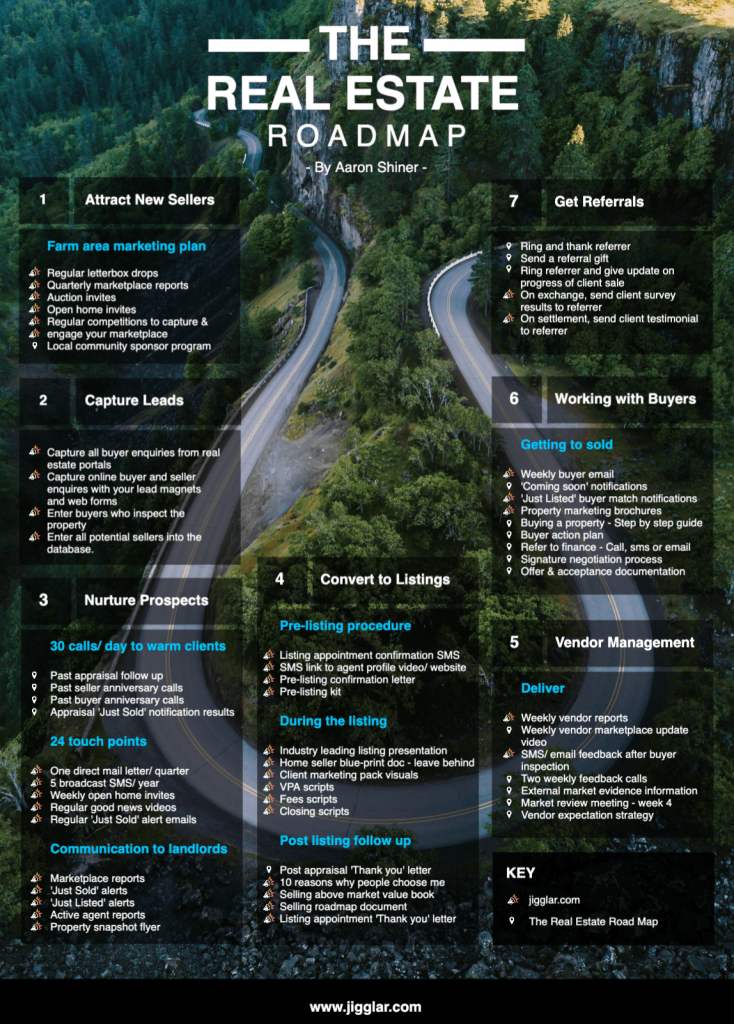 Jigglar has two stunning Real Estate Road Map templates available. They both contain the same information, so it really comes down to the aesthetic you want and how you plan to use them. The example above very aptly portrays the real estate journey using a winding mountain road.
Both templates walk you through seven important steps for success as a realtor:
Attract New Sellers
Capture Leads
Nurture Prospects
Convert to Listings
Vendor Management
Working with Buyers
Get Referrals
Below each step are actionable tips you can use such as when to do past appraisal follow-ups, put together a pre-listing kit, and create a buyer action plan. Although this template contains a lot of content, it is made clear and easily navigable thanks to crisp contrasting colors and clear fonts.
Even if you don't have an immediate use for this template, simply reading it over is likely to give you some great ideas you can use in the future. It's also a great reference you can print out and hang in your office, send to colleagues, or reference when creating your business strategy.
2. Home Buying Road Map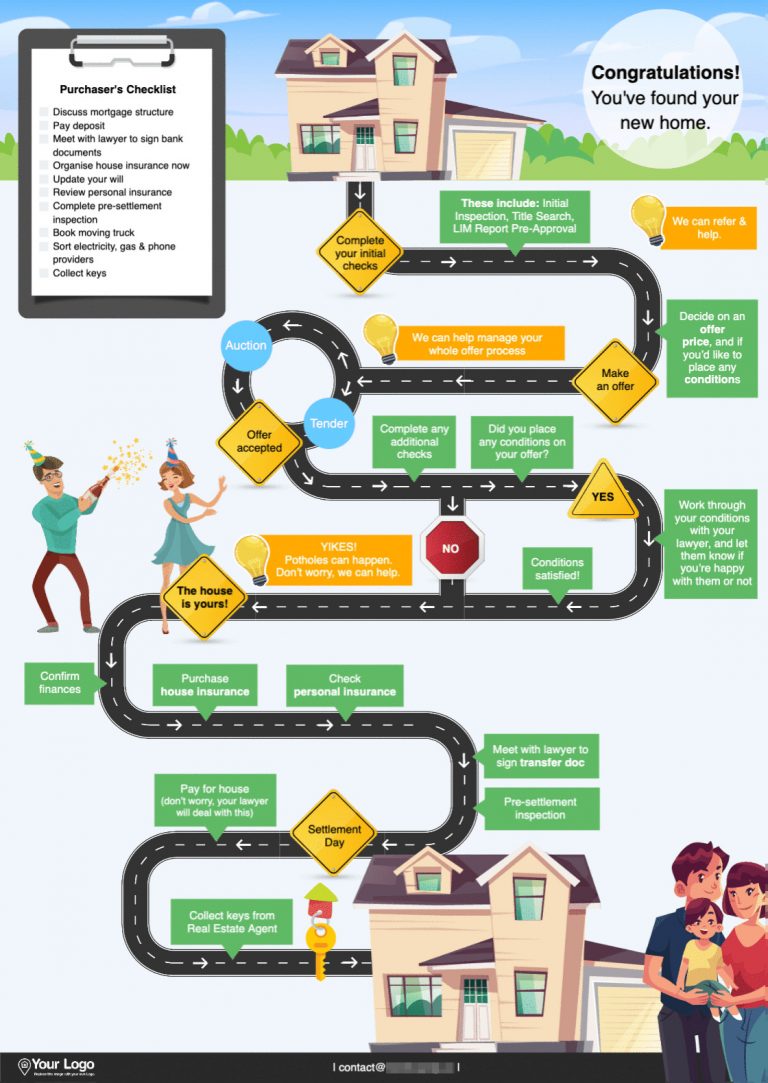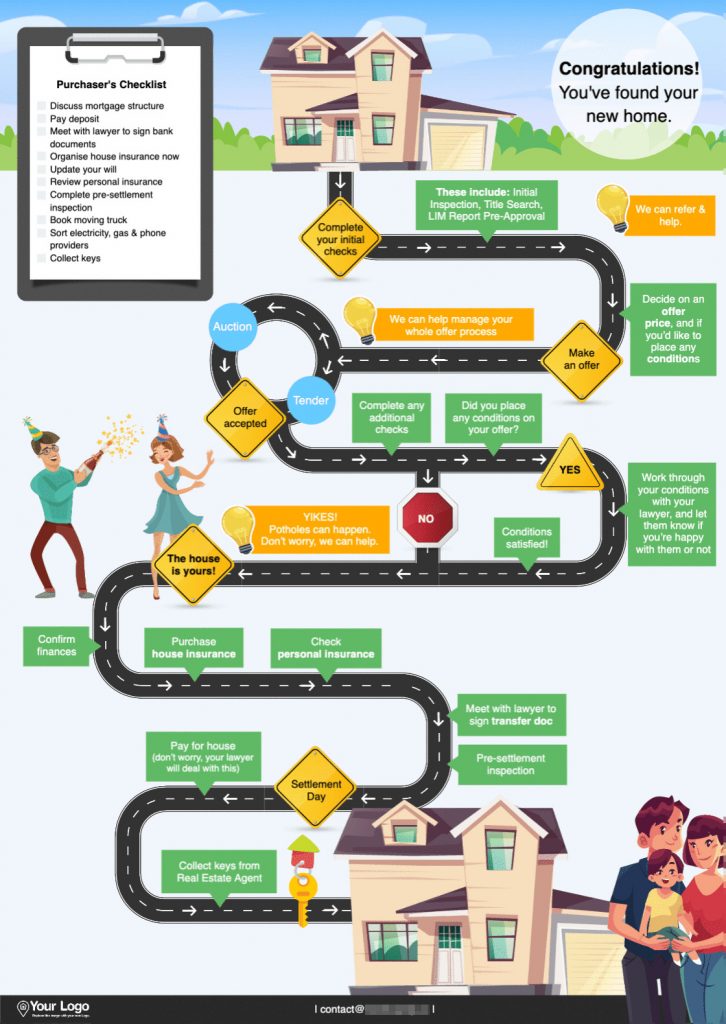 The Home Buying Road Map template, though more geared at the actual buyer, has a ton of great information for realtors as well. Since you will be guiding your buyers (especially first-timers) through the process, the Home Buying Road Map is a helpful flowchart covering the steps along the way.
It starts with the buyer's interest in a home, then continues with the initial check including inspection, title search, and pre-approval. After that, it shows how to make an offer, covering all the necessary sub-steps. It ends with the family happily collecting their new keys.
This flyer is an excellent reference to give to your clients, either in person or digitally, as it can help them visualize where your support will be needed. It also includes a checklist for the purchaser including things like setting up utilities, hiring movers, and updating a will.
Moreover, this template's fun imagery can help get your clients excited about the road ahead. It illustrates where and when they might run into minor 'roadblocks' but also when they'll be able to celebrate.
3. Final Walk Through Checklist
The Final Walk Through Checklist also comes in two versions. While some of these tips are probably common knowledge among seasoned realtors, homebuyers will likely appreciate their thoroughness.
These templates are great for sharing on social media platforms like Instagram, as a quick and helpful reminder. They can also be printed out and shared in person or at open houses. These lists also leave significant footer space where you can add your personal contact info. With your name front and center, it will be more likely to stay fresh in buyers' minds.
This simple checklist might help you or one of your clients notice a leak or even an electrical issue that you may have otherwise overlooked, which can be crucial information to know before making an offer. This is just one more example of the helpful and shareable infographics available with Jigglar.
Conclusion
If you're looking for an easy way to share real estate advice and information, pre-made templates can come in handy. You can use them as a refresher or share them with clients and colleagues. They also work great as printable flyers or for social media posts.
To review, the following Jigglar templates are loaded with selling tips for real estate agents:
Real Estate Road Map
Home Buying Road Map
Final Walk Through Checklist
Did one of these comprehensive real estate infographics catch your eye? You can sign up for a free trial today to learn more about these and other Jigglar designs!