Every business needs a social media presence. However, what social media platform to focus on will depend on what type of business you're running. When it comes to real estate, you can't go wrong with Instagram.
Instagram enables you to share posts showing off new listings, reply to interested parties, and collect potential leads. If you can figure out ways to improve engagement on your real estate Instagram page, it will translate to new business.
In this article, we'll talk about why Instagram is such a good bet for realtors. We'll also provide you with several tips to increase engagement for your Instagram account. Let's get to it!
Why Realtors Should Use Instagram
93% of buyers look at properties online before they even think about contacting a realtor. Social media is one of the primary channels where customers look for potential properties. 47% of realtors indicate that social media results in higher-quality leads when compared to direct marketing or messages from third-party platforms.
When you look for properties online, the first thing that's going to catch your attention is great photographs. A stunning picture of a house or an apartment will make potential buyers look more closely. When it comes to photographs, Instagram is definitely the best bet among other social media platforms.
With Facebook, photographs can get lost among other posts in a feed (although it's also a great platform for realtors). Other platforms, such as Pinterest, are better geared towards decorating than they are towards advertising a business.
A quick look at a hashtag such as #realestate will reveal millions of posts about new listings: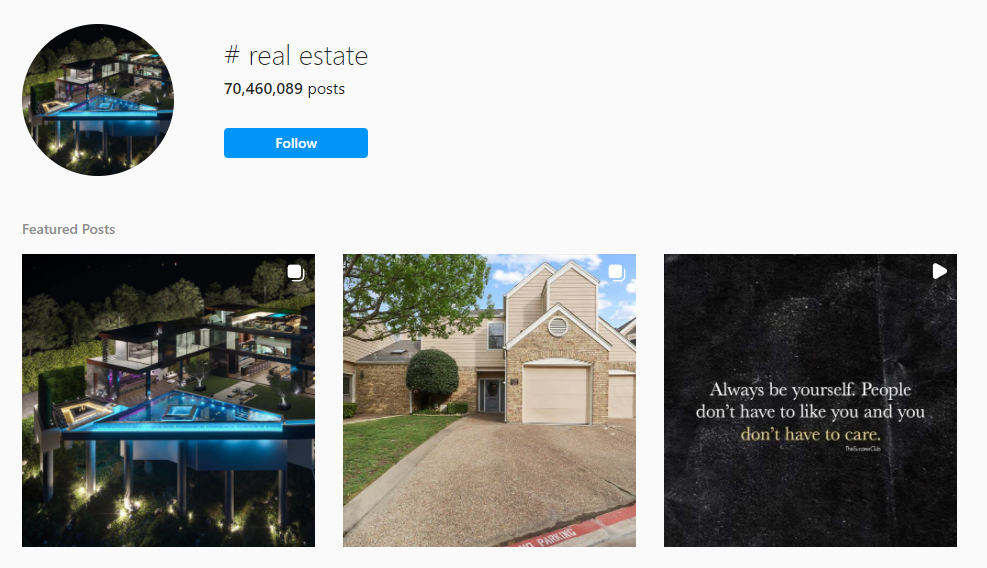 If you're not using Instagram to advertise listings, open homes, and to collect leads, you're missing out on a great source of business. Let's talk about how to remedy that.
How to Improve Engagement on Your Real Estate Instagram Page (3 Tips)
When it comes to Instagram, engagement translates to likes, comments, private messages, shares, and story replies. As a realtor, every single one of those actions can be a source of leads. Let's talk about how to increase them.
1. Use Relevant Hashtags
The most common source of interactions for real estate posts are your existing followers. They might share posts or stories about listings with friends, but those shares can be few and far in between.
Using the right hashtags will enable non-followers to find your posts through Instagram search. Ideally, you'll use hashtags related to real estate and the area for the listing or the open house that you're hosting. Some great examples would be #openhomebrooklyn and #brooklynlistings: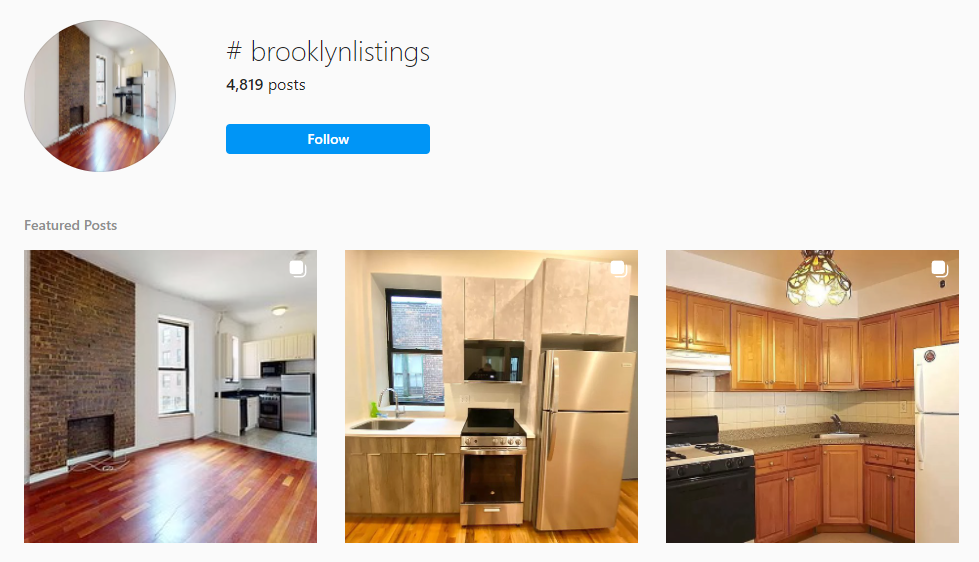 Depending on the hashtag, your real estate posts might get a lot of attention. If you're not sure what hashtag to use, we recommend that you use hashtag research tools to help you find popular options.
2. Host Giveaways for Your Followers
Giveaways and contests are some of the best ways to get more followers on social media. A common format for Instagram contests is to ask people to follow your account and/or tag other friends alongside them.
If you're going to host a giveaway, you'll need to provide good incentives for people to want to follow your account. As a realtor, one fantastic angle could be to provide a free home valuation. A more classic approach would be to offer a free gift card for a popular store.
3. Post Real Estate Marketing Content Often
If your entire Instagram feed is just pictures from your latest listings, you're not going to get a lot of engagement from followers. People will only comment on the listings they're interested in and that's it.
A better approach is to publish real estate marketing posts that help your audience better understand who you are and what services you offer. Take this realtor profile template from Jigglar as an example: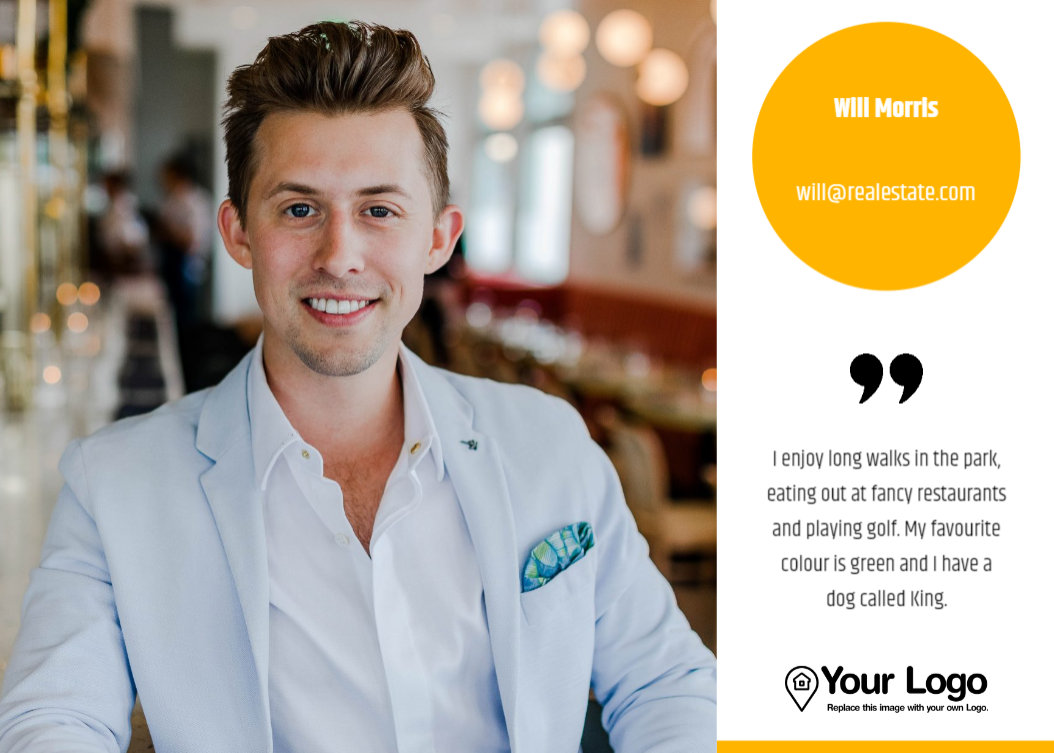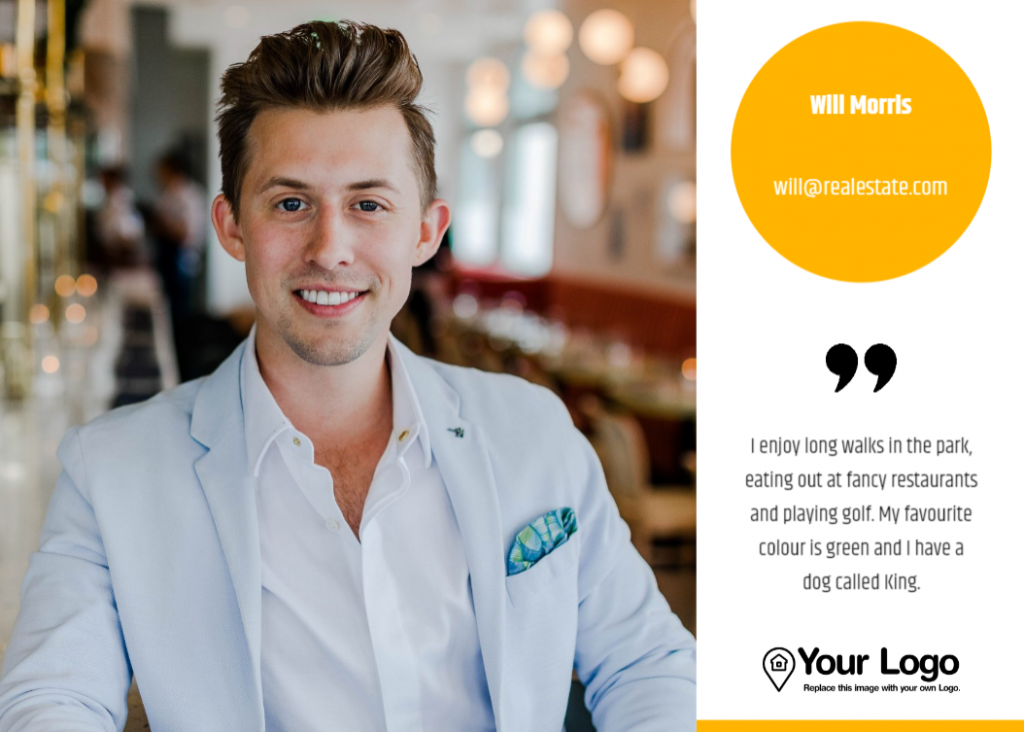 Posts that feel a bit more personal will help the audience engage with you and feel like you're just trying to sell them on the latest property. You can also use your real estate Instagram page to celebrate special events and holidays: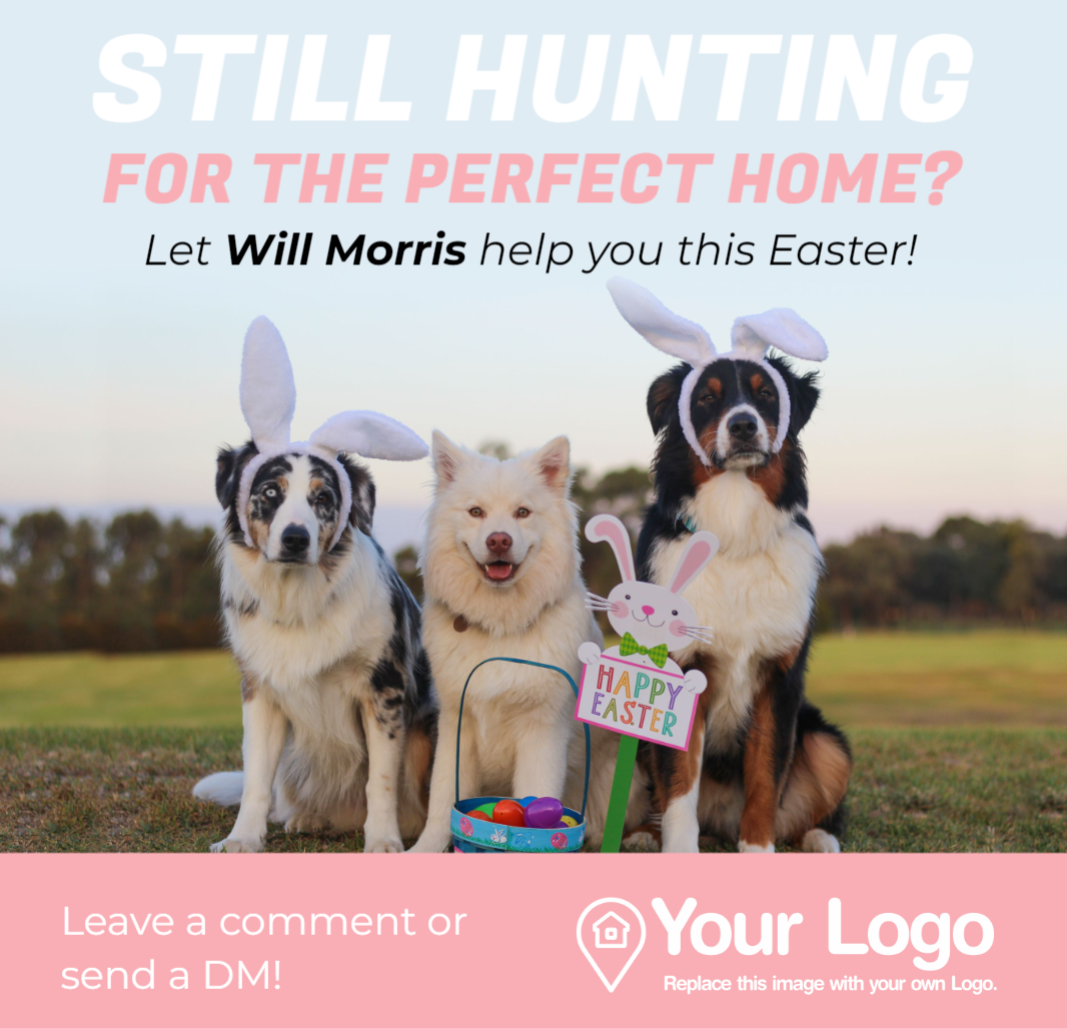 Funny or charming posts are great if you want to drive more comments on your page or encourage users to send you private messages. If you're using a Jigglar template, you can choose to include a phone or email or simply ask users to send you an Instagram DM.
Conclusion
Instagram and real estate go hand in hand. If you play your cards right, a real estate Instagram page can also help you build an audience that engages with your content and that shares posts with friends.
Let's recap the best ways to increase engagement for your real estate Instagram page are:
Use relevant hashtags.
Host giveaways for your followers.
Post real estate marketing content often.
If you're ready to improve your real estate Instagram page, you'll want to use Jigglar. Try Jigglar for free and get access to hundreds of real estate templates that you can use on Instagram!