You can't have a successful real estate business without clients. Therefore, it's important to find effective methods of reaching new audiences and enticing them enough to want more information about your services.
One way you can do that is by running a giveaway. After all, everyone appreciates freebies, whether it be a cup of coffee or something more extravagant such as a pair of AirPods.
In this post, we'll explain some of the benefits of running a giveaway and how it can help you get more real estate leads. Then we'll provide you with some tips for doing so. Let's get started!
Why Run a Giveaway for Real Estate Clients
Real estate can be an incredibly competitive field. In order to grab peoples' attention and drum up interest, sometimes you need to think outside of the box and move beyond traditional marketing methods.
If you've been in a rut or struggling to generate new real estate leads, you might consider running a giveaway: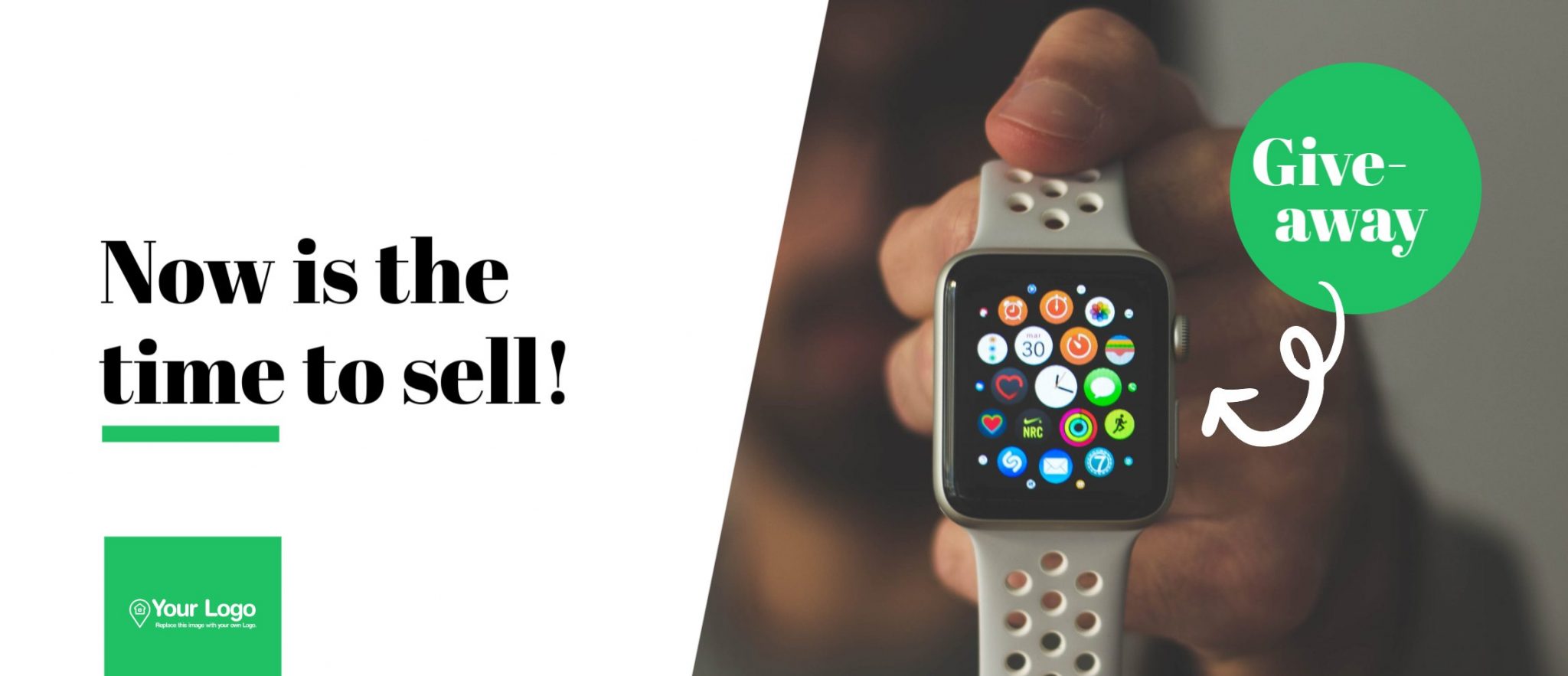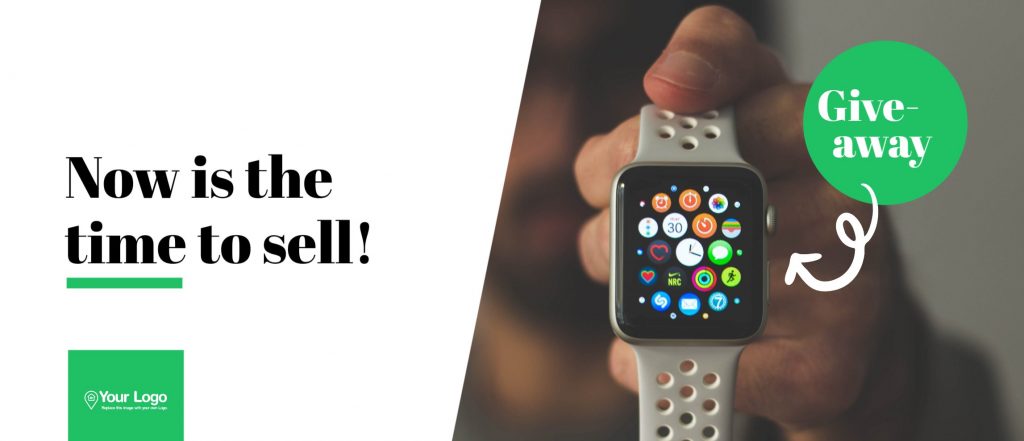 There are a handful of reasons to consider using this approach. One is that it can help you increase not only potential leads but brand awareness as well.
Giveaways present an easy way to obtain contact details from prospects in exchange for a chance to win. They can also be an effective way to boost engagement.
For example, you could run a caption contest where participants need to comment on your post, which can help you boost engagement on your page. As part of the giveaway participation requirements, you might also request users share your post, which can simultaneously help spread awareness.
How To Run A Giveaway To Get Real Estate Leads (In 3 Steps)
Now that we understand a little bit more about the benefits of giveaways, it's time to get into how to start one yourself. Below are three steps you can follow for how to run a giveaway to get real estate leads.
Step 1: Decide What You're Going to Give Away
The first step is to figure out what you'll be giving away. There is a wide range of "gifts" you might consider for a giveaway, ranging from consultation and professional services to gift cards to electronics and gadgets.
Below are some ideas you might consider:
Premium content (long-form articles, guides, checklists, etc.). Note that our Jigglar templates can help you create a range of marketing materials that may come in handy for this!
AirPods, Apple Watch, etc.
Gift cards or certificates
Event tickets
Professional services (consultation, training, etc.)
Webinar and online courses
Gift baskets
Also, you might consider partnering up with a company or brand for the giveaway. They may be willing to donate a product or service in exchange for the exposure and advertisement.
Keep in mind that the prize doesn't need to be overly extravagant or expensive. It can be something as simple as offering a free cup of coffee. However, the key is to pick something that is both relevant and valuable to your specific audience.
Step 2: Choose a Real Estate Flyer Template to Use
Once you decide what you're going to give away, the next step is to create your marketing and promotion materials. The easiest way to do this is by using one of our Jigglar templates.
We offer a wide range of customizable templates you can use for your real estate marketing, including those designed specifically for giveaways: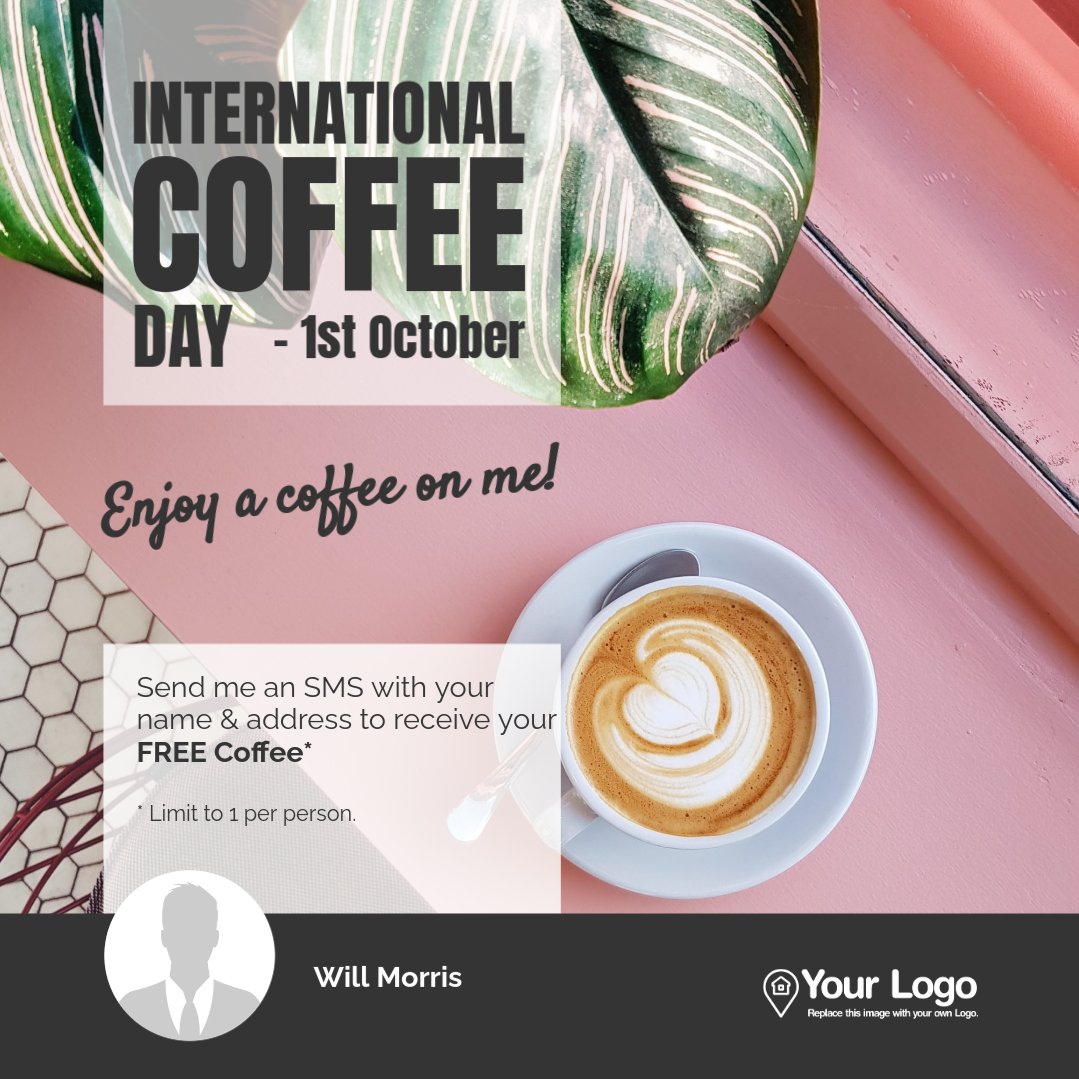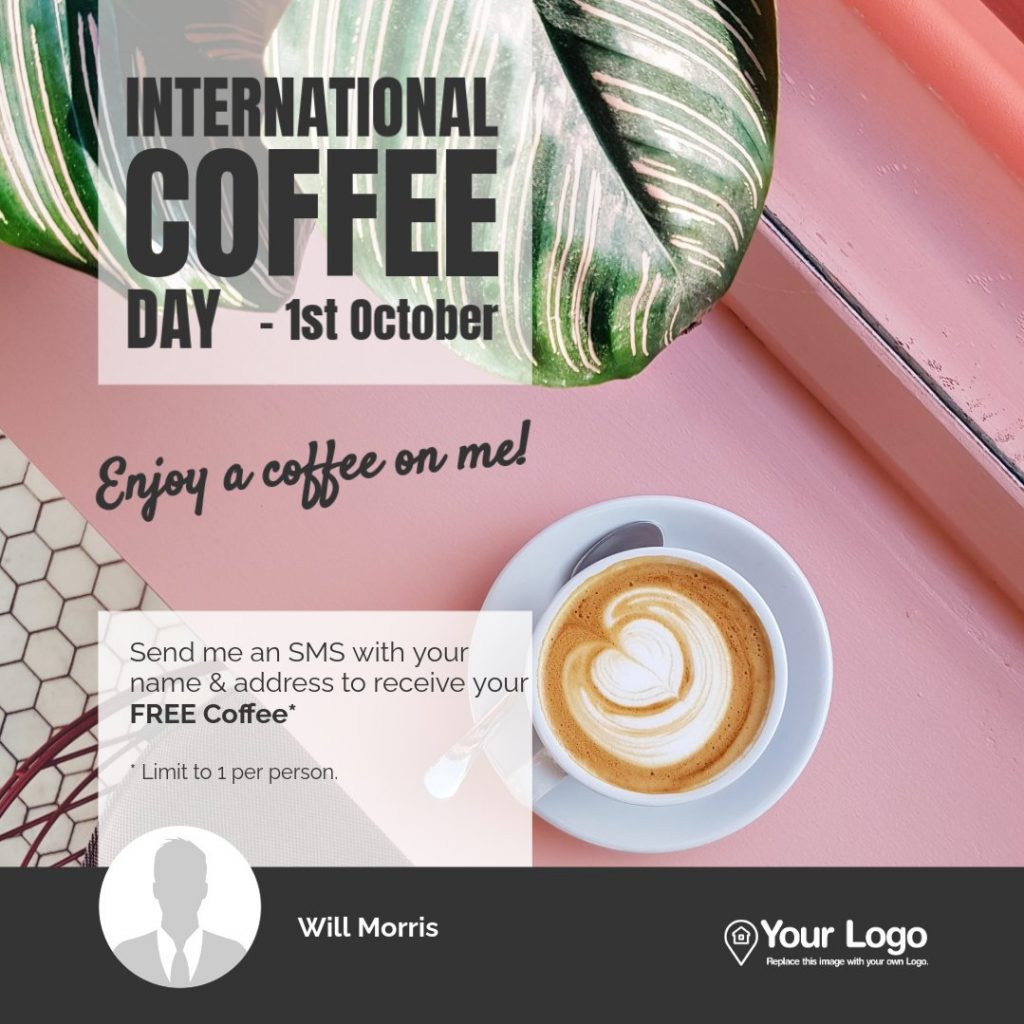 There are a handful of options you can use, too. For example, you can use the one above if you want to do something simple like offer free coffee. We also have ones you can use for more tangible items, such as AirPods: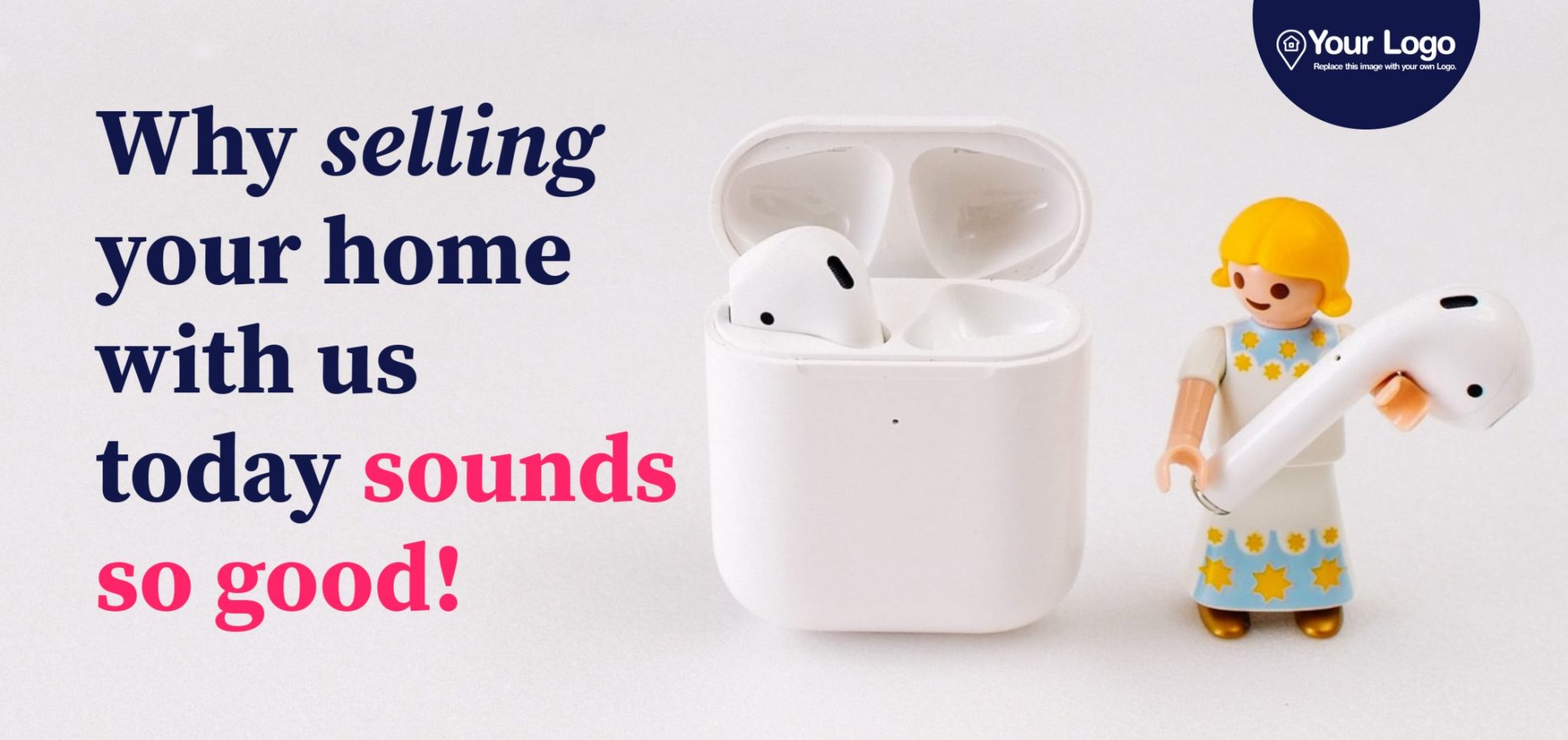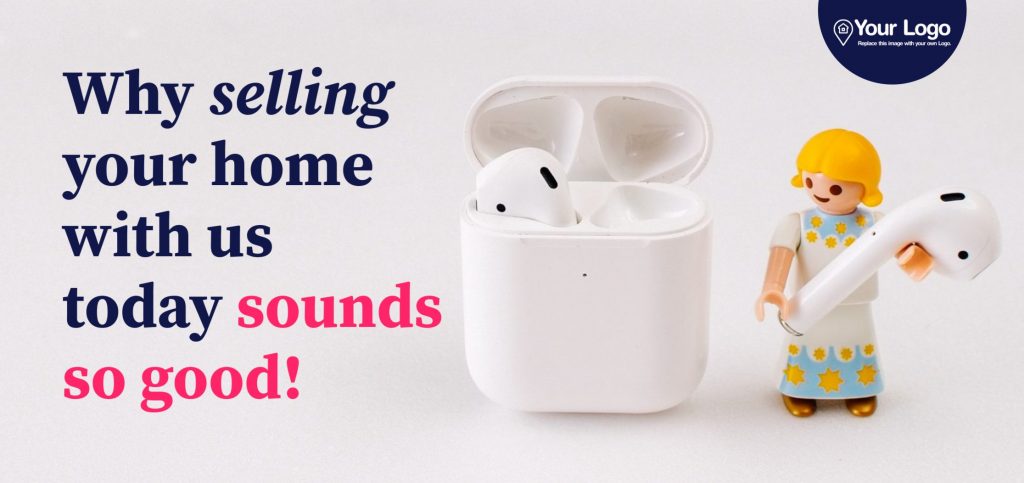 Of course, you can easily replace both the image and text to meet the needs of your specific giveaway: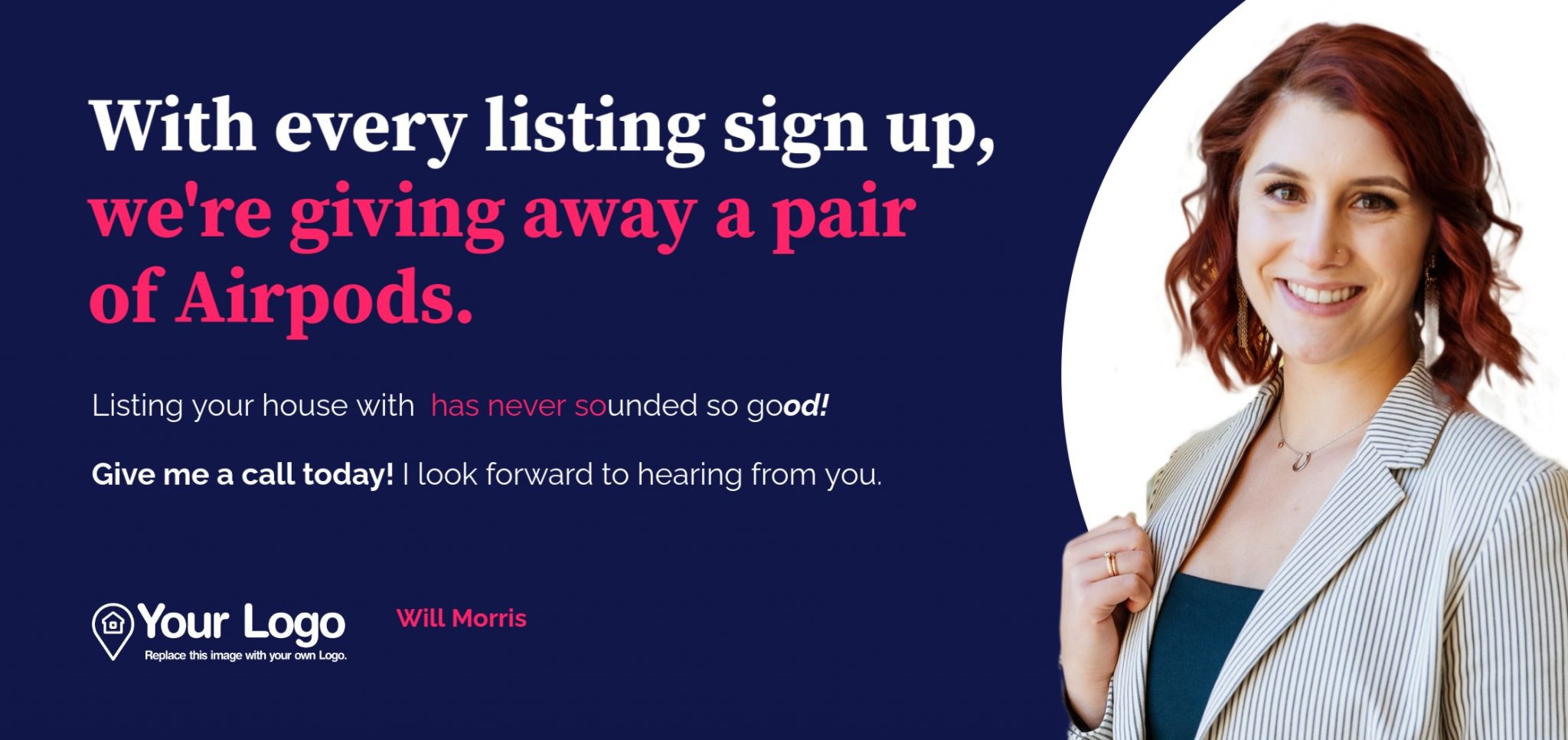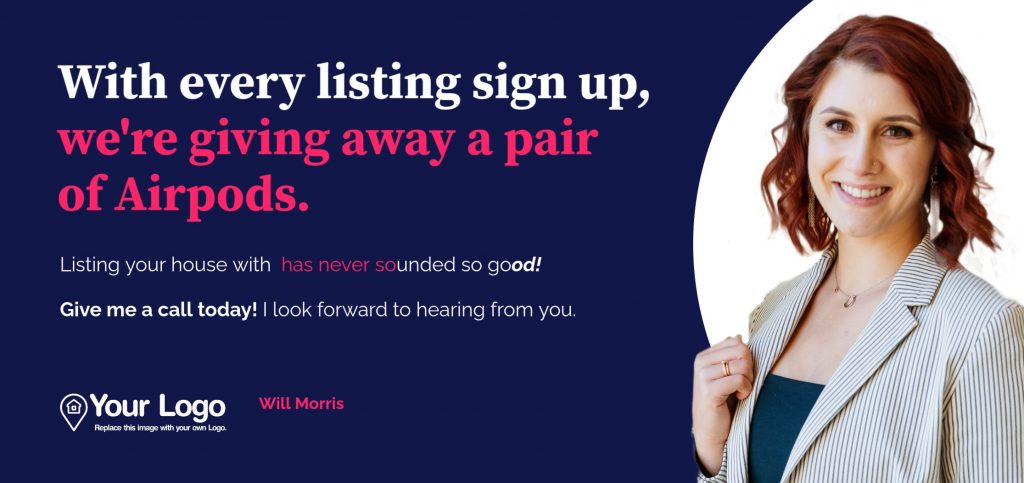 You can simply replace the placeholder text with your information. Another advantage of using a real estate giveaway template is that you can recycle and reuse it for future giveaways. Then you only need to update the details, rather than creating materials from scratch.
Step 3: Share and Promote Your Giveaway
In addition to deciding what you're going to giveaway and creating your marketing materials, it's also important to narrow down which platform you're going to use for the giveaway. This could be in person, on social media platforms such as Facebook and Instagram, or through your real estate website.
Regardless of where you plan on hosting the giveaway, we recommend promoting and sharing your flyers on social media. Depending on how serious you are about it, you might even consider paying to advertise and promote it on Facebook to reach a wider audience.
Finally, as we mentioned earlier, it's smart to ask participants to share the post as part of the requirements. This can help boost both engagement and awareness. You could also create a giveaway-specific hashtag to use.
Conclusion
To ensure you're regularly bringing in a steady stream of prospects to your real estate business, sometimes you need to get a little creative. If you're looking for a simple yet effective way to generate new real estate leads, you might try running a giveaway.
As we discussed in this article, you can run a giveaway in three simple steps:
Decide what you want to give away, whether that be a gift card, Apple Watch, or a cup of coffee.
Choose a real estate giveaway flyer template to use.
Share and promote your giveaway to spread the word.
Want access to beautiful real estate flyer templates for all your marketing needs? Sign up for a free Jigglar account today to choose from our wide selection!