If you're wanting to increase your personal brand a real estate agent flyer template showing off your agent profile can really do the trick.
Learning how to create an agent profile from scratch is hard, so we're going to go through a number of real estate agent profile templates in this post that you can use to get started so you can educate your area on who you are and what you can do for them.
Tools Required:
Jigglar (get your free account here)
The templates showcased below
A short bio
A list of what you can do for your clients
A list of your specialities
Structure Of An Agent Profile Flyer
The structure of your agent profile can vary greatly. But there are three main things you must to include:
Profile picture
Biography
Contact Information
The profile picture should be high quality, show you in a happy/relaxed state and with a big smile. Avoid heavy shadows and strange objects in the picture. Avoid things like sunglasses, it creates a disconnect.
The composition of your headshot profile picture is really important. Here are some tips on how to take a solid profile pic that will last you for years to come.
Next is the bio.
It might seem counter-intuitive to you, but your biography should not be about you, it should be about your clients.
By this I mean, you should be telling them how you can help them and what you can do for them.
Many agents make the mistake of focusing on themselves and their accomplishments. It feels nice, but it won't be effective at getting clients.
Last is the contact information with a strong call to action. Ensure that you include all the important details:
Agency/brand you work with
Direct phone number
Email
You don't need much more than that for an effective agent profile flyer.
Real Estate Agent Flyer Template Examples
Below are some great examples of agent flyer templates that you can use, edit and customize easily in your Jigglar account.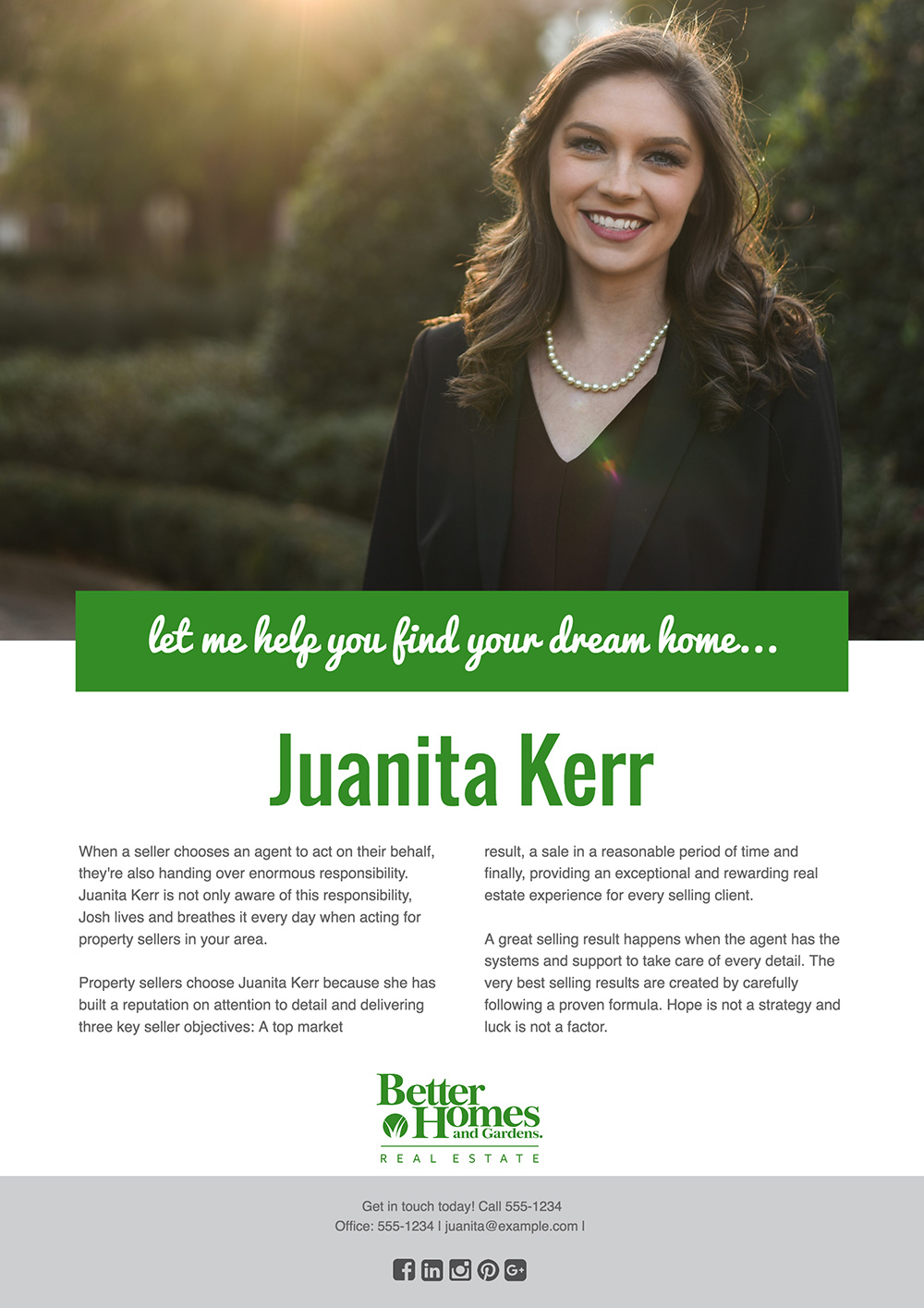 This agent profile template really shows off the bio and headshot. It's clear and simple and has strong messaging.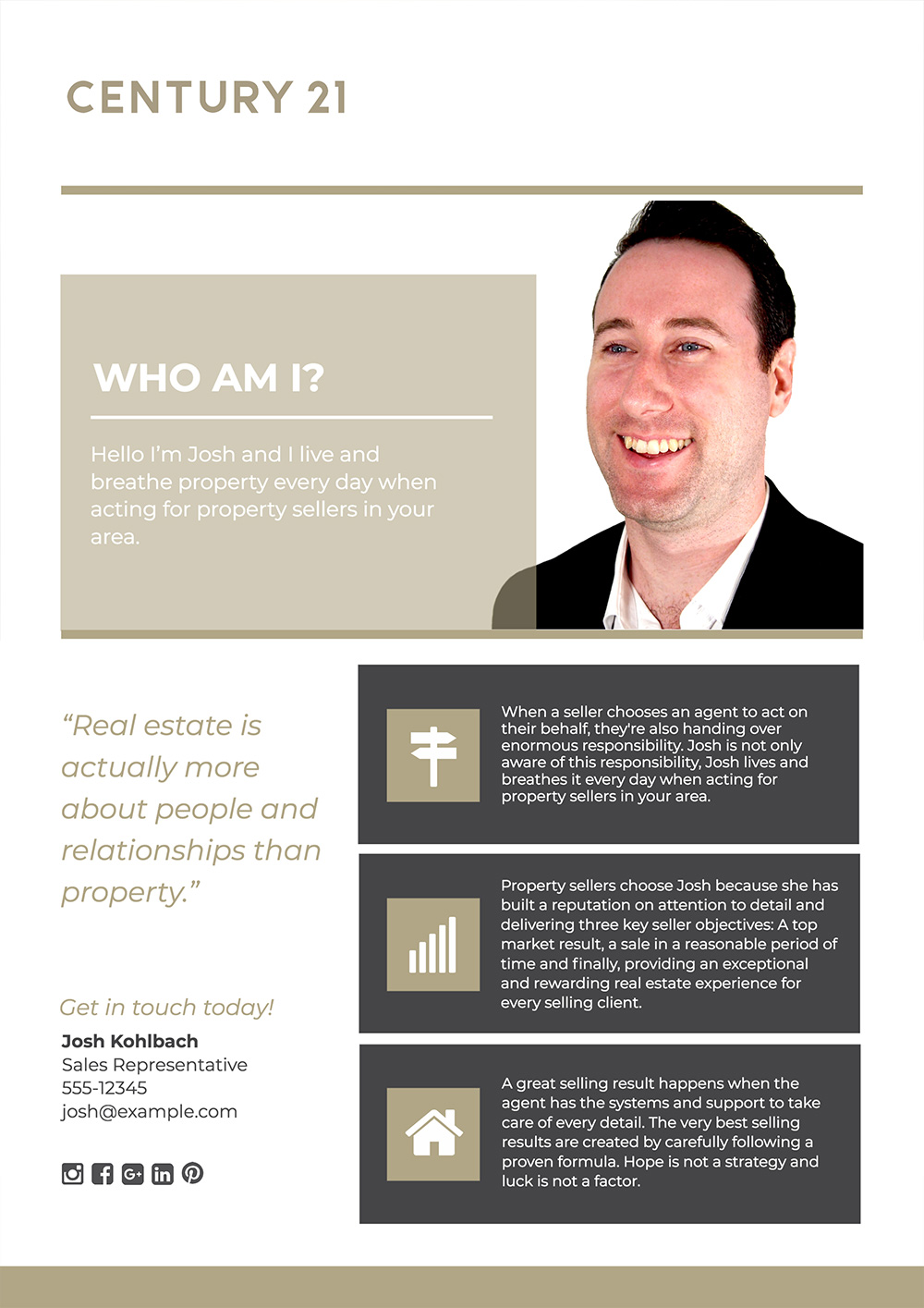 Sometimes it can help to separate the points of difference like in this flyer. Give them all the reasons why they should work with you.

Don't just limit yourself to physical flyers too. Jigglar has a range of Facebook Cover templates that fit the same agent profile rules. Tell them what you're all about and why to hire you. Social is a massive marketing channel you can't afford to ignore. Ensure you are branded appropriately!
Why Branding Yourself Is Important
Personal branding is super important when it comes to building a reputation in your local area.
Let's go over the basics of what you need to cover for an awesome agent profile flyer again:
Profile picture
Biography
Contact Information
Your agent profile doesn't have to be complex with facts and figures. But you can go that way if you want.
I recommend you keep one thing in the forefront of your mind: tell them what you can do for them.
Don't make the mistake of making your agent profile about you. It should always be about your clients.
Create Your Real Estate Agent Flyer Template Now
Jigglar is an amazingly simple tool for agents to use to customize flyers like these above.
You can have your agent profile flyer ready in minutes for printing off or loading onto social media.
Grab your Jigglar account and get started for free.