Real estate prospecting is the process of identifying and reaching out to potential clients who might be interested in buying, selling, or investing in properties. Prospecting is essential for real estate agents and professionals because if you want to maximize profits, you can't wait for leads to simply come to you. You need to go out and get them.
The key to successful real estate prospecting lies in the ability to generate a steady stream of leads and build lasting relationships with clients. If you can manage this, you'll be able to spend less time worrying about finding new clients and more on actually closing deals.
In this article, we'll go over five top real estate prospecting tips to help you generate leads. Let's start by talking about your brand and how to improve it!
1. Establish a clear brand and image
Creating a strong brand and image is crucial for any realtor that wants to get more leads. This process involves developing a professional logo, a color scheme, and a unique selling proposition that sets you apart from your competitors.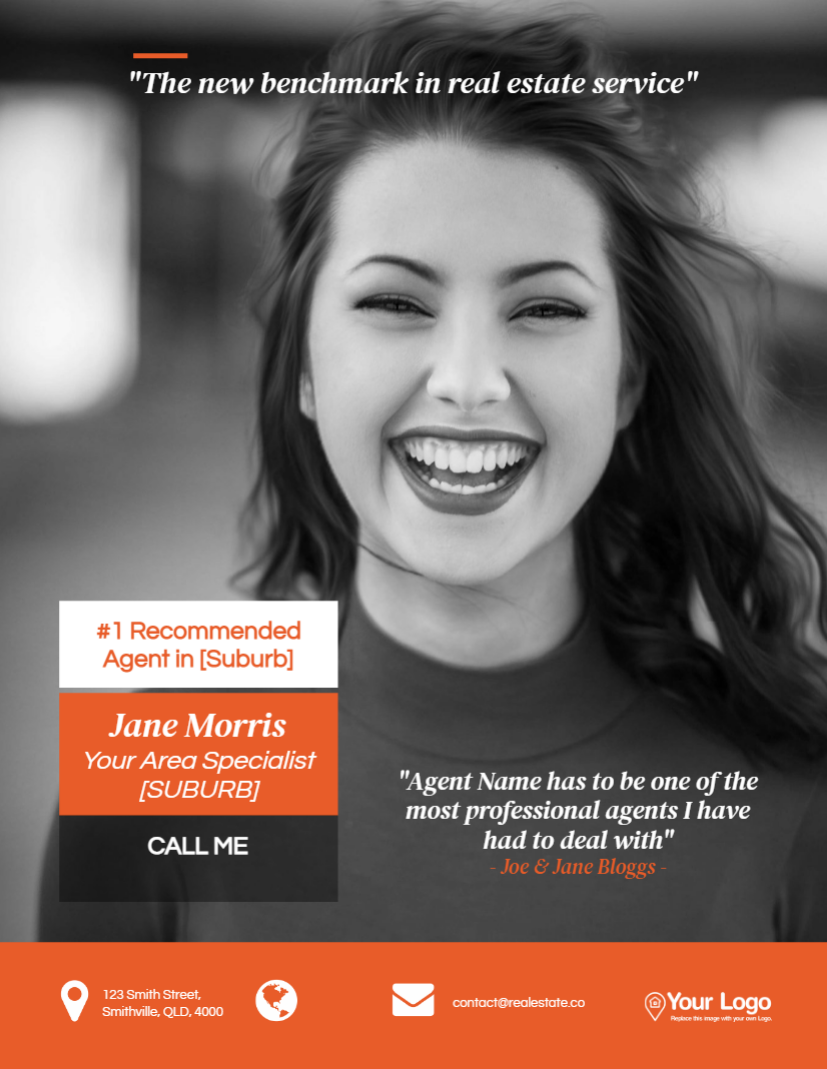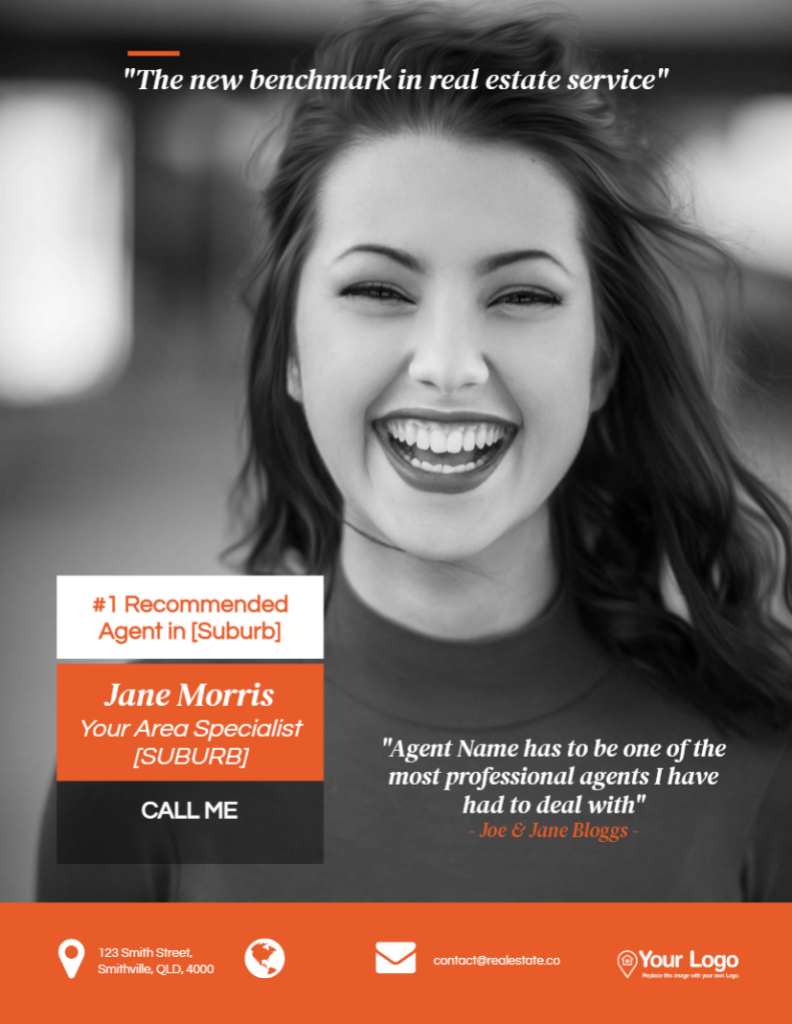 That's an agent profile template from the Jigglar archives. It's perfect for flyers and social media and it hits all the right notes for a clear brand for a realtor.
By establishing a clear personal brand and image, you help potential clients recognize and remember you. That increases the likelihood of them reaching out to you when they need real estate services.
2. Build a strong online presence
A strong online presence is essential for any realtor that wants to be proactive about getting leads. To get started, you'll need a realtor website and a presence on social media. If a website is out of the question, social media is where you should focus your efforts.
An online profile or website enables you to showcase your services, past successes, and client testimonials. With a website, you can even publish content optimized around local real estate searches to get even more leads.
The goal of having an online presence is twofold. It helps with real estate prospecting and it establishes trust with new clients. If they want to know who they're dealing with, they can check out your site or social media profile and learn about you before reaching out.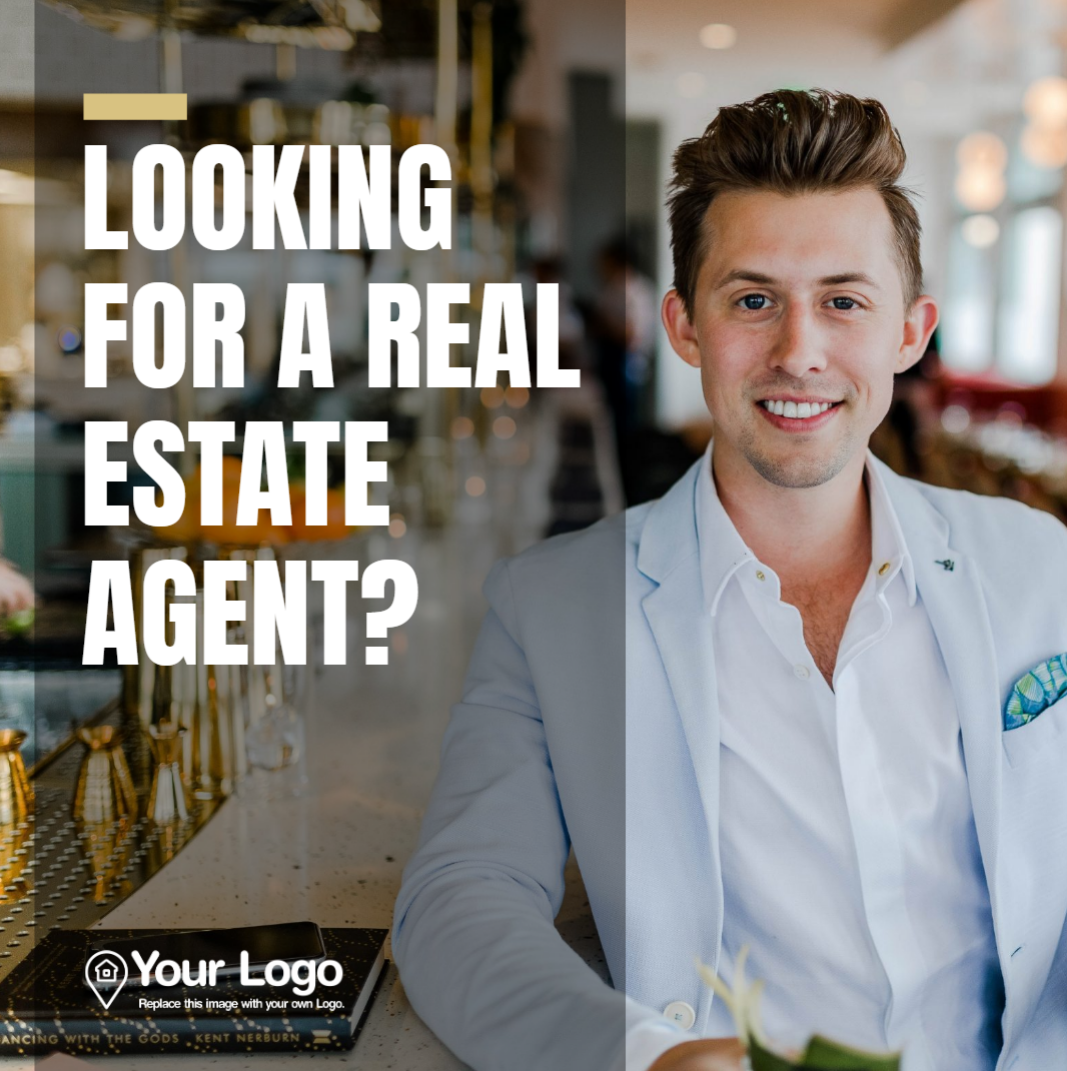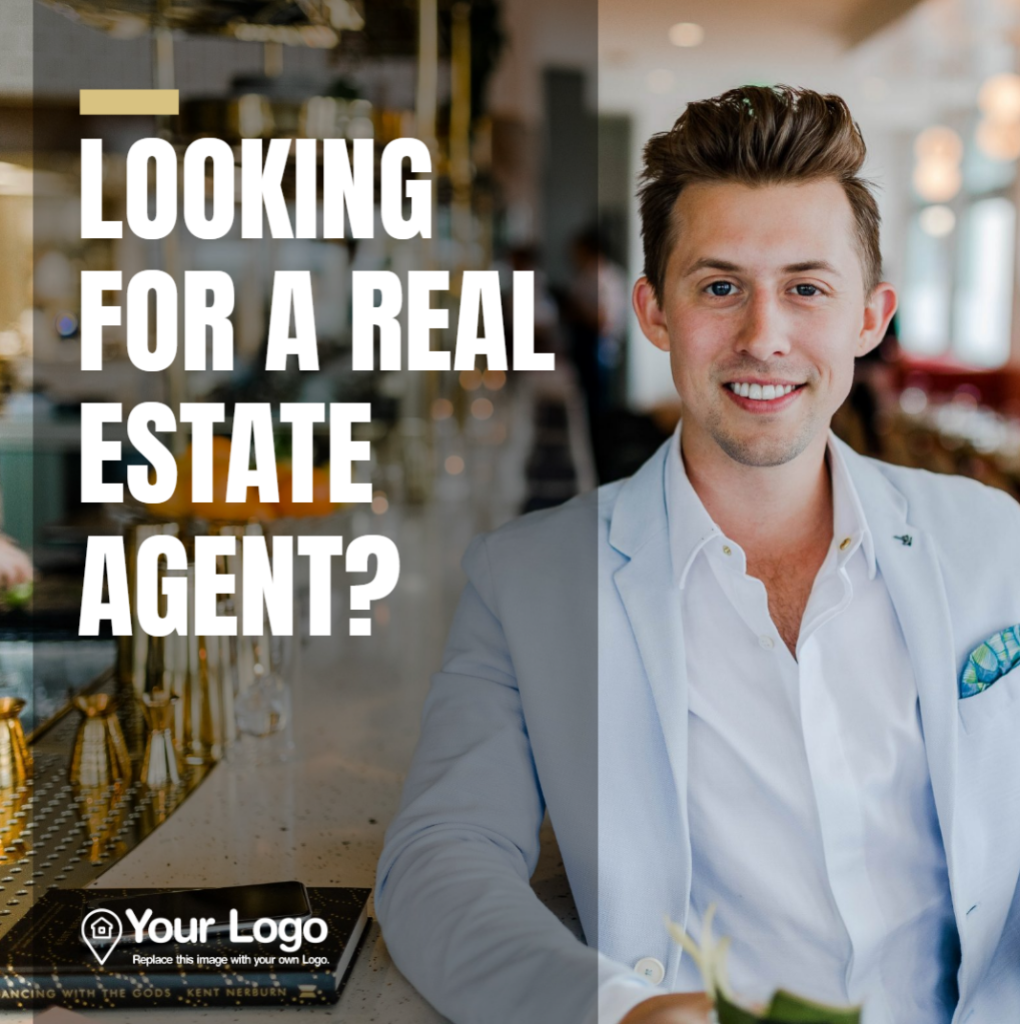 Social media platforms like Facebook, Instagram, LinkedIn, and Twitter are amazing tools for real estate prospecting. You can use these platforms to share property listings, market updates, and tips for homebuyers and sellers. Plus, you get to engage with your audience by responding to comments and messages, and encourage them to share your content with their followers.
3. Offer complimentary appraisals
Offering complimentary appraisals is a great way to attract potential clients interested in selling their properties. Whenever someone is interested in putting up a property for sale, they're likely to get bombarded by realtors and agencies. Offering a free appraisal helps differentiate you from other realtors and builds trust.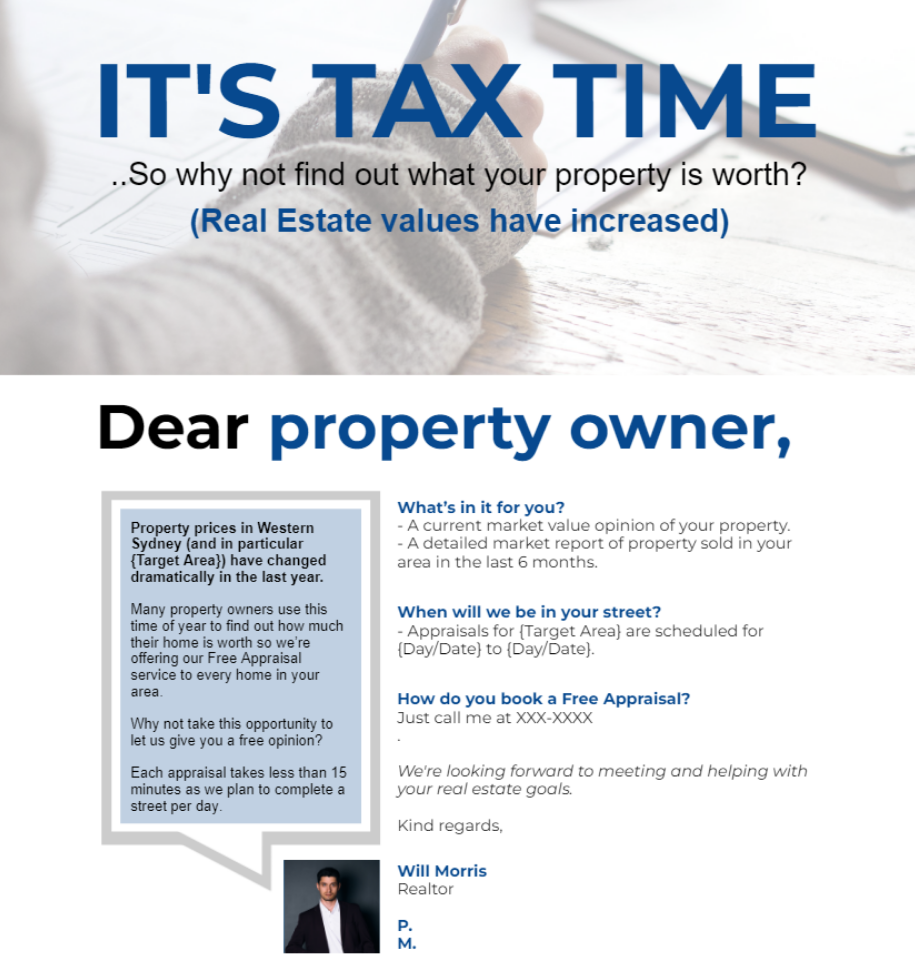 This free appraisal mailer is perfect is you're prospecting for leads in a specific area. Send the flyer around and wait for customers to come to you with their questions.
By providing an accurate and unbiased assessment of a property's value, you demonstrate your expertise and credibility as a real estate professional. This, in turn, can help you generate leads and build a strong reputation in your local market.
4. Run contests and giveaways
Contests and giveaways can be an effective way to generate leads and get your name out there in the community. For example, you could run a contest on your favorite social media platform and ask participants to share information about listings or real estate tips that include your branding:
In exchange, you can reward participants with gift cards or even free real estate consults, depending on your audience. The advantage of running contests on social media is they tend to go viral fast if you offer great rewards.
Keep in mind that social media contests can get a lot of eyeballs, but not all of them might be great leads. However, this is a low-risk method to get new followers and build your brand as a realtor.
5. Network with local businesses and associations
As a realtor, you live and die by local connections. People are not likely to trust realtors that don't have experience in their areas and the best way to show you're a real local is by networking with local businesses and organizations.
If you can get businesses to pass stationery from your agency or cards with your personal information, you're likely to get a lot of local leads. The next time someone needs a realtor, they'll remember the one that came recommended by the business they're a patron of, or the one that offered them a free coffee at the local shop: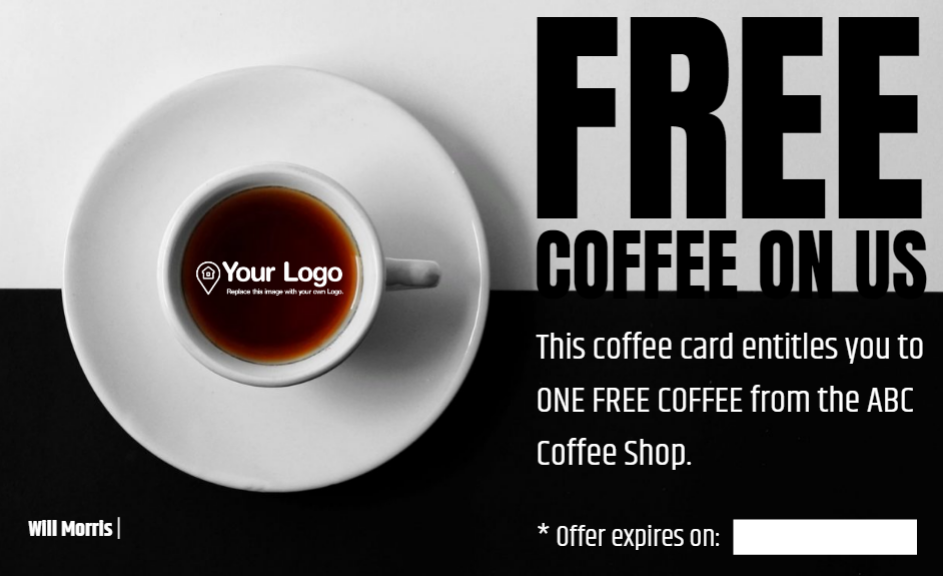 Networking with local businesses takes work. You'll need to attend local events, join business associations, and collaborate with other professionals to expand your network. However, taking the time to build relationships with influential people in your community will pay off in real estate prospecting leads.
Conclusion
Real estate prospecting takes time, but it pays off in spades in the shape of leads. As a realtor, you live and die by leads. Every new lead is a potential customer and you can't wait for them to come to you. If you want to be a big-fish realtor, you need to be proactive about real estate prospecting.
There are a lot of ways to get new leads as a realtor. However, we swear by tried-and-true methods such as cultivating an online presence, networking locally, and establishing a clear brand. Over time, these efforts will translate to a healthy influx of new customers looking for your real estate experience.
Do you have any questions about how to tackle real estate prospecting? Let's talk about them in the comments section below!