As a realtor, you likely use various marketing strategies to reach your target audience. However, you may not be aware of the power of visual content in real estate marketing, and how to use it effectively.
Real estate is a particularly visual industry, so incorporating visuals into your marketing strategy is essential. It can help you increase web traffic, drive engagement, and boost sales.
In this article, we'll discuss the power of visual content in marketing. Then, we'll provide some examples of graphics to use in real estate content marketing. Let's get started!
The Power of Visual Content in Marketing
Did you know that visuals are processed 60,000 times faster in the brain than text? Moreover, articles with images get 94 percent more views than those without. These statistics show just how important visuals are in marketing your products and services.
People are visual learners, so incorporating visuals into your marketing strategy is a great way to engage your audience and communicate your message more effectively. People are also more likely to remember information when it's presented visually. For example, they may be more likely to remember a logo than a name.
Visuals can help you achieve your real estate marketing goals. For example, adding infographics to your blog posts can increase web traffic by up to 12 percent. They can also help increase social media engagement and generate more leads.
Five Types of Visual Content to Use in Real Estate Marketing
Incorporating visual content into your real estate marketing strategy can be incredibly effective. Here are five types of graphics that you can use.
1. Infographics
Infographics are a great way to communicate complex information. They can provide an overview of the real estate market, highlight the features of a property, or give buyers and sellers tips on navigating the process.
Designing a good infographic takes time and effort. You'll need to ensure that the visuals are professional and the information is organized in a way that is easy to understand.
Here are some tips for creating professional real estate infographics:
Use simple and easy-to-understand language
Write clear and concise headlines
Keep the text short and to the point
Add high-quality images
Choose colors that complement each other
For example, our Agent Infographic template presents important information in a neat and digestible way: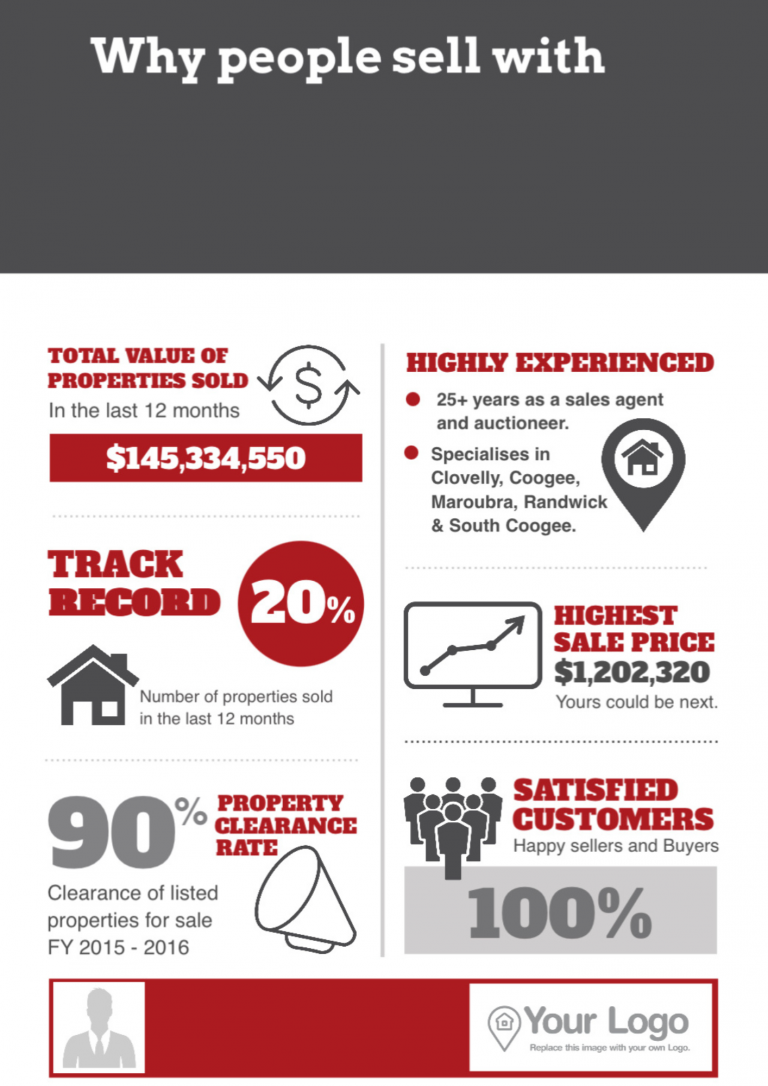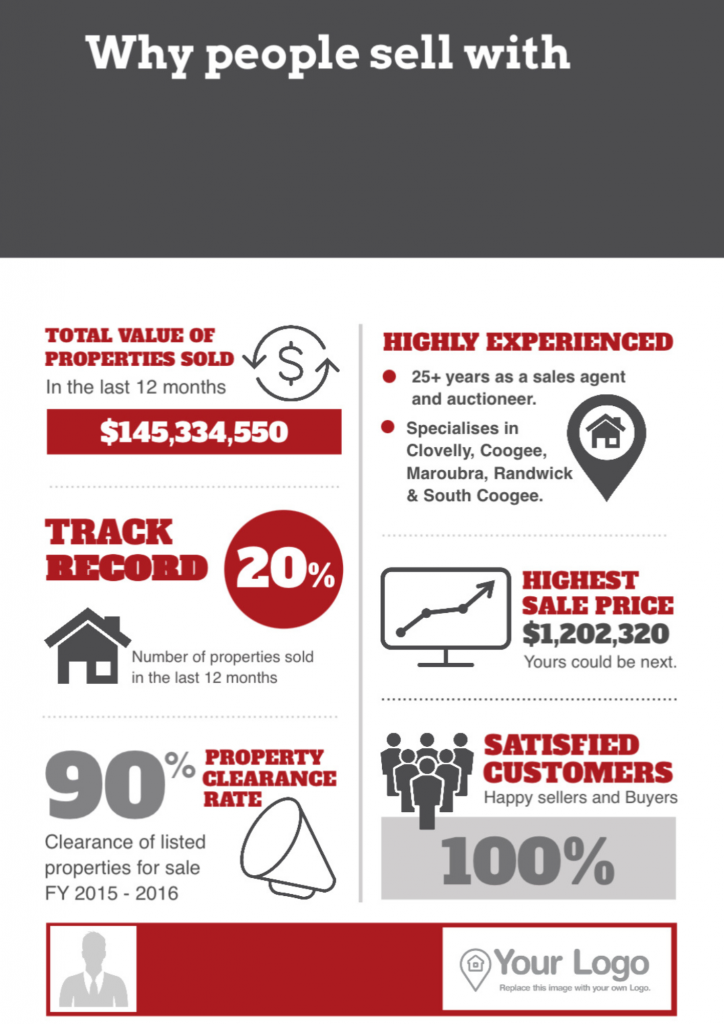 If you're not sure where to start, here at Jigglar we offer a selection of customizable real estate infographic templates. You can simply replace the information with your own data and add your own branding elements.
2. Charts and Graphs
Real estate market data is often presented in charts and graphs, making it easier to understand trends and see relationships between data points. When creating these graphics, it's important to use clear labels and contrasting colors.
Using separate colors for different data points can help people understand the information more easily. Jigglar has several easy-to-adapt charts and graphs, including our Top Suburbs template: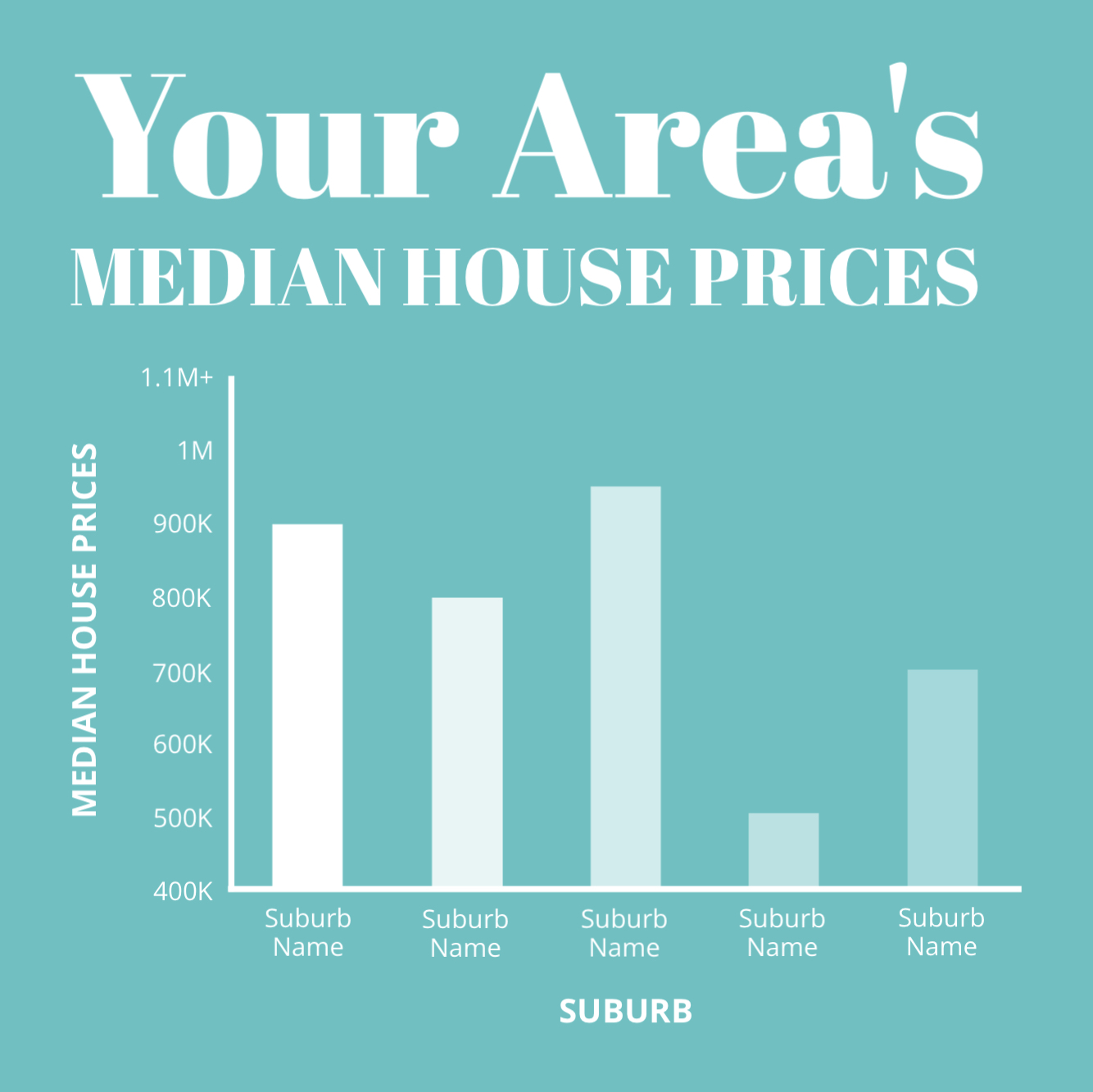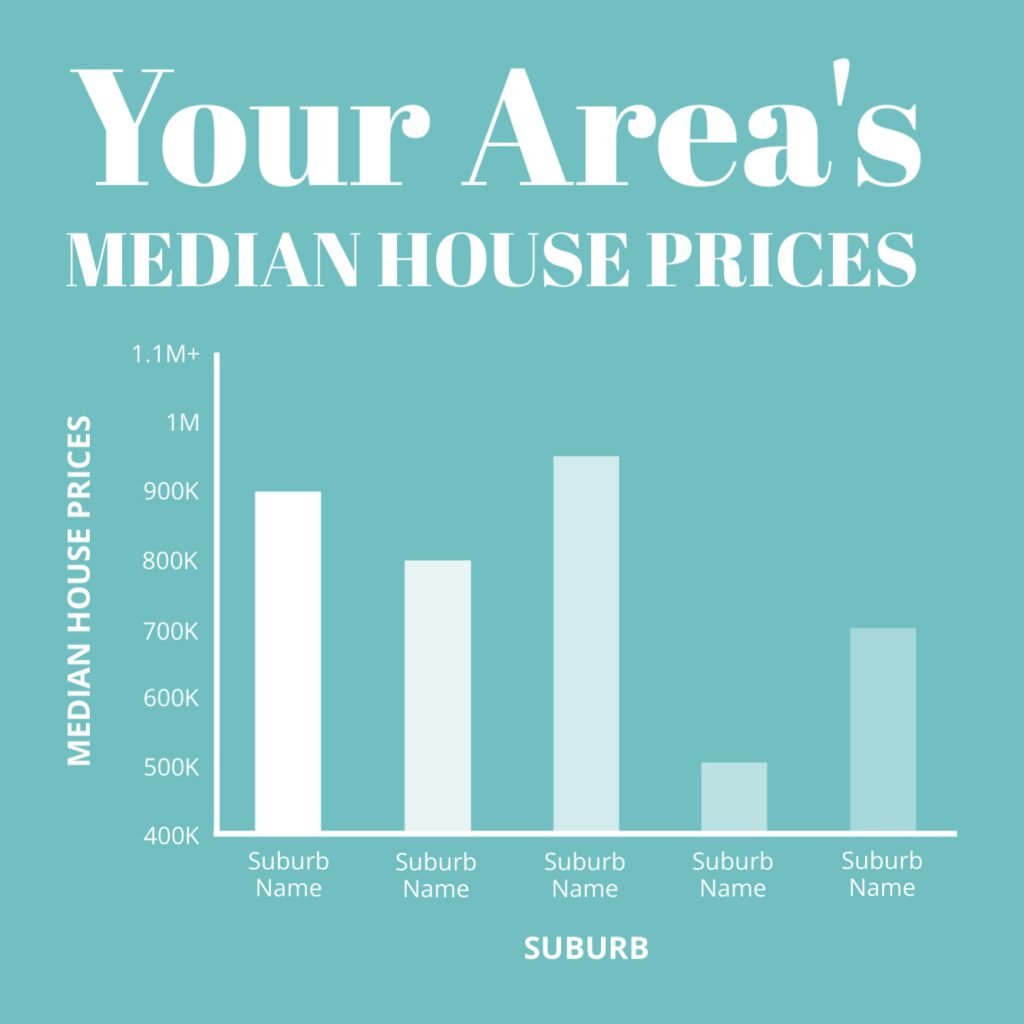 You can publish these graphs on your website or share them on your social media pages. You could even use them on your real estate brochures and flyers.
3. High-Quality Images
Images are a must-have. After all, real estate is all about location and buildings, and photos are the best way to show off a property's features and surroundings.
High-quality photos of a property can help potential buyers visualize what it would be like to live there. You can also use images of the local area to highlight nearby amenities and attractions.
Many of our templates prioritize imagery and provide the required space to show off your property. For example, our For Sale template includes several placeholders for images, so you can give potential clients an immersive look: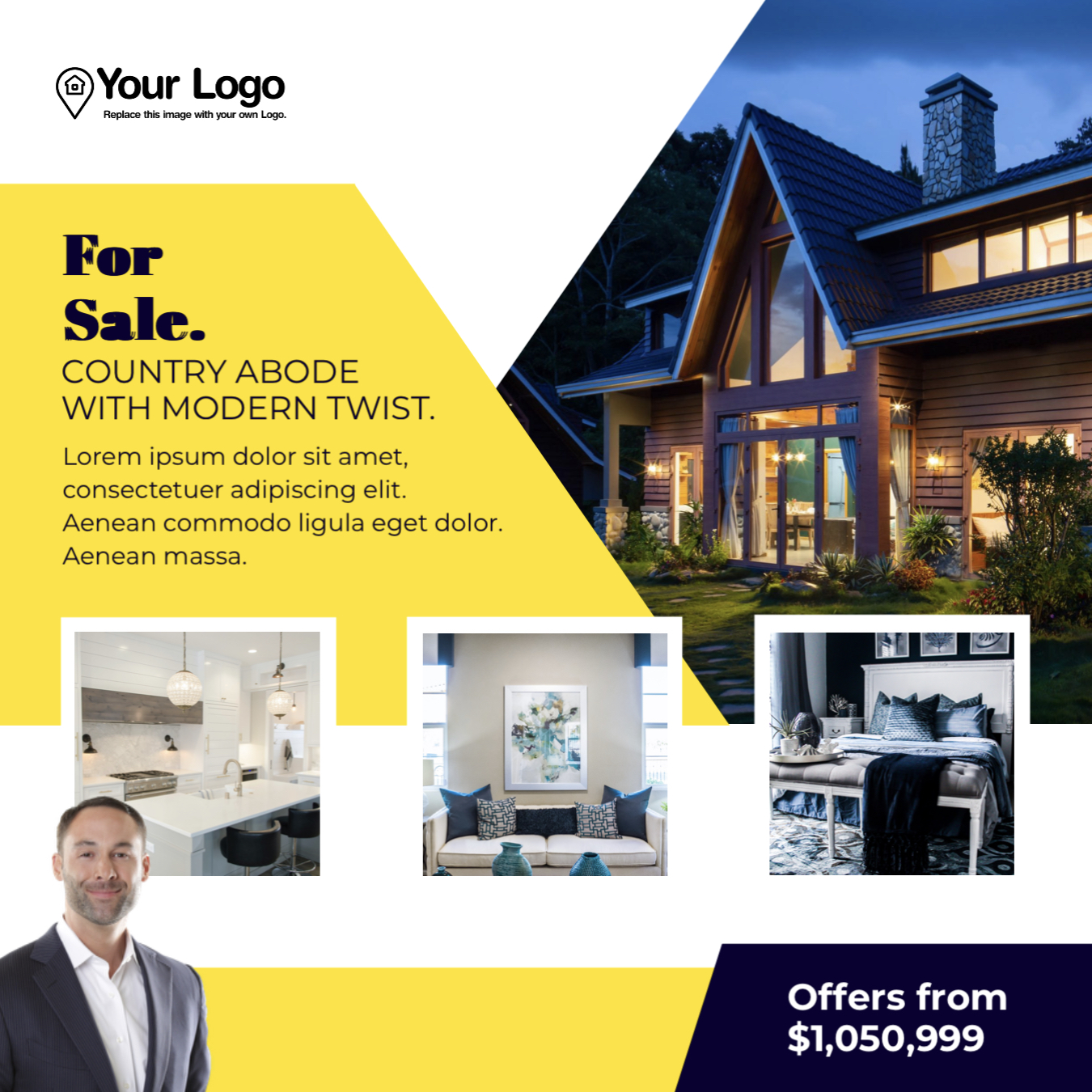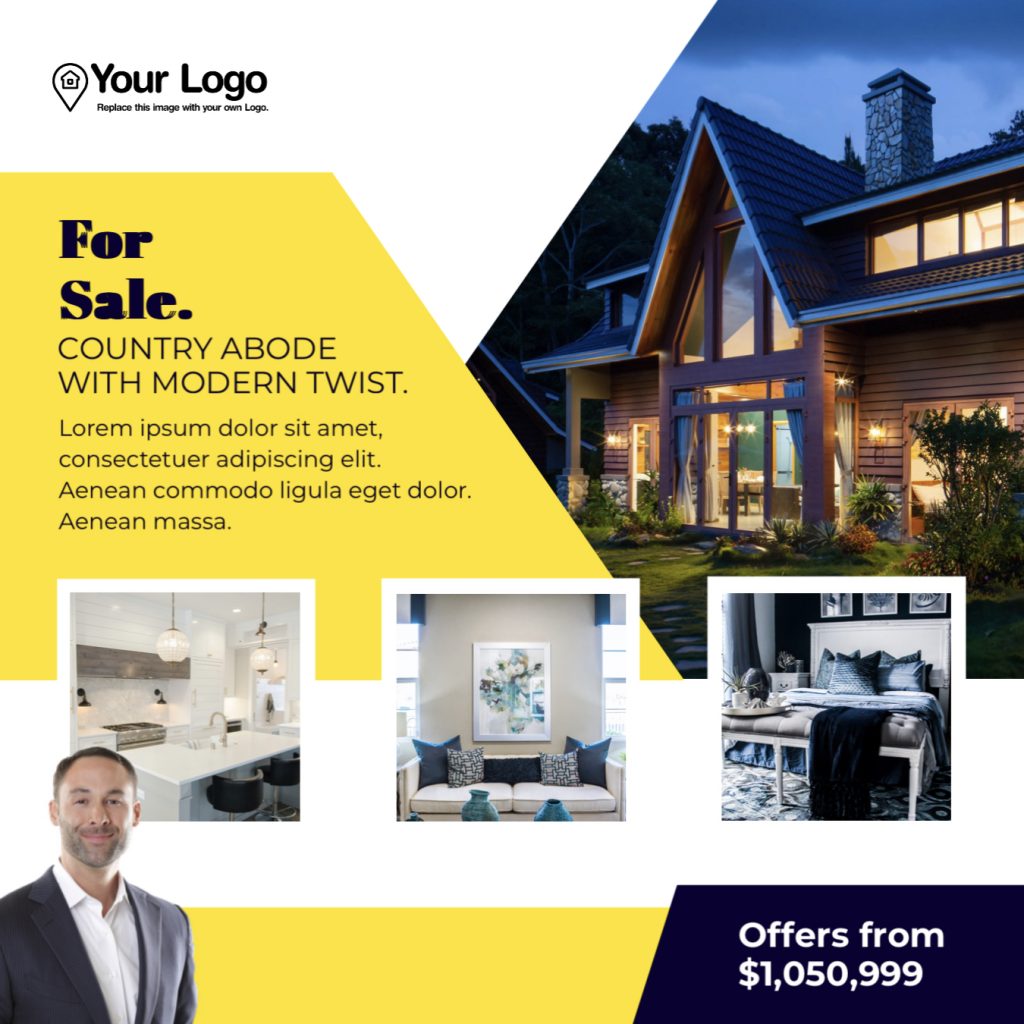 Remember to make sure that photos are well-lit and neatly cropped. Additionally, you'll want to avoid using stock photos. Authentic images can help you seem more professional and trustworthy.
4. Floor plans
Floor plans are essential for property buyers. They provide a detailed view of the layout and can help people visualize how they would use the space.
If you include floor plans in your marketing, it's essential to ensure that they are accurate and up-to-date. It would be best if you also have a legible legend so that people can understand the different features of the property.
You can use these plans in your property listing brochures. You could even share them on your social media page when promoting new listings.
Prospective buyers like to see what they're getting for their money. A clean floor plan will give them a good indication of the size and layout of the place.
5. Maps
Maps have two significant functions for a realtor. Firstly, you can use them to show potential sellers which properties you've sold in their local area. This can help you gain their trust and establish credibility.
You can show this on postcards for people who are thinking of selling their homes. Our Sold in Your Area template is perfect for showcasing maps: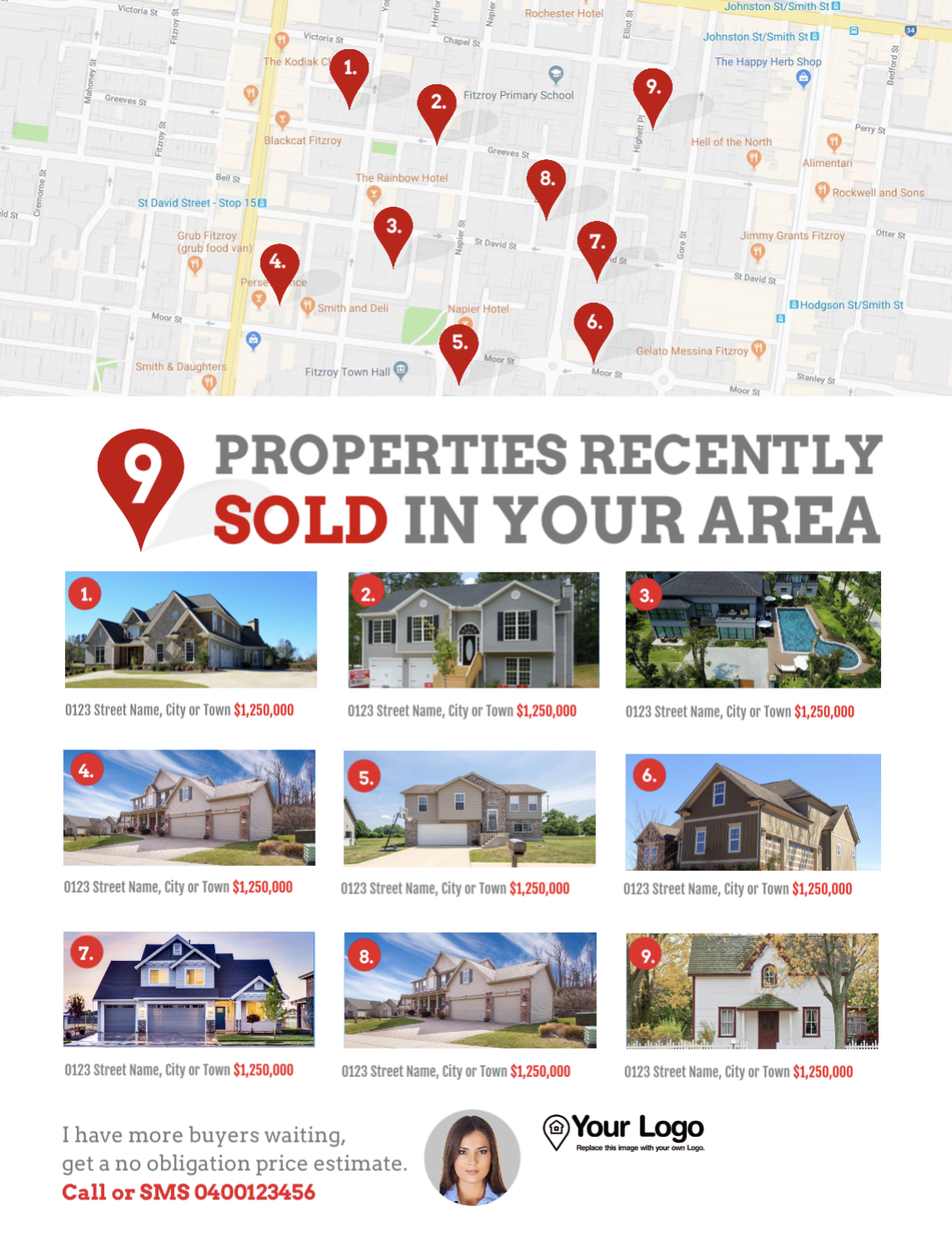 Secondly, when marketing a property, it's important to provide potential buyers with a sense of the surrounding area. Maps are a great way to do this.
You can use maps to show the property's location in relation to key landmarks, public transportation, and other amenities. You can also use them to highlight nearby schools, parks, and other attractions.
Conclusion
By incorporating visuals into your marketing strategy, you can make complex information easier to understand. This can help you drive more conversions and attract more clients.
In this article, we discussed five types of visual content to incorporate into your real estate marketing:
Infographics
Charts and graphs
High-quality images
Floor plans
Maps
Are you ready to start using visual content in your real estate marketing? Sign up for a free trial account with Jigglar and access thousands of templates!