Trying to get your real estate business rolling online can feel like an uphill battle. There's a lot of competition out there, and cutting through the noise isn't easy. You'll need to pull out all the stops if you're going to draw attention to your properties.
In this post, we're going to show you how to get started on the right foot, via some professional real estate brochure templates. Let's jump right in!
Why Templates Can Play a Key Role in Your Marketing Strategy
There's no denying that the real estate field is packed, both online and off. If you're a smaller and/or newer business, it can seem almost impossible to get the attention you need to thrive.
Building a high-quality website is important, naturally. However, you can't expect people to just show up out of the blue. Some investment in direct marketing is essential for building up a customer base and getting your name out there.
Of course, marketing your real estate business isn't always simple. You face a number of challenges, including:
You'll need to present a professional face to potential clients – they have to know they can trust you with this enormous purchasing decision.
Effective marketing can be extremely time-intensive, sucking up a lot of valuable resources.
Fortunately, we know of at least one tool that can help in both of these areas – free real estate brochure templates.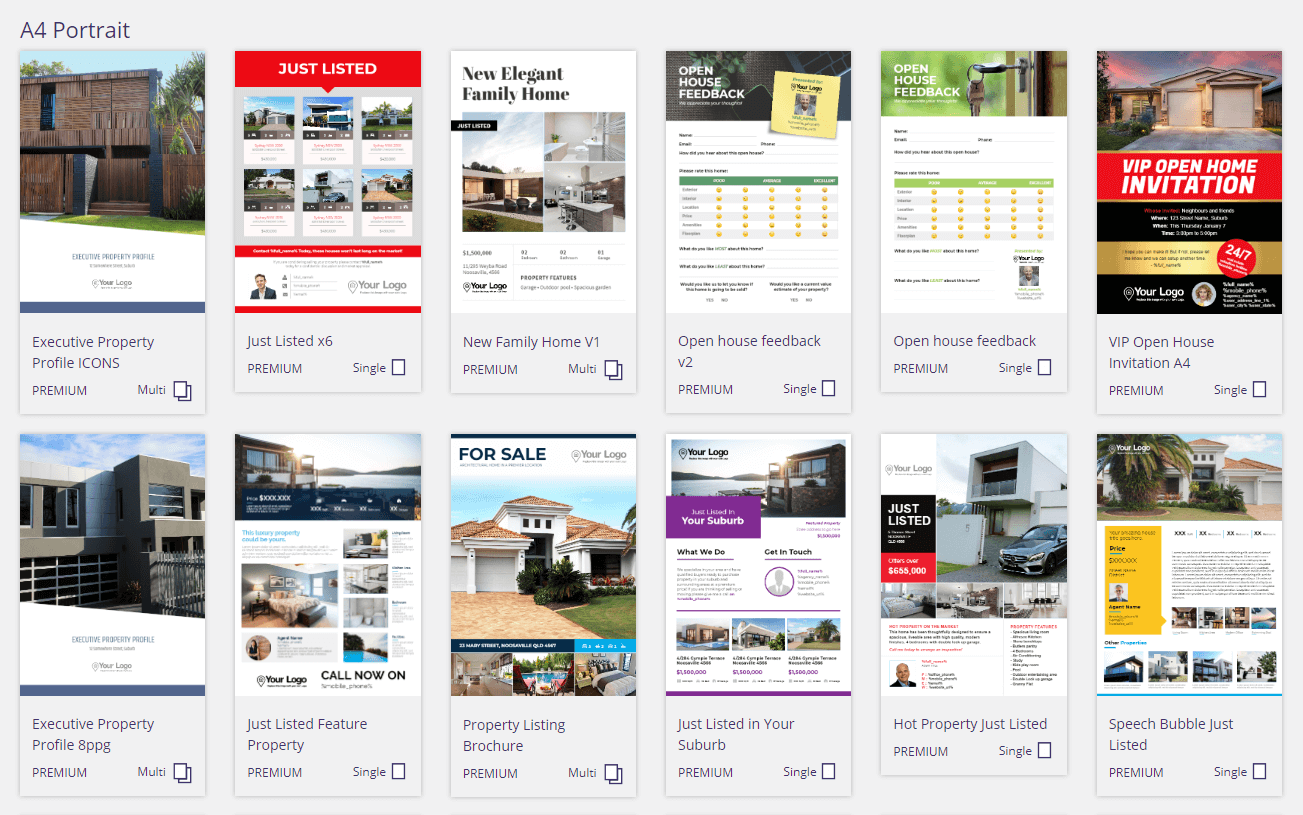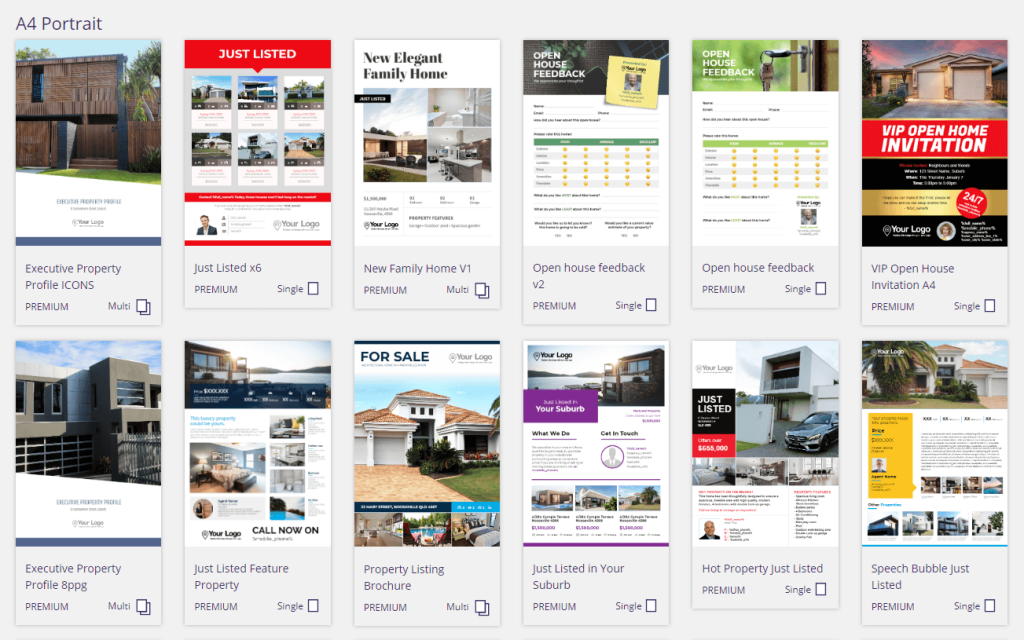 By using the right template to build your marketing materials, you can:
Ensure that your content appears high-quality and professional.
Save a lot of time, since you're not starting from scratch.
Sound good to you? Great, because we have some top-notch options to get you started.
3 Real Estate Brochure Templates to Kick-Start Your Marketing Efforts
You'll only get the benefits discussed above if you're careful about the templates you use. They'll need to look fantastic, and be easy to customize.
If you're not sure where to begin, don't worry. Here are three real estate brochure templates you can pick up and start using right away. All of them can be accessed by signing up for a 30-day free trial at Jigglar.
1. Executive Property Profile (15 Page)
First up is the Executive Property Profile template. It's an extensive multi-page brochure designed to help you provide lots of details about a specific property: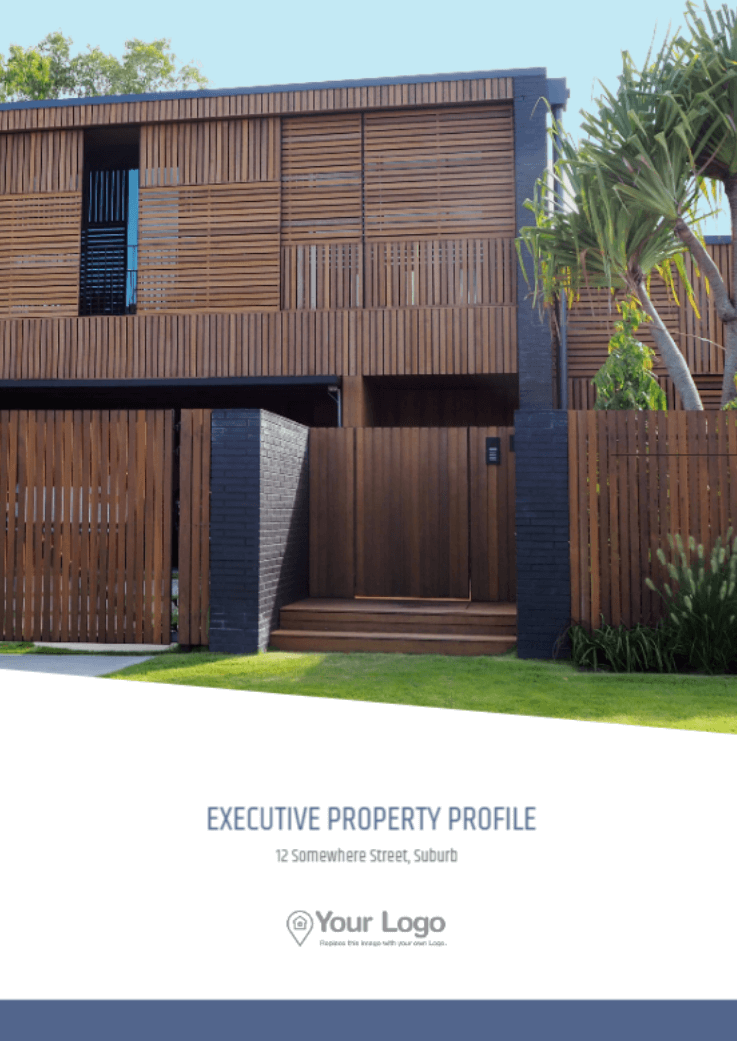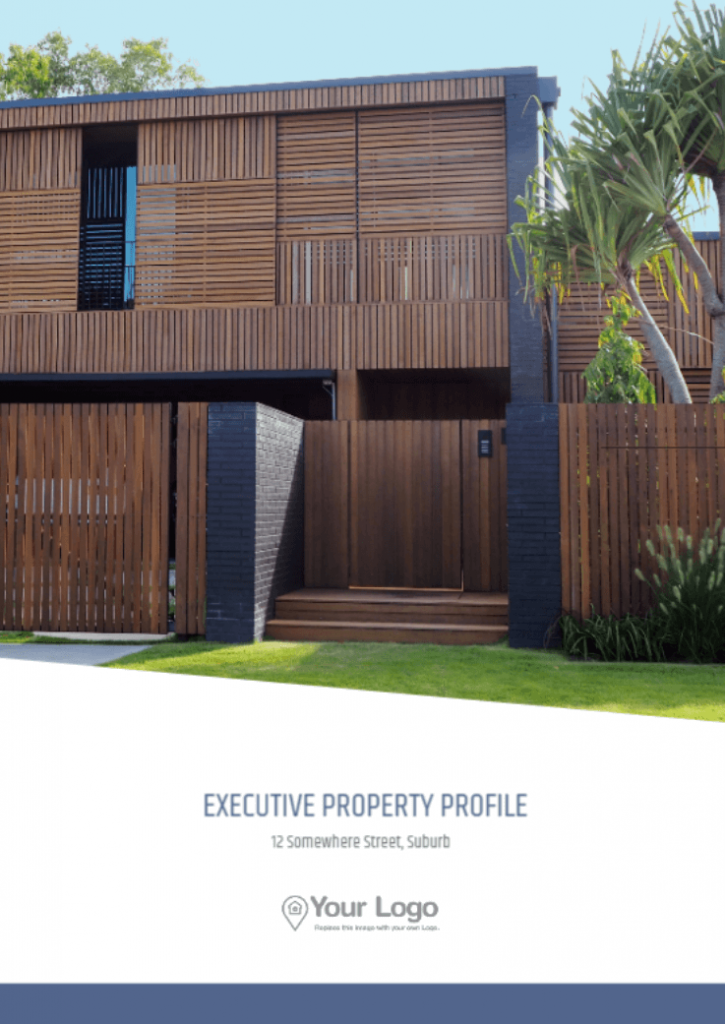 This template offers a great balance between visuals and text. There's room for full-page imagery: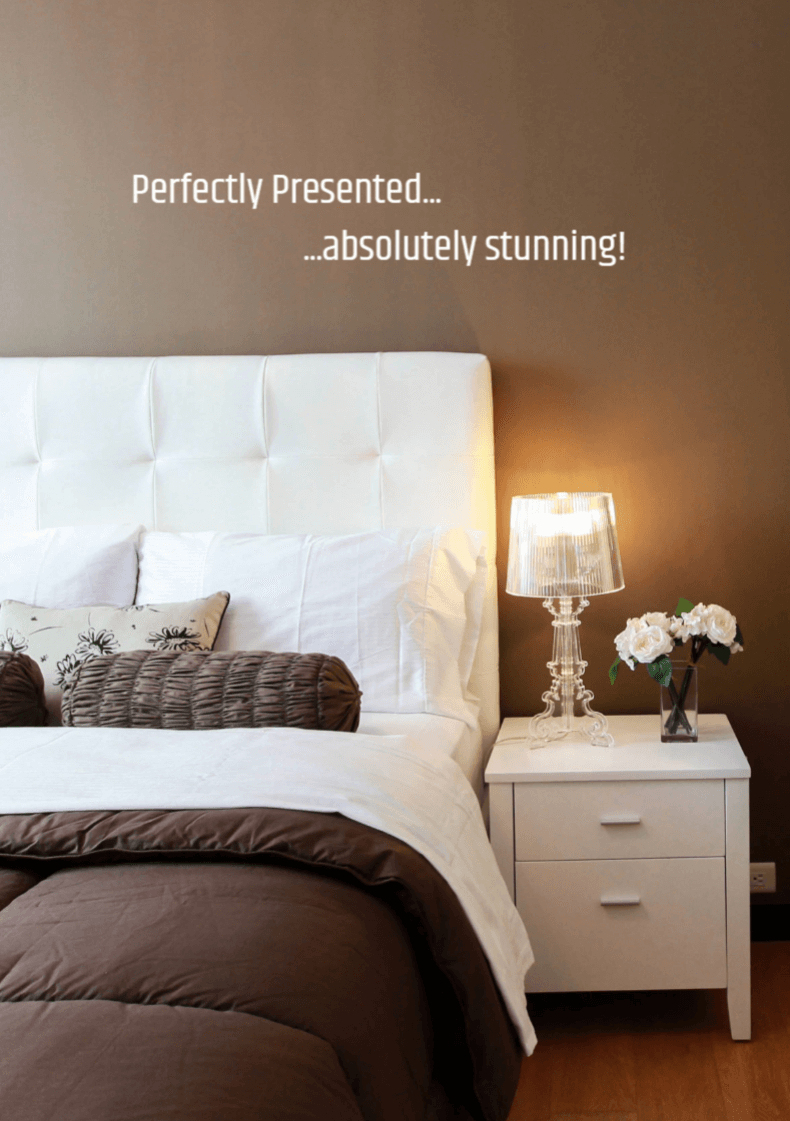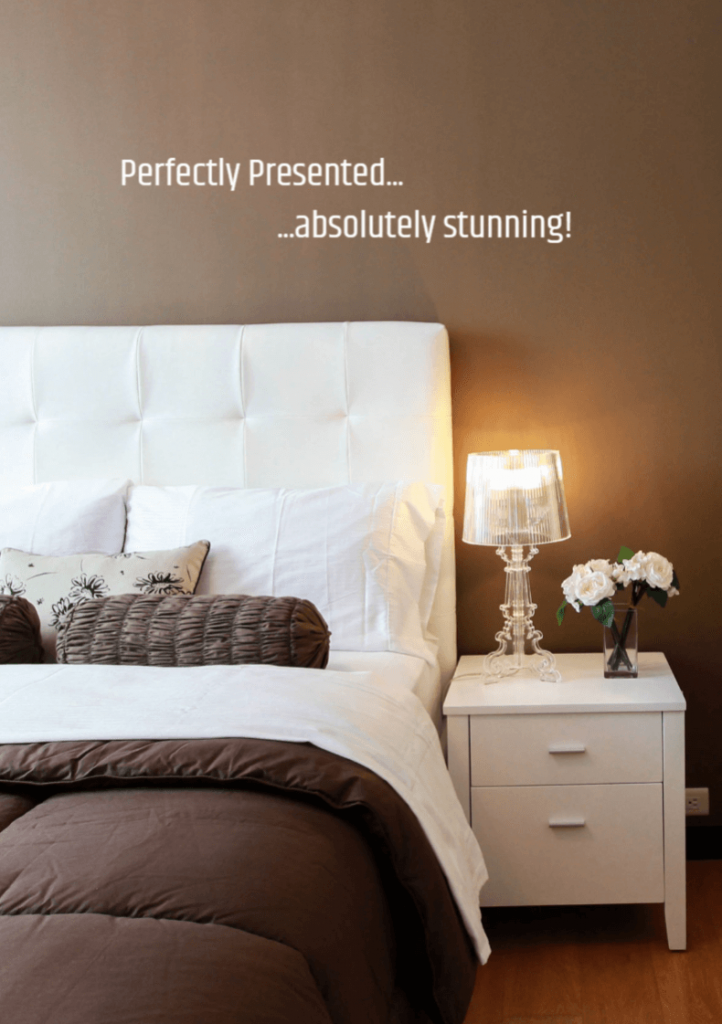 …as well as lots of detailed information: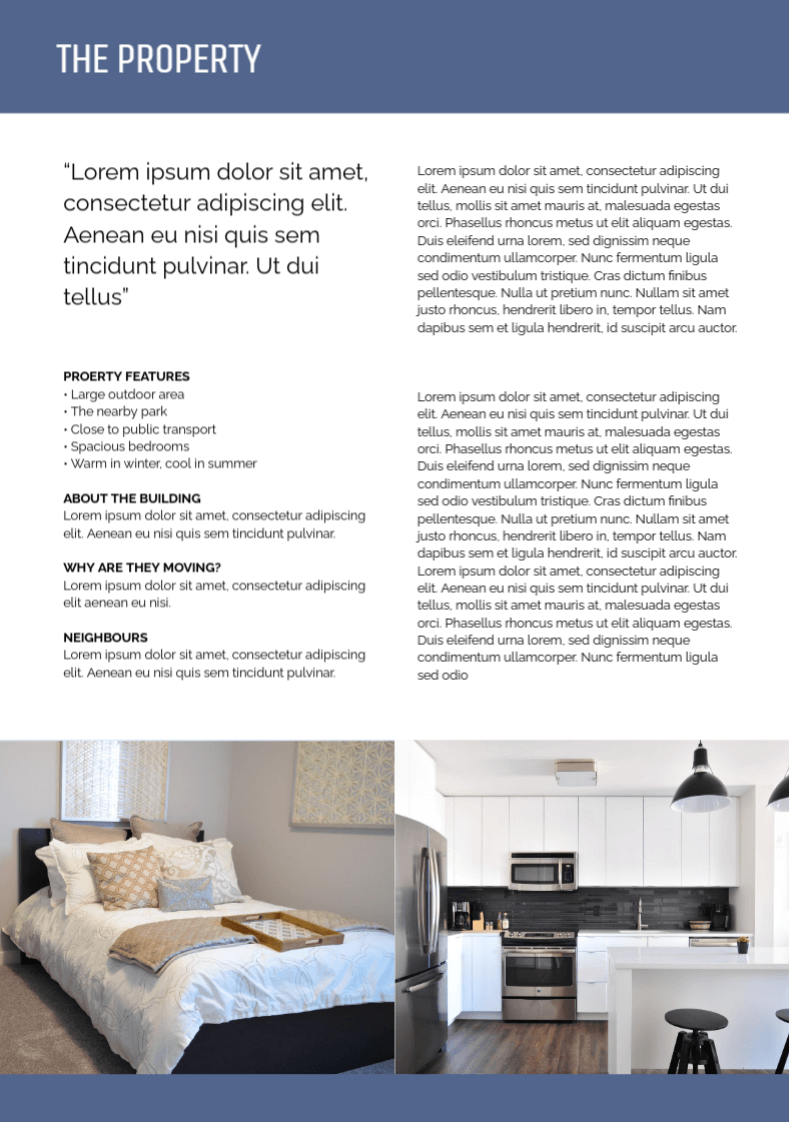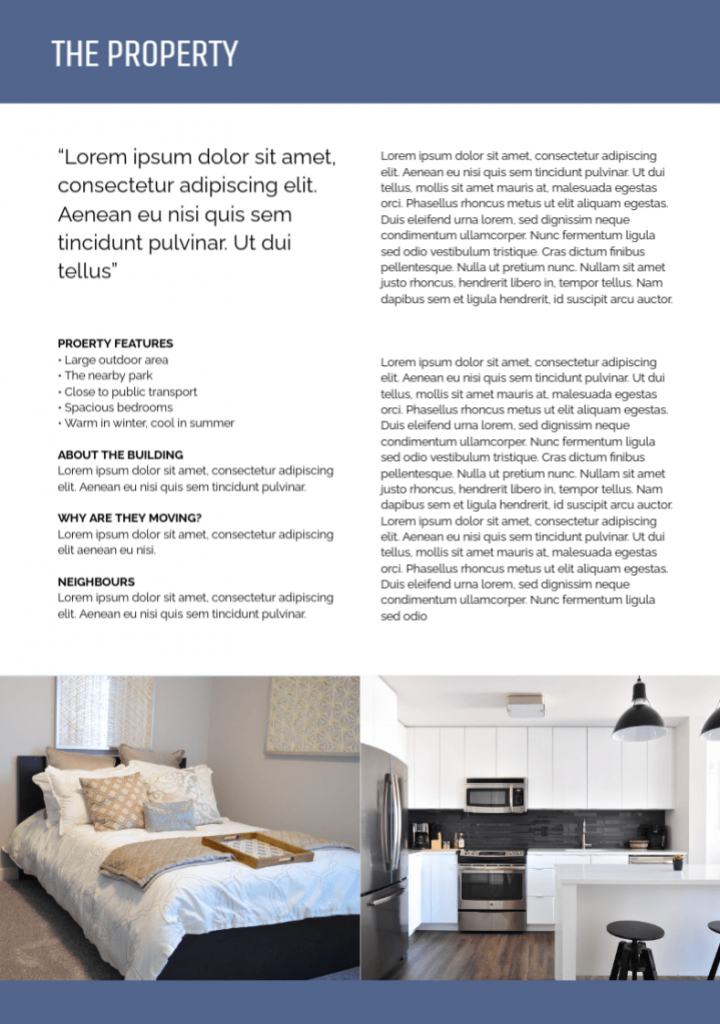 You'll also find pages dedicated to an agent bio, property floor plan, and more. There's even room for a full run-down of the buying process, providing potential customers with clear next steps.
This is a top option if you're looking to put all the details about a single property and your business in one easy-to-share location. It lets you be thorough, while switching back and forth between text and visuals so as not to overwhelm readers.
Plus, this kind of template makes it quick and simple to get your marketing materials ready to go. All you have to do is replace the existing text, media, and branding with your own content, and you have a full real estate brochure ready to go!
Access and edit this design, plus hundreds more engaging real estate marketing templates, in Jigglar!
2. Executive Property Profile (8 Page)
What if you like the above template, but it's just 'too much'? Maybe you want your advertising to pack a more concise punch, or you're concerned about giving customers too many details right out of the gate.
For you, there's a smaller version of Executive Property Profile – this one containing eight pages rather than fifteen. This real estate brochure template aims to keep things a little simpler, only presenting the most pertinent information.
The template still kicks off with a detailed agent bio: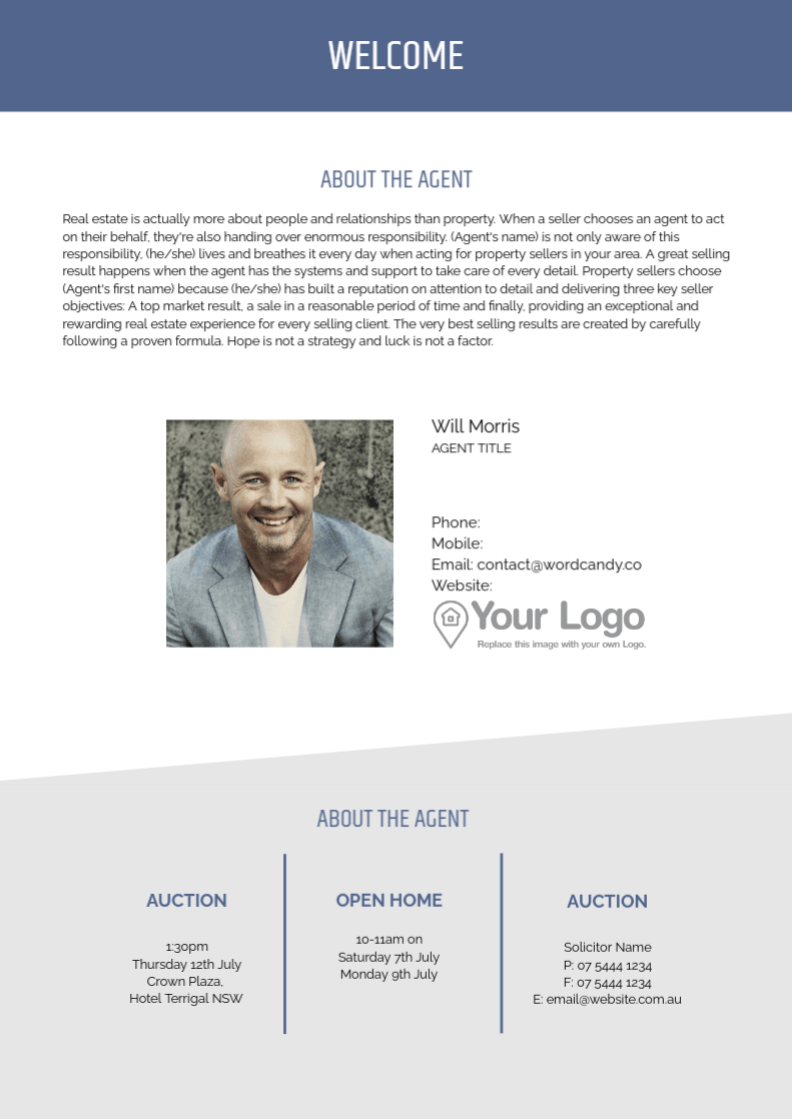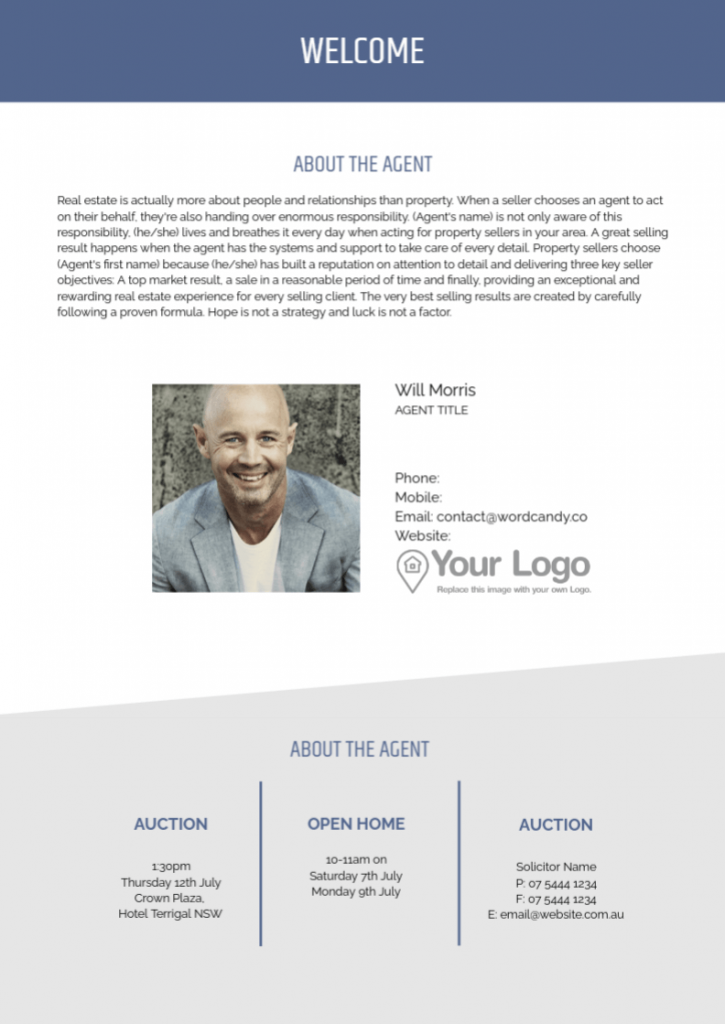 Most of the other pages focus on the specific property and all of its enticing details: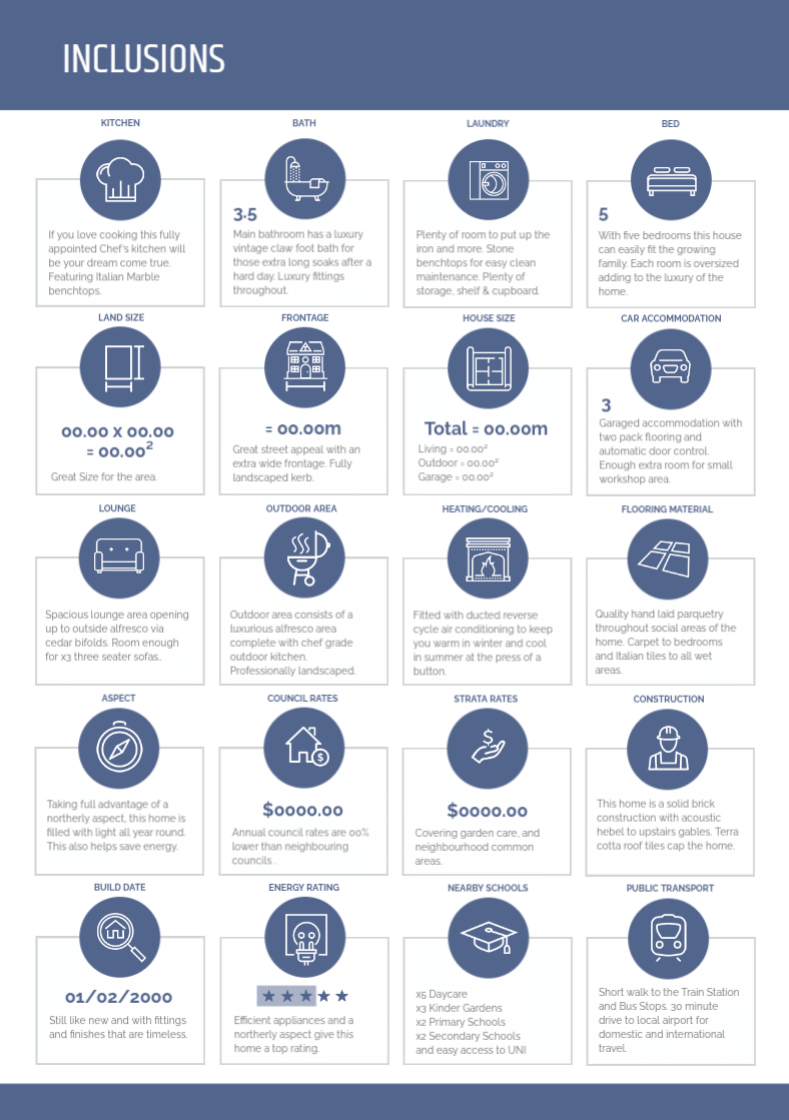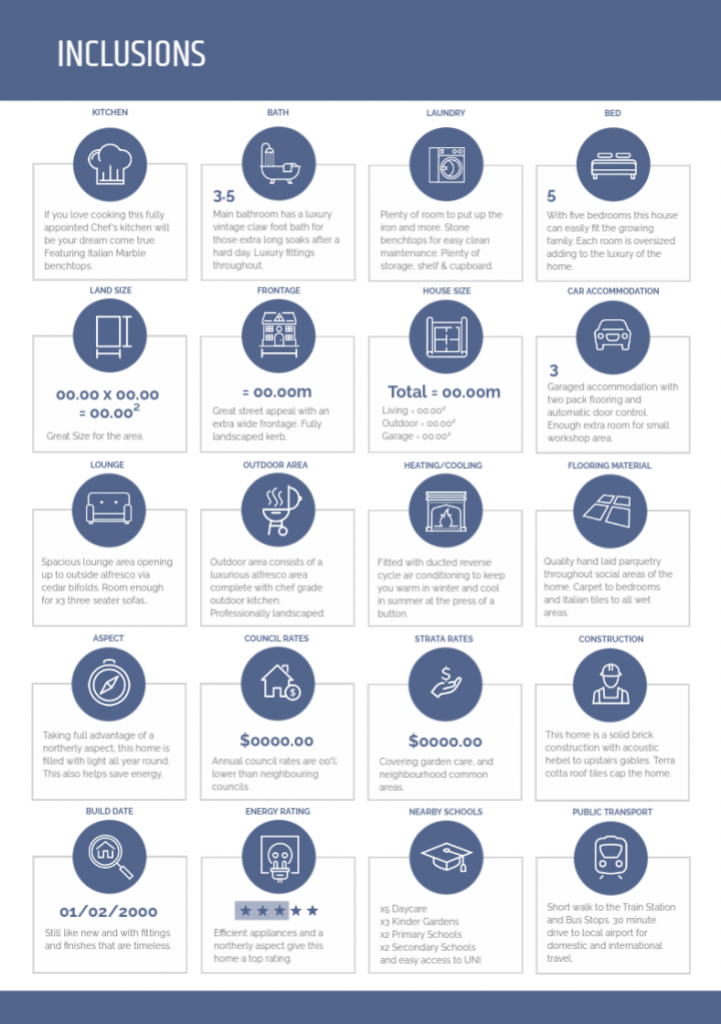 The full-page visuals have been removed here, to keep the brochure smaller and more manageable. However, there's still room to show off a few high-quality images: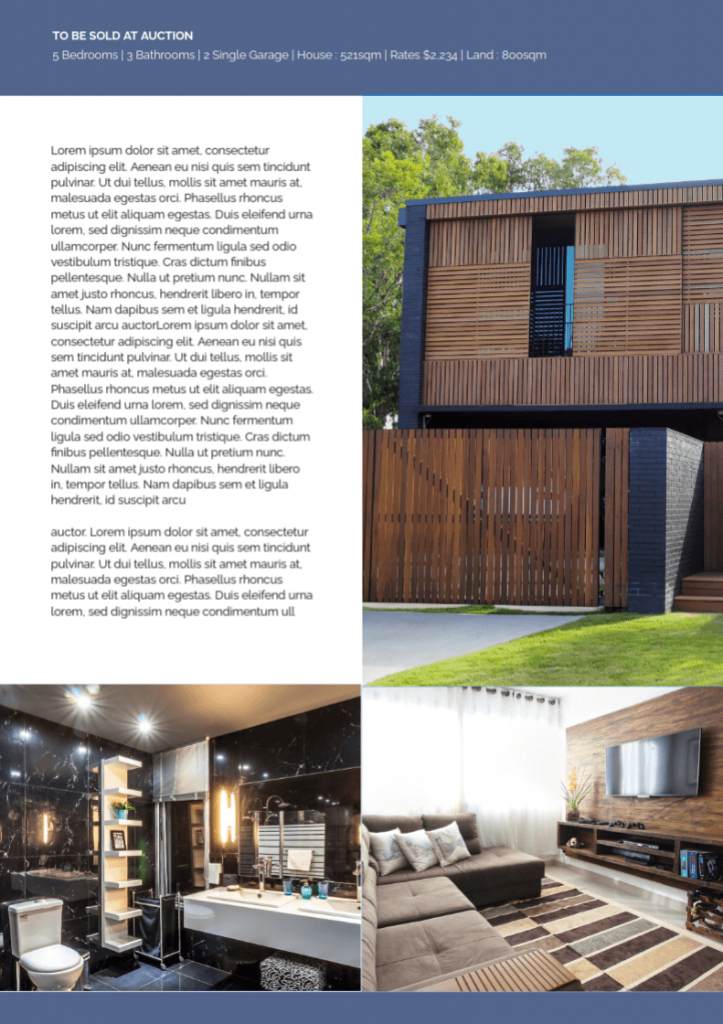 Like the full-size version, this is a highly-professional template. It shows potential customers that you mean business, and creates a very strong first impression.
Access and edit this design, plus hundreds more engaging real estate marketing templates, in Jigglar!
3. New Family Home
Last but not least, let's look at one more real estate brochure template that's even more straightforward. The New Family Home template contains two pages by default, making it ideal for offering clients a mini-brochure that quickly summarizes what they need to know.
The first page contains key details about the specific property you're promoting: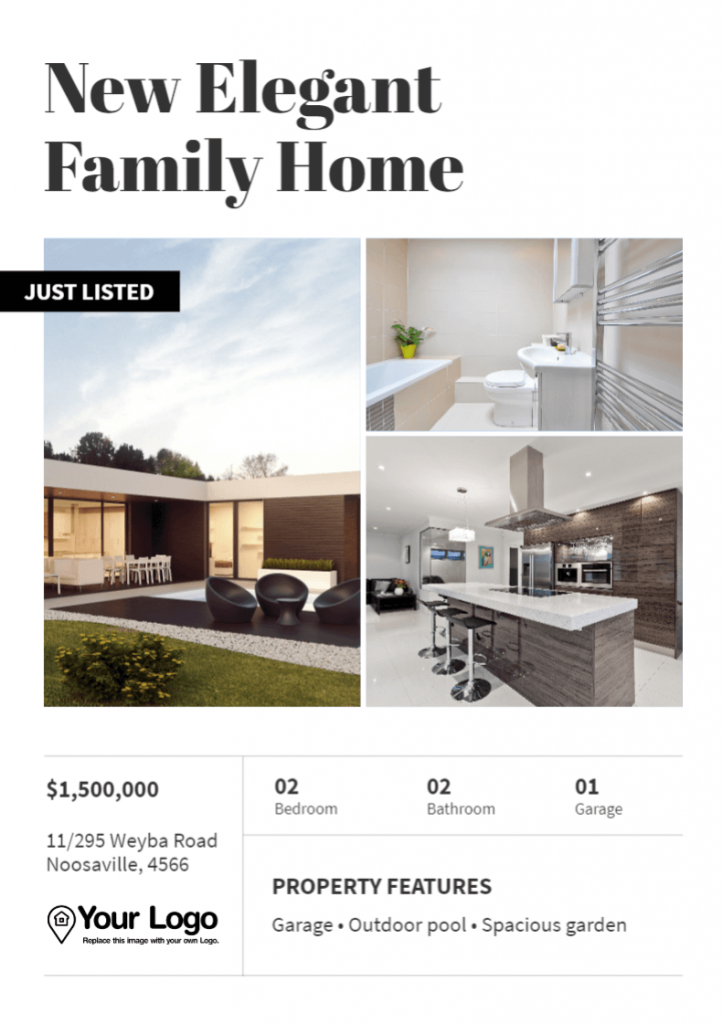 This gives you a chance to concisely highlight a few key selling points. It's designed to grab people's attention, and get them asking questions.
Then, the following page tells potential customers why they should buy from you: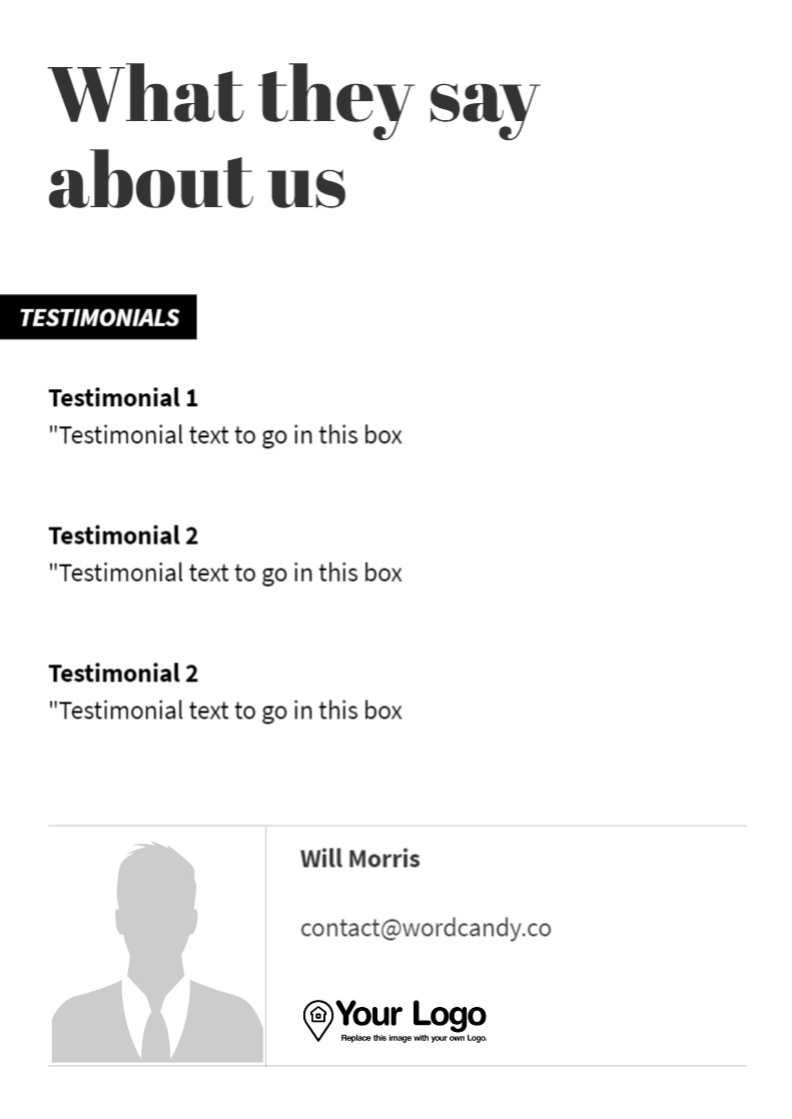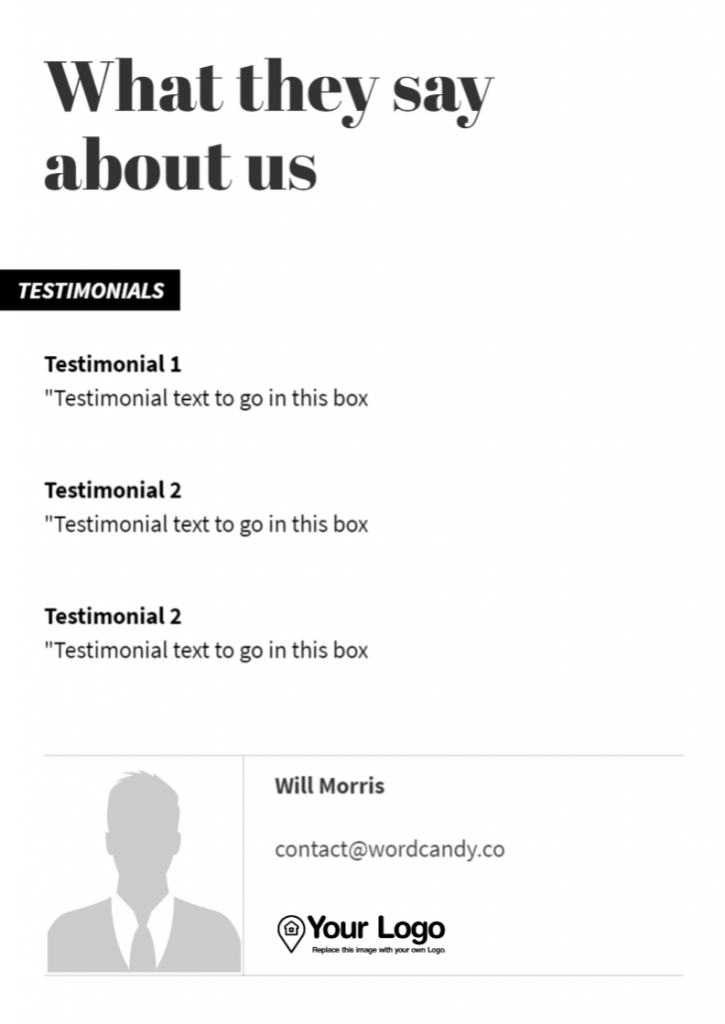 Purchasing real estate is a big deal, so people want to know they can trust you. Offering testimonials from happy customers is one of the best ways to make that happen.
You can stop there, or you can add more details about the property and your business. Like all Jigglar real estate brochure templates, you can include as many pages as you like and fill them with information.
So this particular template is an excellent starting point if you don't want to start from scratch, but you do want to build your own customized marketing brochure. It will help you create something that's both professional and accessible.
Access and edit this design, plus hundreds more engaging real estate marketing templates, in Jigglar!
Conclusion
Marketing your real estate business can seem intimidating, but it doesn't have to be. These days, there are lots of high-quality tools that can get you started very quickly.
If you're looking to create professional real estate marketing materials, it helps to have a solid starting point. That's where real estate brochure templates like the ones featured above come in handy.
Best of all, you can access these templates and more by signing up for a free 30-day trial here at Jigglar!