Distributing postcards is one of the best ways to let residents know about your services. Real estate postcards can let owners know you can help them with listings or to find new homes if they're thinking about moving. These postcards should include contact information as well as social media profiles.
In 2022, there's no reason why a real estate agent shouldn't have a social media presence. A lot of customers will prefer to contact you via social media instead of text or email. If you don't tell people how they can find you on social media, you're missing out on a huge marketing opportunity.
In this article, we'll talk about how to add social media profiles to real estate postcards. We'll show you several Jigglar templates including social media information. Let's get to it!
Find a Real Estate Postcard Template that You Like
If you look at the Jigglar archives, you'll find plenty of real estate postcard templates that you can use for your business. Most templates include some type of contact information. That can be an email address, a phone number, or your social media profiles: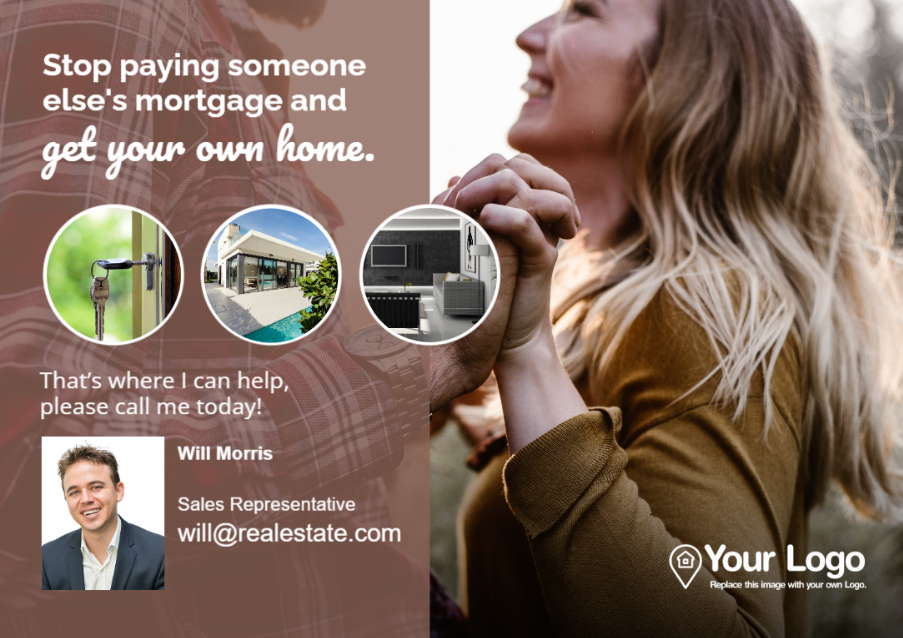 At this stage, you don't need to focus on real estate postcard templates that already include social media placeholders. Instead, find a design that you like and that transmits a message that you think will resonate with your customers. Once you have it, it's time to start talking about social media.
Choose Which Social Media Profiles to Include
Postcards don't offer a lot of real estate for including as much information as you want. In our experience, it usually works best if you add your preferred contact method and leave the bulk of the postcard to discuss your offer.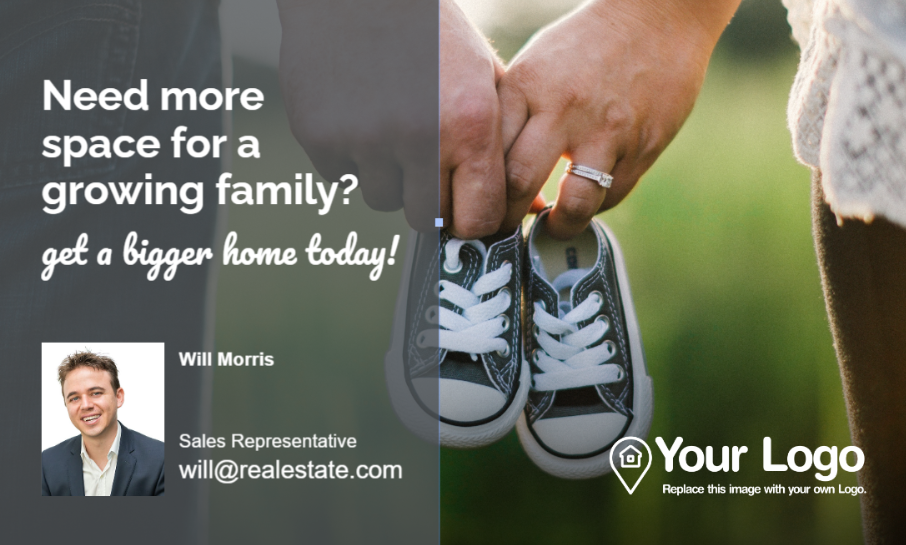 If you want to add social media profiles to a real estate postcard, we recommend that you choose one specific platform to focus on. That platform should be where you're most active and where you have the most followers.
For a lot of realtors, the choice comes down to either Instagram or Facebook. That's because those are the perfect platforms to showcase new listings in and for followers to see new posts in their feeds. As far as Jigglar goes, you can find us on Instagram: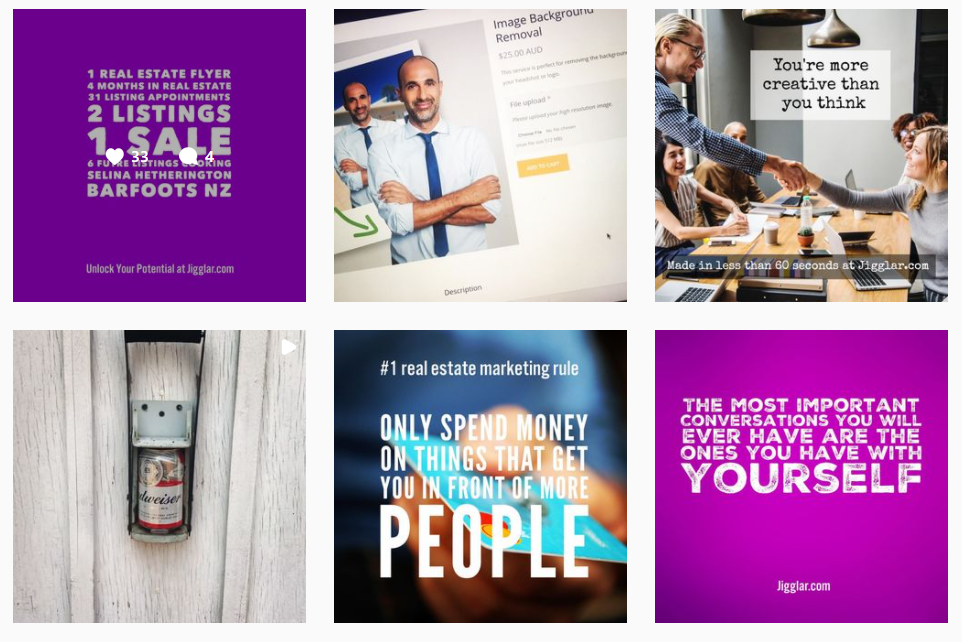 There's nothing stopping you from adding more than one social media profile to a real estate postcard. However, if the design looks too cluttered, the people you're trying to reach might miss key information.
Add Social Media Profiles to Your Real Estate Postcard
It's important to remember that since you're dealing with physical marketing materials, you can't simply rely on links to lead readers to your social media profiles. Instead, you'll need to spell out your profile name(s) within the postcard. Here's a quick example of what that can look like: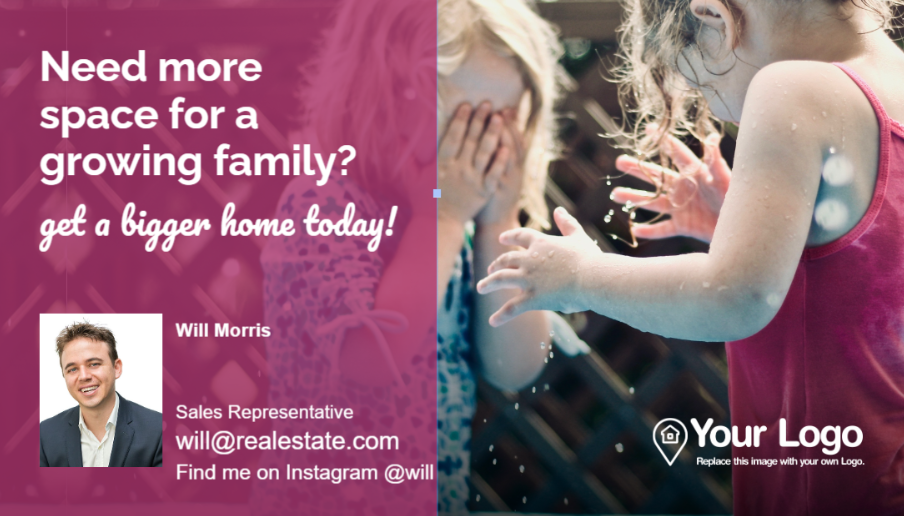 Most of your audience will know that the "@" symbol stands for the name of a social media profile. By including a "Find me on Instagram" Call-to-Action (CTA) you make sure there's no confusion about which social media platform you're referring to.
If you don't want to add too much text to your social media profile, you can always use icons instead. Jigglar includes an image tool that you can use in the editor. If you select the option to add a new image, you'll notice that Jigglar offers a library of existing assets, including social media icons: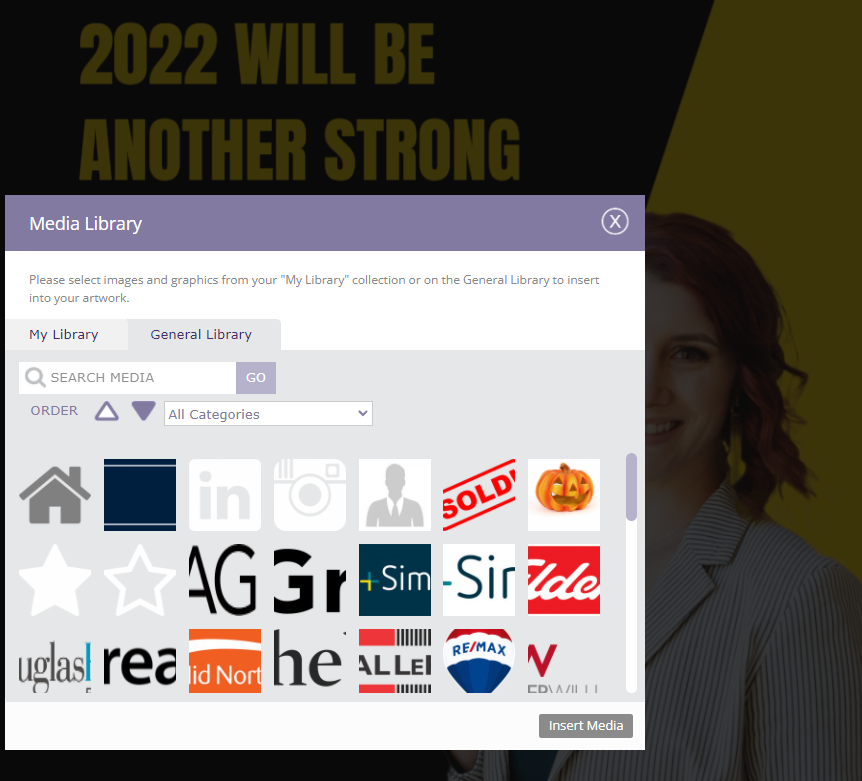 Once you select a media asset, Jigglar will enable you to resize and drag it around the template that you're using. For an Instagram icon, you'll want to place it right before or after your full username: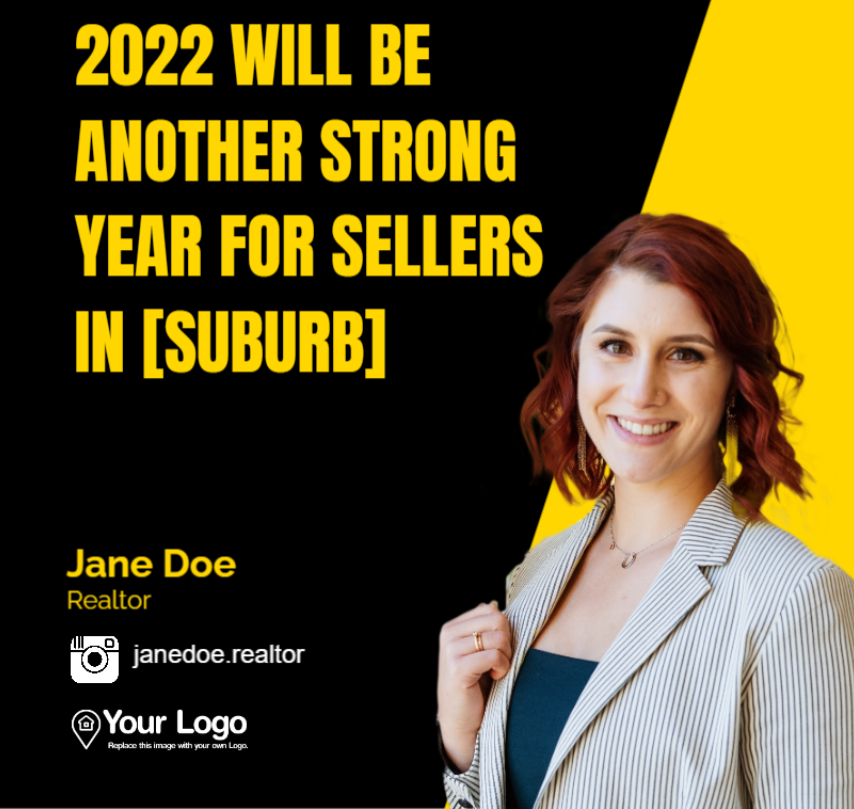 Jigglar includes multiple icon options for several social media platforms. If you play around with the Jigglar editor, you'll find options for Instagram, LinkedIn, Facebook, and Pinterest. As far as real estate goes, those are the big social media platforms that you should worry about.
If you want to design your own social media icons or download them from elsewhere, you can also do that. Jigglar enables you to upload image files from your computer and use them in any of your templates.
Conclusion
If you're planning on using postcards to market your real estate business, you can't leave out social media information. These days, a lot of people might actually prefer to reach out to you via social media instead of using messaging or emails. If your social media profile also happens to include pictures of recent listings and other engaging content, you might just get some new followers.
Any of Jigglar's postcard templates can adapt to include social media profiles. You can add profile names using simple text or take advantage of the social media icons that Jigglar includes. Adding social media icons to templates is easy and it'll leave no doubt as to what platform you're pointing recipients towards.
Do you have any questions about how to add social media profiles to real estate postcards? Let's talk about them in the comments section below!