Postcards are one of the best parts of the holidays. As a business, every season gives you a new opportunity to reach out to new and existing customers with fun postcards that remind them of your services. Real estate postcards, however, tend to be rather boring.
If you want to break the mold and create fun real estate postcards (that help you get leads), you might need a little help. In this article, we'll show you three unique real estate postcard examples and templates from the Jigglar archives that you can use to build rapport with your customers. Let's get to it!
1. Halloween Jack-o-Lantern
There's a postcard for every holiday and that includes Halloween. As a real estate agent, you might not know how to tie in the idea of a scary holiday with your business, which is where this design comes in: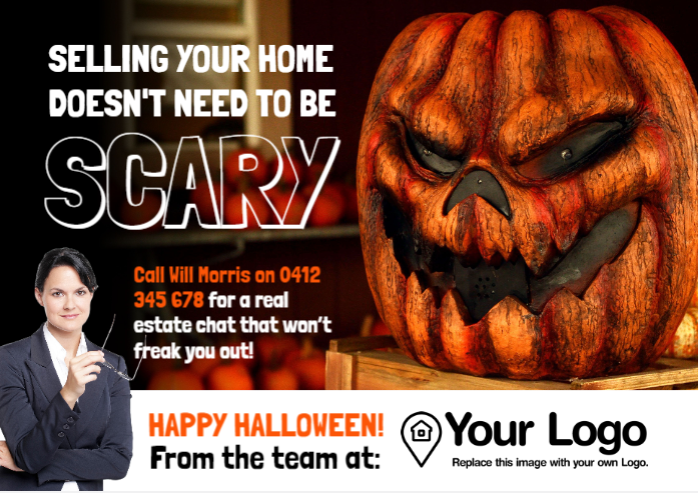 One of the biggest challenges of getting new listings is helping homeowners understand that selling their properties doesn't have to be scary and that's the message at the core of this real estate postcard.
It's important to remember that every postcard you sent out gives you an opportunity to remind potential customers about who you are and what your brand is. That means you should always include contact information, your real estate logo, and a headshot.
2. Selling This Christmas?
One of the best things about real estate postcards is that you don't need to limit yourself so one-page designs. With a postcard, you can have some fun with the front design and then use the back of the card to share useful information about your business.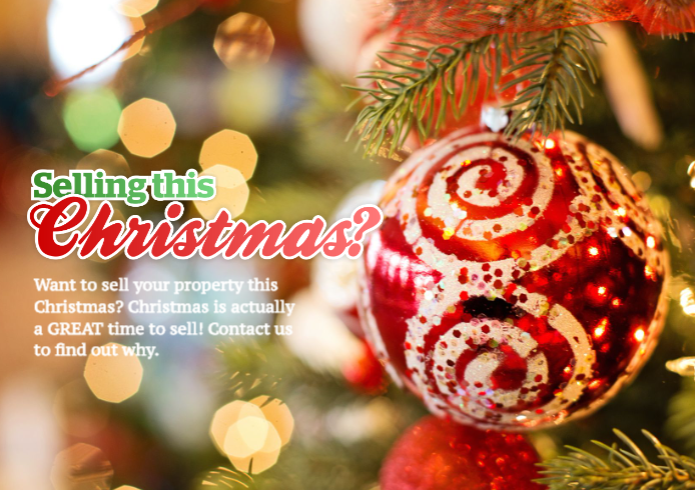 Since we're talking about a seasonal postcard, your initial message should always be a greeting that relates to that event. Then, you can move on to your main offer or hook.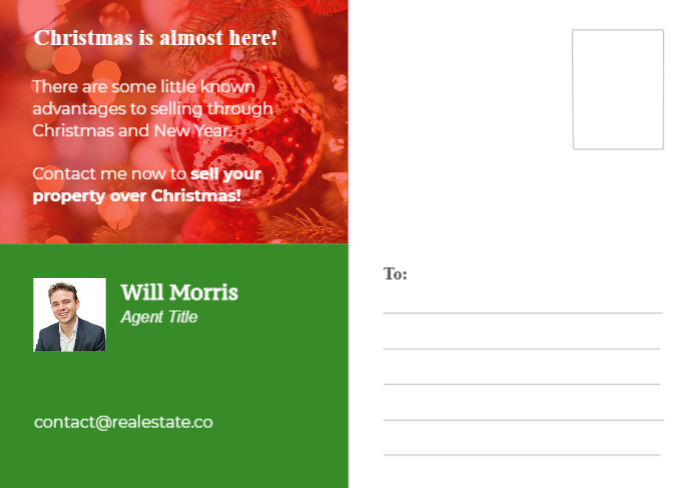 With this style of postcard, it's always a nice touch to take the time to handwrite each recipient's address by hand. That makes the postcard feel less like marketing and more like a message from a friend looking out for that client's best interest.
In many cases, it might be in their best interest to consider listing their homes during the holiday season rush, which is precisely what you want.
3. Happy Australia Day
There's no holiday too big, too small, or too specific for a postcard. One of the best examples of that fact is this "Happy Australia Day" postcard from the Jigglar archives: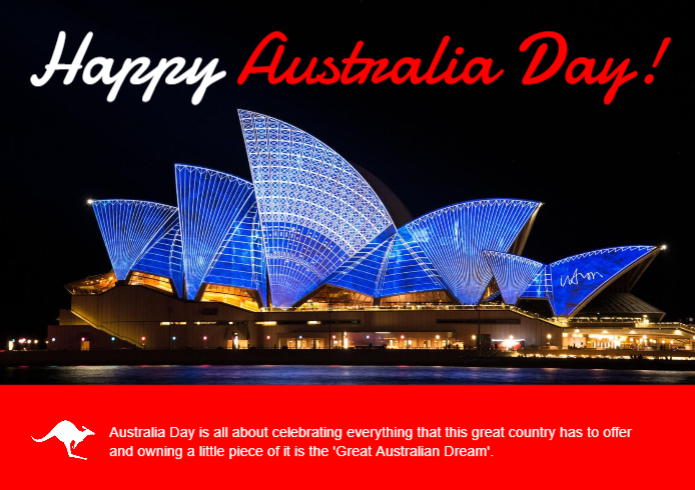 Although this particular design is very targeted, you can easily repurpose it for local holidays in any other country. All you have to do, in this case, is replace the Sydney opera house with a landmark from your area and change the postcard's copy.
Using Jigglar, you can easily upload new images to use in your postcard templates and modify the copy of any design that you like. If you want to repurpose this particular design, we also recommend replacing the kangaroo.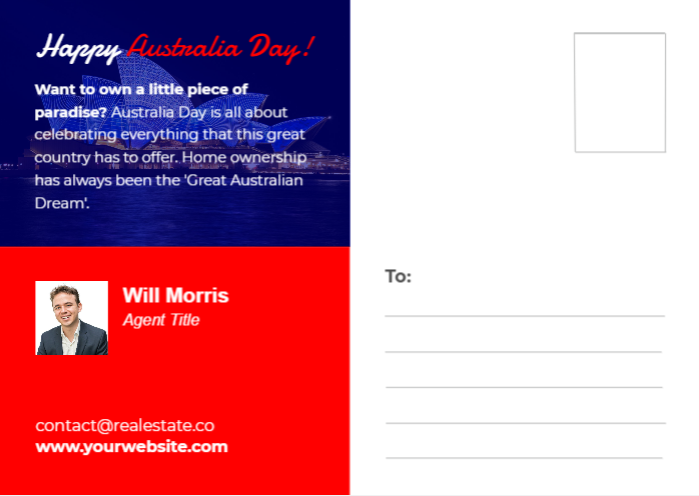 Just as with our previous example, this design includes a template that you can use for the back of your postcard. For this template, you'll need to add your own contact information, a nice headshot, and talk a little bit about the holiday that you're celebrating.
4. Just Sold Postcard
Although holidays are your bread and butter when it comes to postcards, there are a lot more options that you can experiment with. For example, this real estate just sold postcard design offers a great way to build awareness of your business in any neighborhood: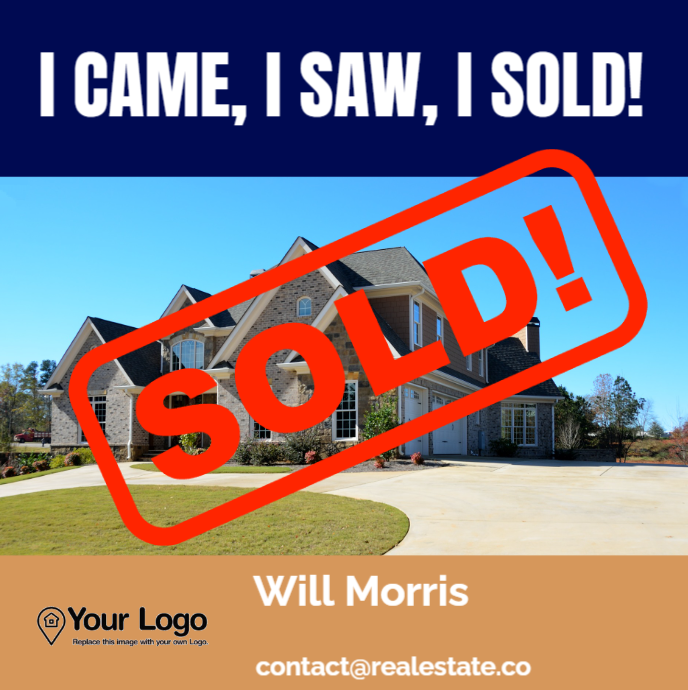 This postcard works for any location where you've sold a property in recently. It lets potential clients know that you're the person they want to talk to if they're ready to list their properties and includes the contact information that they need to do so.
Conclusion
There's no reason why real estate postcards should be boring. You can send postcards for pretty much any occasion, ranging from holidays to special events, and even to let neighbors know that you just sold an amazing property close to their houses.
Using Jigglar, you get access to a library of templates that range from real estate postcards to social media posts. All you need to do is find a template that you like, customize it a little bit, and you can print or publish it right away.
Are you ready to design your first real estate postcard? Try out Jigglar for free and check out any of the templates we showed you earlier!