With about 3.5 billion users globally, social media is an effective channel for reaching your target audience. However, to extend your scope and build trust with potential and existing clients, you'll need to carefully consider and plan out the content you put out.
You generally want to show off your expertise and bring as much exposure as possible to your properties. Fortunately, this is not a difficult endeavor. Taking advantage of our ready-to-use real estate posts for social media can help you get started.
In this article, we'll discuss why you might need social media templates and the benefits of it. We'll also list six templates you can work off of to create your posts quickly. Let's dive in!
Why You Might Need Ready-to-Use Real Estate Posts for Social Media
Creating professional real estate posts for social media can be time-intensive. Instead of creating your content from scratch, a more efficient approach is to use social media post templates.
As the name suggests, ready-to-use posts are templates that come with a pre-built structure and content. They provide a foundation to work from and let you easily tweak and personalize the post to your liking: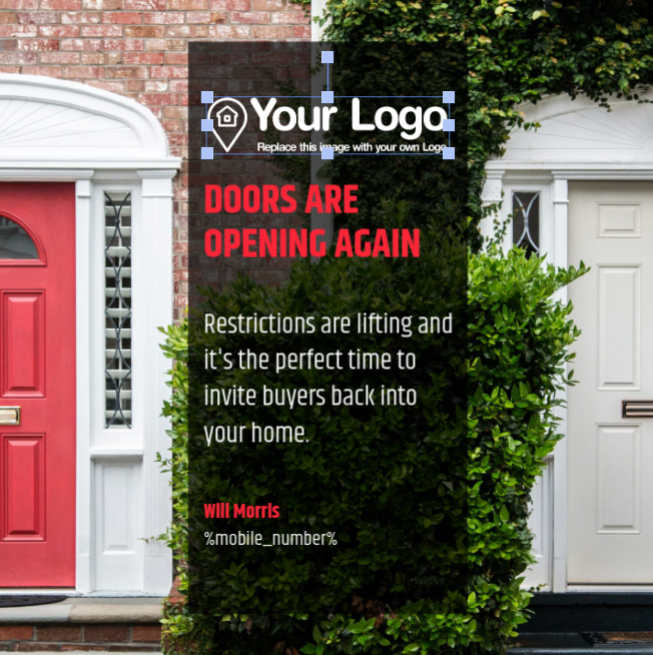 With social media, it's better to stick to a consistent content schedule than it is to post sporadically. Templates help you do that by making it easier and faster to create and distribute posts. The less time you have to spend creating your social media posts, the more time you'll have to focus on your properties and clients.
Another advantage of using real estate social media templates is they remind you of key points to include. Most templates come with image and text placeholders so you don't unintentionally leave certain elements out, such as contact information.
Finally, ready-to-use templates can help you keep your designs consistent. In practice, this means that features such as formatting, colors, and more are used appropriately and cohesively to create appealing designs, which can also improve your branding.
6 Ready-to-Use Real Estate Posts for Social Media
As noted above, templates can help you save time on content creation for social media. However, it's important to find quality designs with the right aesthetics to appeal to your audience.
Fortunately, our templates can help you do that. These real estate posts for social media are created by professionals and designed to help you stand out from the competition. Let's take a look at six hand-picked samples to get you started.
1. Sold via Negotiation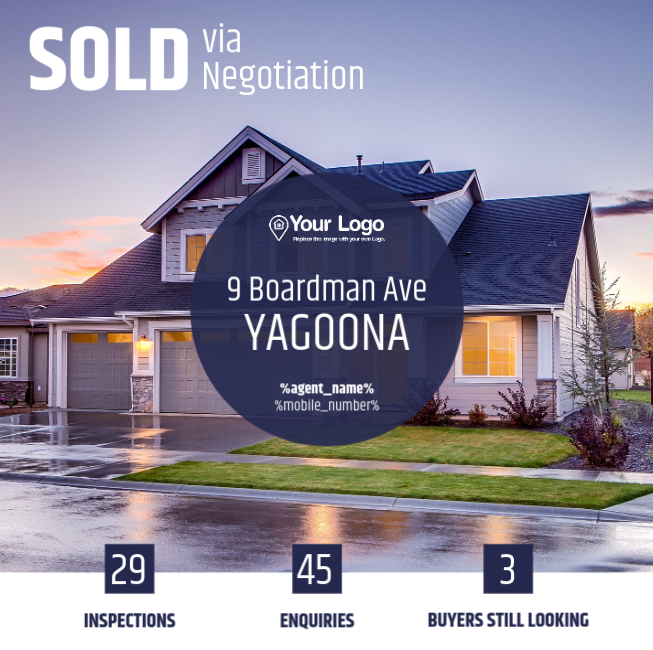 At the top of our list is a template that combines elegance with simplicity to make for an instantly eye-catching post. This ready-to-use real estate post for social media includes a beautiful background image and clean, customizable overlays text over it.
To advertise quality, some extra information is included, such as the number of inspections, enquiries, and buyers looking to purchase it. However, if need be, you can also replace the default text with details more relevant to your target audience and location.
2. Our Opens Are Open Again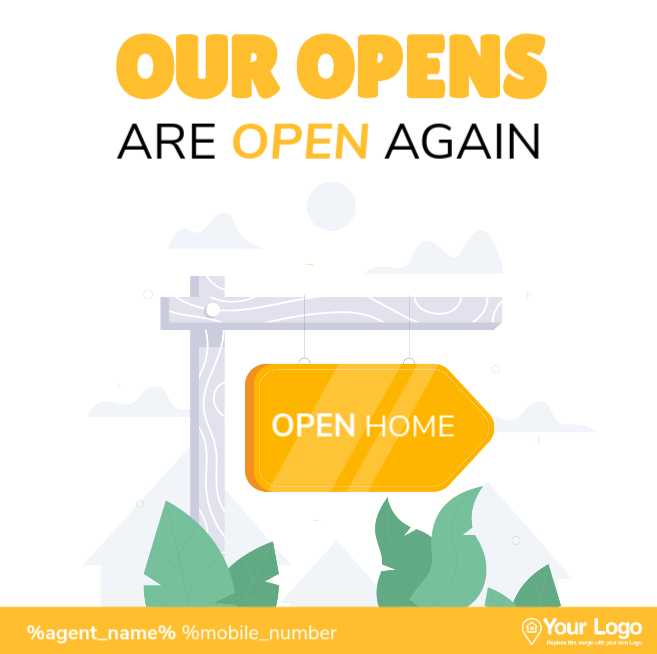 Our second template combines the right amount of visual appeal and text, taking care to not overshadow the message with its design. In addition to a placeholder for your logo, there's also space to enter your name and contact details.
The combination of a yellow on a predominantly white background creates a contrast that is instantly eye-catching. This template can come in handy during festive periods when you might be looking to add more to your content.
3. In Three Minutes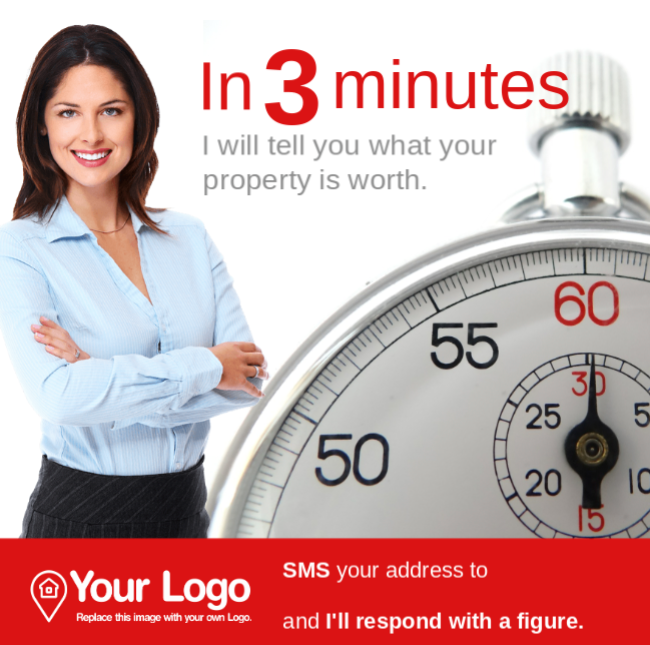 When it comes to creating real estate posts for social media, it's essential to make your message straight and to the point. That's exactly what our In Three Minutes template does.
This ready-to-use post is an ideal option if you're looking to market your services and emphasize your efficiency and responsiveness. You can use it to target a busy audience or simply folks who are looking to buy a home quickly.
4. Virtual Open Homes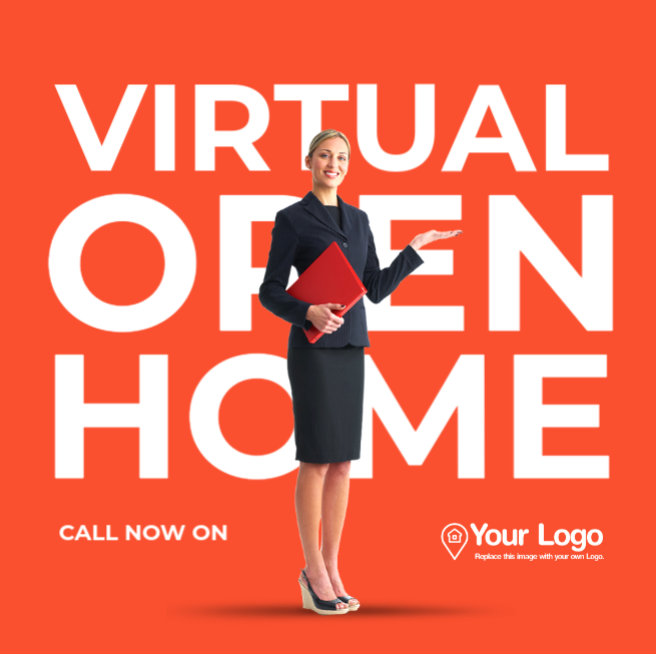 Similar to the previous one, this social media post template titled Virtual Open Home focuses on getting your message across quickly and distinctly. It provides a colorful, clean, and impossible-to-miss design that can be used in a variety of ways.
You can use it to help personalize your posts and demonstrate that you're a trustworthy and approachable agent. There's also space for your contact and logo as well, making it easy to incorporate your branding and contact information.
5. Open Homes #FridayMood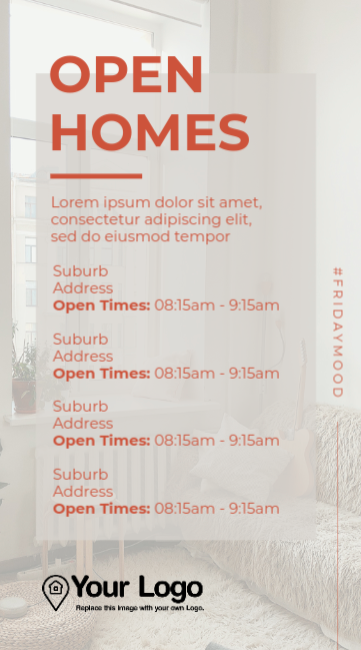 If you're looking to create a real estate post for social media that includes a lot of text, this template is worth checking out. The bold, colorful text pops over the neatly subtly muted background image.
This ready-to-use template is ideal for posting about open home times on your social media page. You can quickly and easily replace the placeholder content as needed to provide the relevant information to your audience.
6. Final Walkthrough Checklist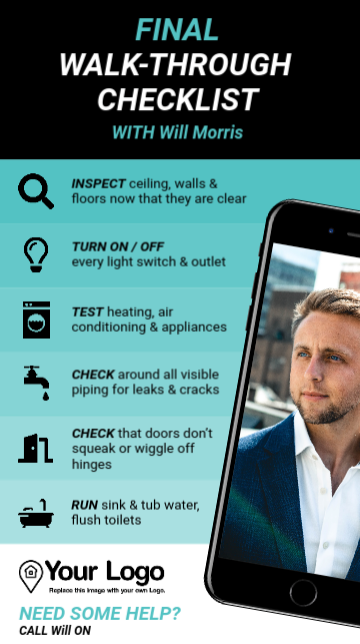 The final template is a walkthrough checklist. This is an awesome choice if you're looking to establish credibility and expertise as a real estate agent.
This social media post template offers an effortless way to provide value to your content, such as giving potential homeowners the necessary resources on how to inspect an open home. You could leave the checklist as is, or edit it to replace it with other real estate tips.
Conclusion
Social media can be an effective way to reach potential buyers, respond to their enquiries, and position yourself as a trusted expert on all things real estate. With the right tools, you can make the most out of your posts.
This is where our templates come in. These real estate posts for social media can provide a solid starting point for you. Plus, they're eye-catching, aesthetically pleasing, and of professional quality.
You can begin using these templates in no time. Get started today by signing up for a free 30-day trial at Jigglar!