You are not the only agent with the ability to reach clients via the web. In fact, according to NAR, almost half of all properties are sourced via web platforms. To stand out from the crowd it is imperative that you produce attention grabbing real estate headlines that resonate with your target audience-home buyers and sellers.
Creating compelling, effective real estate headlines for houses is not easy. If you can master this skill you will see a significant boost in leads and transactions. But you don't have to be a professional writer to create excellent headline copy. Here are a few tricks you can use to write perfect, attention-grabbing headlines that get results for your bottom-line.
1. Tell a Story!
Purchasing a home is a business transaction, but there are also many emotions involved. Remember- this property could be someone's next home, where they raise their family and spend their lives. When crafting a headline you need to appeal to buyer emotions in addition to concrete facts and descriptions. Utilize action words, short phrases, and compelling adjectives to appeal to their positive feelings.
For example, instead of describing a place as a "3 Bedroom 2 Bath Condo in Downtown Portland" you could say "Welcoming Buckman 3bed 2bath Condo in the Heart of Downtown PDX."
Utilizing the right design while telling your story is also important. Jigglar's free real estate listing template tool can help you tell that story with ease. I created this listing in less than 5 minutes. You can spend the time you save focusing on ensuring your copy converts instead of worrying about design focus.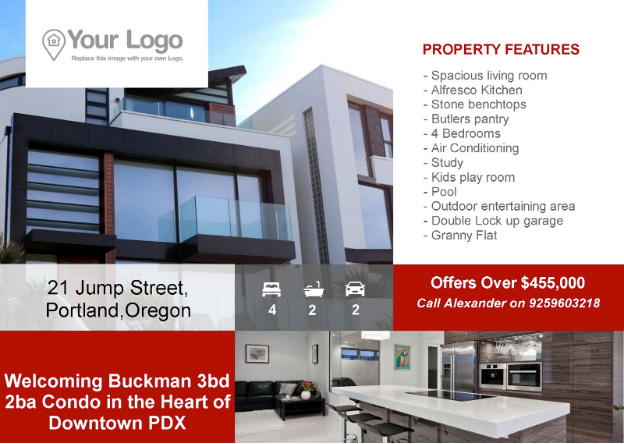 2. Do Not Follow the Crowd
Most real estate agents are not professional copywriters. Even though many agents have a strong sales background, those skills are not necessarily applicable when creating copy for listings. Consequently, many RE agents attempt to emulate others in the field. They look at the listings for their area and create content that looks and sounds like everyone else. This is a huge mistake. If you are unable to make yourself stand out from the crowd your effectiveness will be drastically diminished.
Try and set yourself apart from other agents in your area. You can do this by putting information in your headlines that others lack, by changing your formatting to make your headline "pop" and by taking steps to make sure that your copy stands out from the endless list of properties for sale in your region.
3. Don't Tell. Sell.
Your goal with a headline is not to solely convey detailed information about a property. Your headline has one primary purpose- to get your audience interested in the property for sale. To drum up interest you need to sell the best features of the property in the headline. Most other listings will be focused on getting information in front of clients- this is not enough. You need to persuade them to click on your listing, and once they are there they will have access to a wealth of information like square footage, backyard size, lot size, neighborhood information etc.
Treat your headline like a sales pitch and make sure to include the most desirable aspects of the property. Let's say the property is located in a fantastic school zone- if this is a factor that makes this property special you should lead with that. Combine your sales prowess with your writing ability to maximize your exposure.
4. Make Your Headlines Share-able
Hubspot reports that half of all sales revenue in the 14 most common industries is driven by social sharing. As a real estate agent, you already know the immense value that social networks and relationships bring to your business.
The most successful agents in markets across the country rely on their social skills to get listings. The National Association of Realtors has found that almost 40 percent of sellers who used an agent listed with them due to a friend or family referral. Social contact is a powerful driver of sales in every industry, but real estate, in particular, thrives on it.
So how can you write real estate headlines for houses that take advantage of share-ability?
You need a hook that will compel the viewer to share your listing with a friend, family member, or the people they are connected with on social platforms like LinkedIn, Facebook, Twitter, etc.
Using a unique or compelling fact can help accomplish this feat. For example, let's say you are selling a home in San Francisco's Telegraph Hill- you can mention in your headline that you are listing a property with a gorgeous view of Coit Tower, as well as post a picture in your listing of Coit Tower. The appeal of being so close to a recognized landmark will encourage others to share the "awesome house near Coit Tower" and thus raise the profile of your listing.
Here is a quick example I created on Jigglar: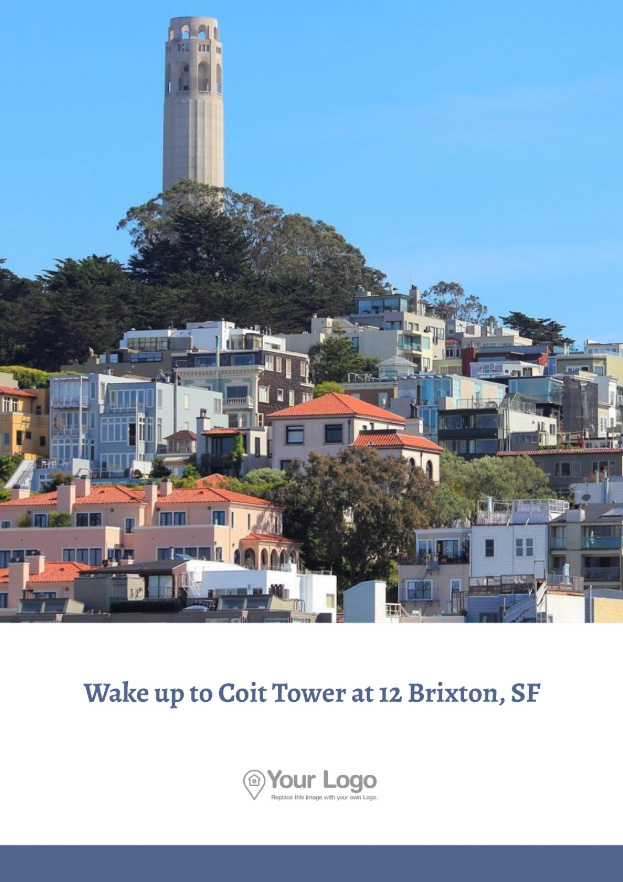 5. Proofread!
Nothing will turn off a potential buyer faster than major spelling or grammatical issues in a listing.
You don't have to follow every single grammatical rule, conversational English is OK, but obvious misspellings, or misusing words will immediately hurt your reputation with the viewer.
Home buyers are sophisticated people, and buying a home is the most significant purchase most people will make in their entire lives. You want to start off on the right foot.
A simple grammar and spell checker, combined with actually reading what you wrote should prevent the vast majority of mistakes.
The Takeaway
Writing perfect, attention grabbing real estate headlines is only half the battle but it is an important part none-the-less.
To effectively reach buyers and sellers it is imperative that you have a unified approach to your marketing materials.
Software solutions take the time-consuming work and drudgery out of creating professional-level marketing materials while maintaining a professional-quality look. To sign up for a free Jigglar trial to take your marketing reach to new heights, click here.