Attracting leads for your real estate business can feel like a chore. That's doubly true when you're a small agency that needs to handle all of the necessary marketing internally. The more time you have to spend creating high-quality marketing materials, the less time there is for your actual clients.
The good news is that there are ways to speed up that process without impacting the final results. In this post, we'll show you how to do that, by explaining how to create real estate prospecting postcards via user-friendly templates!
Why Real Estate Prospecting Postcards Are Excellent For Attracting Leads
It's important to have a strong online presence, such as a carefully-built website and active social media profiles. However, it's easy to get so caught up in those channels that you neglect the many offline opportunities that are available to you.
Physical marketing materials can still be incredibly effective when it comes to attracting leads for your real estate business. That's especially true for small and portable content, such as postcards. Real estate prospecting postcards are:
Quick and low-cost to create
Small and portable
Simple to bring to events, drop in mailboxes, and otherwise share around
Concise and easy for prospective clients to understand
Best of all, you can create these types of postcards without the need for any fancy tools or special marketing knowledge.
How to Get Leads With Real Estate Prospecting Postcards Templates (In 3 Steps)
So, how can you put together real estate prospecting postcards quickly and easily? The answer is to use dedicated templates, like the ones we offer here at Jigglar.
These templates are designed specifically to meet the needs of real estate agents who have to market their businesses and properties. They make it easy to create high-quality postcards that you can share with leads, by giving you a strong starting point and letting you customize it with your own content and branding.
What's more, you can access all of our templates right away via our 30-day free trial. Let's take a closer look at how you can get started.
Step 1: Choose a Template
Once you've set up a free trial account, you can browse the many templates that are available. These are separated into multiple categories: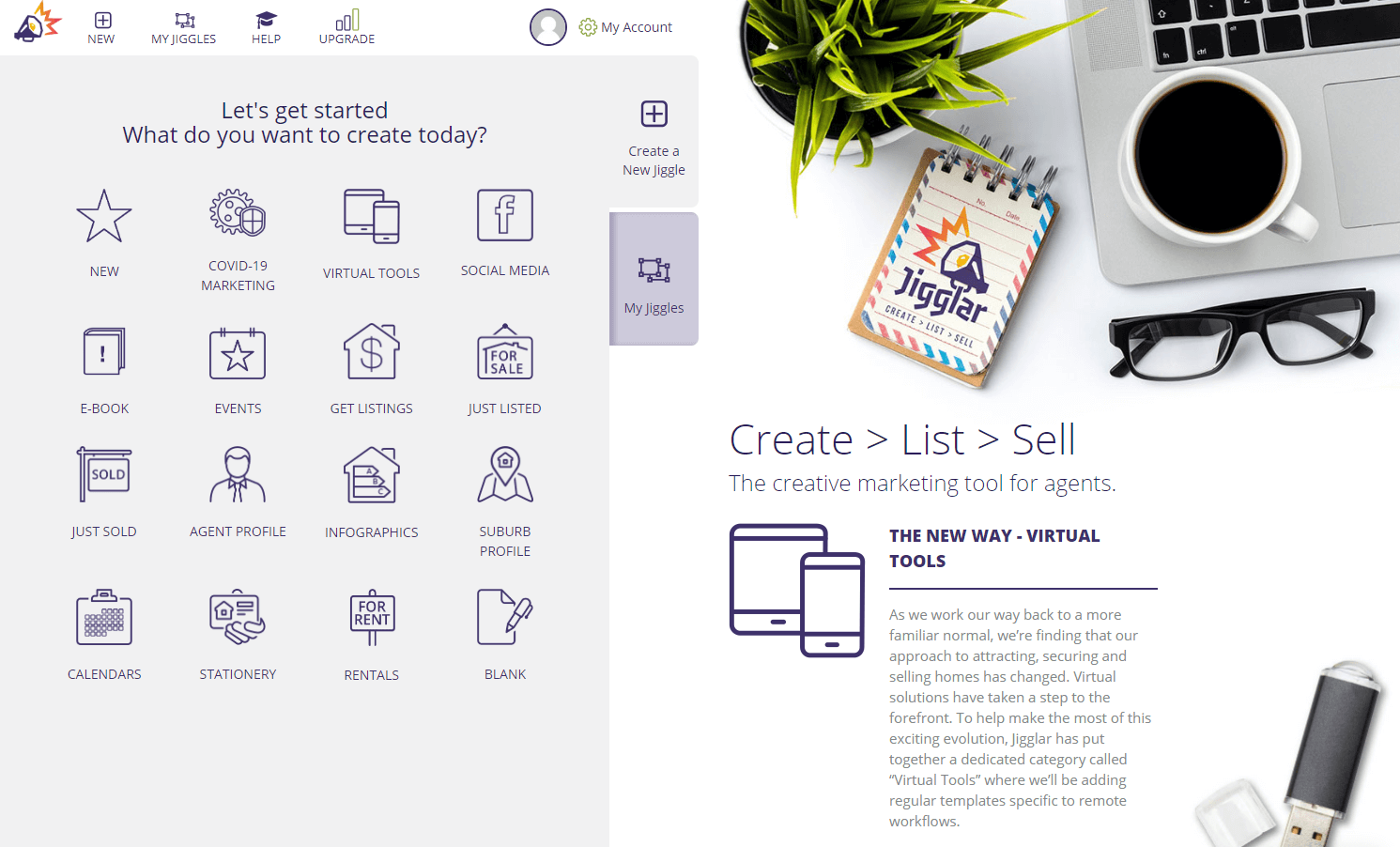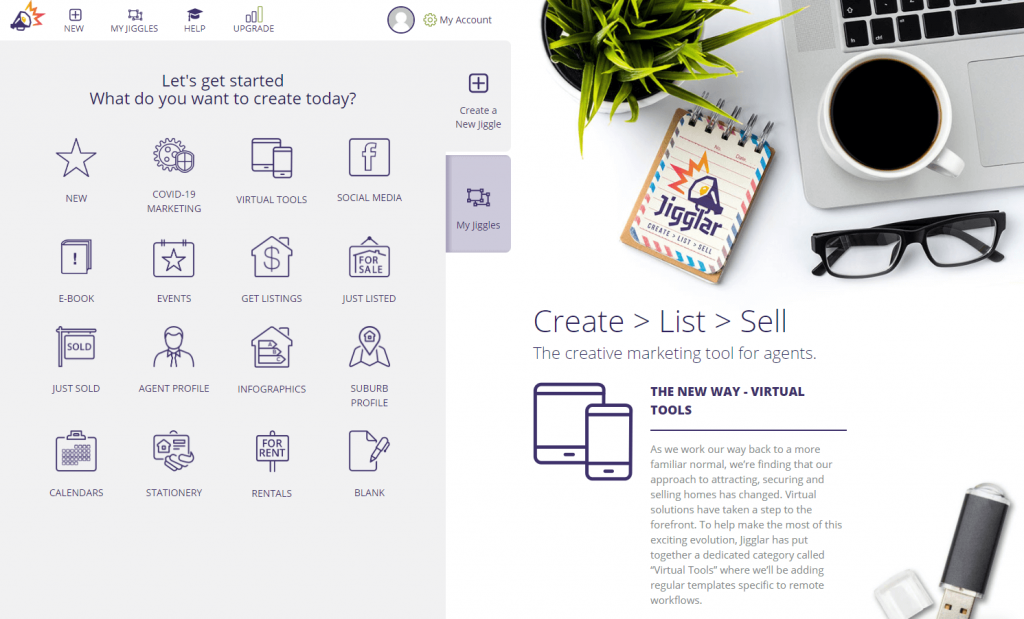 When it comes to creating real estate prospecting postcards, you'll find several relevant options under the Get Listings category: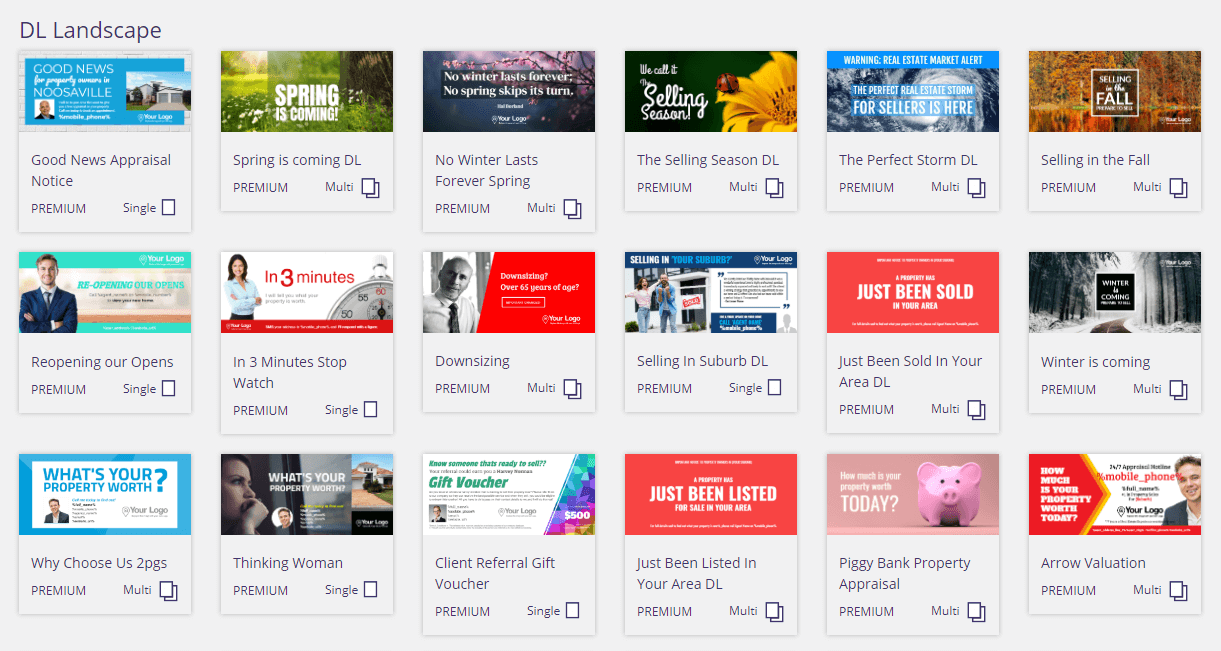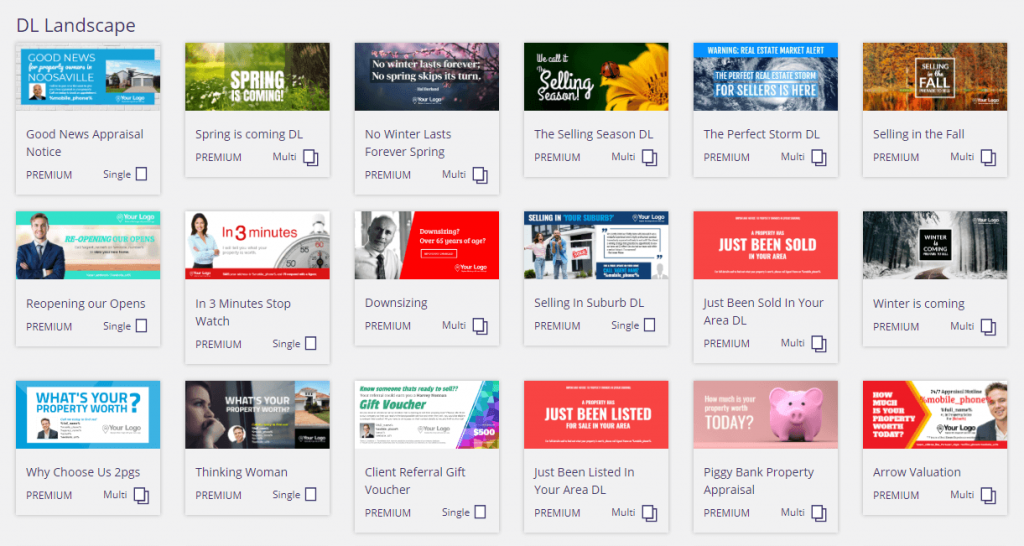 These are organized by size and dimensions, and include several templates designed specifically for creating postcards: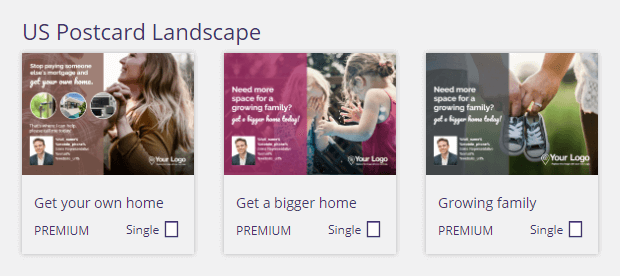 To use a template, all you have to do is select it. For our example, we'll choose the "Get your own home" template. Then it will open in the editor so you can start making changes.
Step 2: Customize Your Template
At this point, you should be looking at the starting template in the Jigglar editor: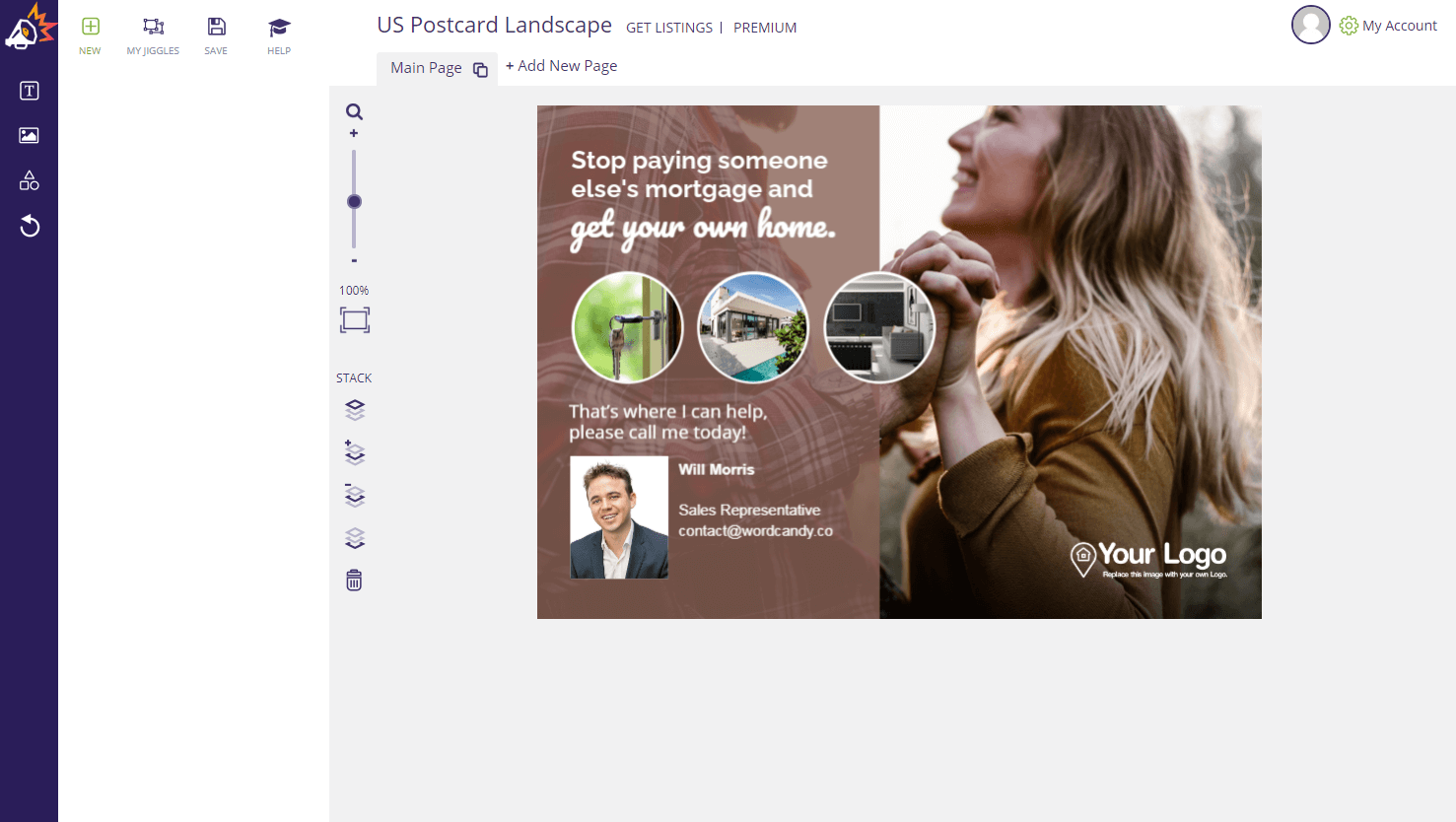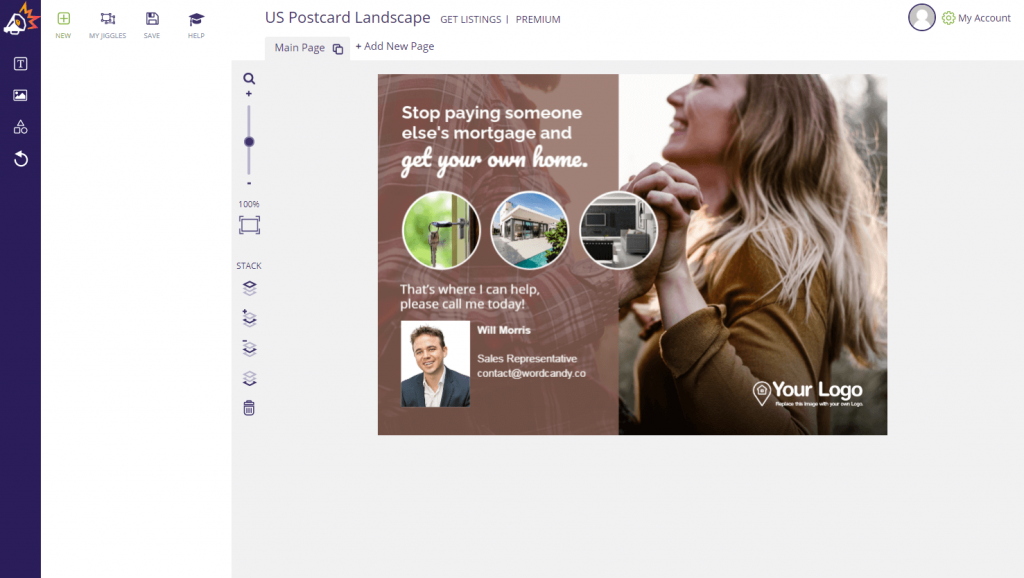 Now, you can begin to customize the template so that it better meets your needs. Each individual element can be selected, which will present you with a number of customization options.
For example, if we click on one of the images, we can change the container shape, dimensions, transparency, and orientation: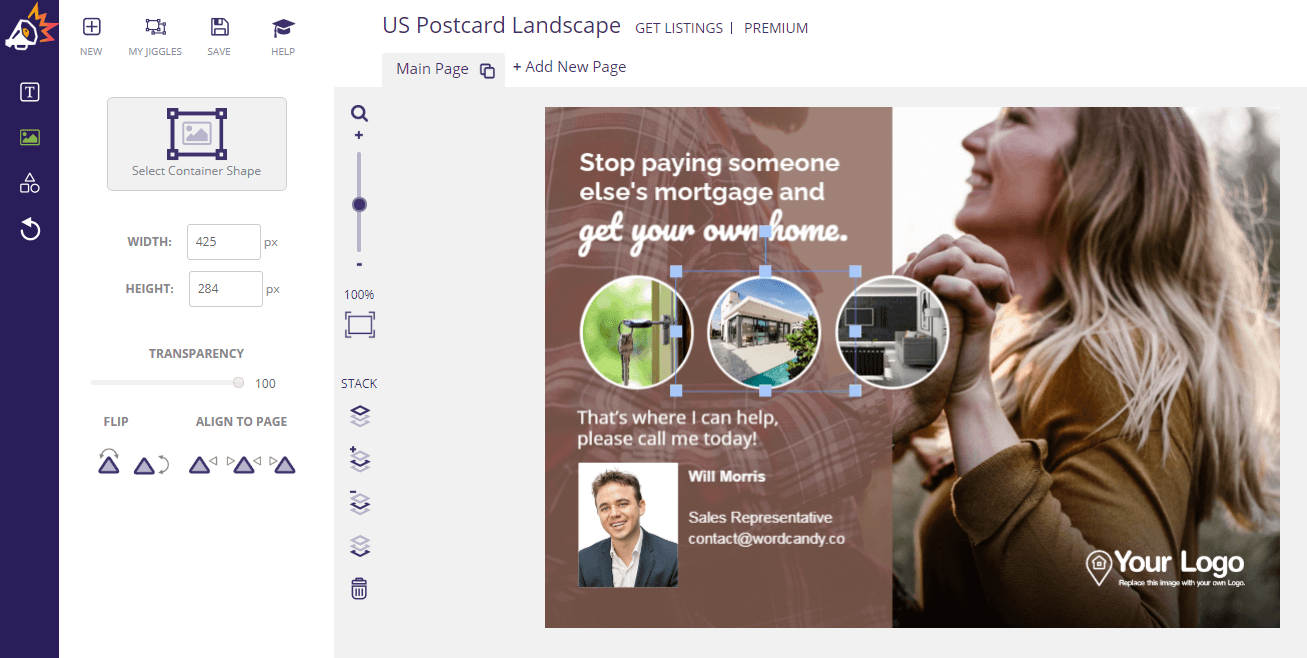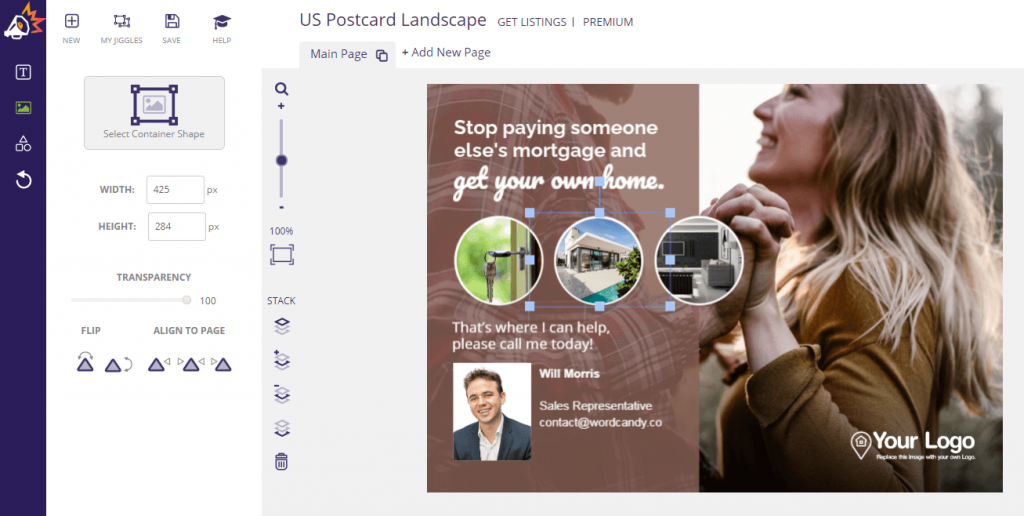 We can also replace the image with one of our own. To do that, we'll select the Image Tool in the left-hand sidebar, and upload an image of our property: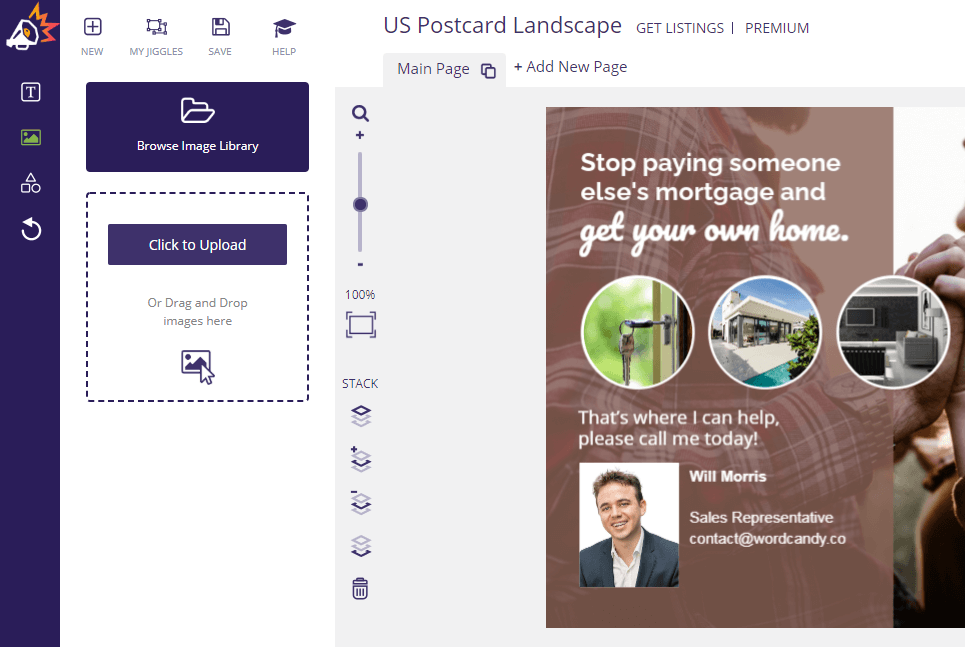 After that we can insert it into the template, then move it around and resize it as needed.
There's also a Text Tool that lets you add your own text and choose its size, font, color, and more: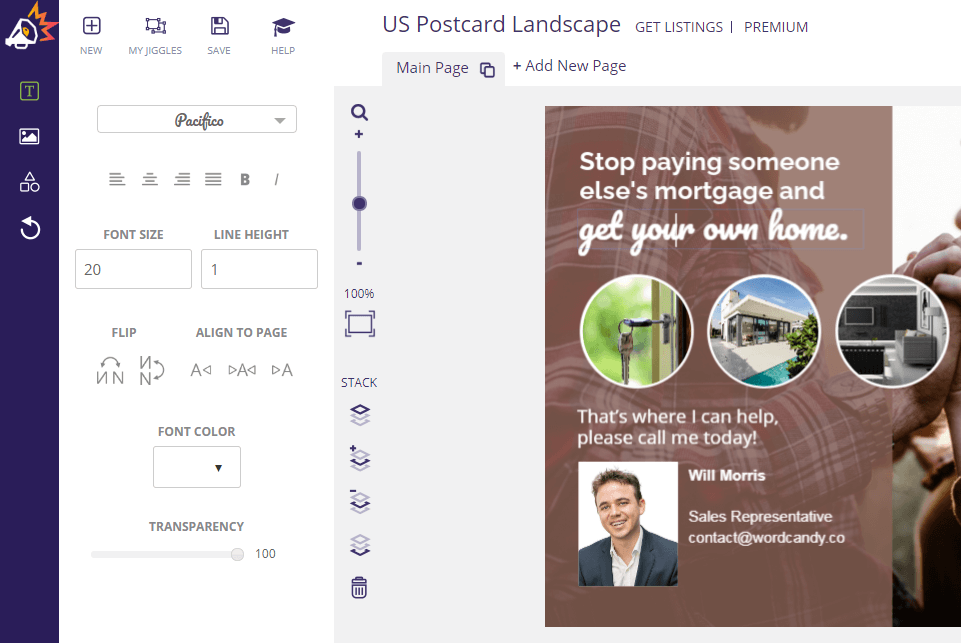 Together, these tools enable you to customize the template to your heart's content. You can add, remove, and reorder elements at will, until your real estate prospecting postcard looks just right.
Access and edit this design, plus hundreds more engaging real estate marketing templates, in Jigglar!
Step 3: Distribute Your Postcards
Once your new marketing postcard is designed, all that's left is to print it out and distribute copies. The more potential leads you can reach, the better.
Even though we're calling this a 'postcard' design, it's worth noting that these can also serve as more general-purpose flyers. You can get them into the hands of customers by:
Sending them out to leads on your mailing list
Using professional delivery services
Dropping them into letter boxes and mailboxes
Bringing them to events and handing them out
The sky's the limit for these versatile little flyers. Just make sure to use high-quality materials when you print out your real estate prospecting postcards. This will help ensure that your design looks as good as it can.
Conclusion
Never underestimate the power of tactile marketing materials. In this age of email bombardment, sometimes the best way to get people's attention is to give them something they can hold onto. Small, high-quality flyers can be an excellent way to attract more leads for your real estate business.
Fortunately, putting together effective real estate prospecting postcards is simple. All you have to do is:
Choose a template.
Customize your template.
Distribute your postcards.
To get started, sign up for a free 30-day trial at Jigglar and check out our flexible real estates templates!