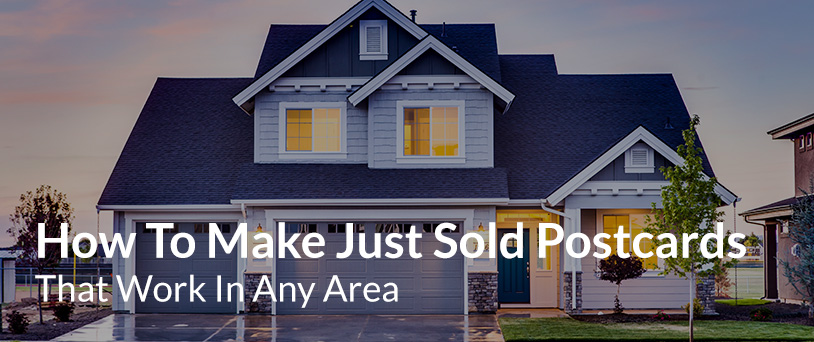 Are you considering using a just sold postcard mail out? Before you do, read this! If you want to know how to make just sold postcards that work in any area you'll need to cover these 5 points.
Just Sold postcards are proven to be one of the best new business lead generators for real estate agents, but making mailers that work well and give a return on investment can be hard.
It's important to make sure you:
Stand out from the crowd
Show how successful you have been in your area; and
Give buyers confidence that you can do the same for them
Just Sold Postcards That Work
There's actually a checklist you can use to ensure that you make just sold postcards that work.
We've experimented with a lot of just sold postcard designs and we've been in constant contact with agents. The result of that knowledge is that we have found the 5 key attributes that you need in your just sold DL or postcard-sized mailer for it to have maximum impact.
The things you need are:
Great photography
Show what the properties were sold for
Include testimonials
Your contact information
A Clear Call To Action
Let's touch on each of those points in a bit more detail so you can create a design that will win you more leads.
1. Great Photography
One of the most important ways to ensure you have a postcard mailer that grabs people's attention is by including amazing photographs.
The old saying of images conveying 1000 words is probably more like 10,000 words when it comes to real estate photography.
There's so much that a photograph conveys to buyers and that goes the same for using the property photos of your previous sales to capture new sellers.
Long frontal shots that show off the best aspect work great for just sold mailers because they're simple and can show similarities that resonate with other sellers.
2. Show What The Properties Were Sold For
We have found that it is really important to be upfront about what kind of result you achieved for your previous sellers.
Are you hesitant showing prices on your postcard mailer? Well, have a think about the message you are subconsciously telling your potential sellers.
If you hide your prices and you put yourself in the seller's shoes, wouldn't you think that maybe this agent has something to hide? That he wasn't proud of the result he achieved for that person?
This alone should be enough to convince you.
However, there's one more reason to include prices on your just sold DL. It gives sellers a reasonable idea about what they might be able to achieve for their home too.
If you are mailing this marketing piece to the same area then this pricing information might be enough to get them over the line if they're on the fence about selling.
You can also include additional wording here surrounding the prices to show whether it was a high price record for the area/street or how many days it was on the market. Whatever was impressive about that transaction, this is where you can boast about it to new sellers coming on board.
3. Include Testimonials
Testimonials remain one of the most powerful motivators.
There's something about hearing about other people's success that makes you think "that could be me too". For an agent, this is like gold.
Don't cover the back of your just sold postcard in irrelevant fluff. If you want it to work well as a lead generator you should include testimonials about what it's like to work with you. Let your clients boast about the experience of working with you.
Make sure that you also include names and photographs where possible and also comply with any local regulations about showing testimonials.
4. Your Contact Information
Obviously, you need to include your contact information somewhere on the postcard/DL flyer. But, did you know that the placement and way you present that information can make a massive difference?
Here's what you need to include in order of importance:
Your name
Your direct mobile/cell phone number
Your headshot
Your company logo
Your website
It's important that you include all of these if you can, but if you're limited on space, just make sure you at least get the top 3.
Also, pay attention closely to the readability of these items as that can affect the performance of your mailer.
Studies have shown that readability is decreased with light colored text on dark backgrounds, so if you are using a template with light text on a dark background you should look at increasing the point size of the font a little bit to help readability.
For templates where the color scheme is dark text on a light background, you won't have so much trouble with readability.
5. A Clear Call To Action
Finally, let's talk about a call to action – the most important piece of your just sold flyer.
This can take many forms, from the tried and true "free appraisal/price evaluation" through to more creative ones like "I have a list of pre-qualified buyers looking for properties in your suburb. Call me to arrange a chat today."
Sometimes it can also help to offer a lead magnet, some type of brochure or flyer or report that will get sellers interested to know more about their local area's real estate performance.
Can you put something together that will showcase the latest sales in the area with some interesting statistics? Could you put together a checklist of to-do items they need to work their way through in order to prepare their home for sale?
This information is really interesting to people that are looking to sell and it is a good way to differentiate your just sold flyer from all the other similar mail people receive every day.
Regardless of how you word it, or what you are promising people, just make sure you don't leave it out.
Want To Make A Great Just Sold Postcard Now?
And speaking of a call-to-action, check this out.
If you want to make drool-worthy just sold postcards in seconds, you'll need a tool like Jigglar.
What is Jigglar? It's a purpose-made design tool that lives in your browser, made for real estate agents like you. With hundreds of templates are your fingertips, you can create as many just sold flyers (and LOADS of other interesting marketing material) without the help of a professional designer saving you money and time.
Go and get your free account here now.