If you're a successful real estate agent, you deal with new listings all the time. Whenever you put up a new listing, it's essential that you get the word out about it. One of the best ways to get the word out is by distributing just-listed postcards.
With just-listed postcards, you can inform hundreds of potential buyers about new properties in the market (for very cheap). You can design postcards for every new property on your portfolio and mail them out to entire neighborhoods to drum up interest.
In this article, we'll show you six printable just-listed postcard designs from the Jigglar archives. You can take any of these designs and customize them for your needs. Let's check them out!
1. Classic Just-Listed Postcard Design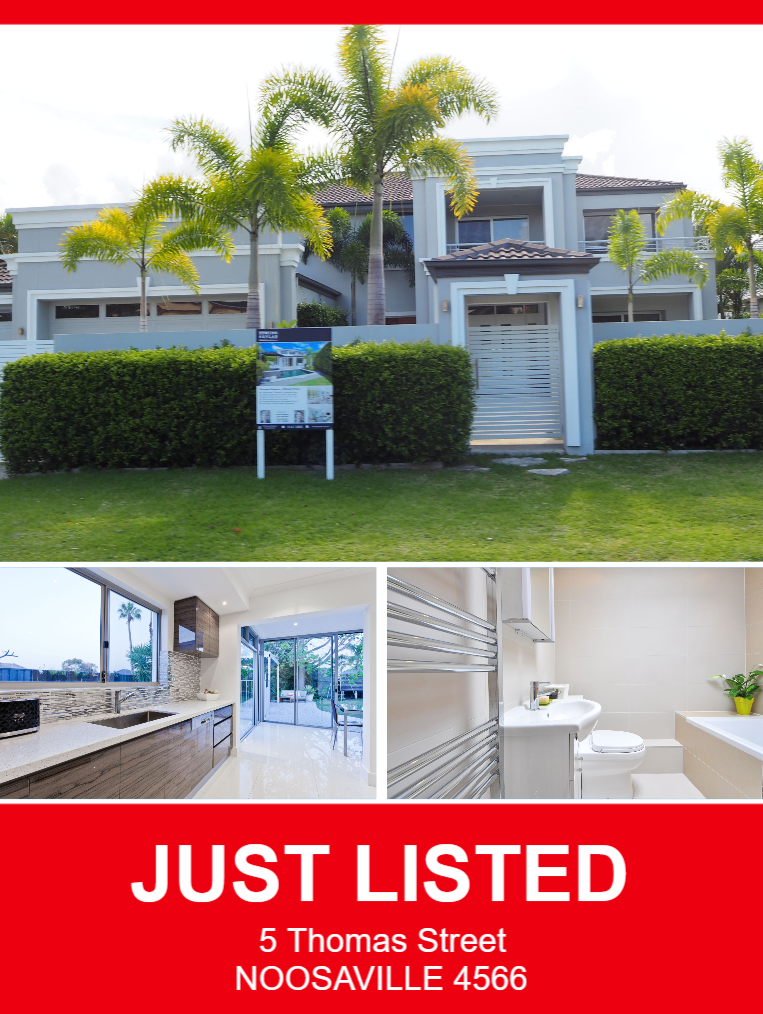 This classic just-listed postcard design is all about featuring multiple pictures of your new property. We like to use bold colors for our templates to increase contrasts and to ensure that your postcards don't go unseen.
For this postcard, we also recommend adding some information about the recently listed property. That might include a brief description, any of the property's standout features, and your contact information.
2. Just-Listed Landscape Postcard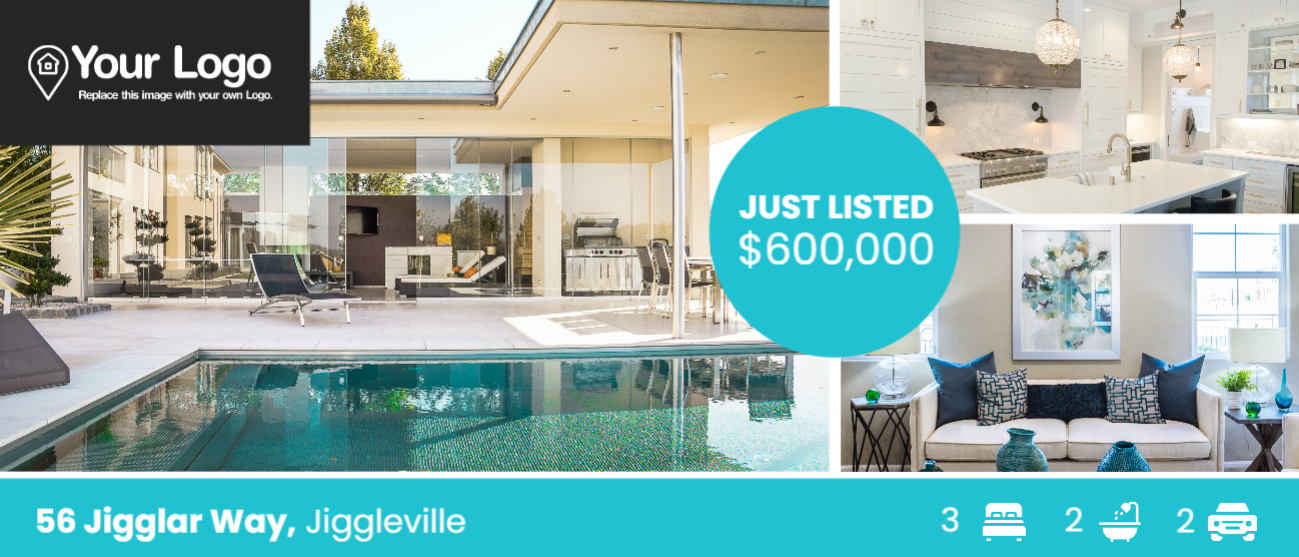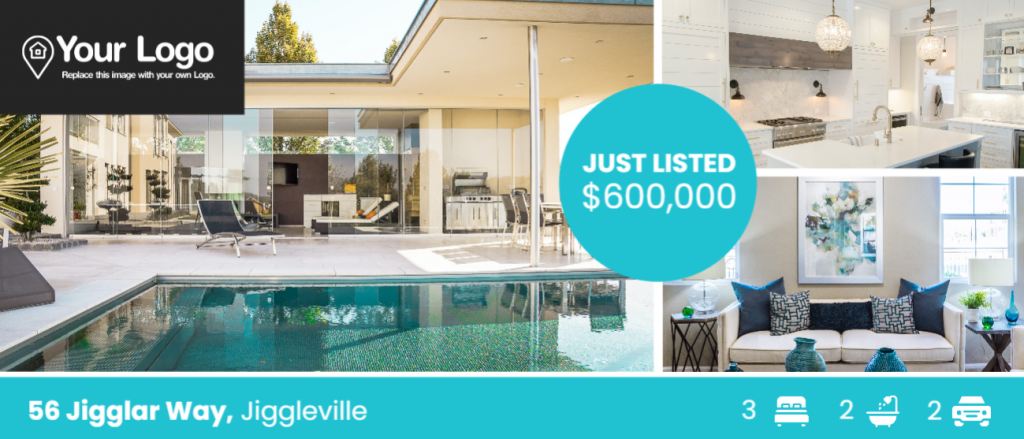 This landscape postcard design is perfect if you want to let your new listing's pictures do the talking. The template includes space for up to three pictures, and we suggest using one external shot and two internal ones.
You can use the section at the bottom of the postcard to show how many rooms, bathrooms, and parking spaces the property includes. Moreover, the design lets you be upfront about the property's price, which can help you weed out uninterested parties.
3. For Sale Postcard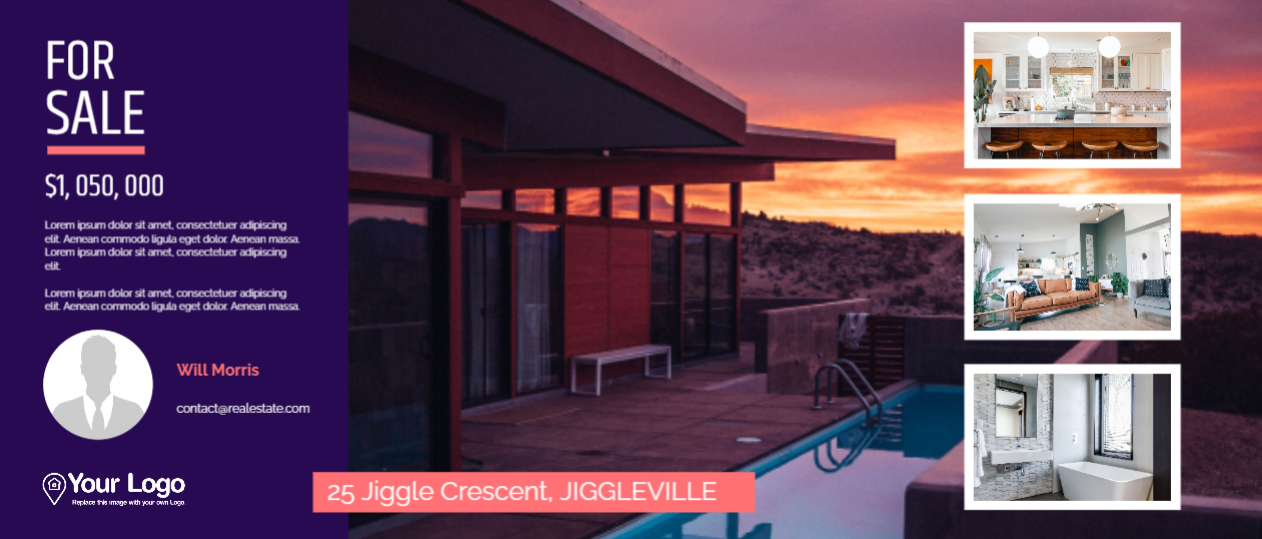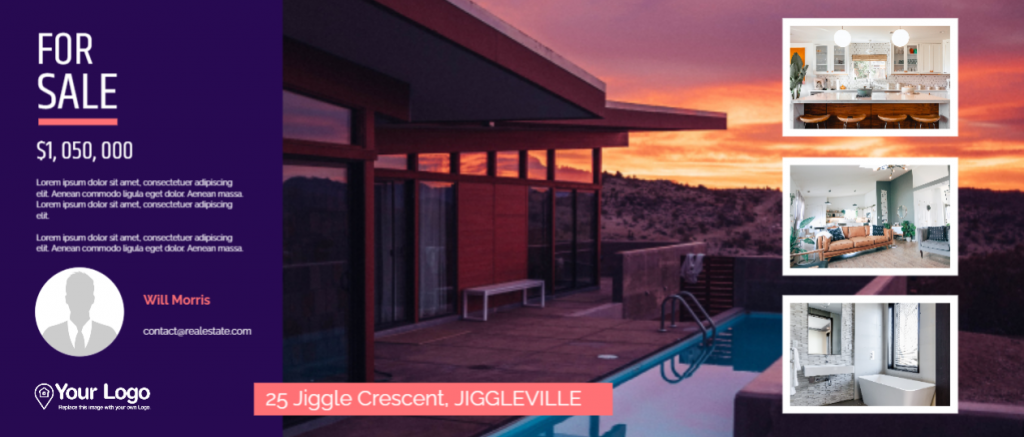 This just-listed postcard also features a gorgeous landscape design. In this case, you have more room for an external picture of your new property. That makes the template perfect for listings with great views that you want to feature.
You also get a new section to the left which you can use to share information about the property. That space is perfect for a brief description or even a list of features. To complete the design, we recommend that you add a headshot alongside your contact information.
4. Hot Property Postcard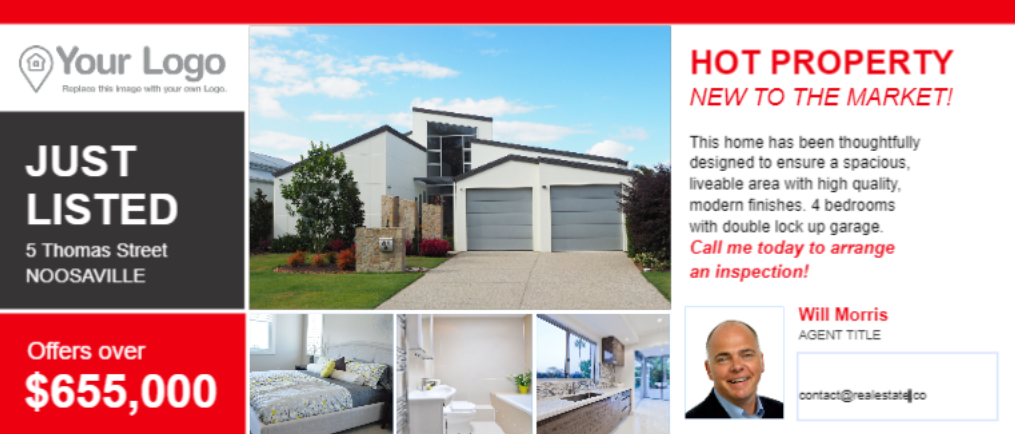 If you have a new listing that deserves extra attention, this just-listed postcard can help you get it. The design includes space for up to four property photographs and a thorough description of what makes it unique.
You also get to include the listing price, the property's address, and your contact information. To get the best possible results, we recommend that you stick with bold lettering just as in the original design.
5. Visit Our Website Postcard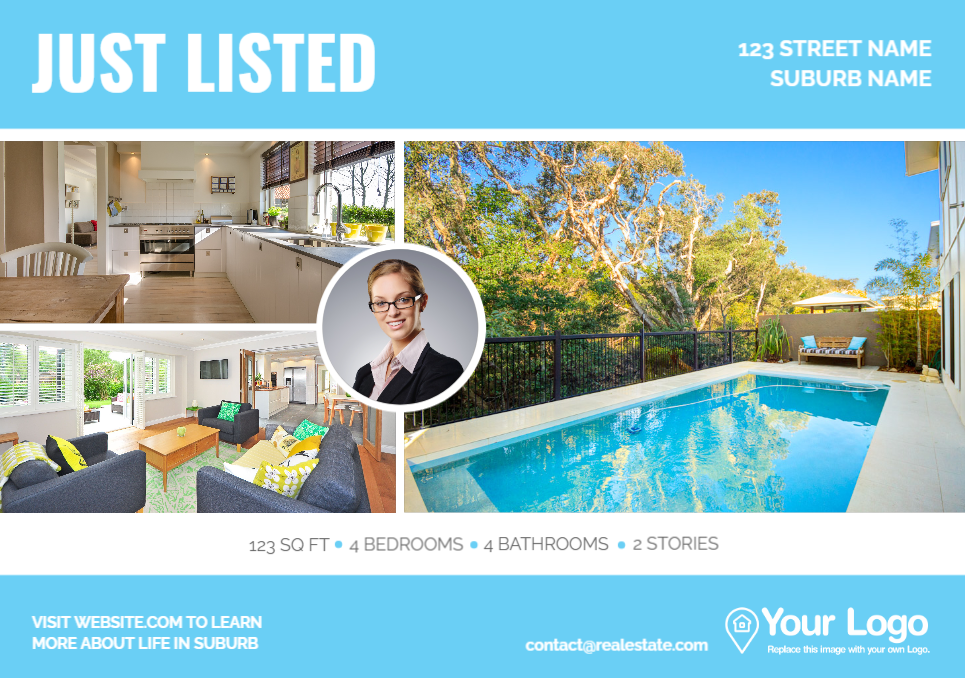 If you have a website for showing your listings, this postcard is perfect to lead new buyers to it. The design includes room for multiple pictures of the new property, its address, and contact information.
You also get to add an URL for your real estate website or even your social media profiles. On top of that, the design lets you list how many rooms, bathrooms, and stories the property has (as well as its square footage!).
6. Just-Listed Minimalist Postcard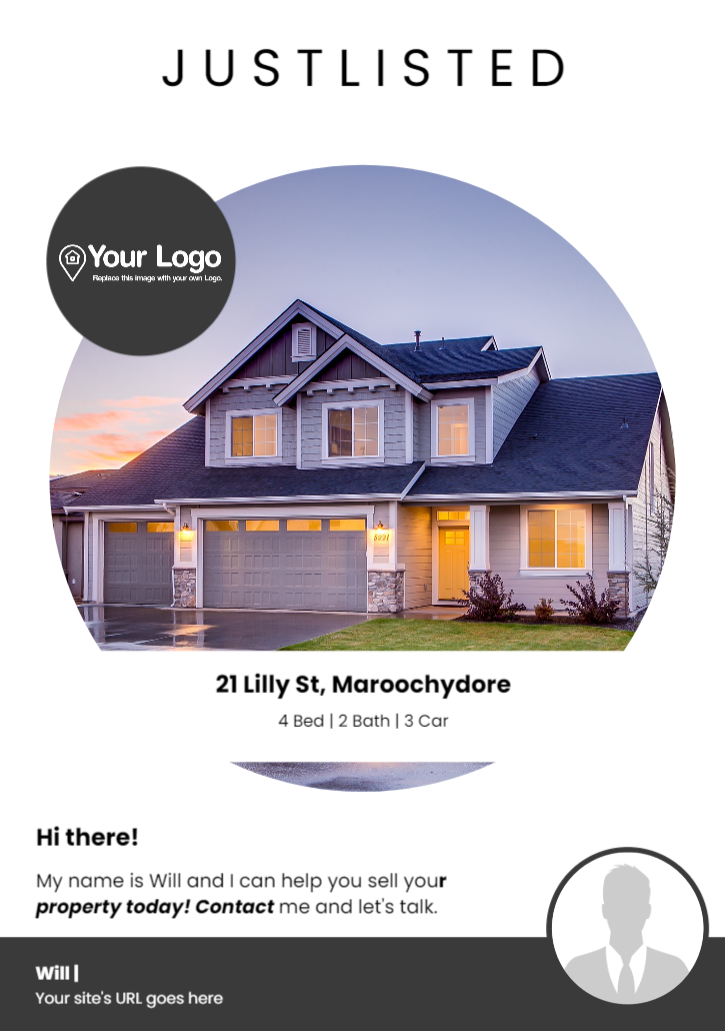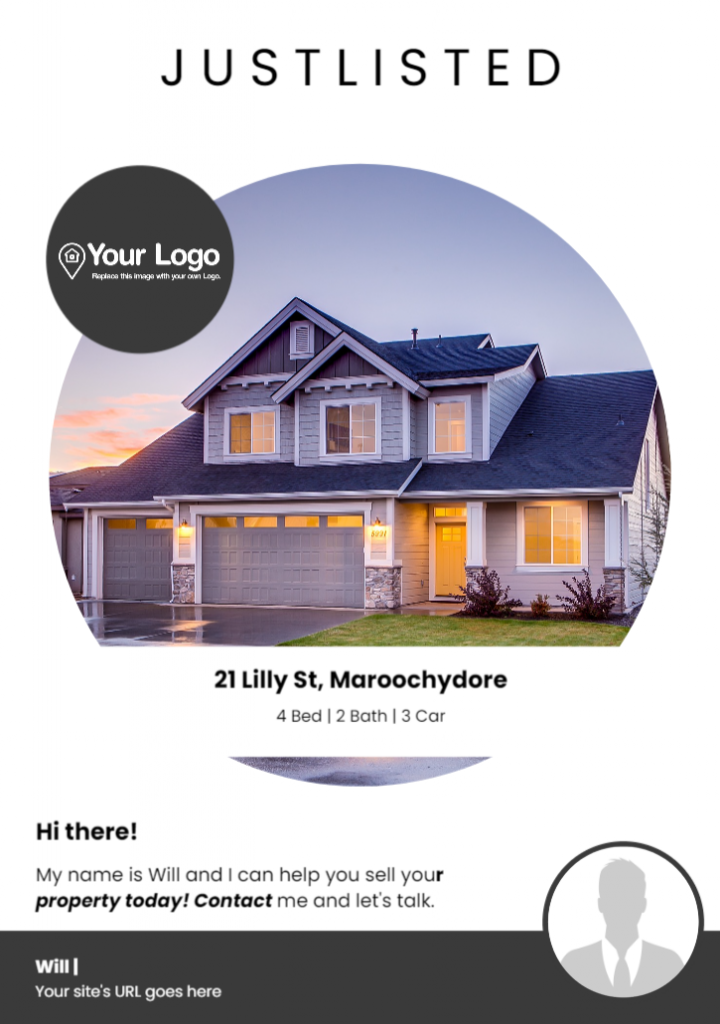 If you want to opt for a minimalist postcard design, this template should be right up your alley. With this postcard, you get to include a single picture of the newly-listed property, so you have to make sure that it's the perfect one.
Aside from a photograph, the template includes room for a brief description of the property or for a self-introduction. You also get to include a headshot and contact information, as well as your website's URL.
Conclusion
There are a lot of ways to let people know about new listings in their area. You can use social media ads, create flyers, and distribute just-listed postcards. We're big fans of that last approach because it's a cost-effective way to raise awareness about new listings.
If you're not sure where to get started with a just-listed postcard design, you can use any of the Jigglar templates that we showed you in this article. The platform enables you to take templates and customize them for your needs and it's incredibly easy to use.
Are you ready to create your first just-listed postcard? Try out Jigglar for free and get to work on it right away!