Advertising is key to any business' growth and real estate is not the exception. If you're trying to get more listings and increase your sales in 2020, you'll need to use a combination of digital and physical advertising.
Using Jigglar's real estate ad templates can help you promote your business on the platforms you want without having to hire a professional designer. In this article, we'll introduce you to five real estate ad templates that you can use for both digital and physical ads. Let's get to it!
1. Book Your Private Inspection
The best way to drive attention to any new listing is to play up all of its unique features. When it comes to social media, you need to catch users' eyes fast. The best way to do that is by including the best property photos that you can in your ads: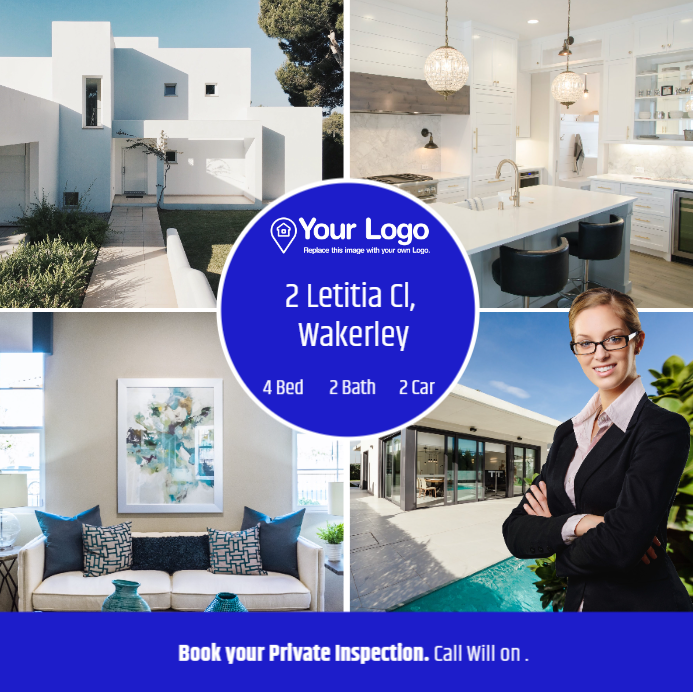 While photographs are the main course, it also helps to include a headshot to increase trust as well as your contact information.
2. How Much Is Your Home Worth?
A lot of homeowners don't have a good idea of how much their property is worth. A big part of your job as a realtor is to help your clients identify the try value of their homes.
With this digital ad, your goal is to tap into that curiosity by offering potential clients the opportunity to find out what their property is worth: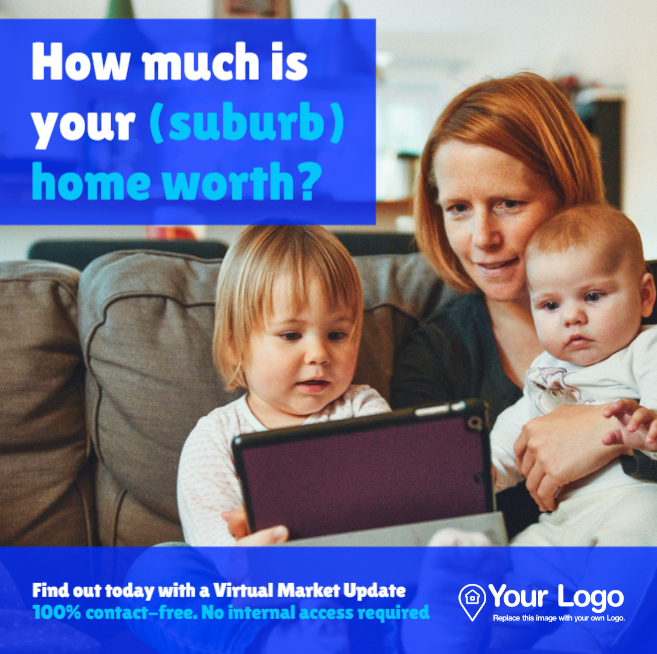 The more accessible that you make the valuation process seem, the more likely it is that you'll get new leads. In that example, you reassure interested parties that they won't need to let you into their homes, which can help you get a lot more listings.
3. Selling or Buying Real Estate?
One of the biggest challenges in real estate is building trust with new customers. With digital real estate ad templates, you can let potential sellers know all about you in advance. That way, when they're ready to put up a listing, you'll be the first person they think about: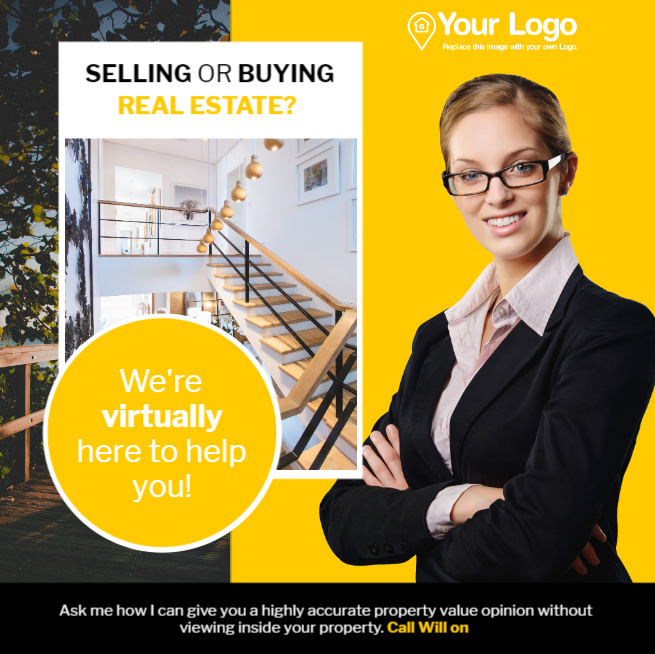 If you choose to try this real estate ad template, you'll want to make sure that you use the best headshot in your collection. You can also replace the "We're virtually here to help you!" call to action depending on where your business is located.
4. Upcoming Open Home Ads
If you're on the market for a new house, visiting open homes becomes a full-time job. A simple open home listing flyer can help you find several more interested parties in any neighborhood.
This real estate ad template is perfect if you have multipe open home events in your calendar. All you need to do is add their location and time and let the recipients decide for themselves: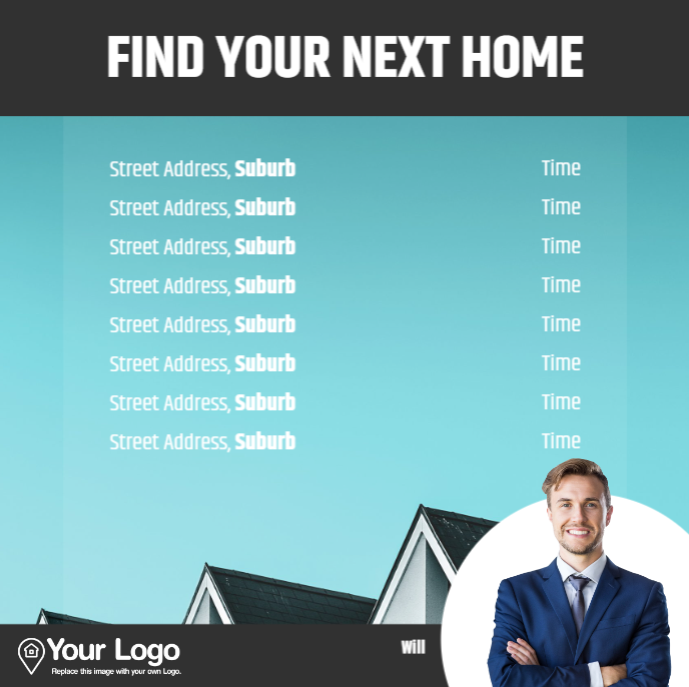 By giving locals multiple choices, you increase the chances that they'll attend at least one of your open home events. The more interested parties that you have, the easier it becomes to sell a property.
Although the template doesn't include contact information, you'll want to make sure to add your phone number and email. That way, any interested parties will be able to reach you to confirm the open houses they want to attend.
If you have a killer realtor profile picture to add, to the real estate add template, that's a bonus!
5. Seasonal Flyers
Every new season and holiday gives you the perfect opportunity to reach out to past and potential new customers. If you use flyers, you can reach entire neighborhoods for a fraction of the cost it takes to target a similar audience on social media.
The beauty of seasonal flyers is there's always a new holiday around the corner: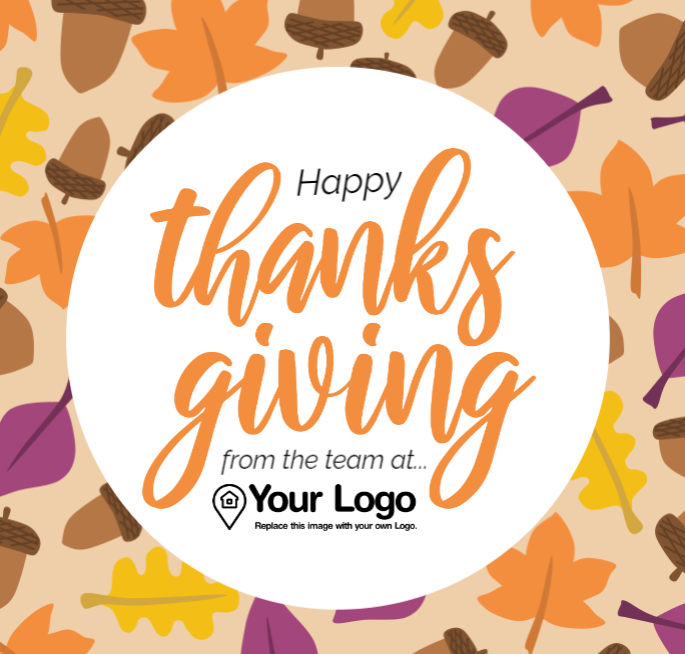 Using Jigglar, you have access to a broad range of seasonal and holiday real estate ad templates for every occasion. That goes from Thanksgiving to Halloween: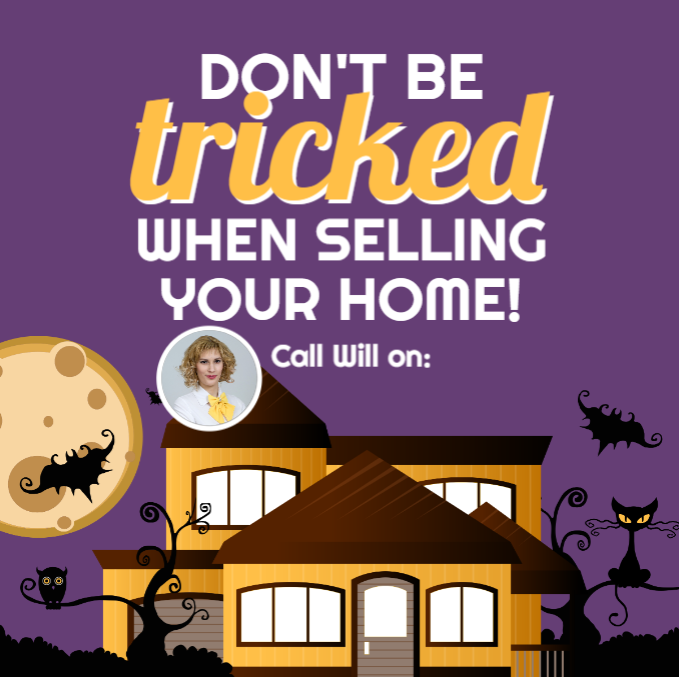 Every new holiday or season is another opportunity to build brand awareness for your real estate business, be it online or offline. Using the right templates, all you need to do is add your business information and publish or print your ad.
Conclusion
If you want to grow your real estate business to its full potential, you need to take advantage of as many marketing channels as you can. Through Jigglar, you can get access to real estate ad templates that work for social media, newspapers, and even flyers.
All that you need to do to gain access to Jigglar's library of real estate ad templates is sign up for free, so try it out!