"Farming" is a common term in real estate. It's the process of trying to get listings from the primary area where you do business. One of the best (and cheapest) ways to get those listings is by using real estate farming postcards.
With real estate farming postcards, you can target entire neighborhoods at once and let them know about your services. You can offer free home valuations, let owners know about your successful track record, and much more.
In this article, we're going to show you nine real estate farming postcard templates from the Jigglar archives. Let's get to it!
1. Sold By You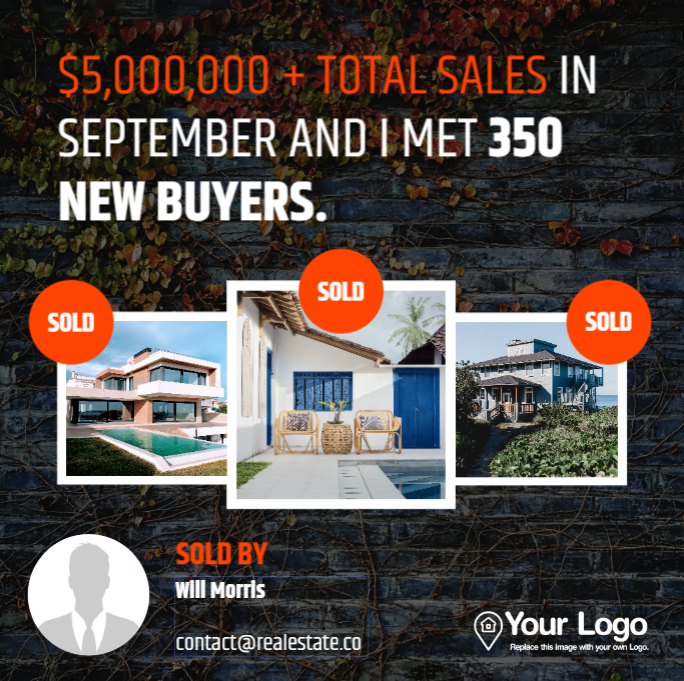 If you want homeowners to trust you with the properties, you need to show them that you have a great track record as a real estate agent. With this postcard, you can include pictures of the latest properties that you've sold in their neighborhoods.
More importantly, this postcard design enables you to share sales numbers, which can be enough to convince plenty of interested parties.
2. Sell Your Property Quietly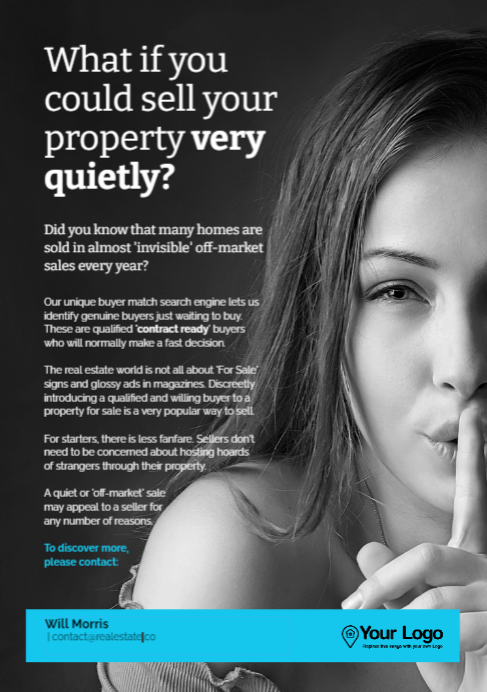 A lot of property owners in your area might be interested in listing their homes, but they don't want to be too public about it. With this real estate farming postcard you can entice those owners that want to sell their properties discreetly.
3. Time for a Change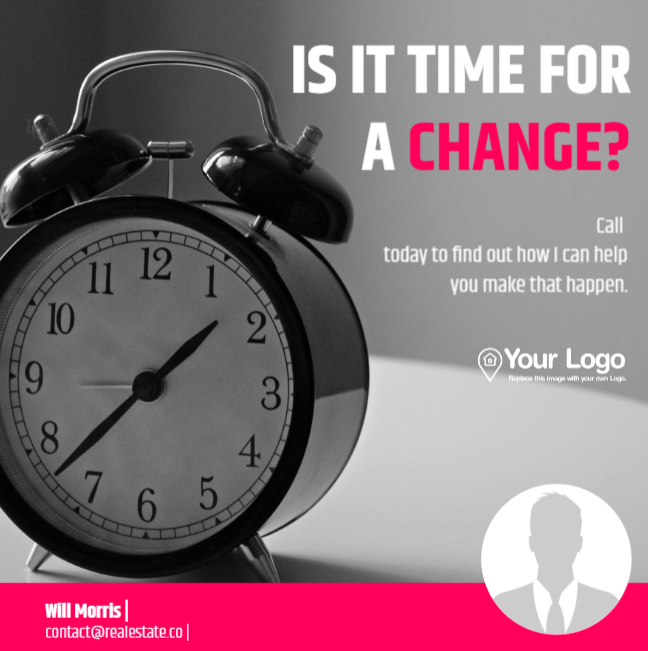 Sometimes, clients need a little push to decide when it's time to sell their homes. With this real estate farming postcard, you can let the owners in your area know that it's time for a change.
By a change, we mean putting their property on the market and perhaps moving to greener pastures. If you want to get that listing, you can use this postcard to let clients know that you can help them sell their homes quickly.
4. The Selling Season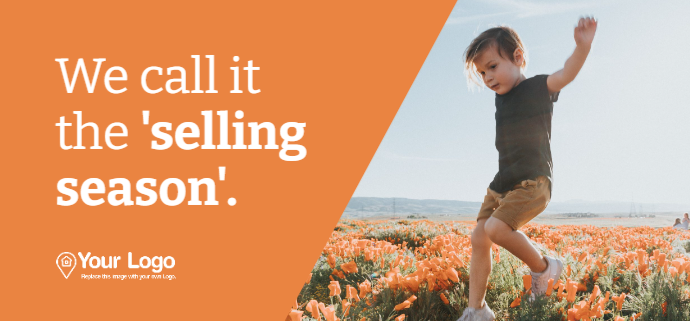 As a real estate agent, you know there are times during the year when the market tends to favor sellers. It's your job to let potential clients know when those times arrive, so they can get the best returns on their listings.
If you already have a client base, this simple postcard can give them the push you need to get in touch with you when the market is hot. To get the most out of this template, remember to include a phone number or contact email!
5. Letting Your Results Speak for Themselves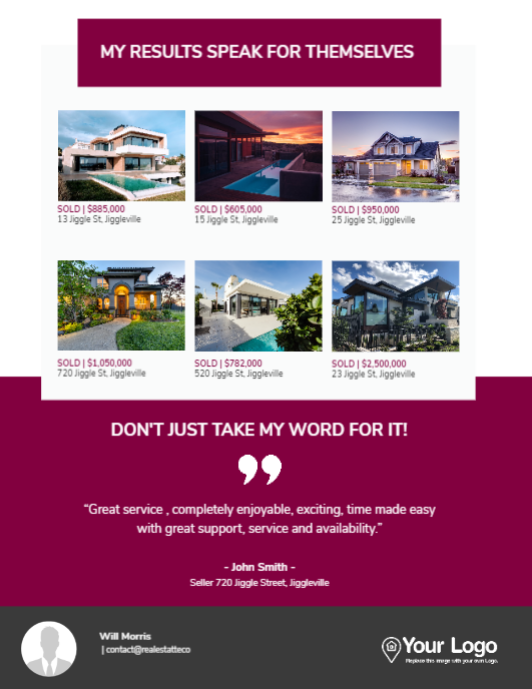 If you have a successful track record in a specific area with plenty of properties sold, this is the perfect real estate farming postcard for you. With this design, you can share pictures and sale prices for properties that you've sold successfully.
More importantly, this template also includes space for a client testimonial. That should be easy to get if you've managed any recent listings in the area that you're targeting.
6. Why People Choose You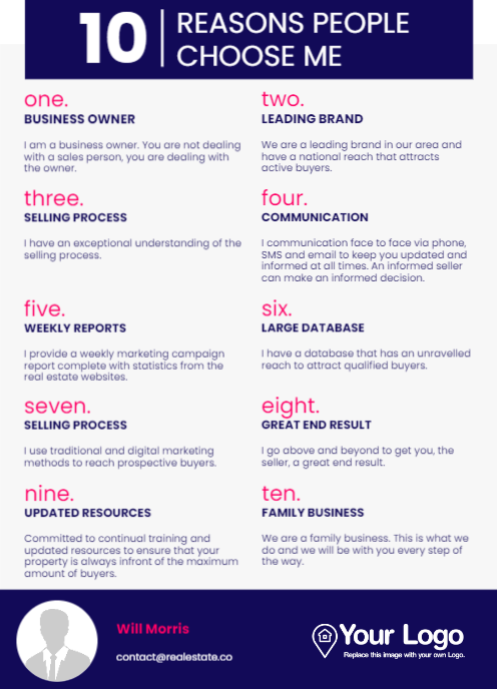 Sometimes, clients will want to know as much as possible about you before they decide to let you handle their listings. This postcard template isn't about successful sales or numbers, but rather about telling owners how your process works.
Your goal here is to answer as many potential questions as clients might have about how listing a home with you works. That way, interested parties will have time to think it over and then get in touch with you once they're ready to sell their properties.
7. Active Agent Report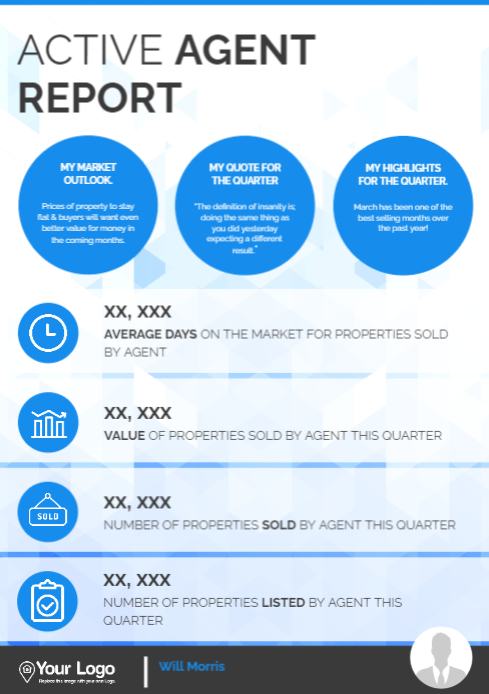 Being upfront about your numbers as a real estate agent can be a fantastic way to help you farm listings from a specific area. By being upfront, we mean sharing everythinf from how many listings you've gotten recently, to how many properties you've sold, and how much money you've earned for your clients.
If your numbers are good enough, home owners will be getting in touch with you to help them manage their listings.
8. Free Home Valuations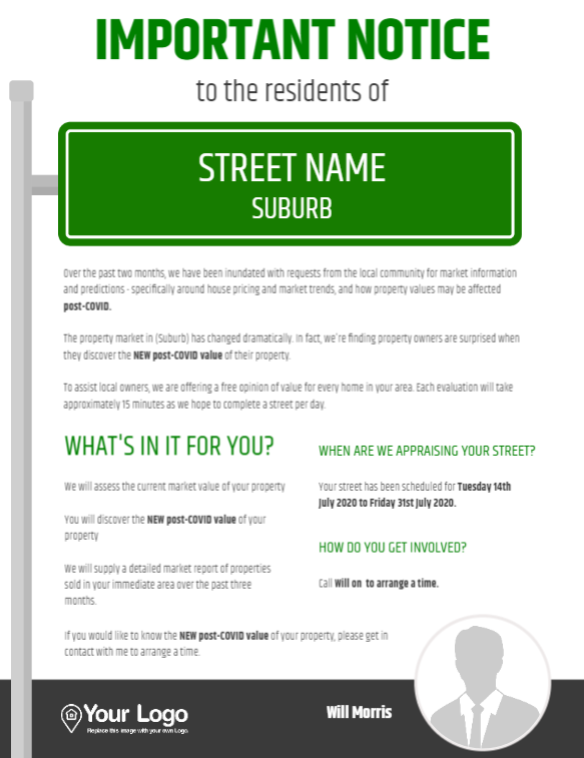 One of the most compelling ways to get more listings in your area is to offer owners the possibility of getting free home valuations. In many cases, owners might be interested in selling, but they don't want to go through the hassle of finding out how much their property is worth.
By offering a no-strings attached assessment on a specific date, you take off a lot of the pressure that owners might feel. If they like the number that you give them, then they may be a lot more likely to reach out to you when they decide to list their home.
9. What Pandemic?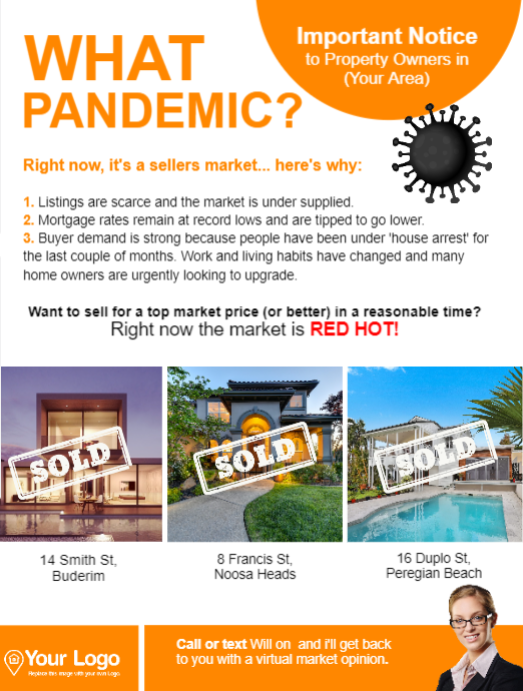 As you might imagine, a lot of people have held off on selling their homes due to the pandemic. However, home sales and purchases are still happening and it's your duty to inform owners that they might be missing out by not listing their properties.
With this postcard, your goal is to assuage any fears that owners might have about listing their homes during a pandemic. You want to take the opportunity to talk about virtual open homes and why now is a great time to sell.
Conclusion
Real estate farming postcards are one of the best ways to help you collect leads and land new listings in a specific area. For the best results, we recommend that you send customized postcards periodically to all the neighborhoods where you operate.
If you use Jigglar, then you have access to a broad library of real estate postcards, including plenty of options to help you get more listings. All that you have to do is customize them to include your information and you'll have ready-to-go postcards.
Do you want to design your first real estate farming postcard? Try out Jigglar for free and check out any of the templates you just saw!