If you want to sell a new property fast, you need to let as many as possible know as soon as it comes on the market. The best (and most cost-effective) way to do that is with a just-listed flyer.
Designing a just-listed flyer from scratch requires a lot of work, though. At least, that is if you don't have access to a massive collection of real estate templates and designs that you use for flyers, social media posts, mailers, and more.
With Jigglar, you get access to all of the tools that you need to create the perfect just-listed flyer and in this article, we'll show you how to do it. Let's get to it!
Step 1: Choose the Just-Listed Flyer Template That You Want to Use
As soon as you sign up for a Jigglar account and log in, you'll get access to your dashboard. Here you can navigate all of Jigglar's template categories using the menu to left: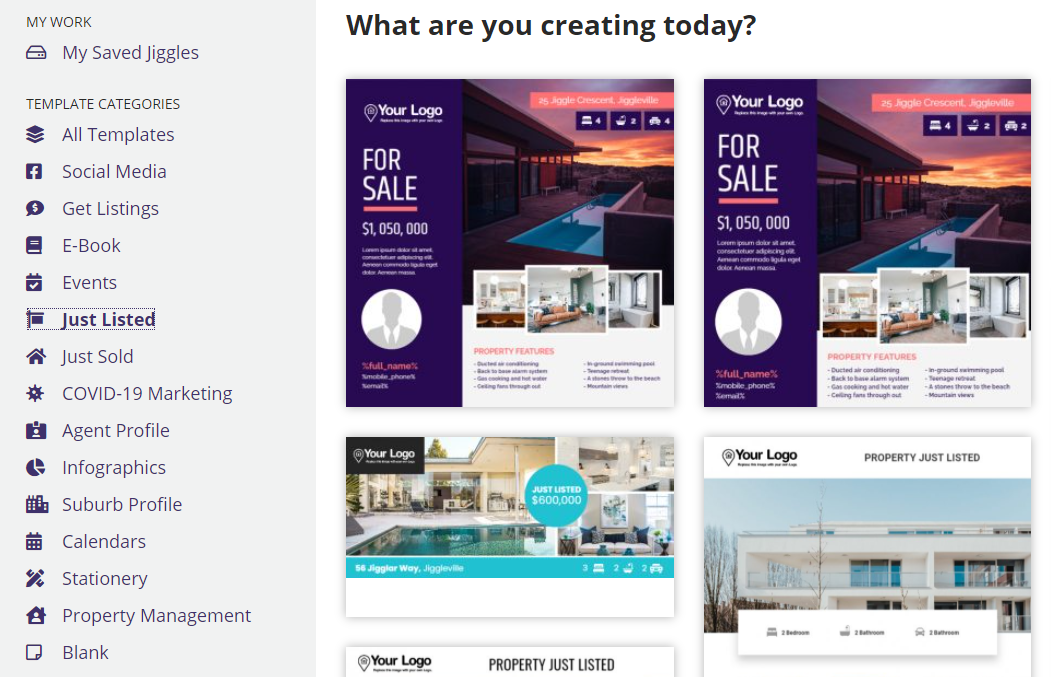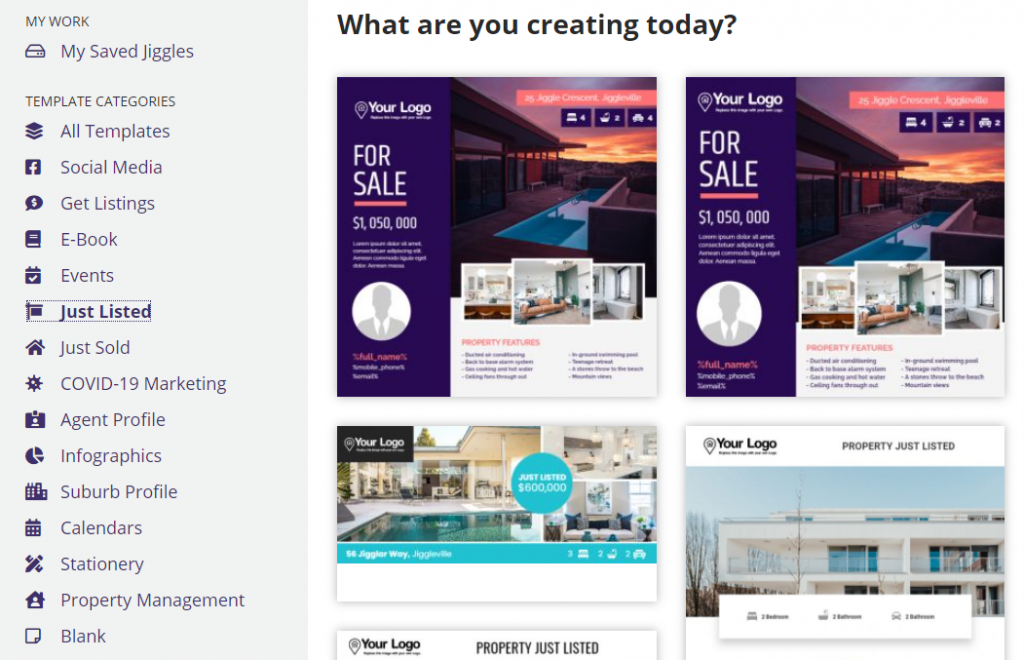 In that screenshot, you can see some of Jigglar's templates within the Just Listed category. Go ahead and click on it and take a look at all of the options that you can choose from.
Whereas some templates include a wealth of information – like the ones that you see above – others focus entirely on property photographs: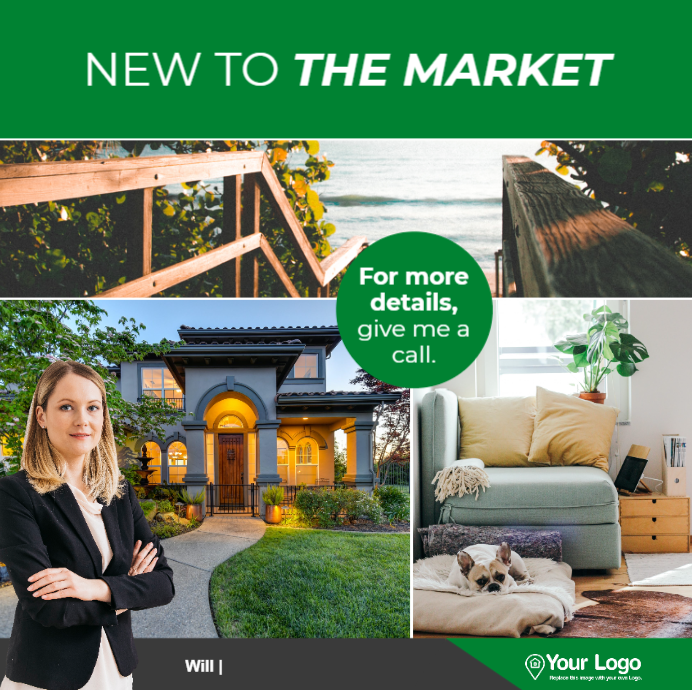 Choose whichever design you want to use as the base for your flyer and click on it. Once you do, you'll be able to customize it using the Jigglar editor.
Step 2: Replace the Images and Photographs Within Your Template
As you've probably noticed, every Jigglar template include placeholder property photographs to show you what a ready-to-go design would look like. The first thing that you should do once you open a template is replace those pictures.
If you poke around the editor, you'll see that you can select any of the elements within the template you're working on. That includes property photos, your logo, and your agent picture: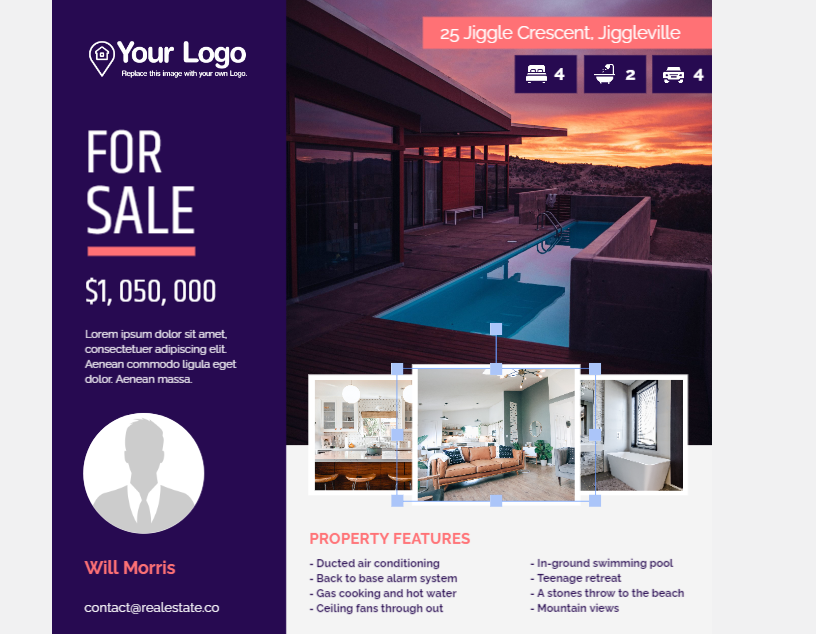 Once you select an image, you can delete it and click on the IMAGE TOOL button on the left menu. A new menu will appear now, which includes an option to upload images from your computer: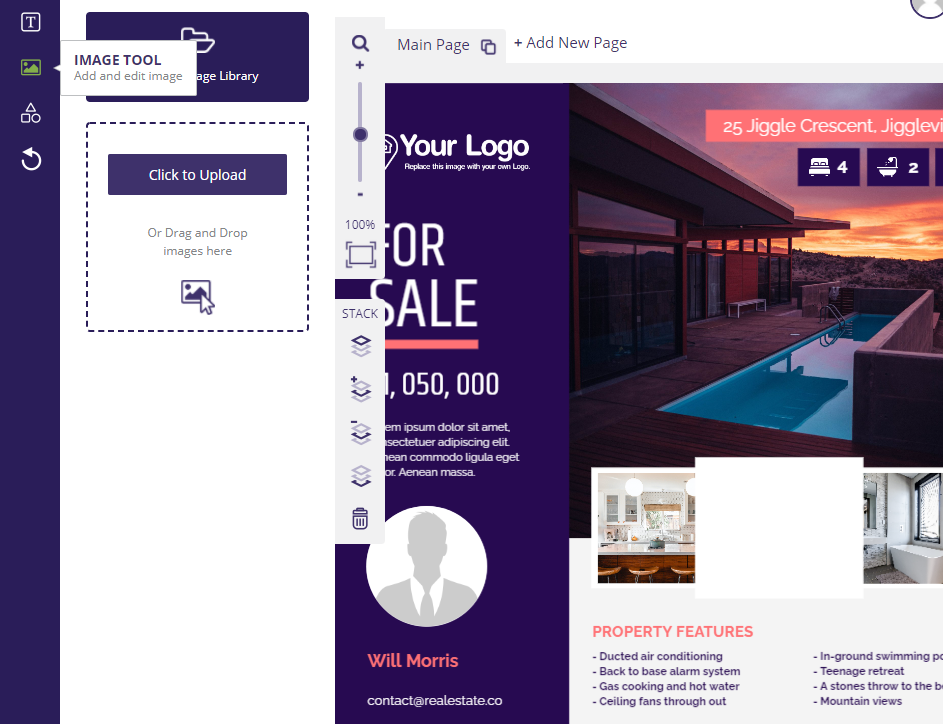 At this stage, you want to delete every placeholder image in the template and replace them with pictures of the property that you want to sell. While you're at it, do the same with the logo element and add your headshot to the flyer.
Once all of your images and photographs are in, it's time to edit your just-listed flyer template's text.
Step 3: Add Your New Property's Details to the Flyer
Jigglar templates also include placeholder text for just-listed flyer designs. Replacing that text is easy, though – all you need to do is select the paragraphs that you want to edit and add your own property details: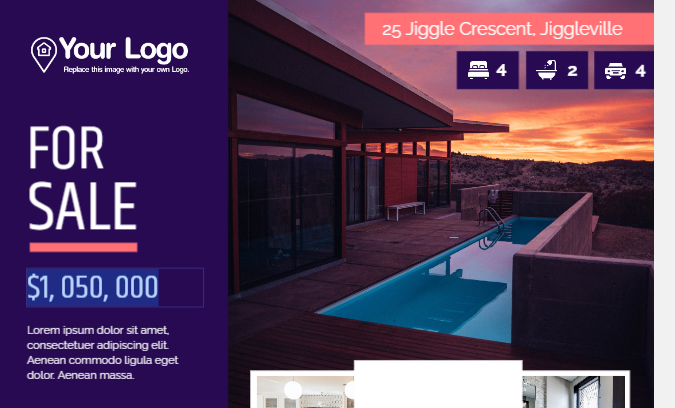 For most just-listed flyer templates, you'll need to update the price, property description, and features. You'll also want to add how many bathrooms, rooms, and parking spaces the home comes with.
One element that you can't forget to update is the newly-listed property's address. At this stage, we recommend giving your flyer a once-over to ensure that you didn't miss any of the template's default text.
Step 4: Add Your Contact Information
A just-listed flyer only works if you remember to include your contact information. Otherwise, interested parties won't know who to call or write to if they want to find out about open houses or to make an offer.
The template that we've been working on includes your agent headshot and work email at the bottom left of the design. However, we also recommend that you include your phone number:

The more contact methods that you include, the more likely it is that people will reach to you. If you want to go a step further, you can even include your real-estate firm's social media handles.
Remember that we're talking about a just-listed flyer and not a webpage, though. Since you can't include links, you'll have to type out the full profile handle for your social media accounts.
Conclusion
Even a few dozen just-listed flyers in the right neighborhood can be enough to drum up interest for a new property. However, your real-estate flyers are only as effective as they are engaging, which means that you need the perfect design.
With Jigglar, you can easily create stunning just-listed flyers in as few as four steps:
Choose the just-listed flyer template that you want to use.
Replace the images and photographs within your template.
Add your new property's details to the flyer.
Add your contact information.
Are you ready to create your first just-listed flyer? Try out Jigglar for free and choose the perfect template for that first design.