Building trust is the key to securing any sale. However, when you're trying to convince owners to let you manage their listing, the pressure couldn't be greater.
Fortunately, it is possible to create a listing presentation that blows the competition out of the water. With the right visuals, copy, and designs, you'll have no problems winning over new clients.
In this post, we'll explore why listing presentations can mean the difference between struggling and success. We'll then walk you through a real estate listing presentation checklist, complete with lots of examples from the Jigglar designers. Let's get started!
An Introduction to Real Estate Listing Presentations (And Why They're Important)
A real estate presentation is essentially a sales pitch for your services. This is your opportunity to meet future clients and convince them that you're the perfect agent to help them sell their property.
Your real estate presentation will vary depending on factors such as your target audience, your location, and the type of services you offer. However, you'll typically give clients an overview of how you'll prepare their property for sale. This includes discussing how you plan to market their property to potential buyers. You'll also typically discuss your pricing and how you plan to negotiate offers.
In theory, you could approach a real estate presentation as an informal conversation. You might simply introduce yourself to the property's owner, provide the information they need, and answer any questions they may have. However, the most successful real estate agents will come armed with professionally-designed, informative slide decks packed with eye-catching visuals.
A polished, professionally-designed presentation can mean the difference between wowing a potential client, or falling at the first hurdle. Since it's the key to securing new clients, your real estate listing presentation is one of the most important tools in your arsenal. This means that it's well worth investing time and effort into creating a presentation that showcases your expertise and professionalism.
How to Create a Real Estate Listing Presentation Template (In 6 Steps)
Winning over new clients isn't always easy. Fortunately, we've put together a real estate listing presentation checklist and template to help you make a first good impression.
Our listing presentation template comes packed with stunning visuals and persuasive marketing copy. With just a few tweaks, you can make this template a perfect fit for your agency. Let's look at how you can create a unique and compelling presentation that really shows your agency in the best possible light.
Step 1: Add an Eye-Catching Logo
Your logo is a crucial part of your brand identity. It'll appear on everything from your real estate website, to your business cards and your social media accounts. Chances are that your logo will also feature prominently on your physical for sale and sold signs.
Your logo is likely the first impression property owners will have of your agency. Since it's such an important element, we've created a space for your logo on the very first slide of our listing presentation template: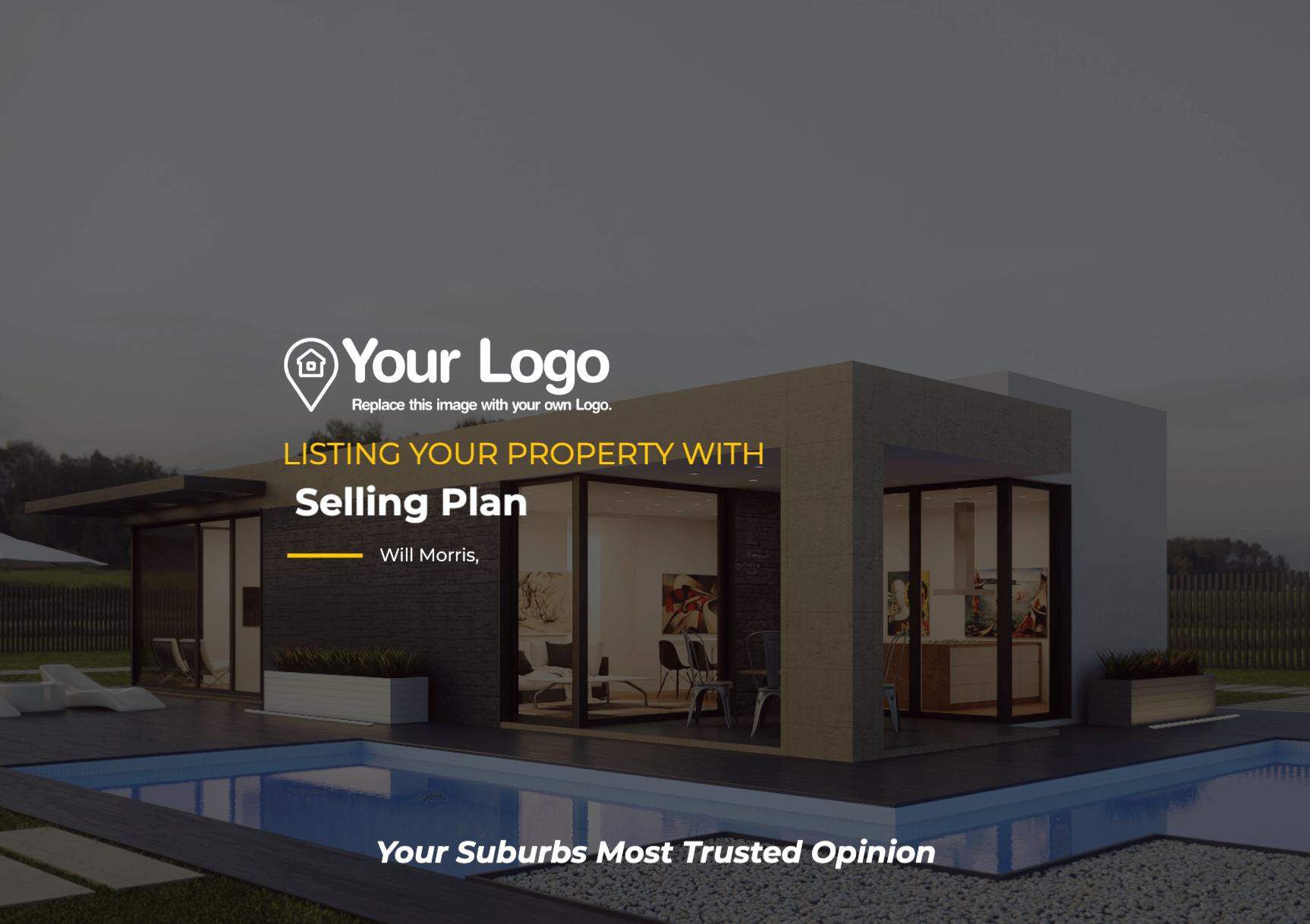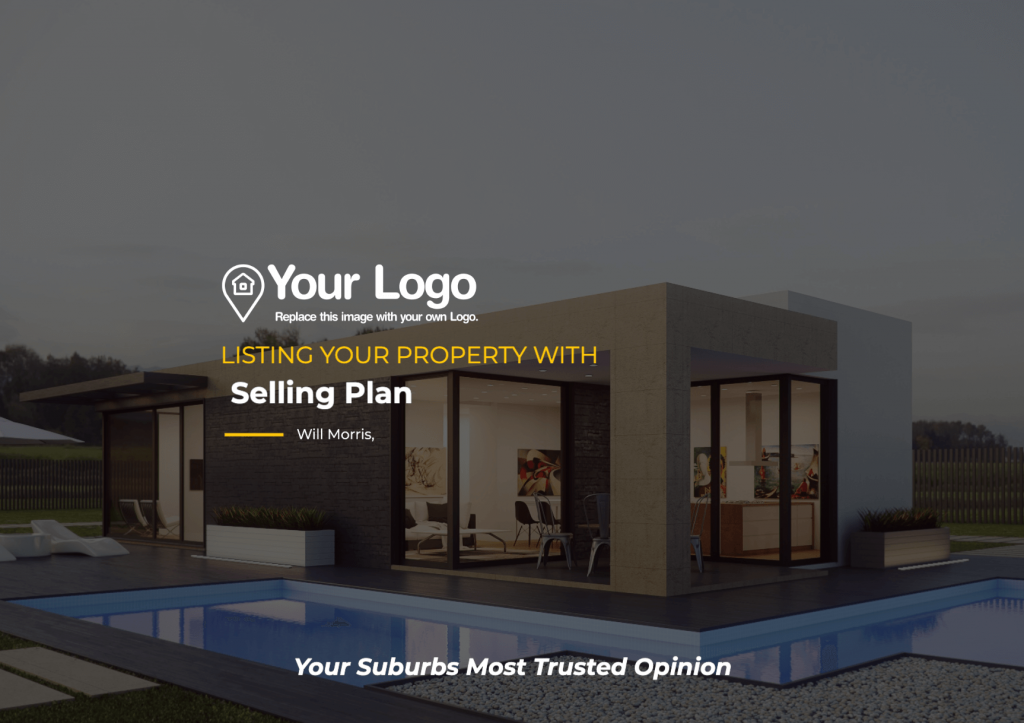 Most logos use a combination of text and imagery. Together, these elements communicate the name of your agency, and create a visual symbol that represents your brand.
A good logo should be memorable, and help differentiate your agency from the competition. With this in mind, it's important that it is clear and easy to interpret, even at a glance.
An effective logo will also have a meaning behind it. This can represent anything from your agency's core values, to its history, its purpose, or your mission statement.
This may sound daunting, but people assign meaning to everything from colors, to shapes, and even typography. Different fonts can be interpreted as formal, playful, traditional, or modern. In this way, something as simple as your choice of typography can add meaning to your logo.
Step 2: Tell Attendees About Yourself
Prospective clients don't need to know your entire life story. However, selling a property is a huge decision. Most homeowners will want to know something about the person they're trusting with this important task. That's why our listing presentation has an entire slide where you can introduce the members of your team: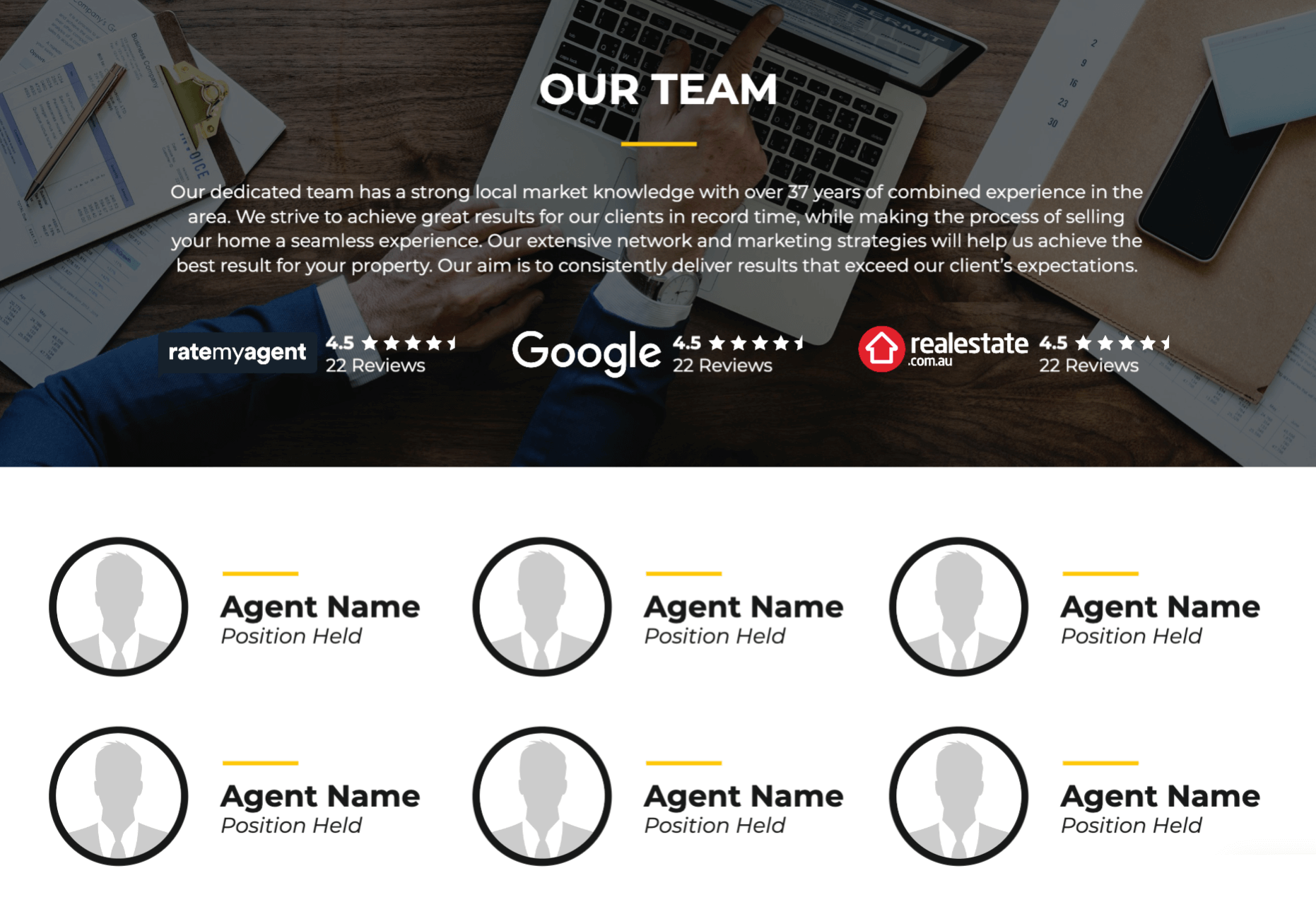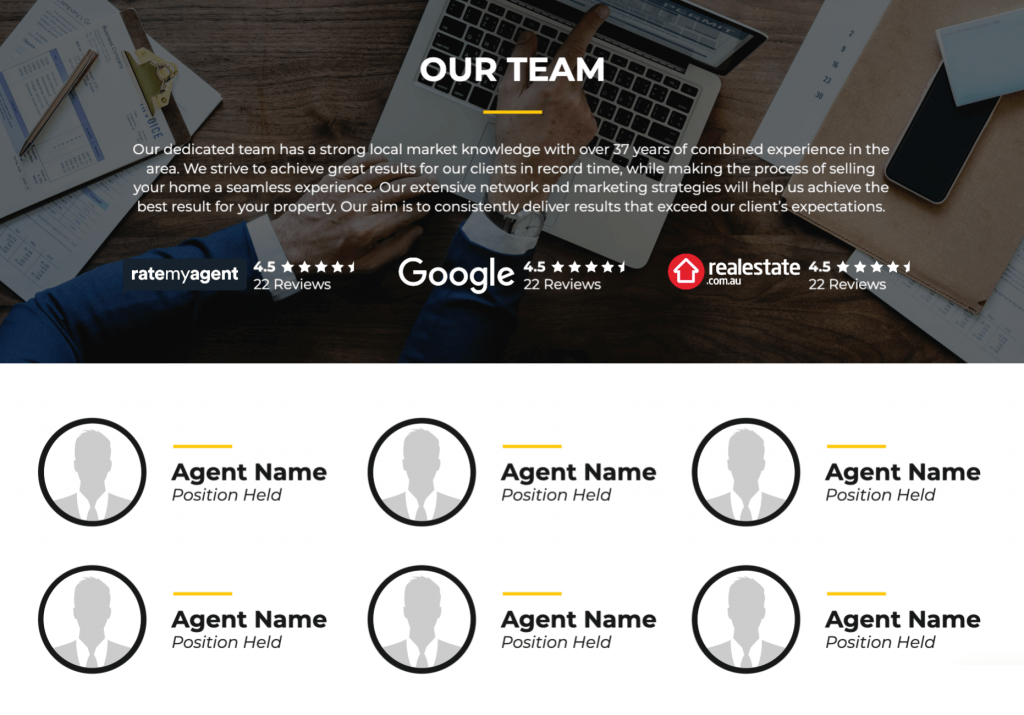 When writing each short bio, we recommend focusing on your experiences, qualifications, and track record. It may also help to include quotes from your previous clients, or a tagline that summarizes why the prospect should choose you over the competition.
No biography is complete without pictures, so be sure to include photographs of all your team members. Here, professional headshots can help convince clients that you're a respectable agent who will make a fantastic first impression with potential buyers.
Step 3: Display Powerful Social Proof
Persuasive marketing copy can help you create a positive impression with potential clients. However, most people are inherently suspicious of everything that businesses have to say about themselves.
However, if an independent third party speaks highly about their experience with your agency, then property owners are more likely to pay attention – and maybe even act on that recommendation. In fact, 90 percent of consumers are more influenced by user-generated content such as testimonials, than email marketing and even search engine results.
Our listing presentation template contains lots of space to display quotes, reviews, and feedback from your happy clients:


According to Bright Local, 76 percent of consumers are willing to review a product or service if asked. This means that acquiring powerful social proof may be as simple as sending your previous clients an email.
If a customer provides particularly glowing feedback, then you might even expand this into a long-form testimonial: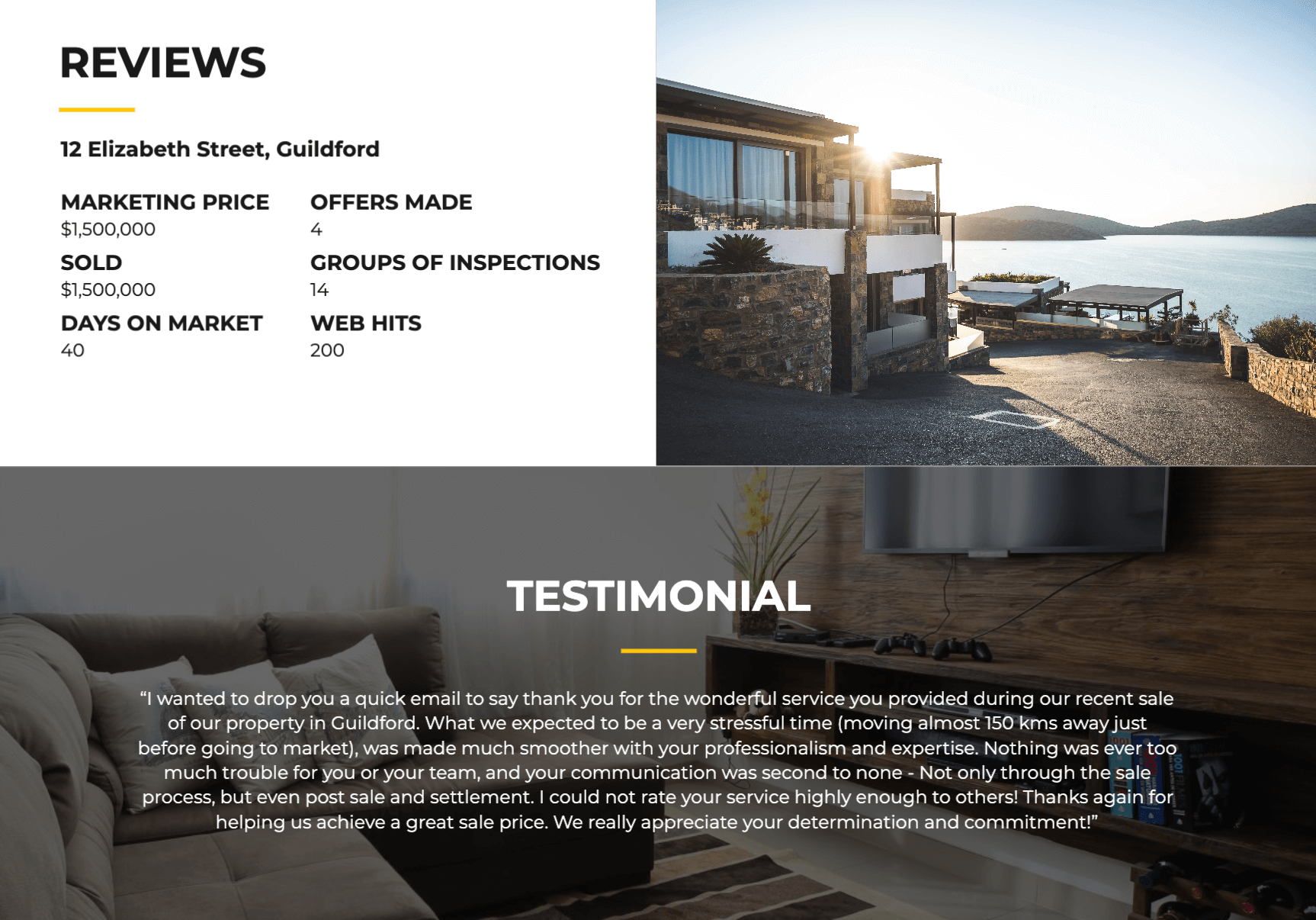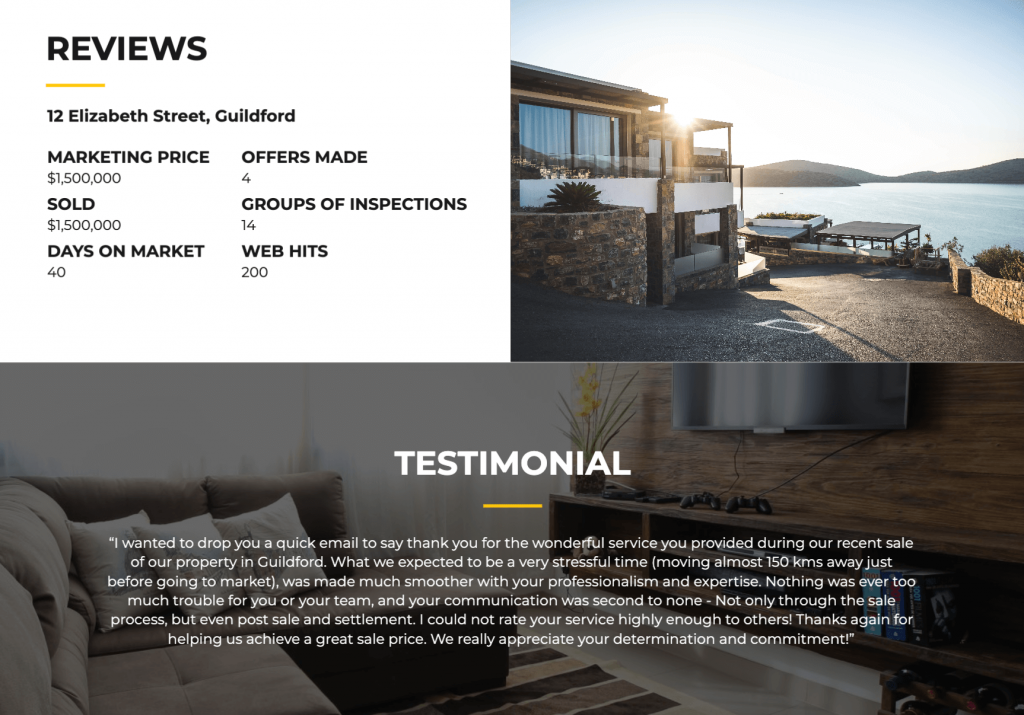 When it comes to acquiring positive reviews, timing is everything. For the best results, we recommend approaching your clients when you've just completed a task successfully. For example, you might request a quote after arranging their first viewing, or finding them a buyer.
Step 4: Display Your Professionally-Designed Brochures
Property marketing brochures can say a lot about the quality of your services. Great photography, an innovative design, and a professional finish may help reassure homeowners that you're the best person to represent their property.
If you have a selection of brochures, we recommend bringing these along to your presentation. If you only have them in digital format, you may want to print out a few physical copies. A tangible marketing brochure will likely inspire more of a reaction among prospective clients, compared to simply showing them a PDF on a screen.
This is also an opportunity to demonstrate the quality of your services. Something as simple as a thick paper stock or a glossy finish may mean the difference between adding a new property to your roster, or missing out on a potential client.
When it comes to impressing people, consistency is key. With this in mind, it's a good idea to update our listing presentation template to feature photos of your printed materials, including your marketing brochures: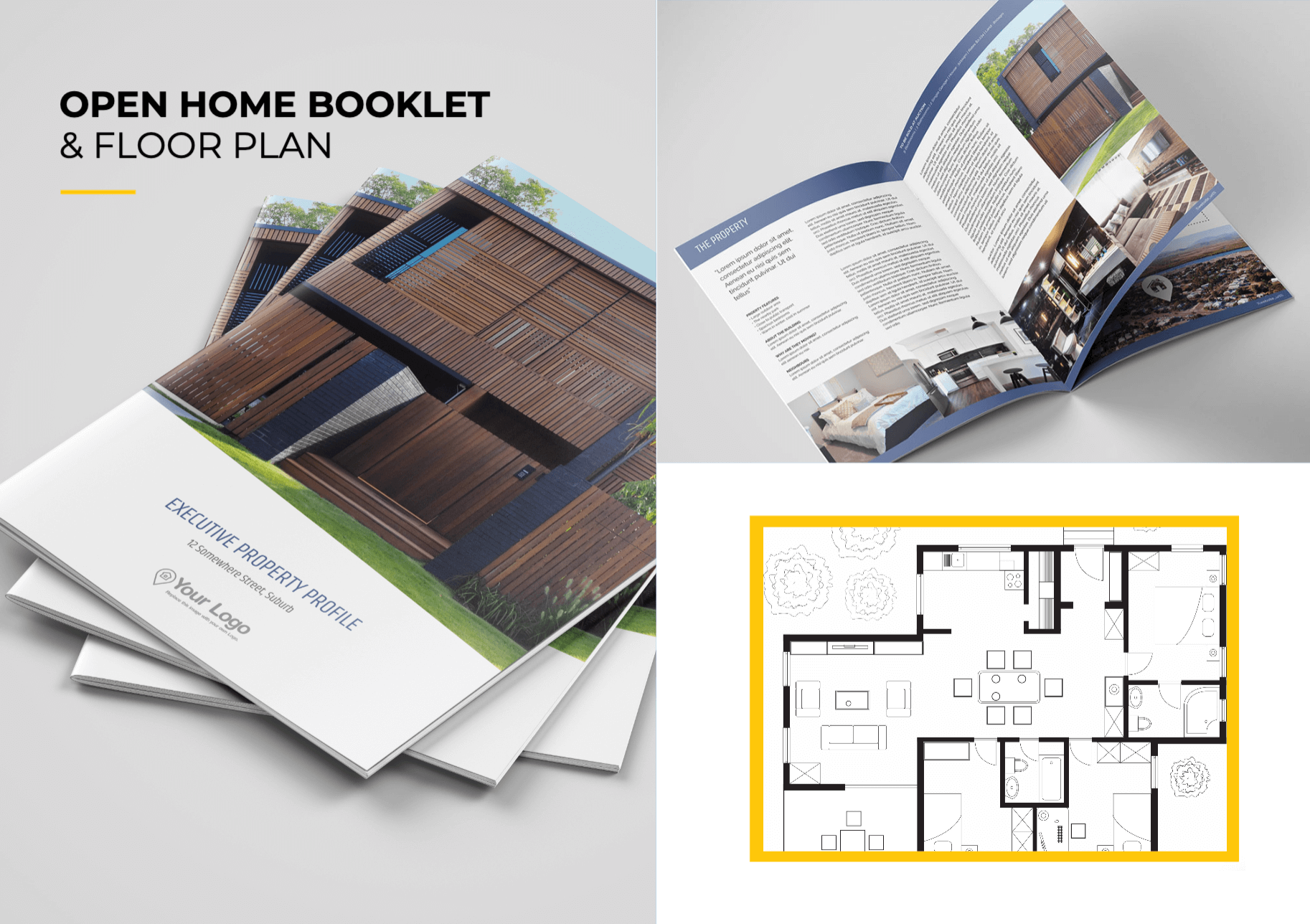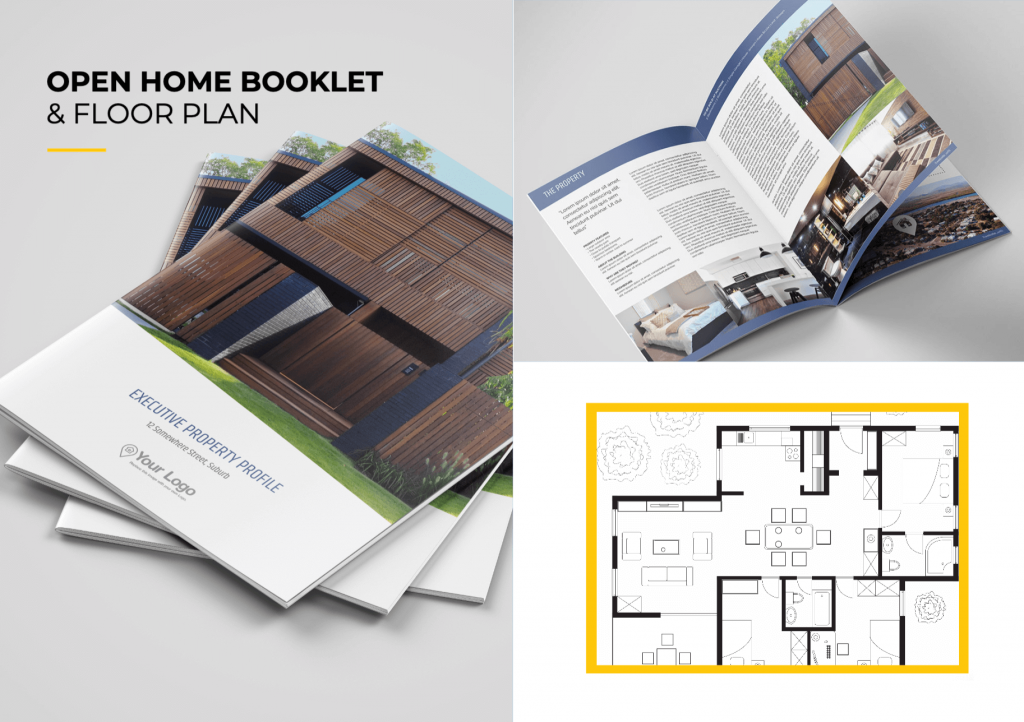 This can be powerful proof that your agency pays close attention to even the minor details. It can also help create the impression that this is a truly bespoke presentation, perhaps even created specifically for this customer.
Step 5: Showcase an Attention-Grabbing Window Display
A window display is often your first point of contact with potential buyers. By featuring lots of high-resolution photographs, you'll stand the best possible chance of stopping pedestrians in their tracks. These visuals are particularly important, as there's no physical product for a passerby to examine. Your photos need to do all the talking!
Purchasing a property is also a huge decision, and most buyers will have a list of questions about a listing. An effective window display will answer at least some of these questions. If your office is closed, then your window display will also serve as the only source of information in that particular moment.
Essentially, your window display has a lot of work to do. This means that potential clients will want to verify the quality of your displays. Fortunately, our listing presentation template has an entire slide where you can show off all of your window designing skills: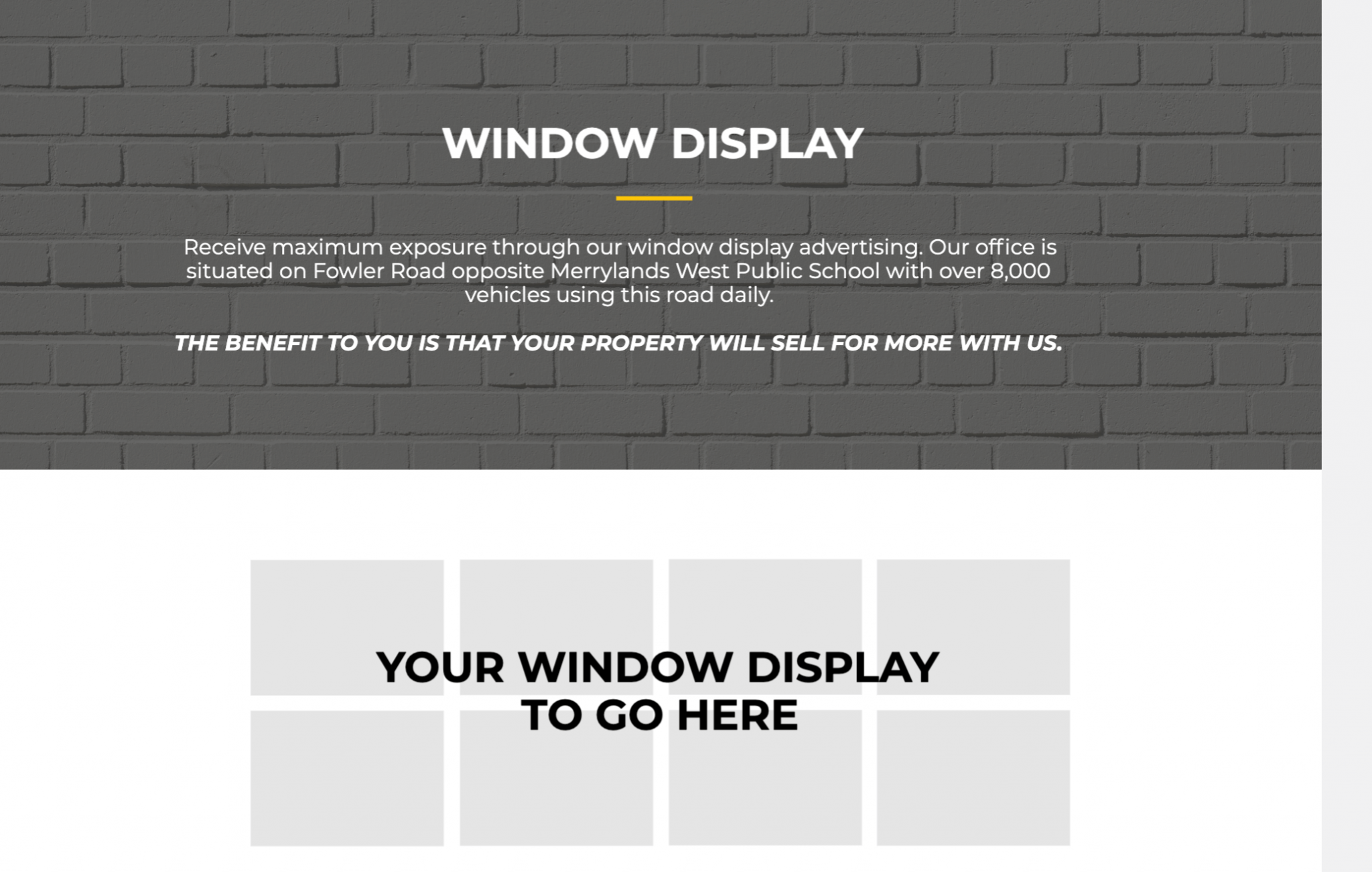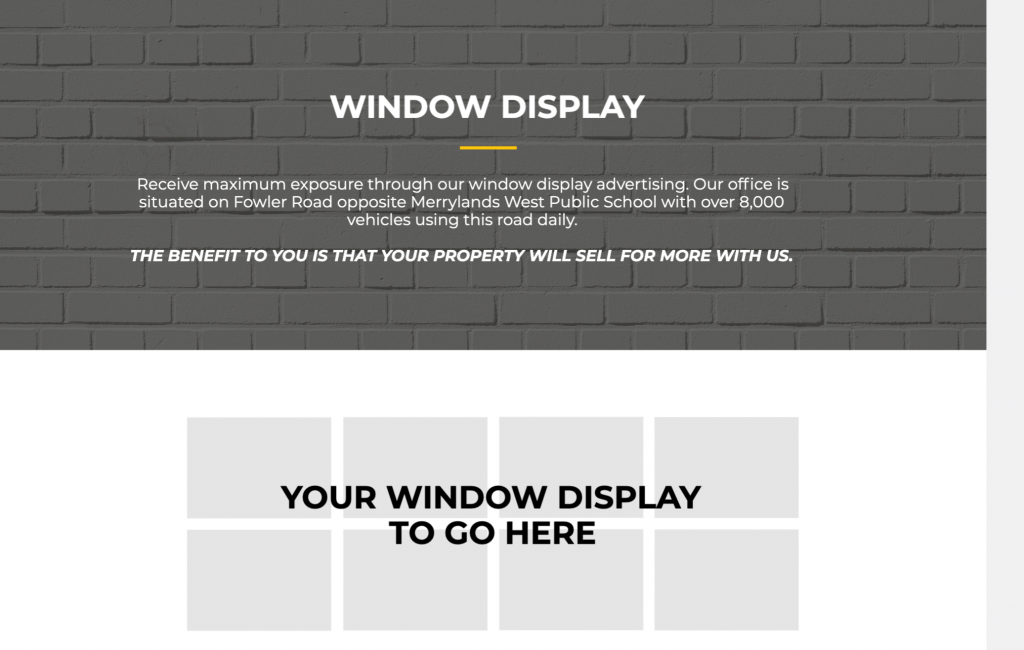 This slide can reassure potential clients that their property will be featured as part of an engaging and attractive window display. It can also encourage them to start visualizing their property in your beautiful window display.
Step 6: Write a Value Proposition
A value proposition is the unique benefit that your real estate agency has to offer. As a successful agent, you'll likely have a list of factors that set you ahead of the competition. Our listing presentation template has plenty of space where you can let attendees know what to expect by partnering with your agency: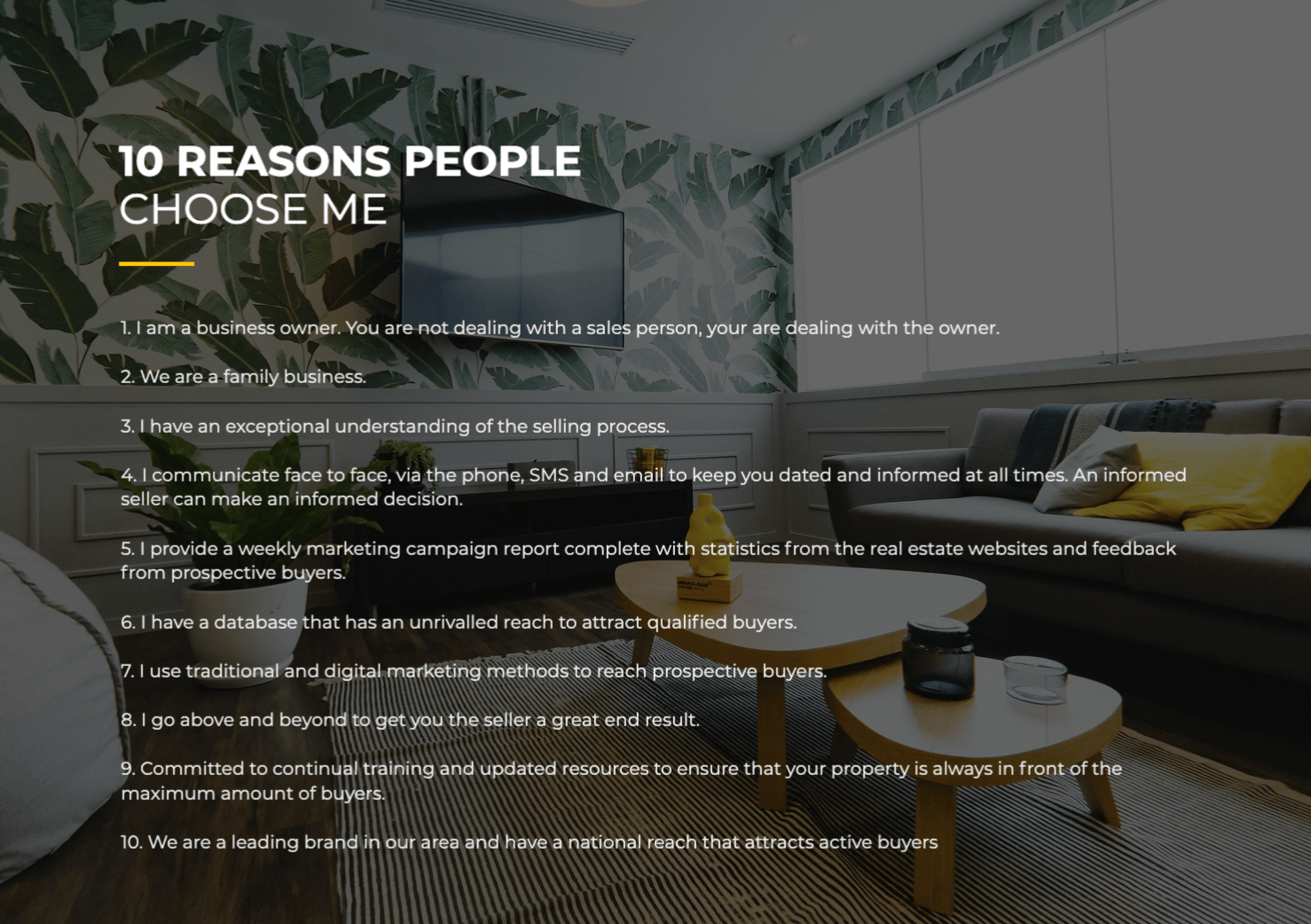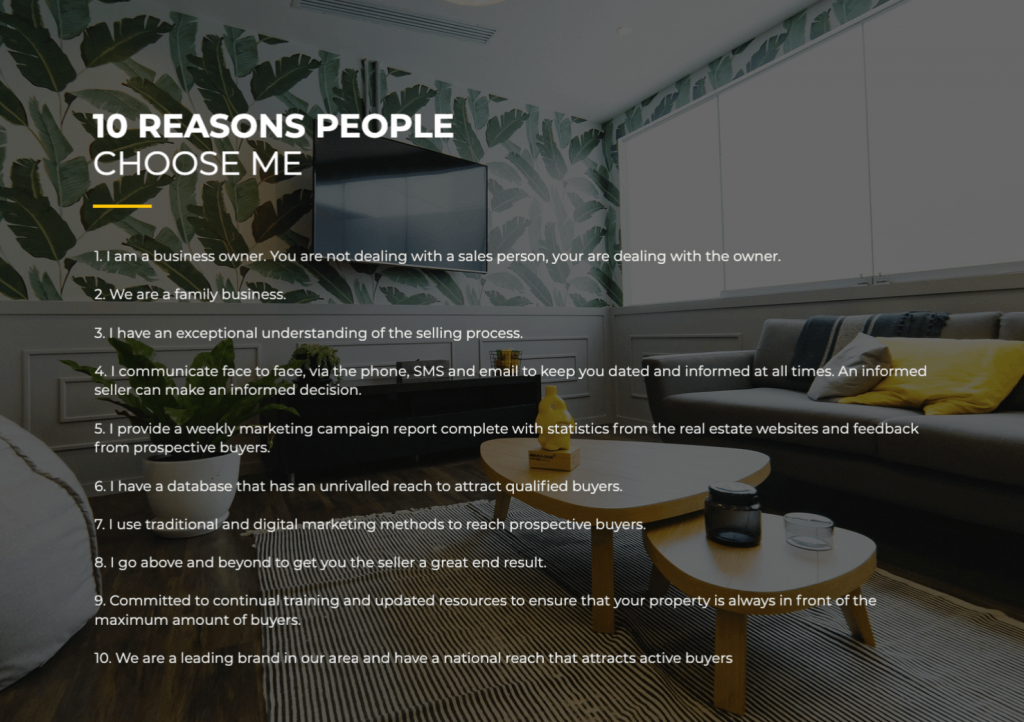 There isn't a one-size-fits-all value proposition that's guaranteed to work for all real estate agencies. For example, your value proposition might be a free valuation, competitive fees, or your impeccable reputation for selling properties fast.
If a value proposition doesn't immediately spring to mind, then you may want to consider your target audience and the features they would appreciate from an agency. Your value proposition is also often closely related to your mission statement, or your Unique Selling Point (USP). By considering these factors, you'll be in a stronger position to pinpoint exactly what you have to offer potential customers.
Conclusion
A real estate listing presentation is essentially an interview to represent the property owner. Interviews tend to run more smoothly when you're prepared, so it's important to come armed with a slick, professionally-designed presentation.
With our real estate listing presentation checklist and template, you'll be able to prove your worth by displaying persuasive social proof and examples of your best marketing materials, including window displays and printed brochures. This can help potential clients understand exactly who you are, and why they should work with you.
Are you ready to make a splash at your next real estate listing presentation? Try out Jigglar for free and you'll get access to our dedicated Listing Presentation template.