We're delighted to offer Jigglar agents the opportunity to customize our eBook (Above Market Value) and use it as a lead generator and marketing tool.
The book is designed to help you attract clients and win listings. I'm about to share the marketing philosophy behind the book and give you the heads up as to how you can use it to achieve maximum results.
At Jigglar, as you can probably tell, we're into marketing and are constantly searching for innovative but cost-effective ways to position you as the best real estate choice in your area.
That's why we create and test real estate flyers that win our agents extra listings and sales.
But we can't do this without our agent marketing partners like you, and I find the best agents are really marketers who understand the power of attraction and positioning themselves as an obvious and effective alternative choice in a 'sea' of agents.
Because we are real estate agents, we understand the real estate success cycle begins with productive prospecting, taking names, delivering a killer listing presentation and winning the listing.
We're all about getting the listing! … and that's where Above Market Value comes in.
I know you're going to get the best value from your new eBook once you appreciate the rationale behind it, why it works, how it works and the best ways to leverage your offer to attract potential selling clients.
First off, the book is written to support you as the local real estate authority and also as a way to help sellers understand the opportunities they have to achieve an above-market sale price when they list with you.
The idea of offering a book (or in this case an eBook) as a lead generator and a unique marketing tool is something I did in my own real estate business quite a few years ago.
My first book, 'How To Sell Your Home for More' was written during an economic recession as a way to communicate the fact that we were not like other agents because we understood real estate has no recommended retail price and we could prove our strategies and ideas helped our sellers achieve a good result despite market conditions.
I'm not saying we delivered miracles in a tough market, but our sale prices were solid and our days-on-market was consistently less than the area average.
To promote the offer of my book, I created flyers and other marketing inviting property owners to get a copy of the book (these designs are the basis for the templates you'll find in the BOOK category on your Jigglar dashboard).
It was during this time I learned the real value of establishing relationships and keeping in touch with my contacts even if they weren't selling. Looking back, this was a revelation and a lesson that has served me well my whole career.
I remember the day when we delivered our flyers and people started calling to ask for a copy of my book.  It was a game-changer and a marketing idea that helped us through the recession because we offered something different. The book and the concept it described became our Unique Selling Proposition or USP.
Before long, agents in other areas heard what we were doing and asked if they could use the book and our marketing too.
We've tried to make sure the content in Above Market Value has broad, generic appeal so, wherever you are, sellers in your area will benefit from your free gift and the chance to secure a top market result.
And while the general copy and 'language' might differ slightly in your specific area, you can rest assured the book will work wherever sellers are competing with other sellers for top dollar and keep in mind, from a marketing perspective, the 'promise' is the title and displayed loud and proud on the cover.
The 3 Things Every Seller Wants
Somewhere in your area this morning, a property owner woke up and decided to sell. If they didn't call you, it can only be because they don't know you. There's no relationship.
Today we are inundated with a wealth of technology to help us keep in touch with an unlimited number of potential clients. We're living in real estate nirvana because we have so many cost-effective marketing tools (like Jigglar) at our disposal.
Imagine if you had 50,000 contacts in your system to warm call, direct mail, email, and text? You'd be busier than a one-armed truck driver!
So how do you creatively reach out and connect with more poetical clients in a non 'salesy' way to build your database of potential sellers?
What consistent and effective marketing are you employing to make sure your new listings pipeline is always full?
And how are you different than every other agent in your area? What's your USP?
I believe, no scratch that… I have proven, the fastest way to connect with sellers in your area is to appeal to their basic wants and in particular, three things every seller has in common.
The best way is to volunteer a solution to their problem.
I believe every seller wants;
An above market value sale price
In a reasonable time and
A rewarding real estate selling experience
Above Market Value is specifically written to share your knowledge and explain how you can deliver on these three essential wants.
Let Me Ask You A Question
I'm sure you've noticed just how many agents you compete with on a daily basis, but it strikes me as odd that they mostly look the same.
It seems to me that most agents are looking for the immediate seller call and quick fix for a listing they can sell.  We call this 'commission breath' and it's not very nice.
But what about the power of building long term relationships and clients for life?
What about beginning your relationship by giving something rather than asking for something? (and I'm sure you agree a FREE VALUATION is hardly new, innovative or unique)
If you went to a party and didn't know the other guests, would you start telling everyone how good you are with no preamble, or quietly engage in friendly one on one conversation by showing interest and asking the guest about themselves and give attention by listening to their story?
This builds a connection, credibility and eventually, trust and people do business with people they know, like and trust.
Marketing your real estate services is no different.
Your local market area or farm is just a big party full of 'guests' you haven't met yet. The question is; how are you going to engage them?
How To Deliver On The 3 Seller Wants
Do you believe you can achieve a better result than any other competitors in your area? If you don't, why would I hire you? Would you hire you?
Property sellers in your area need your help. Do you know how many unskilled, careless and unprofessional agents there are out there in Realtor Land?
I never found it difficult to convince myself that my job was to rescue sellers in my area from the average agents who didn't care. I was worth more because I achieved a better result. In my mind, I was the logical choice.
It's not ego or bragging or a misplaced sense of self-importance. It's my thorough understanding of the best way to help my sellers achieve an above-market sale and a bullet-proof belief in my own ability to do so.
A listing presentation is the real estate equivalent of a post-season playoff game. There's a lot at stake.
I think of it this way; If my average GCI fee for service is $10,000 and I miss the listing, I've just lost $10,000, I've given $10,000 to my competition (there's $20,000) and I've also lost the chance to win another listing around the one I missed. Call it a $30,000 mistake. Ouch!
You see, one thing I discovered early in my career, is if I don't believe in my own level of skill and professional level of client care, why would anyone else?
Think about your favorite actor. He or she is so immersed and invested in their role, it's almost like it's real and they are that good, you momentarily forget it's just a movie.
Confidence and self-belief is the key.
How To Pre-sell YOU Before You Even Arrive At The Listing Presentation
If you ever find yourself marooned on a tiny island of self-doubt and feeling small, haul out your client testimonials and read them. You'll be swimming to the mainland in no time.
In fact, testimonials are the secret weapon to getting you pre-sold well before you even arrive at a listing presentation.
Most agents take their testimonials along to the listing presentation and leave them for the seller to look over after they leave. BIG mistake. Ten bucks says they'll be in the rubbish bin before you're in your car.
At the end of your listing presentation, you need to ask to be their agent. So in order to get a big fat "yes" to this question, wouldn't you want to give your seller every reason to do so?
Your seller will be looking for success evidence that you're the best choice so why not give them that evidence BEFORE you arrive in the form of an email, including a copy of your customized edition of Above Market Value and a collection of sizzling testimonials from your clients that illustrate your ability to produce an above-market result?
What am I? I'm priceless, yet I cost nothing but last forever…
I am a real estate agent's testimonial and a third party endorsement is 100 times more powerful than me telling you how good I am and why I should be your agent.
Here's a golden rule about getting a testimonial. Make sure your testimonial says what you do not what you are?
We live in a world of consumer reviews where every cafe, hotel, retailer and local real estate agent is judged and scored without our consent and usually without our knowledge.
So don't leave this important job for others. Create your own buzz.
Here is my precious collection of testimonials. You'll notice they are succinct, fit on one page and emphasize my ability to produce an above-market result and multiple buyer action.
So pretend you're selling and I'm calling by tomorrow to deliver my listing presentation. Would you be more or less inclined to list with me after you read these little beauties?
"Hello Ray, and thanks for helping us sell for such a terrific price. I don't know how you handled 4 buyers at once but the result was so far above our expectations, we're so happy and our whole family was very impressed"
Allan and Marg Pinkerton

"We now have a whole new respect for agents and in particular, you. Nothing was too much trouble and you not only gave us a terrific selling experience, you helped us achieve a selling price we never even dreamed of"
Dave and Pamela Dryden

"Hi Ray. Just wanted to say a big thank you. We were wondering if all those things you did to help us present our home better would come together. Well you really gave us a real estate success lesson and we could not be happier. Our friends next door are selling soon and they want to use our 'secret weapon' too"
Brian and Delilah Bancroft

"I have to say, when you told me you could achieve a better price than the other agents, I was skeptical. You're the new guy on the block with an unknown brand but I'm so pleased I took a chance and listed with you Ray. The price is amazing. Thanks so very very much"
Jessie McPherson

"When you asked us why we went with you as our agent I would have to say passion and enthusiasm. But after you achieved such a great SOLD price I would have to say skill. When we read 'How To Sell Your Home For More', we wanted our result to be as good as the ones in the book, and that's EXACTLY what you did. Our only question is: How did you handle all those buyers? XX"
M & M (Maria Forsyth and Mandy Thompson)

"Right back at the start of the campaign, you told me to trust you Ray. You ripped out carpet, repainted walls, basically rebuilt the bathroom…it was exciting and a little scary all at the same time. But then I saw the photos. I saw it on the internet and my Mother didn't believe it was my little apartment. $450,000 was my dream price, but $525,000 is still unbelievable. Thanks just doesn't convey how I feel… but thanks!!!"
Margarita DeCosta
Where To Use Your New Book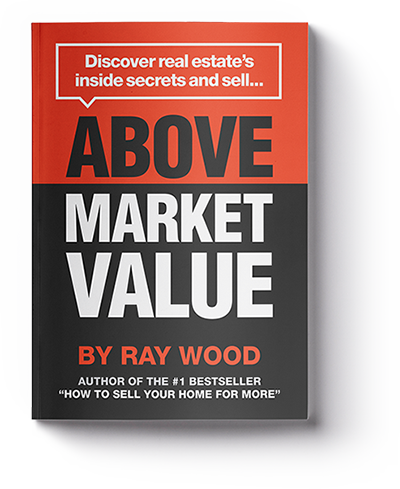 Here are a few ideas to get you started but when you think like a marketer and not as an agent, your opportunities are virtually unlimited.
As part of your pre-listing kit (send your physical copy)
As part of your pre-listing kit (send your ebook version)
Letter drops
Facebook and social posts
Direct mail
At your open homes
An offer to former sellers (your VIPs)
An offer to former buyers
An offer to everyone on your email list
A joint venture with other local business owners
Your free book offer flyers, cards, and social posts are ready and waiting for you to customize here. Log in or get started for free.