For many people, a new year means a fresh start. In the property industry, some might be looking to sell their house and move to another place, while others may be searching for a new home. This is therefore the perfect time to promote your real estate services.
Thanks to Jigglar, you don't need to put a lot of effort into creating beautiful marketing material. Using our large selection of templates, you can design branded flyers in no time.
In this post, we'll discuss the benefits of marketing your real estate services for the new year. Then, we'll look at some flyer templates that you can use. Let's get started!
The Benefits of Marketing Real Estate Services for the New Year
With the new year comes a new chapter. Some people even create goals and challenges for the new year.
As a real estate agent, now is a great time to offer new services (or tweak your existing ones) and market them to your audience. You can present these offerings as your goals for the new year.
For example, if your goal is to help more couples buy their first home, you could start offering one-to-one consultations at your office. You could even send them checklists and roadmaps to help them navigate the property market.
You might also want to kickstart the new year with a giveaway or reward. This can help you promote your new services or referral program.
Finally, you can market your real estate services to show potential home buyers or sellers that you can help them achieve their new year goals. For instance, you can create flyers that showcase your track record and expertise.
3 Real Estate Flyers for the New Year
Now, let's look at some effective real estate flyers for the new year.
1. Giveaways
Giveaways can be an effective way to raise brand awareness and gain new clients. For example, you might offer a free gift to anyone who lists their property with your real estate business.
At Jigglar, you'll find templates to help you promote your giveaways: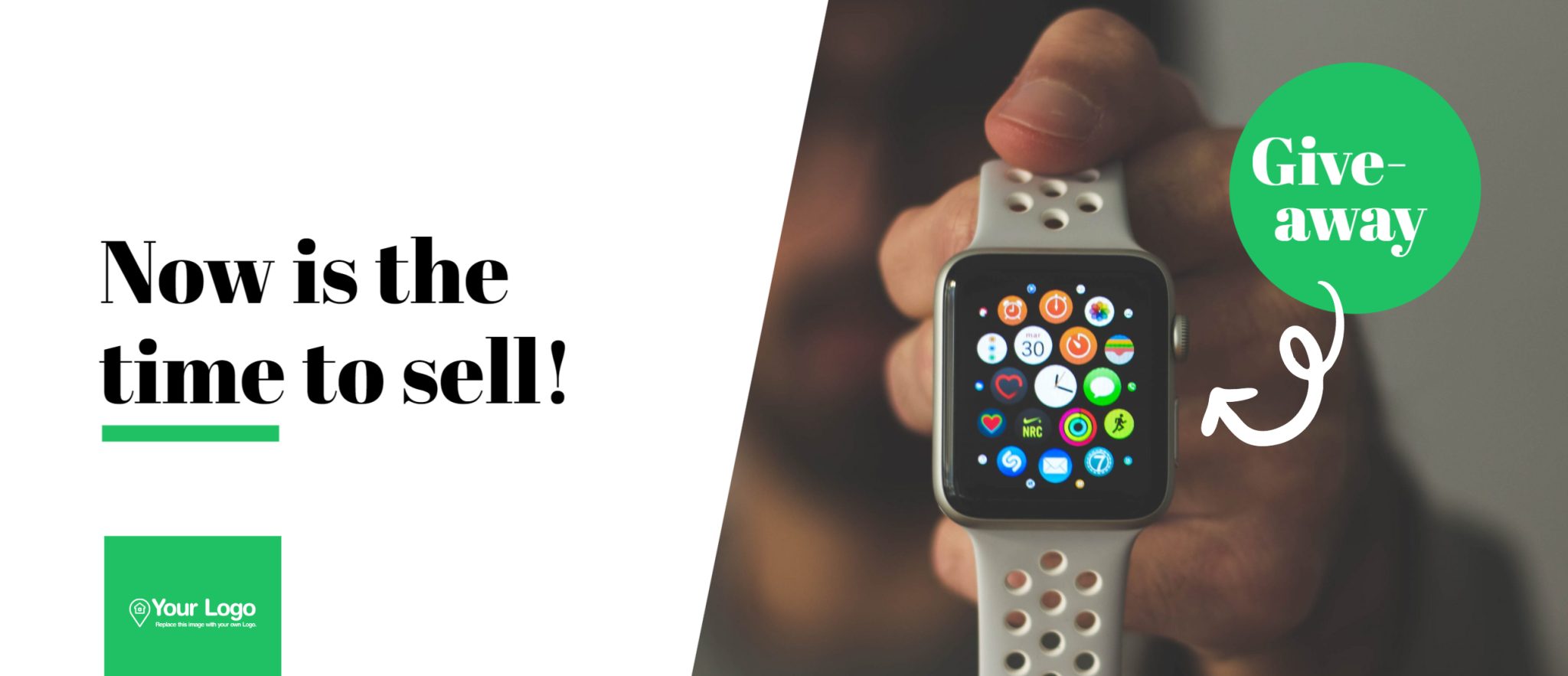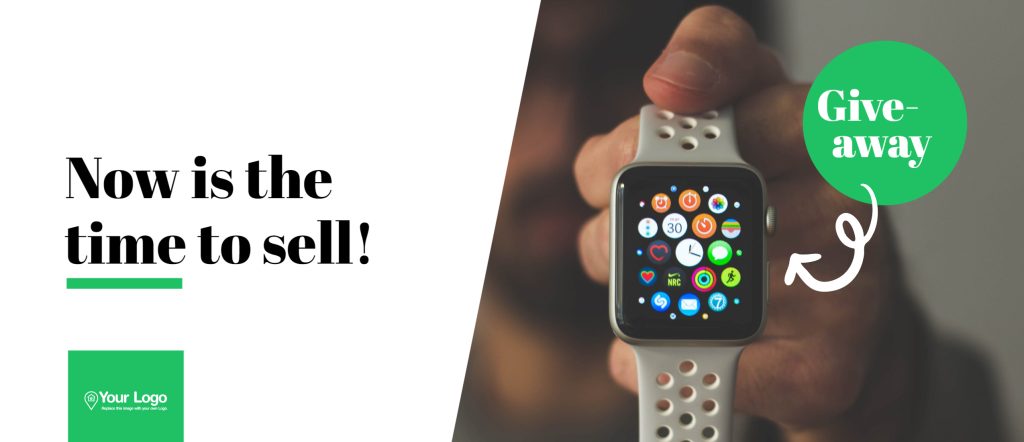 You can simply add your own logo, details, and photos. Then, you can print off multiple copies and post them to people in your local area.
If this is your first giveaway, try to reach out to businesses in your community. Some of them might be happy to partner with you in order to promote their brand. For instance, you might offer vouchers that can be redeemed at a local store or a hamper with artisan products.
2. Infographics
A new year can also bring new challenges. For those selling or buying their first home, the process can be a little overwhelming.
You can help make things easier for them by creating engaging infographics. For example, this Jigglar template lays out the road map to buying a house: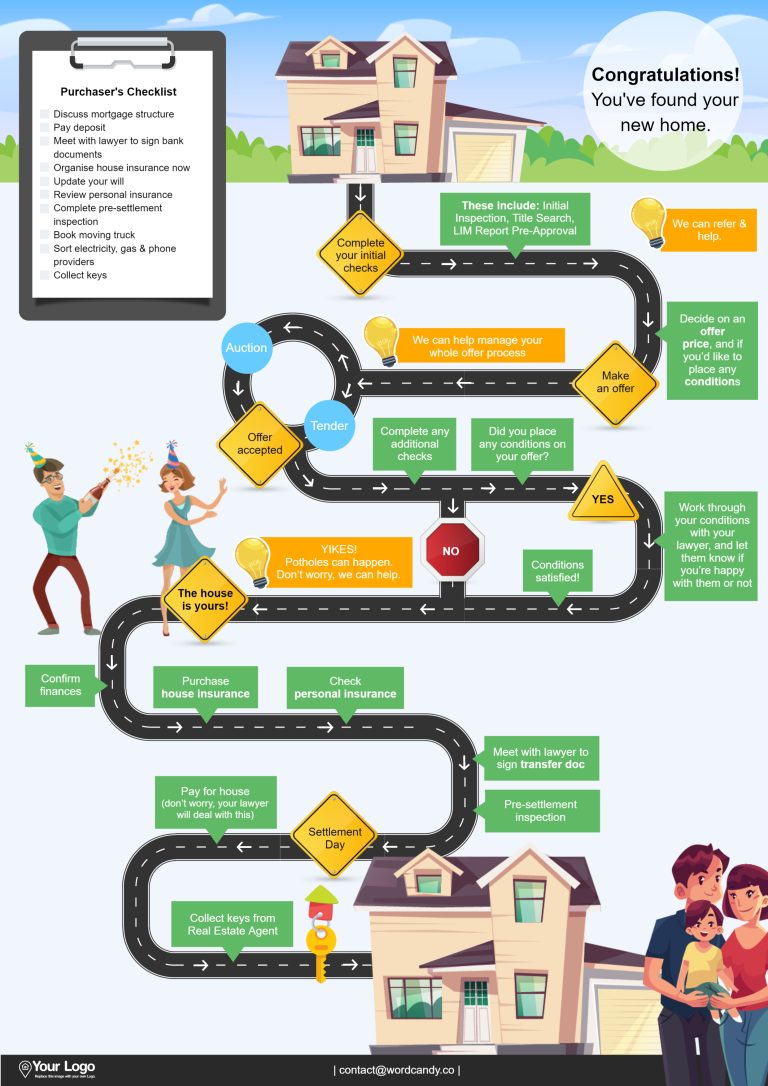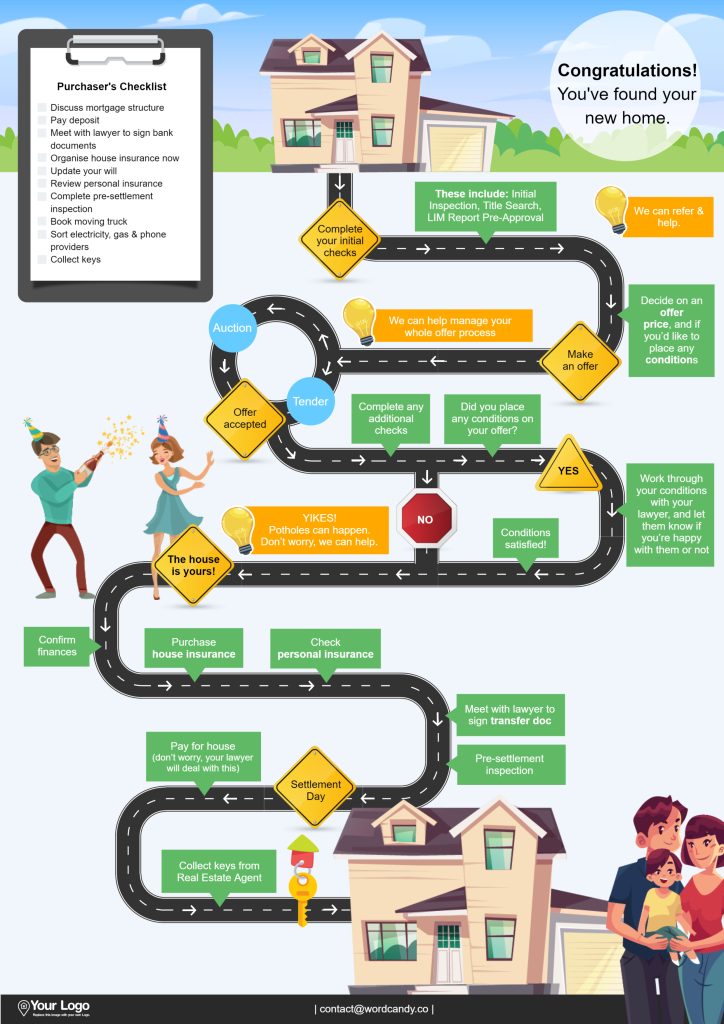 It also comes with a checklist that recaps all of the steps in the buying process. You can print several copies of these infographics and have them readily available at your office, or share them with prospective buyers through email.
3. Promotional material
This is also an excellent time to encourage people to sell their houses. For example, you might create flyers to show homeowners that this will be a good year for sellers in your neighborhood.
Using one of our Jigglar templates, you can highlight the reasons why people should consider selling their house in the new year: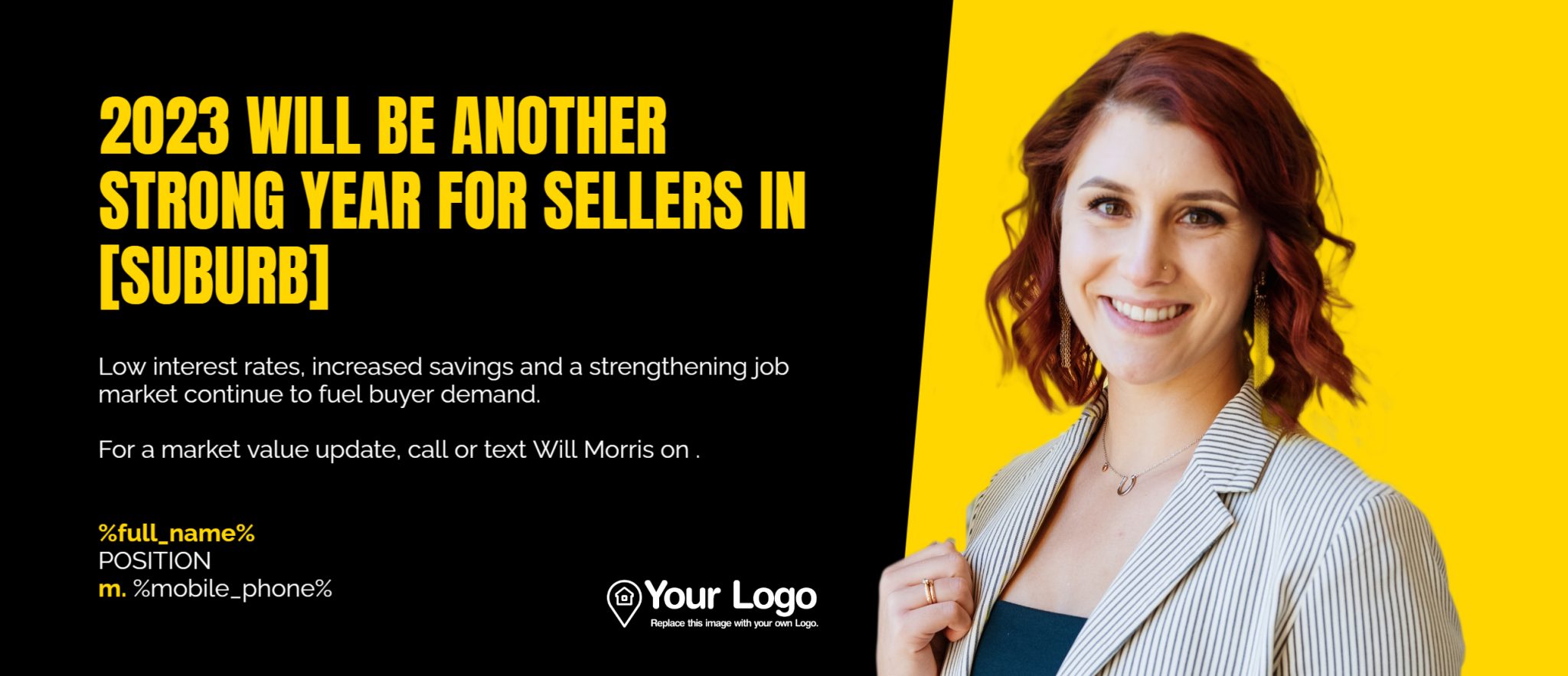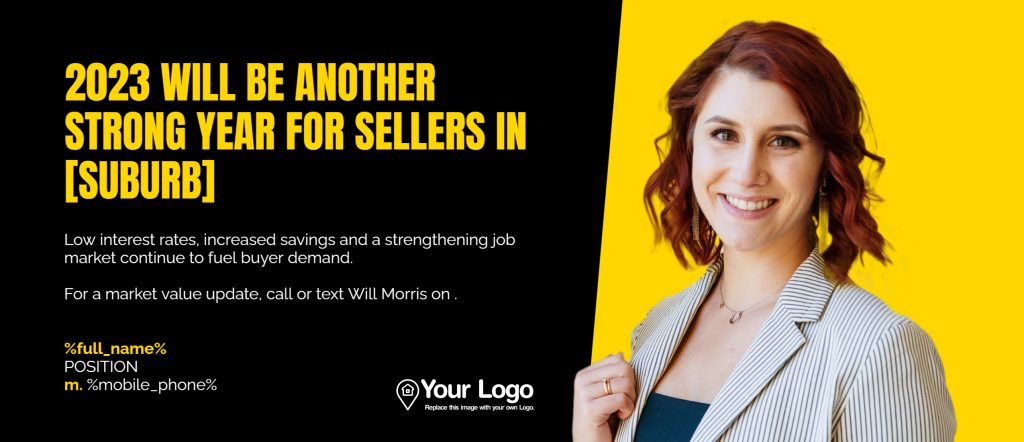 It's important to include your name and contact details in these promotional materials. This way, potential sellers will know how to reach you to obtain more information.
At Jigglar, you'll also find promotional flyers for people looking to buy their first home: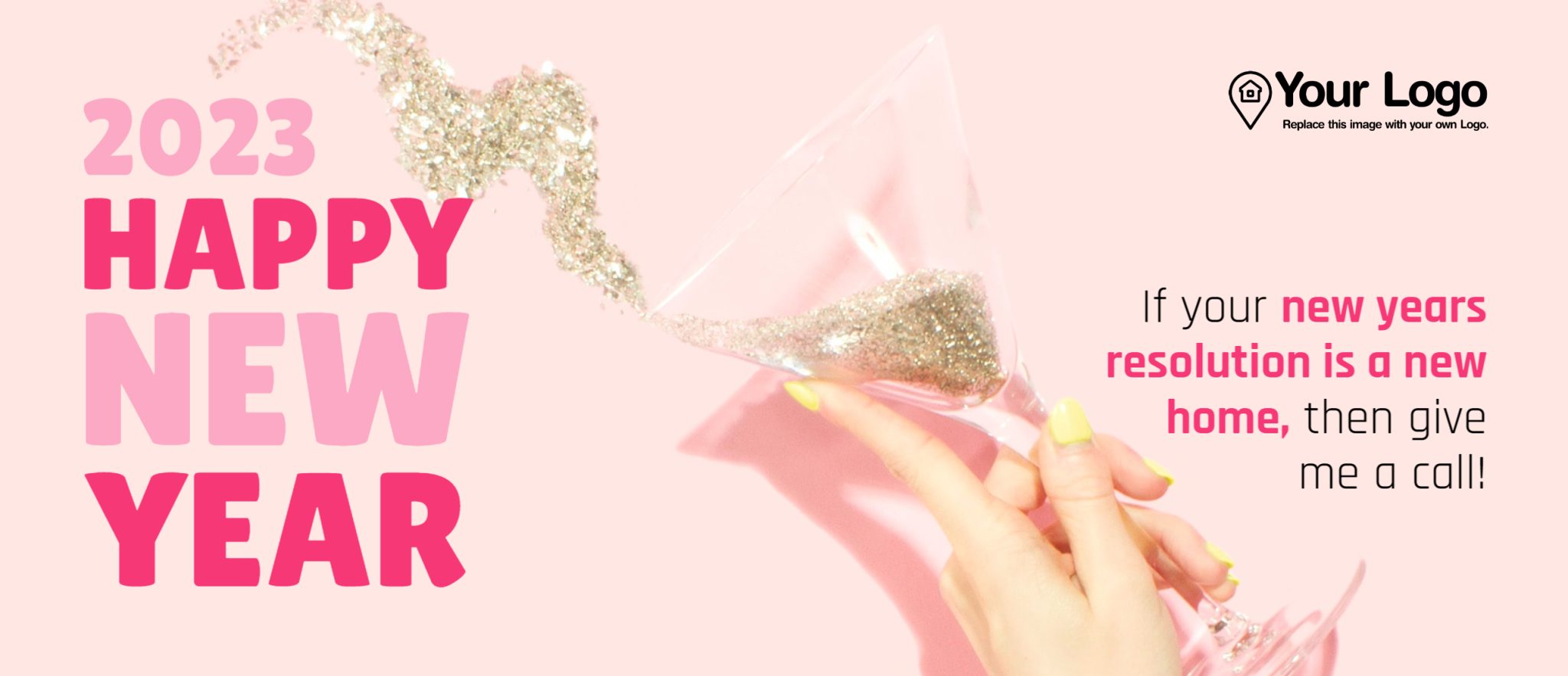 For some people, buying a house might be their main goal for the new year. With these flyers, you can show potential buyers that you can help them achieve their goals.
Conclusion
If you want to gain new clients in the new year, you'll need to ramp up your marketing game. Fortunately, you don't need to hard sell your real estate services to make an impact.
To recap, here are three real estate flyers for the new year:
Giveaways to help raise brand awareness and engage the local community
Infographics to help first-time buyers find their perfect home
Promotional material to encourage people to sell or buy a house in the new year
At Jigglar, you'll find a large variety of real estate templates to help promote your business. Sign up for a free trial today!