If you want people to hire you as their realtor, they need to know who you are and trust you. Building trust is the hardest part of the equation as often, you'll be dealing with hundreds of thousands or millions of dollars in properties.
The solution to both problems is to know how to craft a perfect real estate agent advertisement. That way, potential customers can get an idea of who you are and have your contact information at hand for when they're ready to list.
In this guide, we'll show you how to craft an effective real estate agent advertisement in four steps. Let's get to it!
Step 1: Include a Professional Picture of Yourself
No one will trust their home to a person they haven't even seen yet. As a realtor, you can't go around shaking hands with neighbors all day long. That personal touch works but often, the first contact that people will have with you will be through advertisements.
To establish trust, the first thing you need to do is introduce yourself. Take this real estate agent advertisement, for example: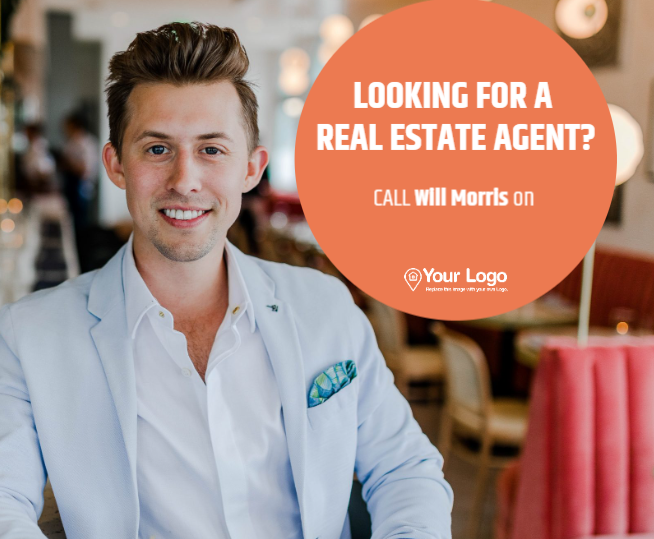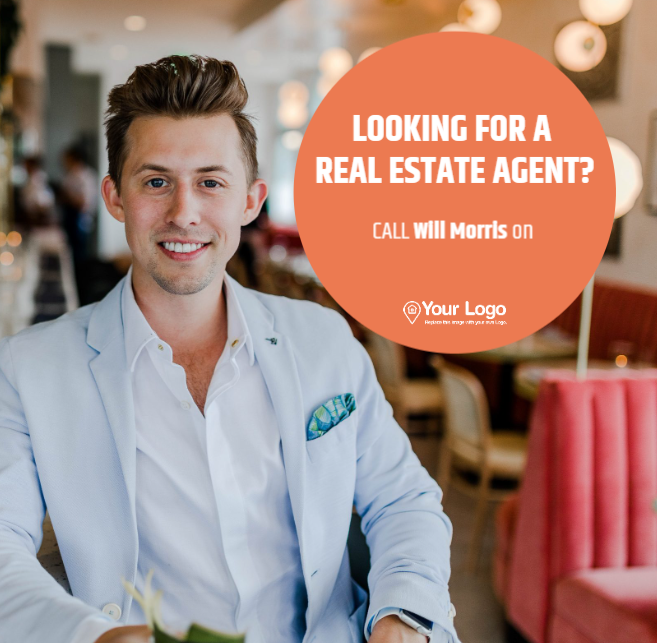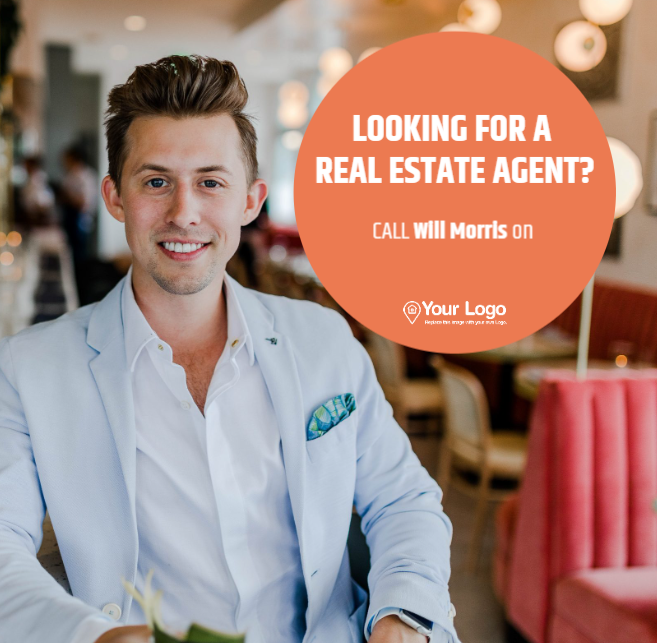 The core element here is a professional-looking headshot. By showing your face and how you present yourself, you can paint a picture of a successful realtor who can help homeowners sell their properties.
As long as the picture paints you in a professional light, you can decide what type of shot to use. Some realtors opt for a friendlier look, as in the example above, whereas others go for the serious can-do attitude.
Using Jigglar, you can easily upload pictures from your computer and use them as the background for your real estate agent advertisement. You can even take templates like the one you see above and customize them for your needs.
Step 2: Share Your Contact Information
The entire point of a real estate agent advertisement is that if an owner sees it and they're interested, they'll know how to contact you. That's why it's essential that you include your contact information front and center: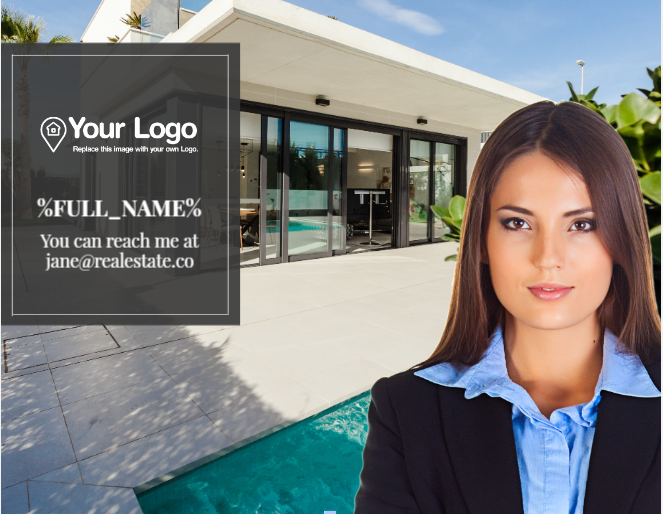 Ideally, you want to include as many contact methods as possible so customers have a choice as to how to contact you. However, one mistake that we see a lot of real estate agents make is including contact methods they don't check often.
If you use Instagram to promote your real estate business, but don't check messages regularly, then you might not want to advertise it as a contact channel. Instead, stick to the classics, such as your business phone number and email.
Step 3: Tell Customers What Sets You Apart
A lot of homeowners are constantly getting advertisements from multiple real estate agents. With so many realtors to choose from, you need marketing materials that manage to set you apart.
That means you need a hook. Something that sets you apart from other agents and that you can quickly communicate through your real estate agent advertisement. For example, you can offer three-minute home valuation asessments: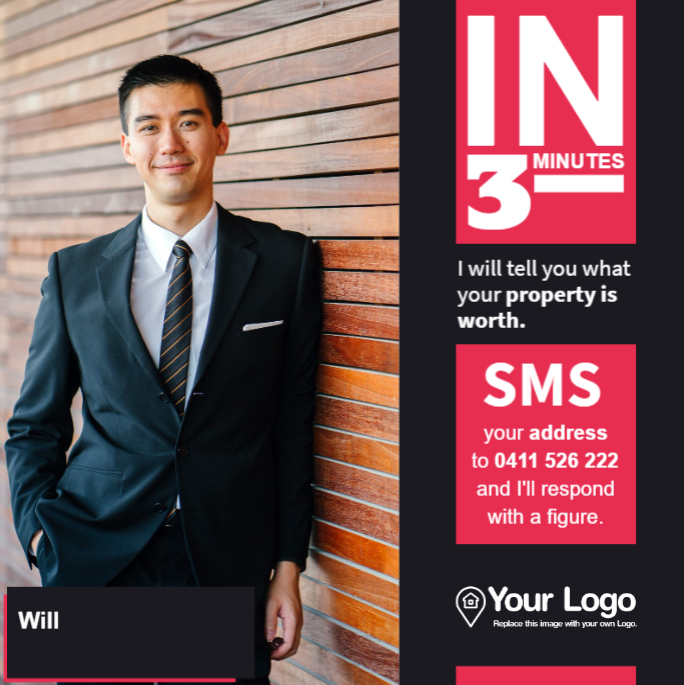 That's just one example, though. If you consider that your track record as a realtor is what sets you apart, then Jigglar includes templates that enable you to share highlights from your career: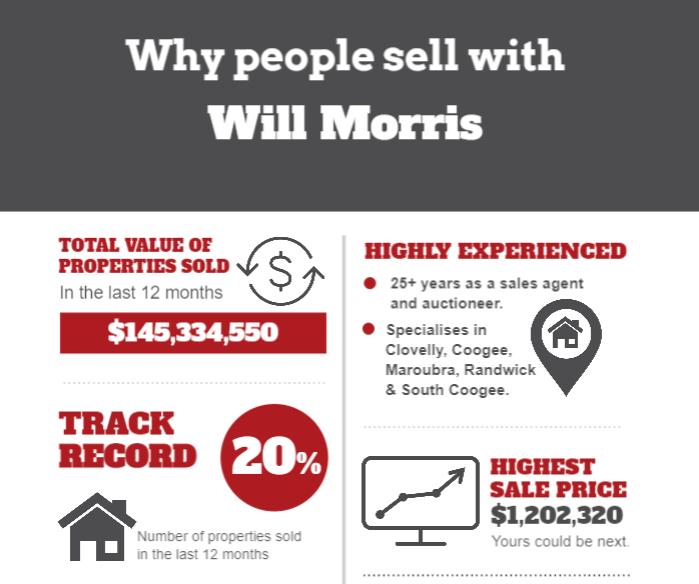 If you want to wow customers, we recommend including sales figures. By giving homeowners a peek into the kind of numbers that you can get them, you increase the chances that they'll reach out for a consultation.
Step 4: Include a Call to Action (CTA)
The most successful advertisements all have something in common – they prompt customers to take action. That action can take many forms, from reaching out for a call to scheduling a home valuation.
Although the main purpose of a real estate agent advertisement is to build your brand and gain trust, it can also help you get leads. That's why, instead of just including contact information and calling it a day, we recommend adding a simple prompt, such as "Call me today to find out!":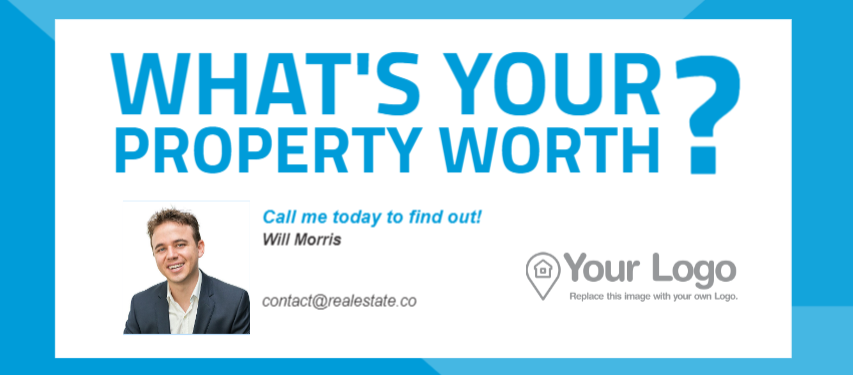 Your CTA should vary depending on what your main offer is. If you're offering home valuations, then the CTA should prompt customers to get theirs. On the other hand, if you're just introducing yourself, you can encourage owners to get in touch if they're interested.
Conclusion
A real estate agent advertisement can help you connect with homeowners you might never get in touch with otherwise. With an effective advertisement, you'll be able to secure leads and position yourself as the person to call if an owner becomes interested in selling down the line.
Crafting the perfect real estate agent advertisement is simple if you're using Jigglar. Here's what you need to keep in mind:
Include a professional picture of yourself.
Share your contact information.
Tell customers what sets you apart.
Include a CTA.
Are you ready to design your first real estate agent advertisement? Try out Jigglar for free today and get access to all the templates included in this article.