If you want people to entrust you with selling their properties or helping them find the perfect home, they need to trust you. That means they need to know who you are as a real estate agent.
The best way to build that trust, short of face-to-face meetings, is with the perfect real estate agent advertisements. With the right templates, you'll be able to tell people all that they need to know before they do business with you.
In this article, we'll show you seven real estate agent advertising examples and templates that you can use from the Jigglar archives. Let's get to it!
1. The Short Bio Profile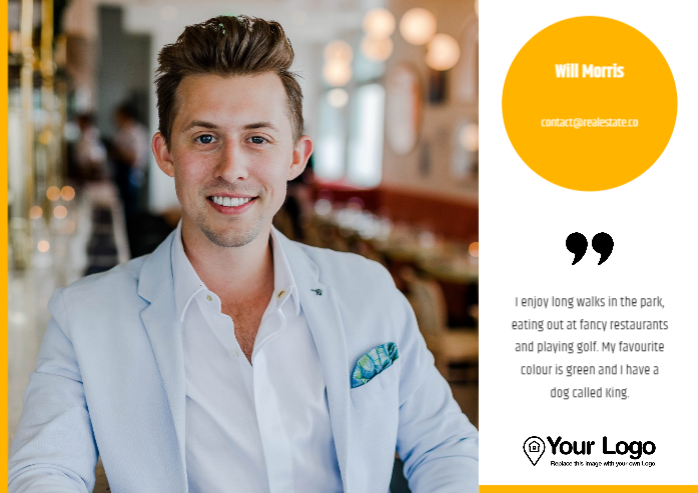 As far as real estate agent advertising examples go, this one is simple. The core of this advertisement is a full headshot that shows neighbors who you are. Right next to it, you have your contact information, name, and a brief quote in your own words.
Although this agent profile doesn't talk about your accomplishments in real estate, it does show that you're a real person that interested parties can reach out to. For bonus points, use a picture where you look as professional as you can.
2. The Full Sales Report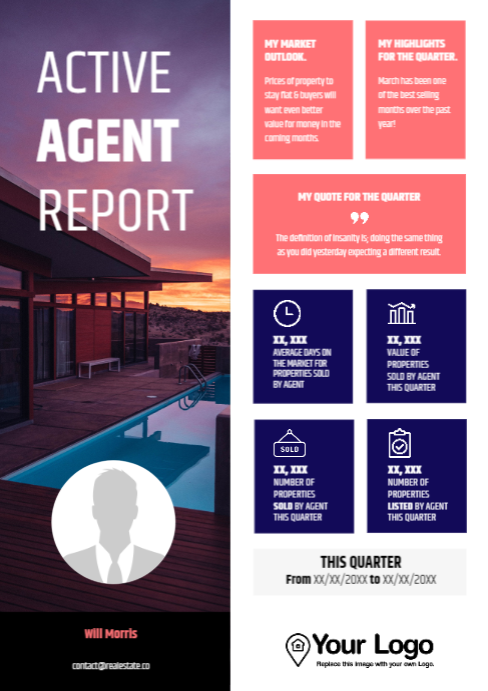 If you want to take a different approach than with our last real estate agent advertising example, this full report is the way to go. This template is all about data. By sharing your successes as a real estate agent in terms of numbers, you tell people that you're the right person to get them over the asking price.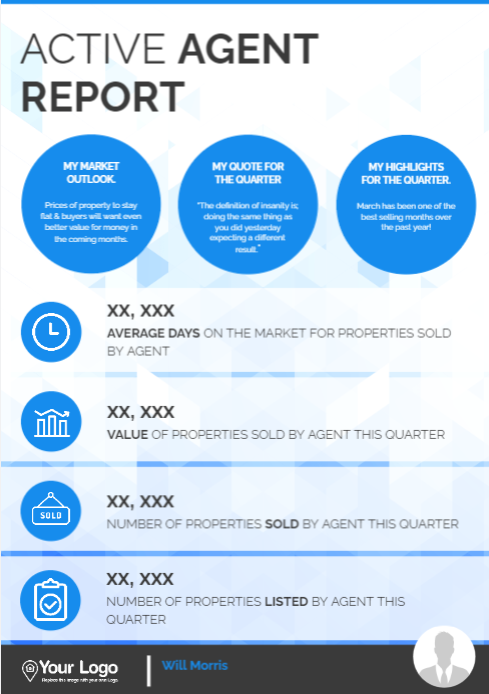 The Jigglar library includes multiple templates that cover the same information in different formats. That way, you can choose whichever design you prefer and fill it with your data.
3. The Three-Minute Pitch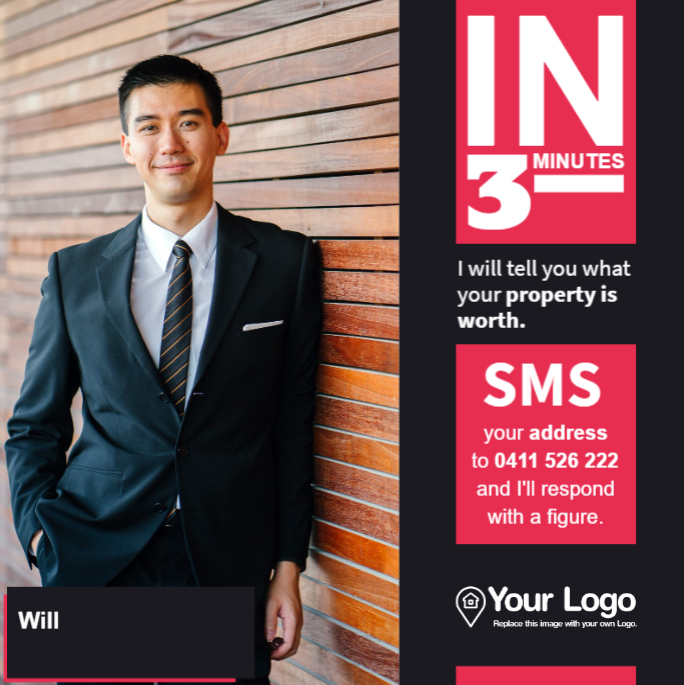 Every agent has their own unique value proposition. Some will tell you they always get over asking price, others boast of how fast they can sell a home, and so on.
This real estate agent advertising example is all about sharing what sets you apart from others in the area. In the template, we offer quick and painless home valuations, which can be a great way to collect leads.
Using Jigglar, you can replace that offer with your own simply by editing some text. While you're at it, also make sure that you upload your own full-body shot (all dressed up, preferably!).
4. The Full Statistical Profile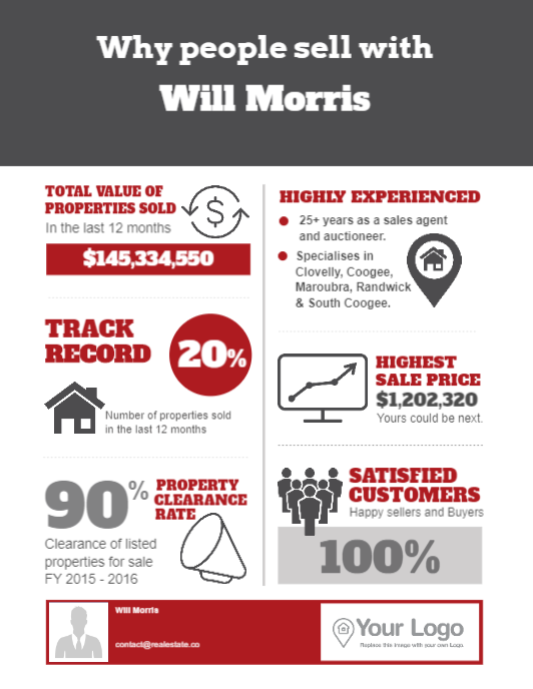 A lot of customers decide who to list their homes with based on their track record. After all, if you can bet on a winner, why not do it?
This real estate agent profile template is all about numbers. It includes your highest sale price, the total of all the homes you've sold, how much time you've been in the business, and much more.
All of that information comes in a format that's easy to browse, so whomever gets this advertisement won't be scared by an avalanche of numbers.
5. The Listicle Real Estate Agent Profile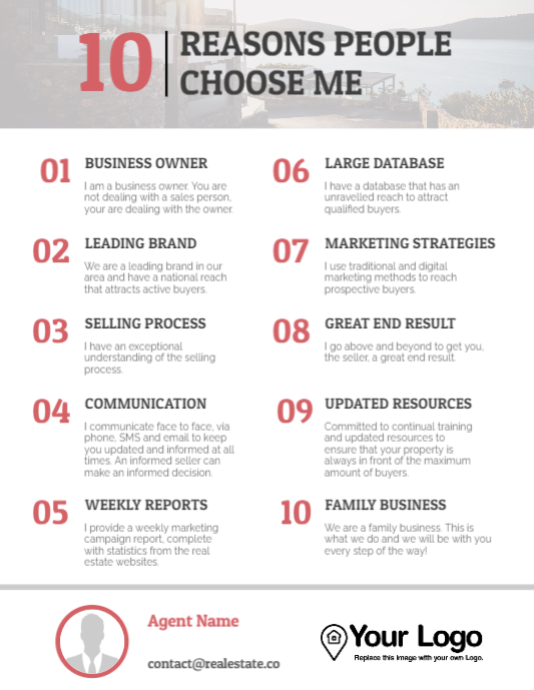 If you want customers to trust you with their homes, then they need to know why they should choose to use your services. In other words, you have to give them a reason or ten to do so.
This real estate agent advertising example uses the popular listicle format to break down why you're the ideal real estate agent for the job (whatever that job might be).
To get you started, we included ten solid reasons that work for most real estate agents, but we encourage you to customize the template.
6. The Full Agent Infographic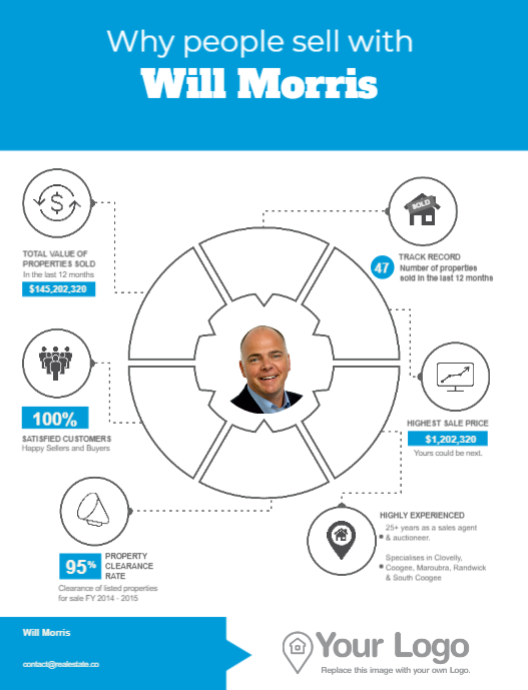 Infographics are some of the most engaging content that you can publish online. The format enables you to share massive amounts of information in a way that's easy to understand and engaging for users.
This real estate agent infographic is perfect if you want to share a little bit about yourself on social media or you can even send it out as a flyer. Just as with some of the other examples we've covered, this one is all about data. That means you want to include all the numbers that customers would care about.
7. The Full Agent Profile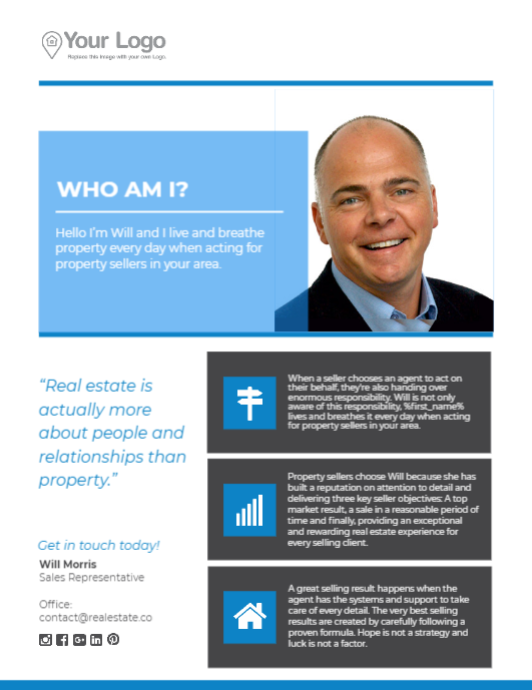 This real estate agent agent advertisement also doubles as a profile. You can copy this template for an About Me page on a website and use that opportunity to include links to your social media profiles.
If you want to use this template as a flyer, you can take out those social media icons, add your phone, and you're good to go.
Conclusion
Using the perfect real estate agent advertising examples or templates is a fantastic way to introduce yourself to the community where you want to do business in. With Jigglar, you get access to all sorts of advertising templates, from agent profiles to flyer designs.
As far as real estate agent advertising goes, you want to play up your strengths as an agent, talk about your successes, and break down why property owners should choose you. While you're at it, including a professional headshot never hurts your chances of landing a listing.
Are you ready to create your own real estate agent advertising designs? Try out Jigglar for free and get access to our full library of templates to get you started.