If you want property owners to contact you when they want to put up a listing, they need to know who you are. As a real estate agent, it's essential that neighbors know and trust you. One of the best ways to accomplish that is by using real estate agent introduction postcards.
With a postcard, you can introduce yourself to all the owners in a neighborhood and share your contact information at the same time. When the time comes that they're ready to sell their houses, it's the local agents like you that they might think about first.
In this article, we're going to show you four examples of real estate agent introduction postcards from the Jigglar archives. We'll talk about why they work and how you can use them. Let's get to it!
1. Personal Real Estate Agent Introduction
As a real estate agent, your connection with neighbors and customers is one of your biggest assets. When someone puts up their home for sale, they want to know the person in charge of finding them a buyer is trustworthy.
This real estate agent introduction postcard is all about presenting yourself as the kind of person that homeowners can trust: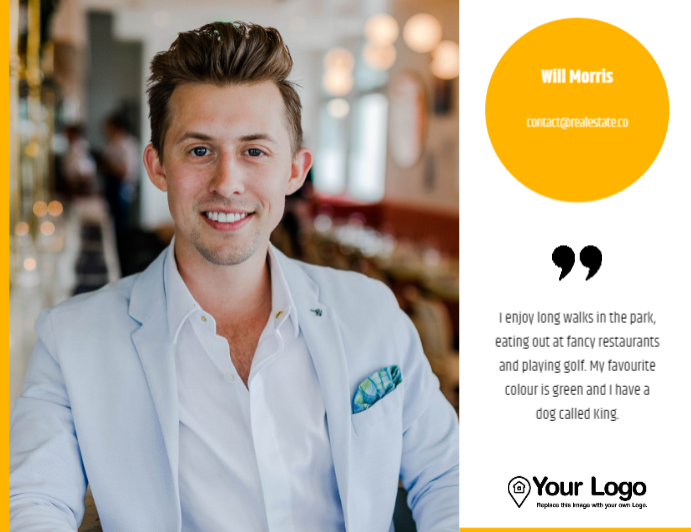 The core of this postcard is a full-body shot that shows you off in your best light. There's a reason why most real estate agents run advertisements showing their faces and it's that it enables you to build trust.
If you don't have professional-looking pictures, now would be the perfect time to take some. You can upload your own photo to replace the image in the template that you see above in a matter of minutes.
To complete this postcard, you'll want to tell potential clients a little bit about yourself and why they should trust you. Finally, don't forget to include your name and contact information!
2. Quick Home Appraisal Postcard
A lot of times, owners might not be interested in selling their properties until they have an idea of how much they can get for them. However, convincing owners to get an appraisal can be more complicated than you might think.
In many cases, people won't get appraisals because they don't want to commit to the idea of a sale. With this postcard, you can both introduce yourself and offer no-strings-attached home appraisals: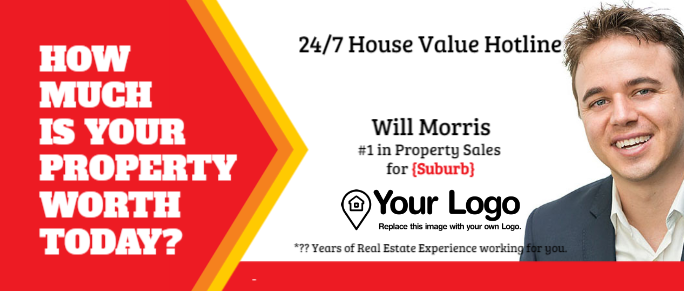 All that template is missing is your headshot and contact information. For the best possible results, you'll also want your postcard to offer some insights into how simple the appraisal process can be.
Finally, don't forget to include some information about yourself, such as how much experience you have as a real estate agent in the area where you're distributing postcards.
3. Why You're the Right Choice
This simple postcard is all about telling property owners why you're the right choice to help them value or sell their homes. Using this postcard template, you can tell potential clients about your experience in real estate, why they should trust you, and even include a testimonial: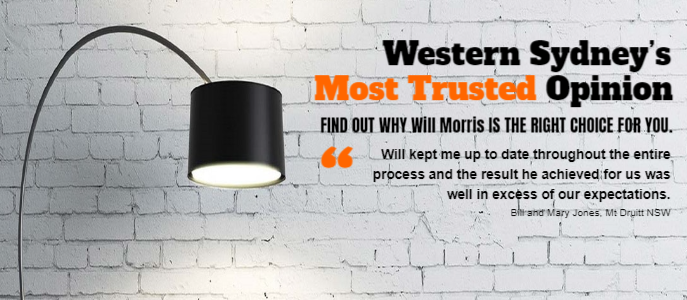 To use this template, you'll want to replace "Western Sydney" with the name of the area that you want to focus your marketing efforts on. While you're at it, the only thing this postcard design is missing is a professional headshot and your contact information.
4. Active Agent Report Postcard
Infographics are a powerful tool to help you share useful data with customers using an engaging format. You can even adapt infographics to postcards using the right tools.
With Jigglar, you get access to several real estate infographic agent introduction templates that you can use. This one, for example, enables you to share your latest numbers to impress potential clients: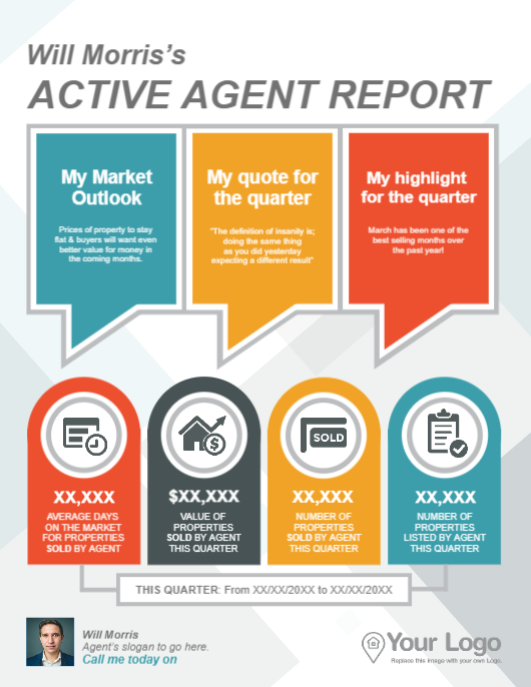 With a single postcard, you get to share your market outlook, provide a quote so neighbors can get to know you a bit better, and even include a headshot while you're at it.
If you want to use this infographic design, remember to add your contact information and real estate business logo. Once you take care of that, your postcard will be ready to mail out!
Conclusion
Real estate agent introduction postcards are the perfect way to let neighbors know about your services and share your contact information. Once property owners have an idea of who you are, they might be more likely to call you when they decide to list their homes.
With any real estate agent introduction postcard, you want to make sure that you include some basic information about yourself and a great picture. After all, it wouldn't be an introduction if neighbors didn't know what you look like.
Are you ready to design your first real estate agent introduction postcard? Try Jigglar for free today and use any of our templates to get you started!