Let's face it, a lot of real estate marketing flyers and postcards can be rather boring. To build a client list and get leads you have to ensure that your marketing stands out. A great way to do that is to use real estate recipe postcards. As long as the recipes are delicious, customers are bound to keep the postcards around, and they'll think of you every time that they see them.
In this article, we're going to introduce you to 12 real estate recipe postcard templates from the Jigglar archives. We'll discuss what makes them special and talk about when it makes sense to use them. Let's get cooking!
Homecoming Cookies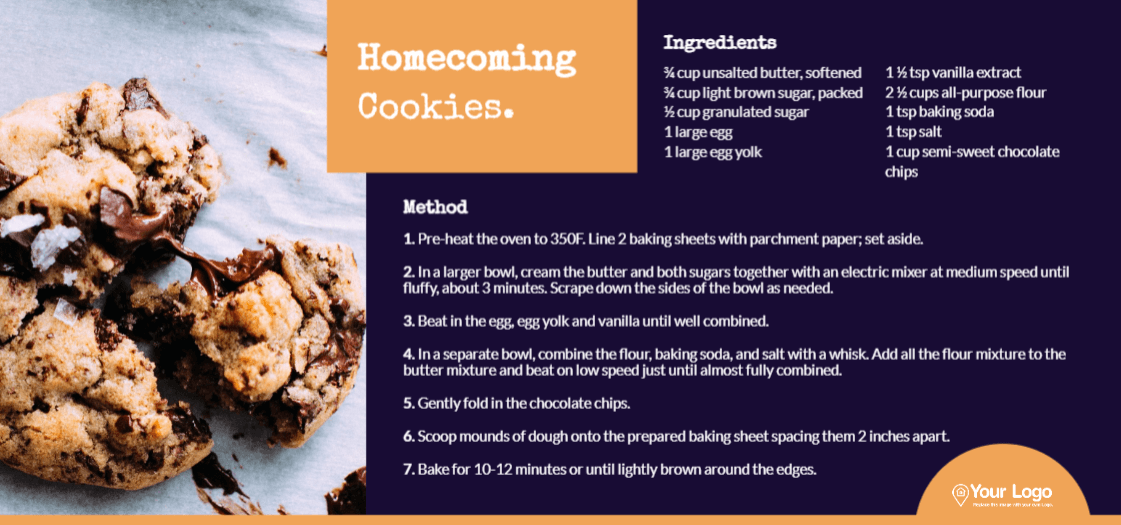 There's no better way to christen a new home than by baking a fresh tray of cookies. There are occasions where store-bought simply won't do and a homecoming is one of them.
It's always a smart move to stay in touch with clients, even after you help them sell or close on a new home. The perfect time to send this postcard is right after one of your clients moves into a new home. It's a friendly gesture that's bound to make them remember you if they ever have additional real estate needs.
2. Renter's Mac Cheese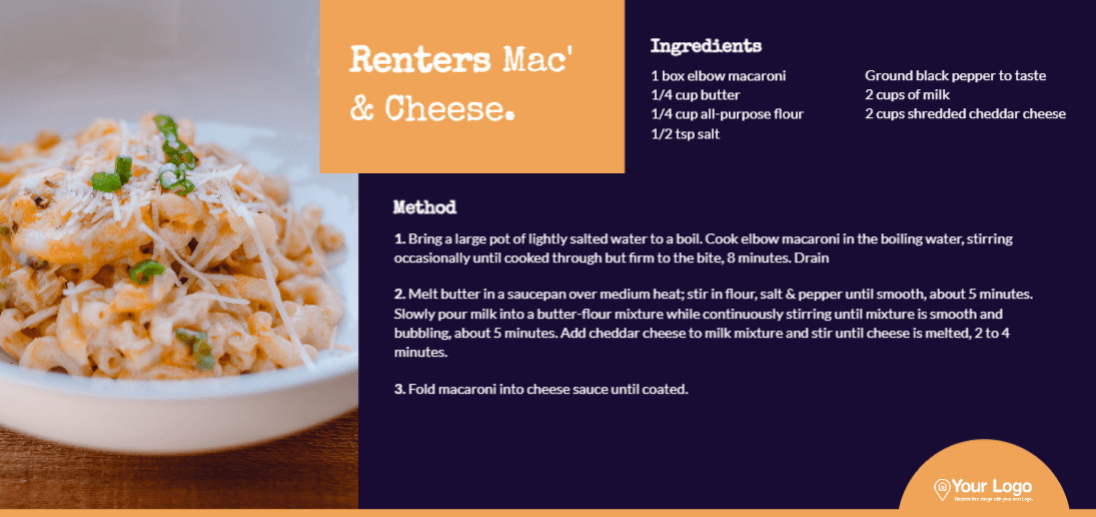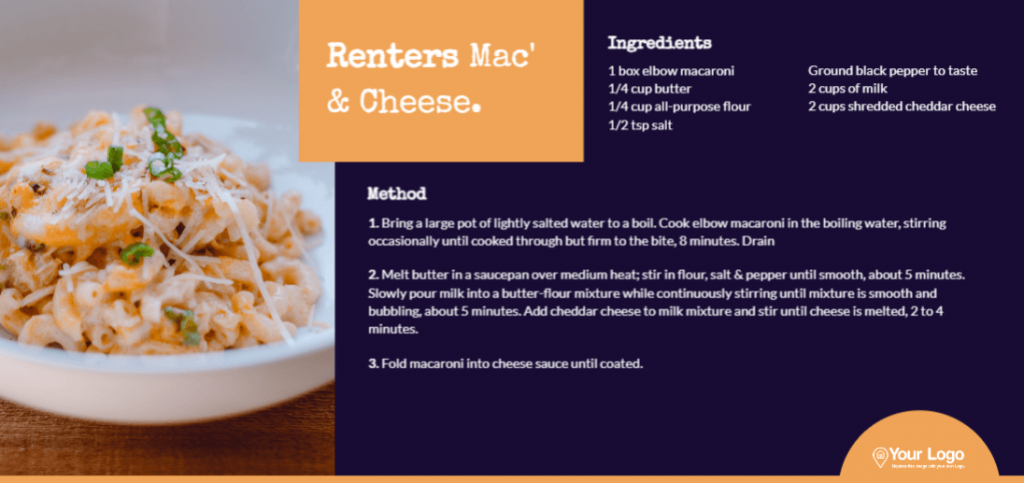 There are few things in life as delicious as a good mac and cheese. It's a perfect weeknight dish and a great way to help new renters celebrate finding their dream apartment.
If you succeed in helping a renter find a new apartment or putting their's up for rent, this lovely renter's mac and cheese real estate recipe postcard will make a fantastic addition to their fridge.
3. Stay in Satay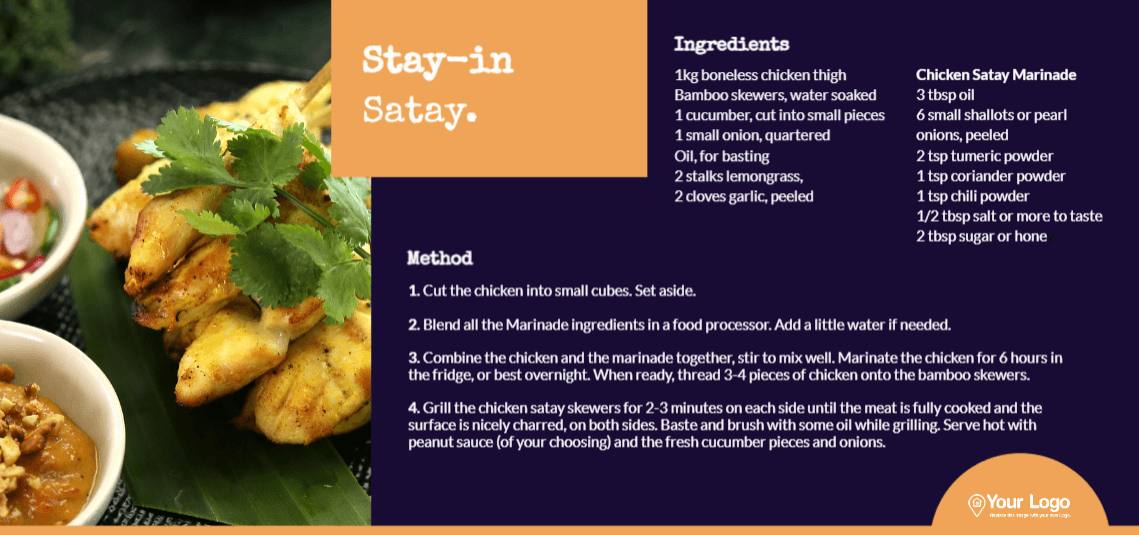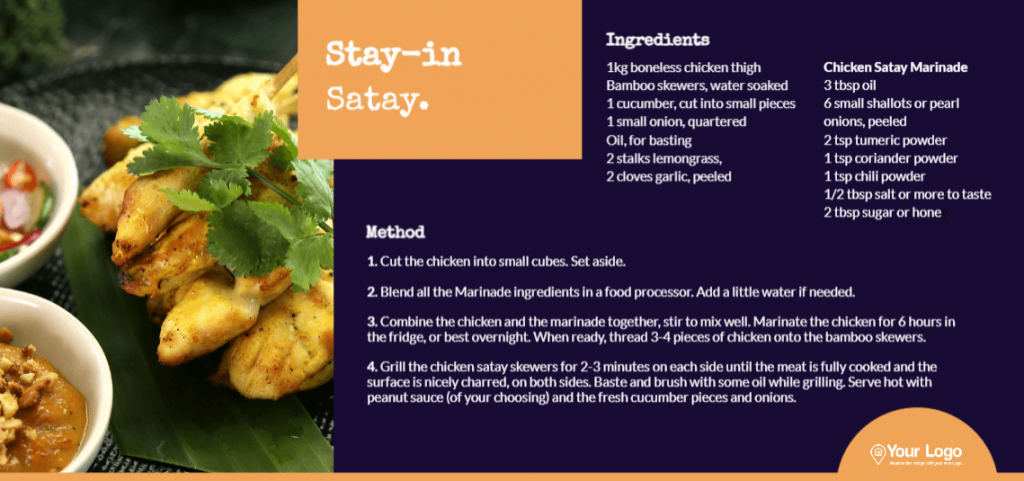 Although lockdown restrictions are lifting all over the world, there are still places where residents are urged to stay inside. If you happen to have clients somewhere where there's a lockdown, this real estate recipe postcard will help make their quarantine more amenable.
4. Backyard BBQ Ribs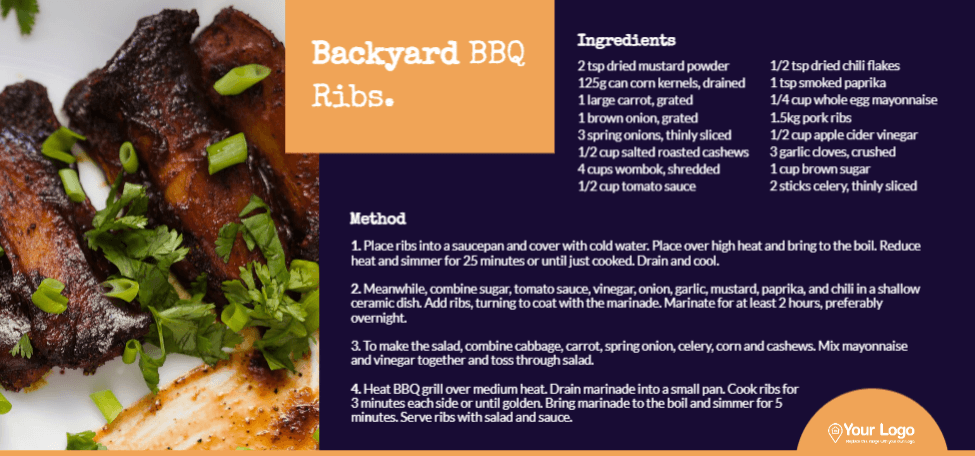 If you help sell a property with a nice backyard, the buyers are probably already dreaming about all of the fun barbecues they'll be able to host when the weather is nice. This killer recipe for BBQ ribs will ensure their first barbecue is an event to remember.
5. Home Lemon Sweet Bars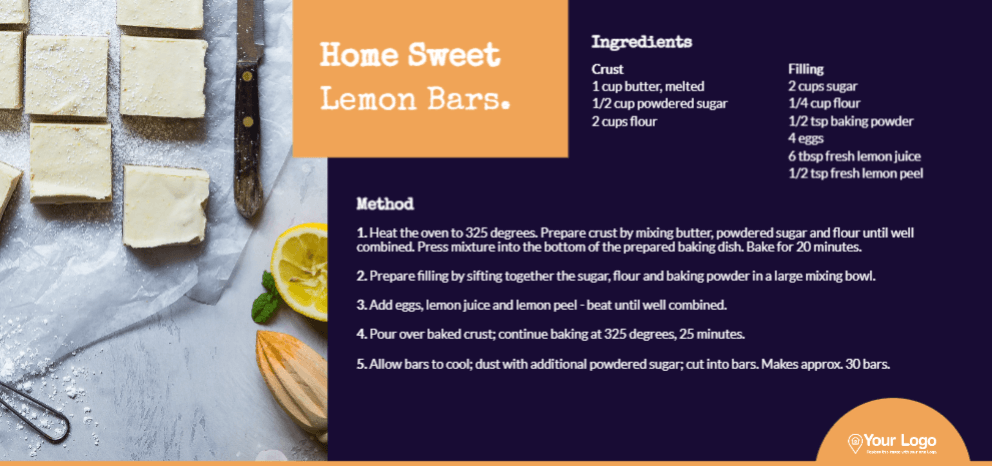 There's never not a perfect time for a tray of hot lemon sweet bars. It's the perfect recipe for when you need a break from cookies and an ideal snack for open houses.
This real estate recipe card is perfect for clients with a penchant for baking. If you happen to sell a home with a lovely kitchen, make sure to ask if there's a baker in the house and, if the answer is yes, send them this postcard when you have the time.
6. Lawn Lovin Lavosh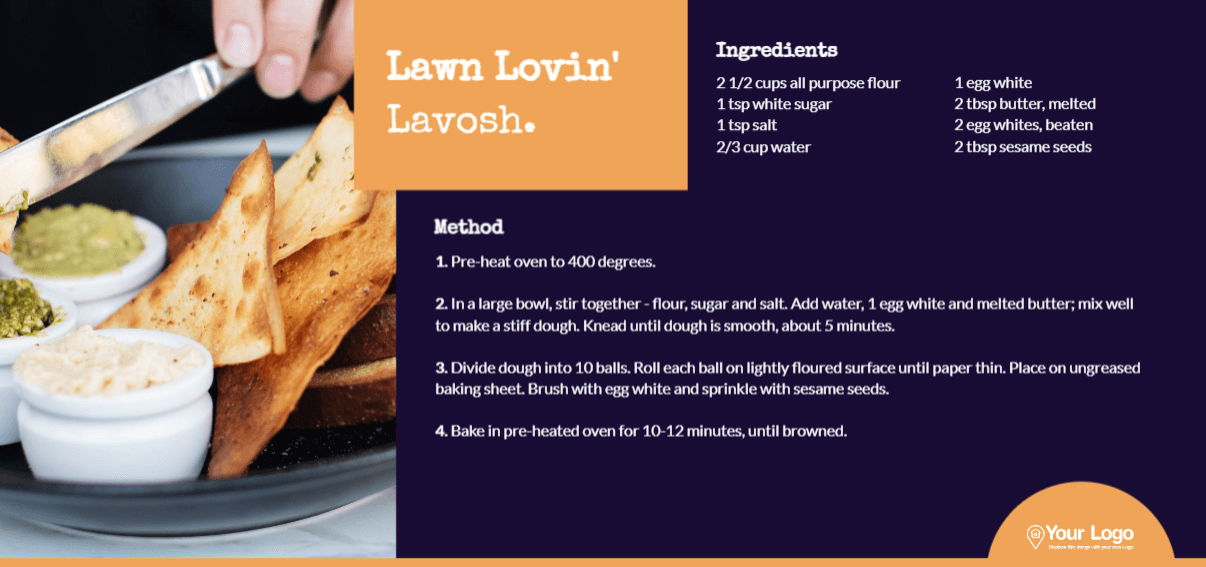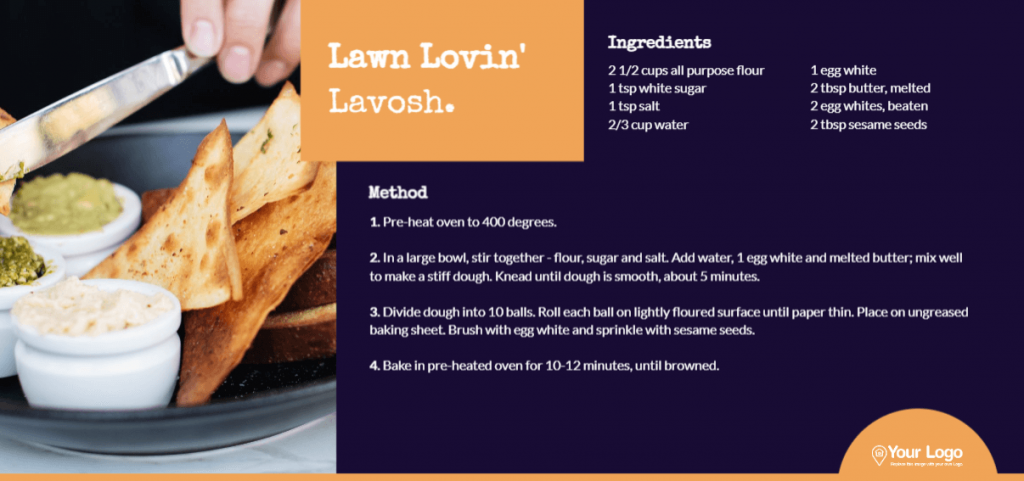 There's no meal that can't be improved with a side of fresh-baked, crisp lavosh. It's the perfect dish for a sunny-day barbecue and, armed with this real estate recipe postcard, new homeowners will be equipped to bake the perfect lavosh.
7. Chimney Smokin Chili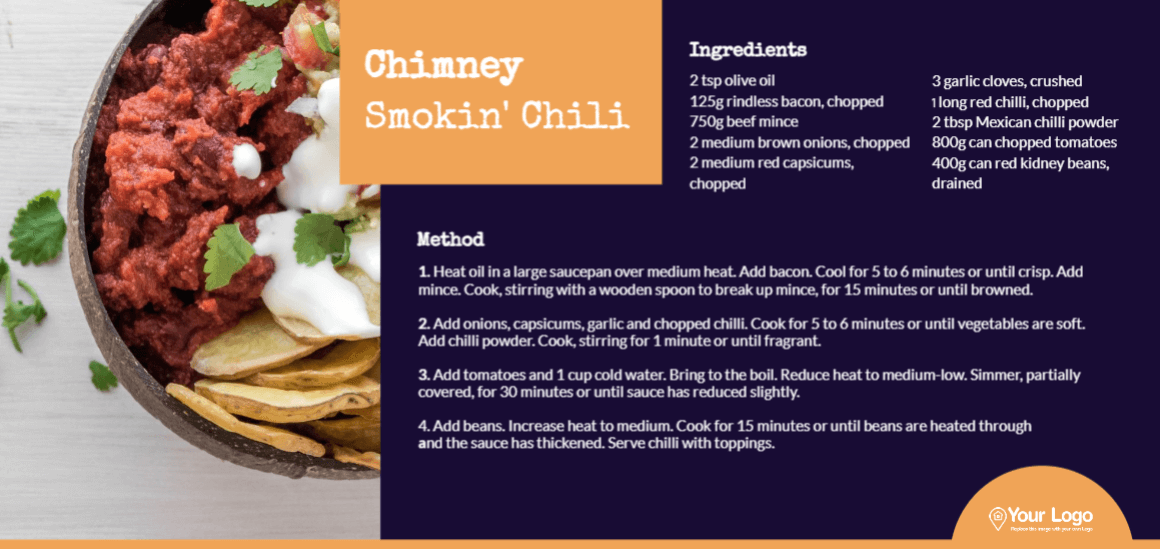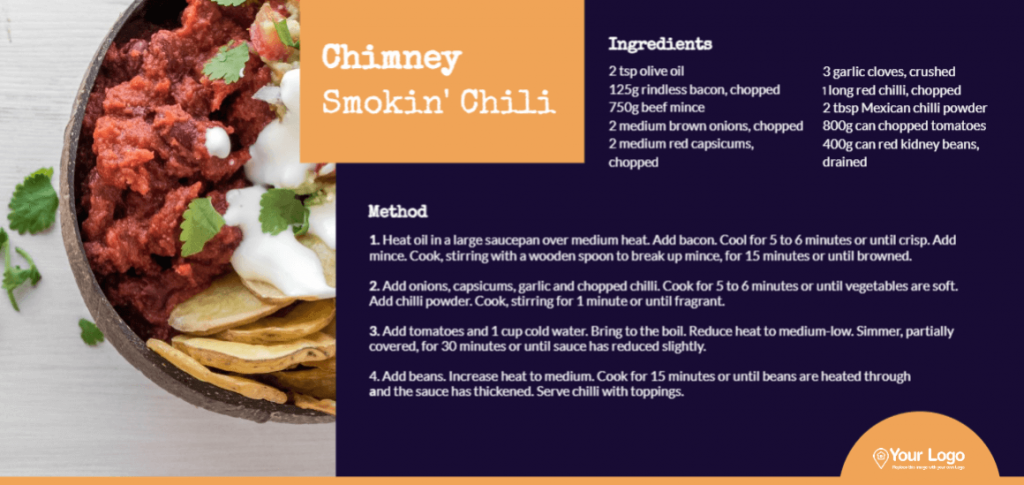 A hot plate of chili is always a hit, particularly when it's starting to get cold outside. If you happen to sell a property with a lovely fireplace for those cold winter nights, this real estate recipe postcard will make the perfect housewarming gift.
8. Sunroom Sundaes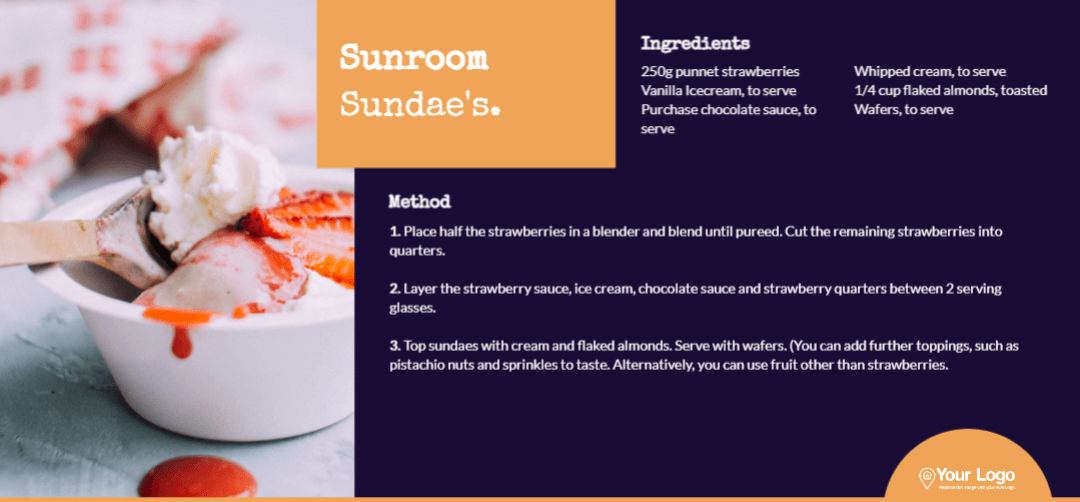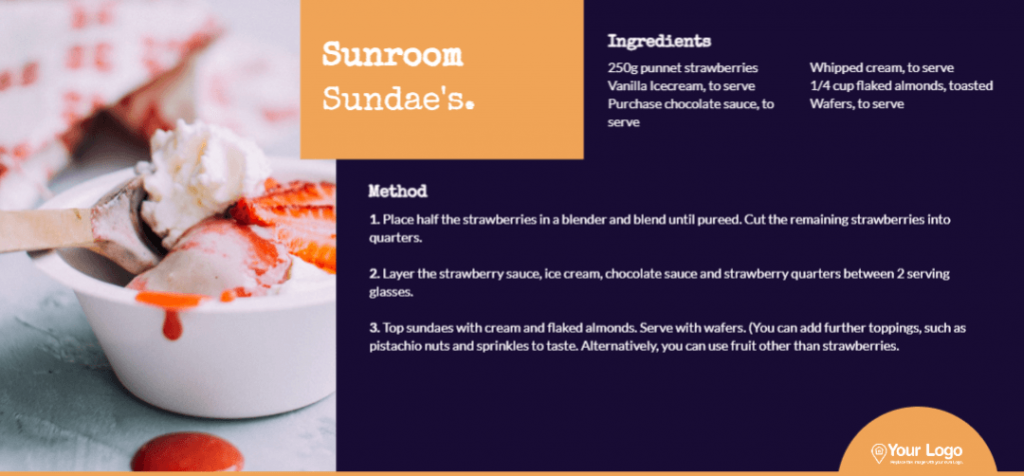 Nothing says fancy quite a sunroom. A sunroom is a perfect place to spend lazy afternoons, surrounded by plants, books, and family. For those sunny days, you'll want a nice sundae to help you beat the heat, which is where this real estate recipe card comes in.
9. By-the-Pool Popsicles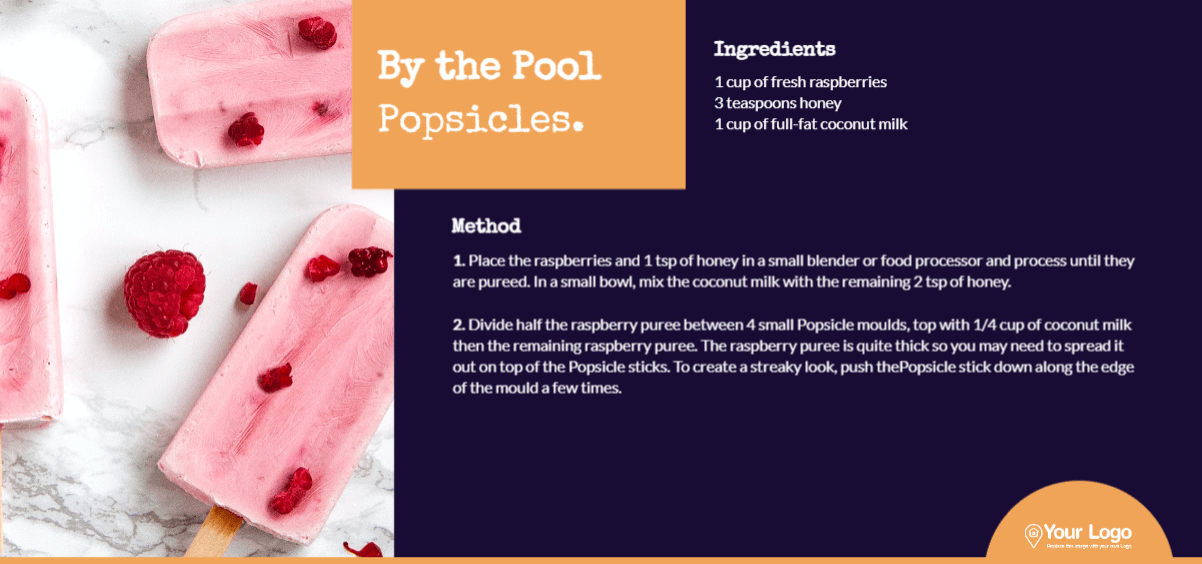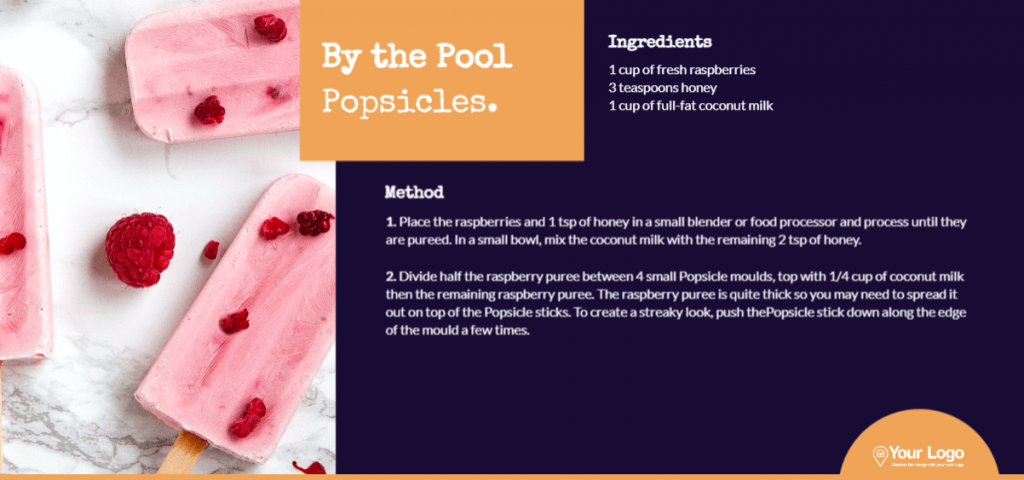 For a lot of first-time owners, buying a house with a pool is the dream. A pool makes weekend get-togethers all the more special and if you pair it with a big backyard, that's the ultimate recipe for fun. Whenever you sell a house with a pool, go ahead and send the buyers this popsicles recipe.
10. Patio-Crumbed Prawns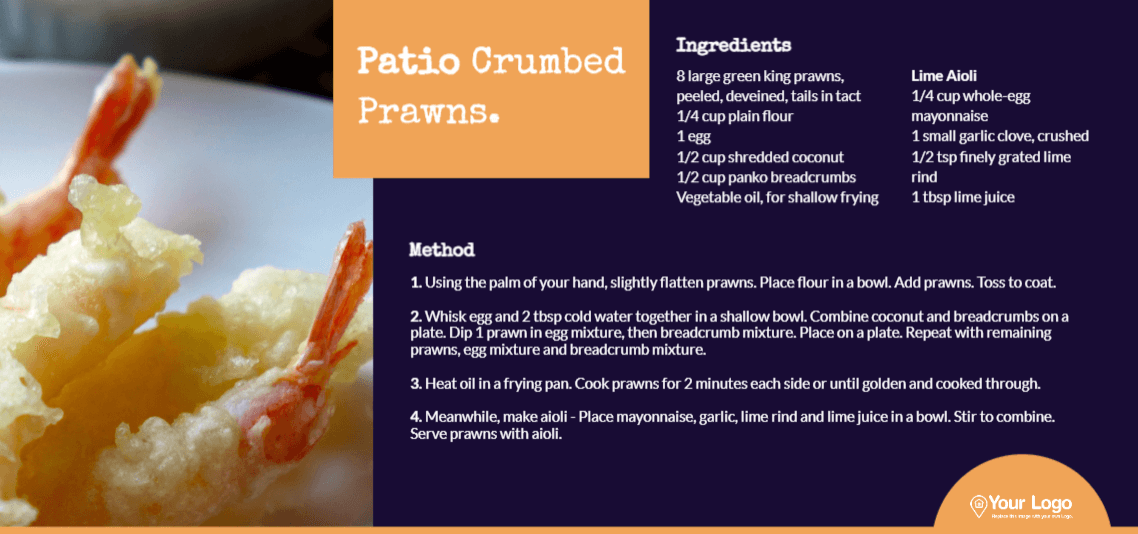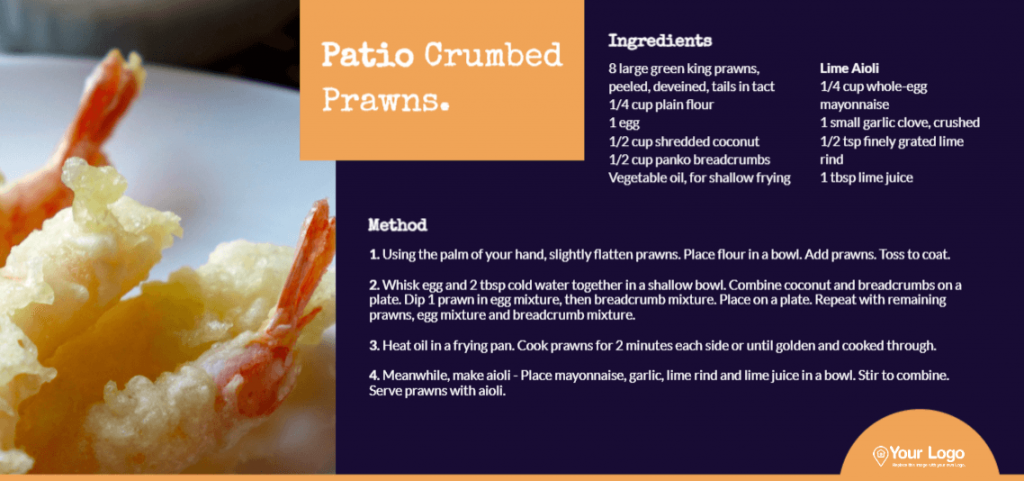 A prawn cocktail paired with a nice drink is the perfect way to cap off an afternoon in a new home. This recipe for crumbed prawns is bound to be a hit for homes with a spacious deck where the new owners can sit down by themselves or with friends.
11. Kitchen Kabobs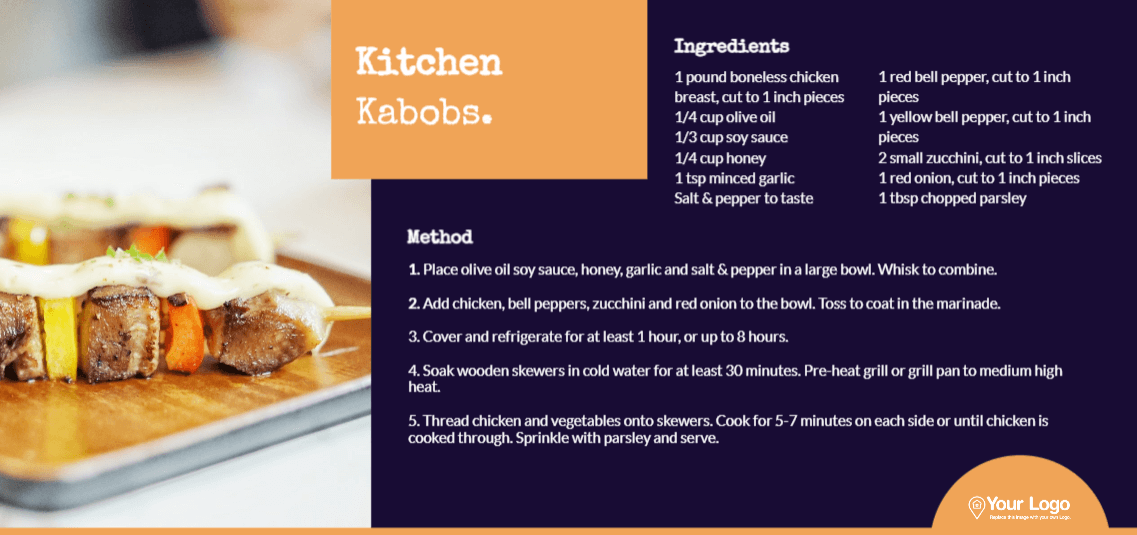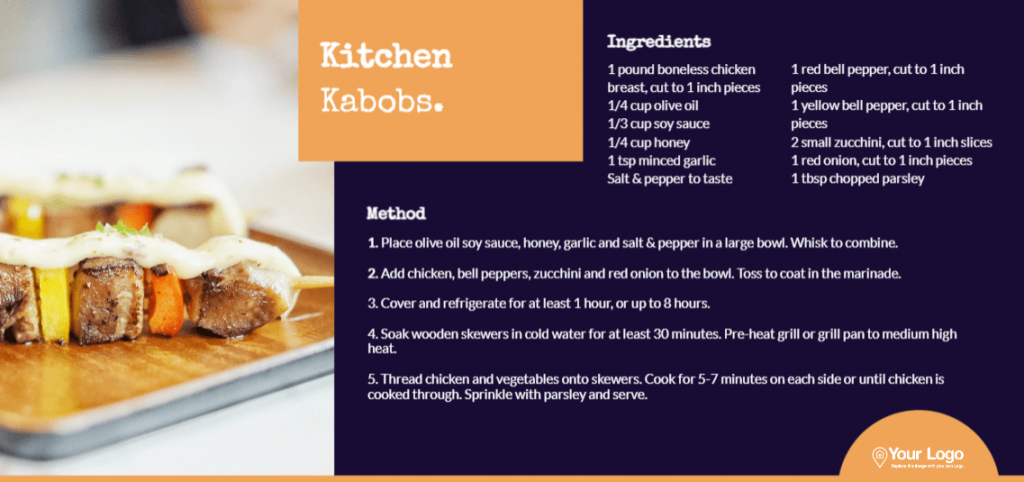 Figuring out new recipes for every day of the week can be a tall task, particularly if you're dealing with a big family. If your customers are just moving into a new home (thanks to you!), they'll probably be ordering takeaway for a few days while they settle down and unpack. This quick-and-simple kitchen kabobs recipe is a perfect meal for when you don't feel like cooking a three-course meal.
12. Deckdence Muffins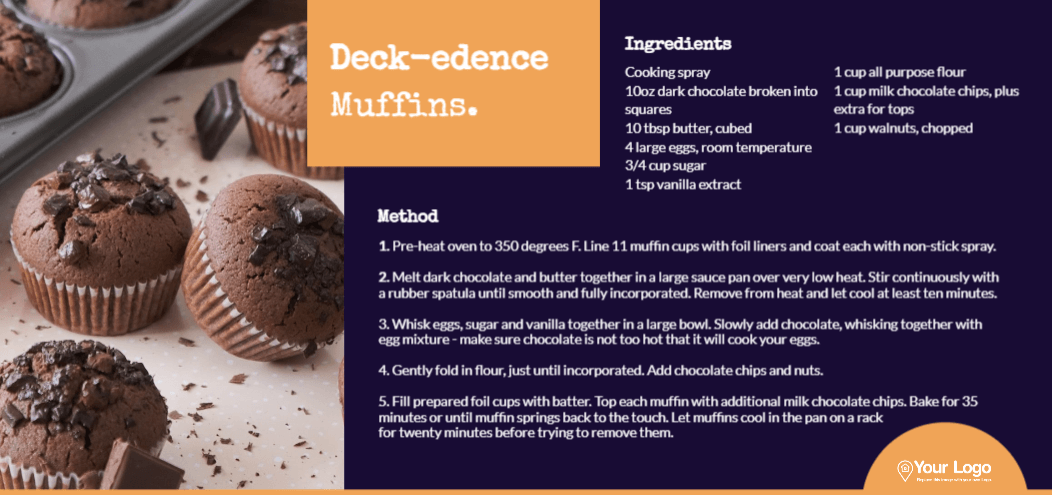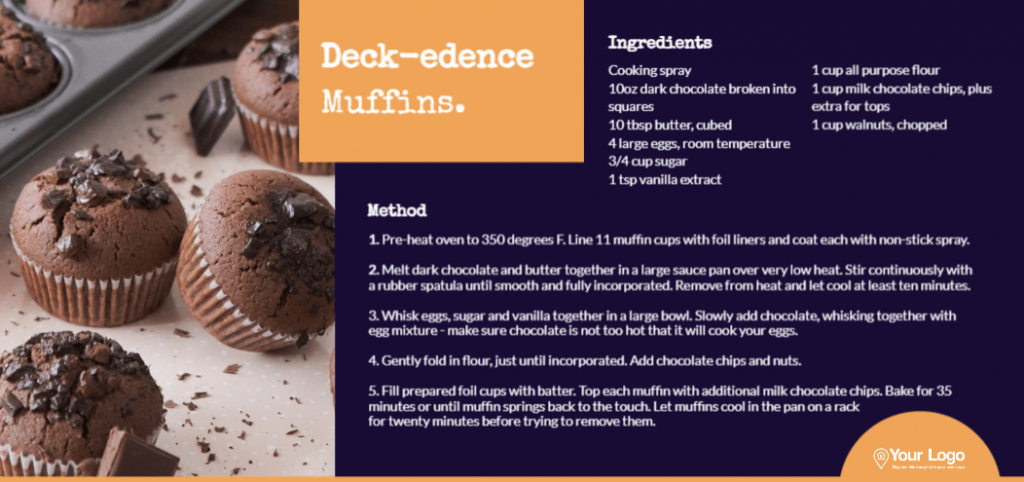 If you're not sure what real estate recipe postcard to send your clients, you can't go wrong with muffins. Everybody loves muffins and the best part is, you don't need to be a master chef to bake a lovely tray of muffins. This postcard is perfect for families, couples, and even solo buyers.
Conclusion
Real estate postcards are a fantastic way to drum up new business and keep in touch with existing clients. Getting a postcard is always exciting and even more so if it's something fun, such as a real estate recipe postcard.
If you use Jigglar, you'll get access to a broad library of real estate recipe postcard templates that you can use. That library includes all of the templates we just showed you, as well as plenty of other postcard designs in case you want to go in a different direction.
Are you ready to design your first real estate recipe postcard? Try out Jigglar for free and start working on it today.