Open houses are the best way to find serious clients interested in buying your listings. Online ads and listings can be effective as well, but not as much as having customers be able to see properties in person. However, getting people to come to your showings can be a challenge.
Open house flyer templates can enable you to design gorgeous advertisements for your showings. You can distribute these flyers around the neighborhood and even put them up online so everyone knows when and where your next open house is.
In this article, we're going to show you five open house flyer templates from the Jigglar archives that you can use to blow up your next showing. Let's get to it!
1. Open House VIP Event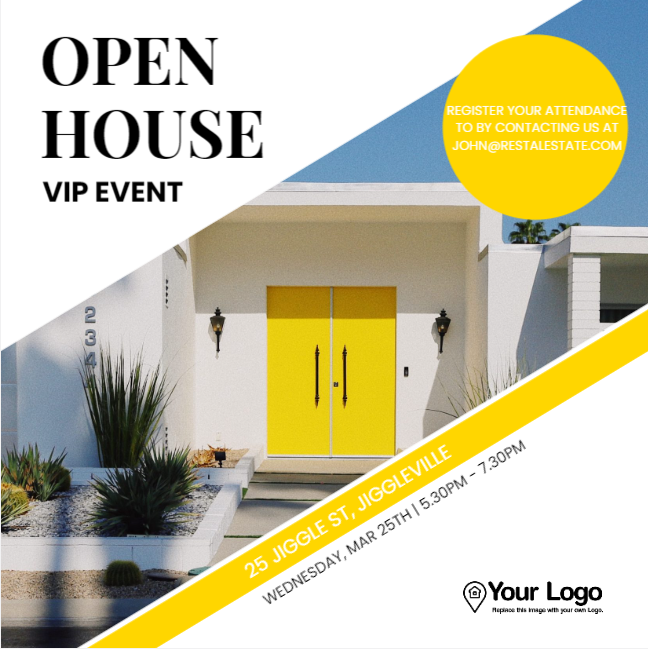 This open house flyer template is perfect for exclusive, high-end properties. Playing up the VIP angle is a great way to get buyers interested in looking at a property since it tells them that they might get to see something unique.
One of the key elements in this template is the Call-to-Action (CTA) for visitors to register their attendance by contacting you. Once a potential buyer puts the open house in their schedule, they're much more likely to show up. That, in turn, increases the chances of you having a packed showing.
2. Open House Details Flyer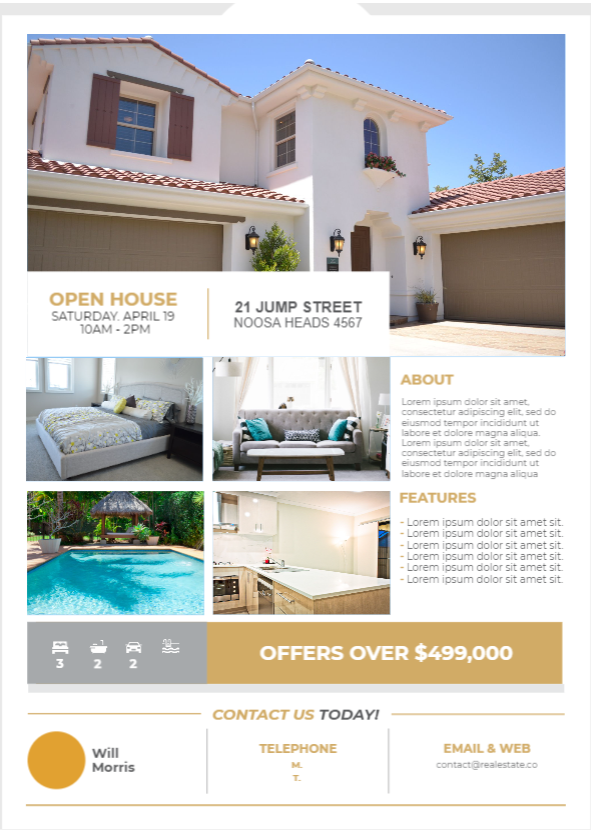 Sometimes pictures of property just aren't enough to draw the crowds that you want for your open houses. If you have a listing with amazing features that don't translate well into pictures, then you need to include some engaging copy in your open house flyer.
This open house flyer template is all about providing potential buyers with as much information as possible so they know what kind of property they're going to be looking at. Once they get to the open house, they won't find any surprises, but they might just fall in love with the property once they see it in person.
One standout feature of this open house flyer template is that it includes icons so you can show how many rooms, bathrooms, and parking spaces your listings have available. That's information that flyers often ommit and it'll make yours look that much more professional.
3. Open House Cover and Flyer Template

This open house template is perfect if you want to design flyers that are quick and to the point. The design enables you to include one large picture and a few small photograpghs.
Next to those photographs, you can add all the relevant information about your upcoming showing as well as your contact details. All of that in a streamlined design that's perfect for a flyer.
Moreover, this open house flyer template can also double as a cover for your social media pages. If you have an upcoming listing that you want to promote, it's a wonderful idea to replace your cover images with a template that mentions the showing, such as this one.
4. VIP Invitation Flyer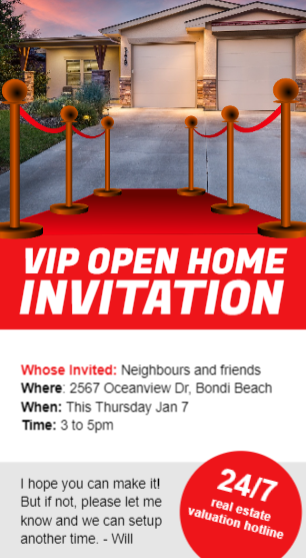 We already showed you one example of a VIP open house flyer template. However, this design takes a much different approach. Instead of just providing information about the event, this flyer includes an invitation to your showing for anyone that reads it.
Inviting neighbors in your own words can make an open house flyer feel much more personal. Moreover, you can take the opportunity to let potential buyers that you look forward to seeing them and if there'll be refreshments, make sure to mention that as well!
5. Upcoming Open Homes Listing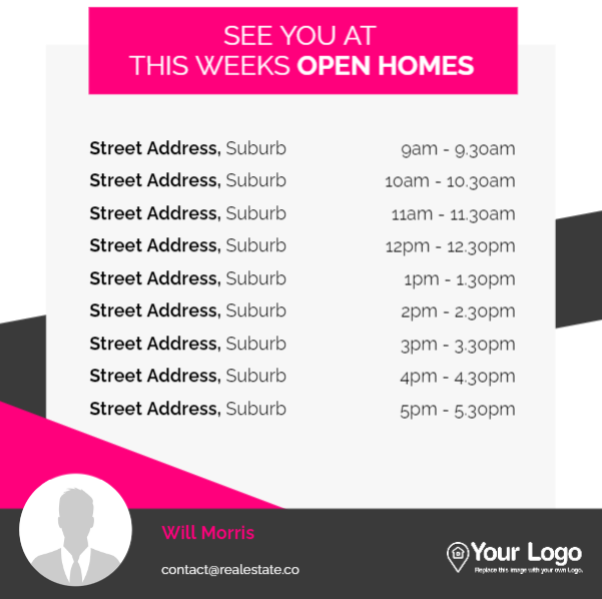 If you have multiple open homes coming up, first of all, congratulations. Secondly, you may want to use a single flyer to let neighbors know about all of the upcoming events so they can decide which ones they want to attend.
The downside of this open house flyer template is that it doesn't have room to include pictures of all of the properties. However, it does give potential buyers address information, which can be enough for them to look up the properties on their own.
Conclusion
The more people that attend your open homes, the more successful they'll be. All it takes is for one of those attendees to make an offer and if you have a big crowd, chances are that more than one of them will want to bid on the property.
Open house flyers provide you with a quick way to market your showings well in advance so you can drum up that crowd. Thanks to Jigglar, you can take any of the templates that we showed you earlier and customize them to your needs in a matter of minutes.
Are you ready to create your first open house flyer? Try out Jigglar for free and get to work on promoting your next showing!