Writing an amazing house for sale advertisement example is an art. You can list a house fit for a king at a pauper's price, but without a great advertisement, it won't get the attention it deserves.
In this article, we'll go over several real-life examples of fantastic house for sale advertisements from popular real estate platforms. We'll keep the addresses private and discuss what makes each advertisement example so engaging. Let's get to it!
1. Let Buyers Envision Themselves In the House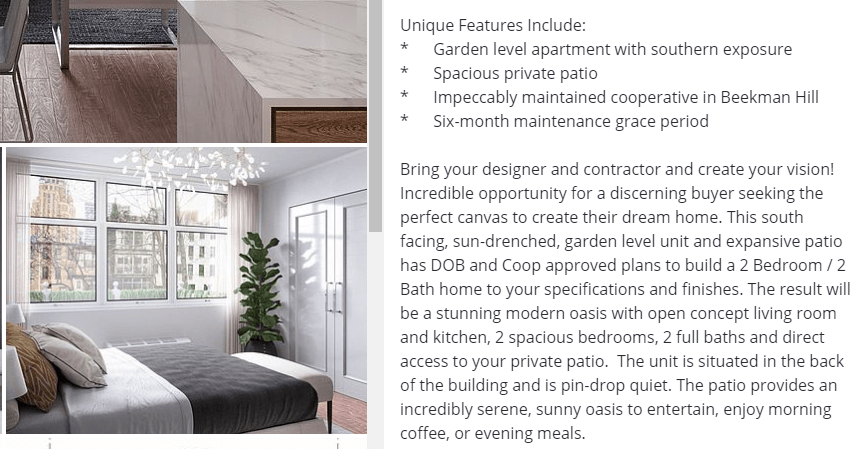 This house for sale advertisement example is a masterclass in choosing the right words to describe a property. Instead of telling you how gorgeous the property is, the advertisement uses words and descriptions such as:
"Serene, sunny oasis to entertain, enjoy morning coffee, or evening meals"
"Stunning modern oasis"
"The perfect canvas to create their dream home"
The goal of this advertisement is to get the reader to imagine themselves living in that house, sipping that morning coffee, and enjoying that sun-drenched patio. If you pair those descriptions with great photographs, that can almost sell the property for you.
At the same time, it's important that you don't get so excited with flowery descriptions that you forget to talk about real-life features. As you'll notice, the advertisement opens with a list of key features. Moreover, the main copy also manages to mention expansion possibilities, how many rooms the property has, and more.
If there's one thing that we'd change in that ad is to separate it into a two or three paragraphs. Walls of text can be off-putting for many visitors, so keep that in mind when formating a real estate house for sale ad.
2. Play Up the Property's Selling Points
A fantastic house for sale advertisement should make you think "I want to live there!" or at the very least, consider contacting the realtor to schedule a visit. The best way to do that is to play up your listing's strengths. Take a look at this house for sale advertisement example: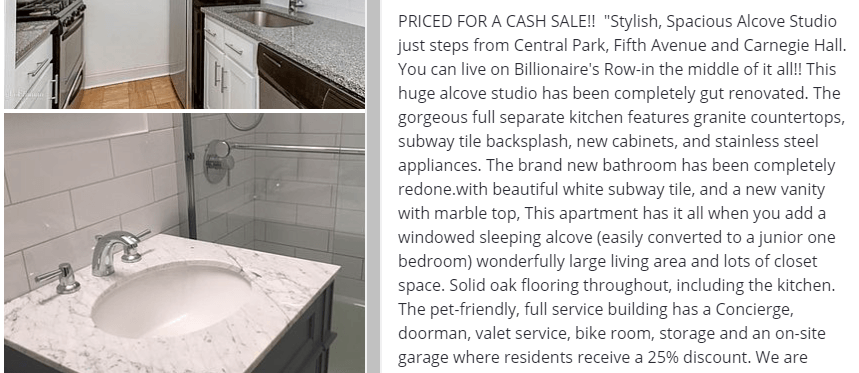 That advertisement is for a tiny property that to be honest, might not look too hot at first glance. However, reading that description, you get the full picture. It's a wholly renovated, spacious property, in a fantastic location.
Now compare that listing to this real estate house for sale advertisement example:

Although you can't see all of the property's pictures, we can tell you that it's a fantastic home. However, you'd never know it by reading that description.
There's something to be said for keeping real estate for sale advertisements concise. However, simply listing a house's features is not enough if you want to get customers excited about making a purchase.
To get there, you need to consider what each house's main selling points are and play them up.
3. Share the House's History With Prospective Buyers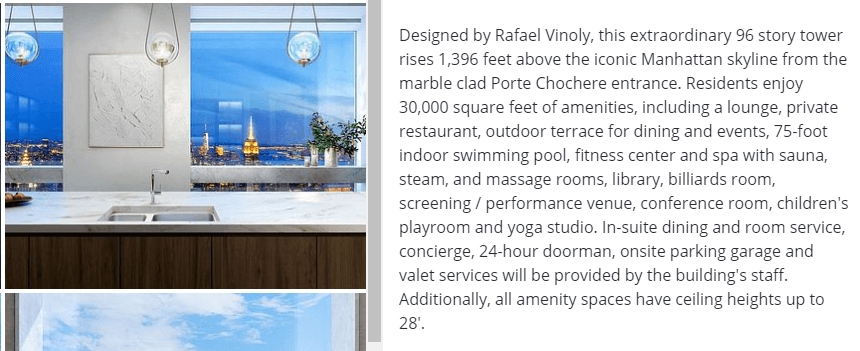 We'll be the first to admit that gorgeous penthouses basically sell themselves. However, there's one thing that you can learn from this house for sale advertisement example and that is to play up the historic angle.
You'd be surprised at how many houses have colorful histories and how many owners are more than happy to share them with you. As a realtor, you can use that history as part of your marketing to give the listing character and make it unique.
Some tidbits of history that buyers love to hear about include important people who lived in a home, famous neighbors, events of note that took place there, and more. If a house has a unique design due to its architect, that's also worth mentioning in your advertisements.
When writing a house for sale advertisement it's important to remember your listing is one of dozens or hundreds that buyers might look at. Historic facts or anything else that can help your listing stand out are critical.
Conclusion
Writing real estate listing advertisements is complicated. Hitting the right balance between playing up a house and being too dry is difficult to get right. The best way to learn is by looking at a house for sale advertisement examples and analyzing what they're doing right.
A fantastic house for sale advertisement should help readers imagine themselves in that property. The copy should highlight all of the house's best features and mention things buyers might be interested in, such as the property's history.
Are you ready to design an amazing house for sale advertisement? You can try out Jigglar for free and use dozens of templates that will help highlight your copy.