With so much advertising vying for buyers' attention in the real estate market, it can be a battle to stand out. 'House for Sale' flyers are an effective way to get the word out about your new listings, but you'll need to use all of your creativity to avoid fading into the background.
That's certainly easier said than done. So if you feel like your creative genius needs a jump start, why not use a template? This can provide you with the bones of an imaginative flyer, while you add the touches that will make it unique.
In this post, we'll briefly discuss the benefits of using house for sale flyers. Then we'll show you some flyer templates that are just begging for you to get creative. Let's have a look!
Why You Should Use a House for Sale Flyer
Put simply, a house for sale flyer is an advertisement for your property listings. It can be paper or digital, and serves as a way to quickly capture the attention of buyers and inform them of the property details: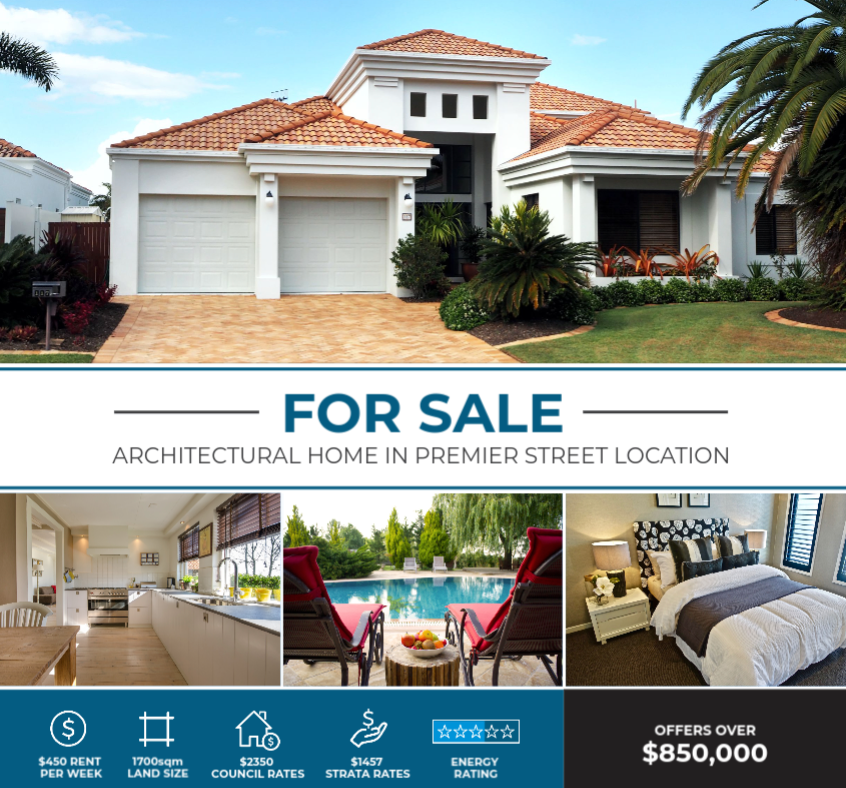 If you haven't tried using house for sale flyers, you could be missing out on sales and leads. Here are a few reasons why you might want to incorporate flyers into your marketing strategy:
Flyers are versatile. Place them in front of a house you're selling, pin one to a community bulletin board in the area, or even post them on social media.
You won't always be available to show a house. A flyer can give buyers a sneak peek at the inside, making them even more excited to schedule an appointment with you.
Your flyer might attract buyers who aren't interested in a particular property but are interested in the neighborhood where it's located. They may call you for help finding their own dream house.
Your flyer advertises you as well as your listing. Seeing a flyer may inspire other homeowners to list their property with you.
Typically, you'll want your flyer to include your contact information, pictures of the property, and details about the house. However, following these guidelines doesn't mean you can't also have some fun with design.
4 Creative House for Sale Flyers
You don't have to be an artist to build a creative flyer, especially when you have the right tools to help. Below, we've compiled a list of flyer templates that focus on images, writing, and creative marketing tactics to make it easy to find something you'll enjoy working with.
1. Property Just Listed US V4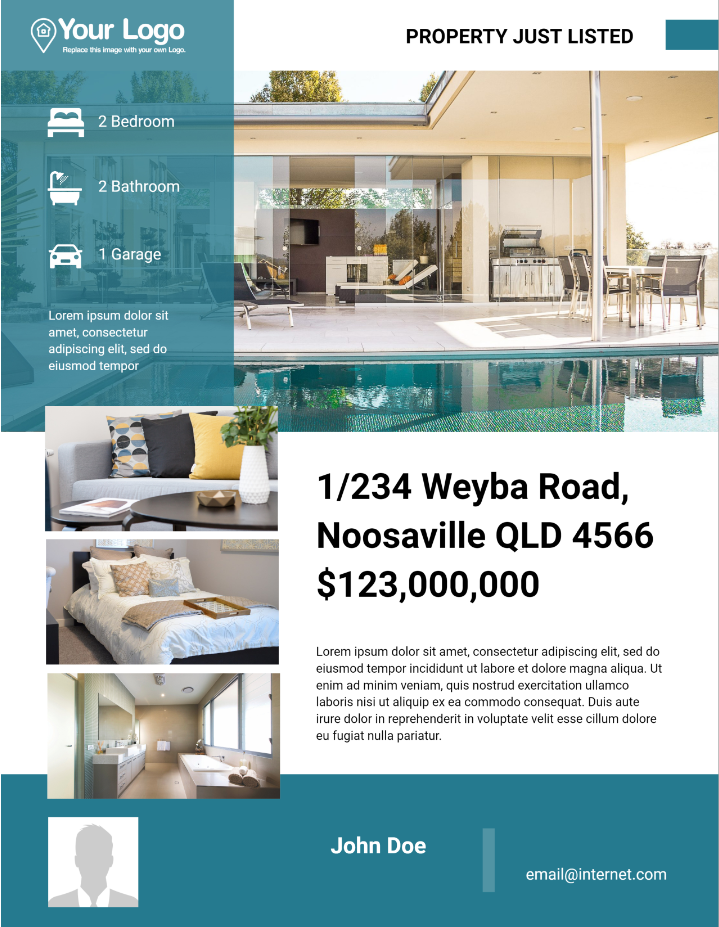 Deliberately selected colors are a key element of design. If you're looking for a fun place to start when making creative flyers, you may enjoy experimenting with Property Just Listed US V4.
The blocks of color in this house for sale flyer template can be customized in a few ways. You can strategically use colors to bring out details in the photos, such as the pool in the example above. You can also adjust the block transparency as to not obscure any images.
This is also a perfect template if you want to reinforce your branding. You can use your own brand colors, or for a minimalist look, limit color to the icons and keep the blocks more neutral.
2. Coming Soon V3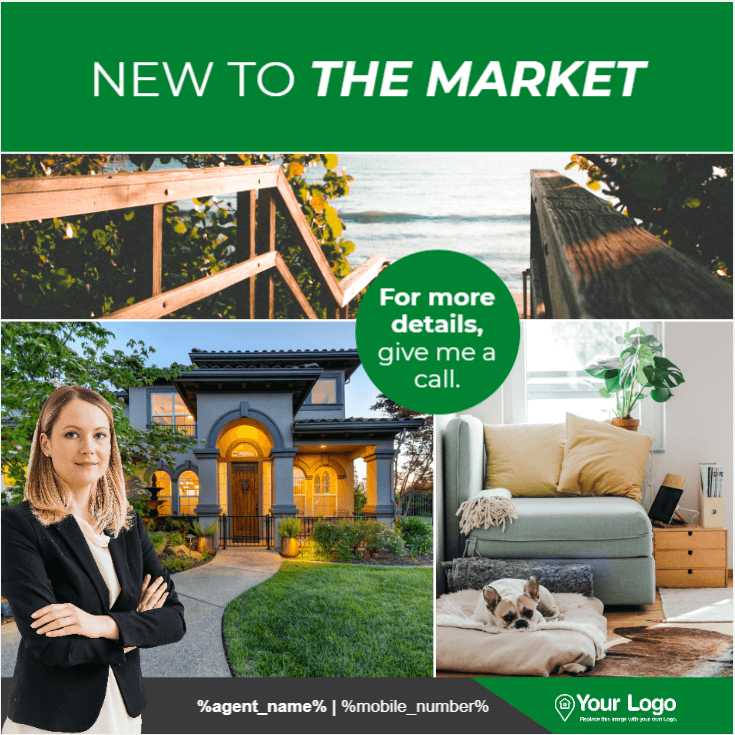 If you prefer using social media for your real estate marketing, house for sale flyers may not be something you've considered. However, flyers can be digital, too! In fact, the Coming Soon V3 flyer is designed for Facebook.
This flyer lets the pictures do the talking and doesn't include a lot of text-based information. It also features a prominent Call To Action (CTA) at the center of the flyer, making it hard to miss. The limited information paired with an easy way to contact the agent makes this flyer a powerful lead generation tool.
Since this is a customizable template, you can use whatever CTA works best for you. For example, if you're using this flyer on Facebook, encourage buyers to contact you through Messenger.
3. Just Listed x6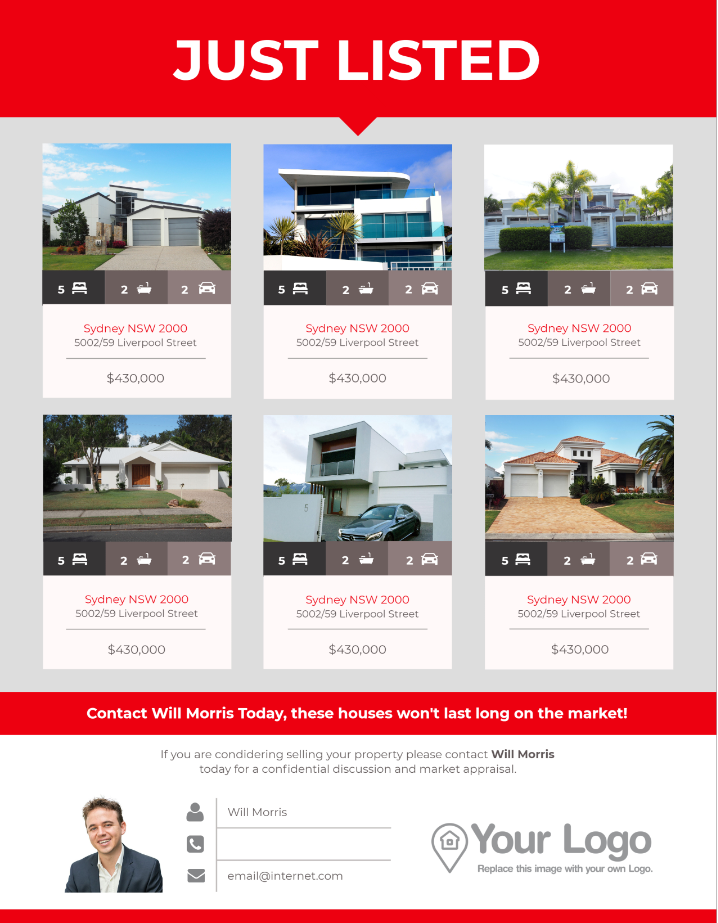 The Just Listed x6 flyer is ideal for showcasing multiple homes in a single area. If you tend to focus on having a number of properties listed in a specific neighborhood, a flyer template like this one can make doing so easier.
You likely won't want to include in-depth descriptions for each home. Rather, a flyer like this provides you the opportunity to play tour guide for the neighborhood. You can point out an excellent school district, lots of green space, or other nearby attractions that could interest buyers.
Using a flyer to demonstrate your local expertise can help to gain the trust of the residents. This can result in you getting even more listing clients in the area who want to sell their home.
4. Property Just Listed A4 V2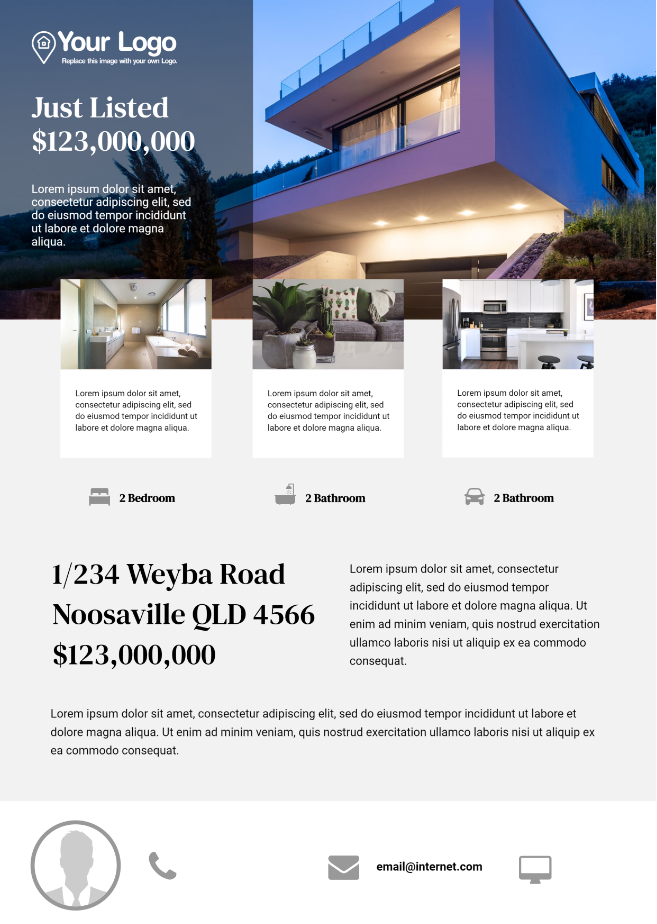 Are you more of a writer than a visual artist? While Property Just Listed A4 V2 includes space for photography, there is also plenty of room for text.
You'll want to add a few thoughtfully selected, impactful photos, but try using your writing skills to entice buyers. Crafting an enticing description of the home could motivate buyers to email you for a tour.
This can also be a useful strategy for homes that don't have the most visually appealing pictures. You can direct buyers' attention to the potential of a home and paint a picture of the possibilities.
Conclusion
House for sale flyers can be powerful multitaskers in your marketing arsenal. Flyers can help move your existing listings, as well as bring in new ones.
However, you'll need to exercise some inventiveness to ensure your flyer gets the attention it deserves. In this article, we showed you four templates that will inspire you to unleash your creativity.
At Jigglar, we'll provide you with the tools you need to create effective house for sale flyers of your own. If you're ready to start designing, you can get started with Jigglar for free.