As a realtor, you may occasionally land a lavish home that could earn you thousands in commissions. Therefore, you'll want to do everything in your power to market luxury real estate properties effectively.
Fortunately, you have several options at your disposal. Using our Jigglar real estate templates, you can promote exclusive properties through social media, newsletters, and more. All you need to do is add your own details and insert stunning photos of the property!
In this post, we'll look at four effective ways to market luxury real estate properties, using Jigglar templates. Let's get started!
1. Open House Events
Open house events can be a powerful marketing tool, especially when trying to sell luxury properties. Homeseekers will be able to take a tour of the property without an appointment, and as a realtor, you can provide drinks and food to make them feel more welcome.
Of course, you'll want to spread the word about the event. Our Jigglar open house templates can help you build buzz around your luxury property:
You can even make it feel more exclusive by using our VIP open house templates: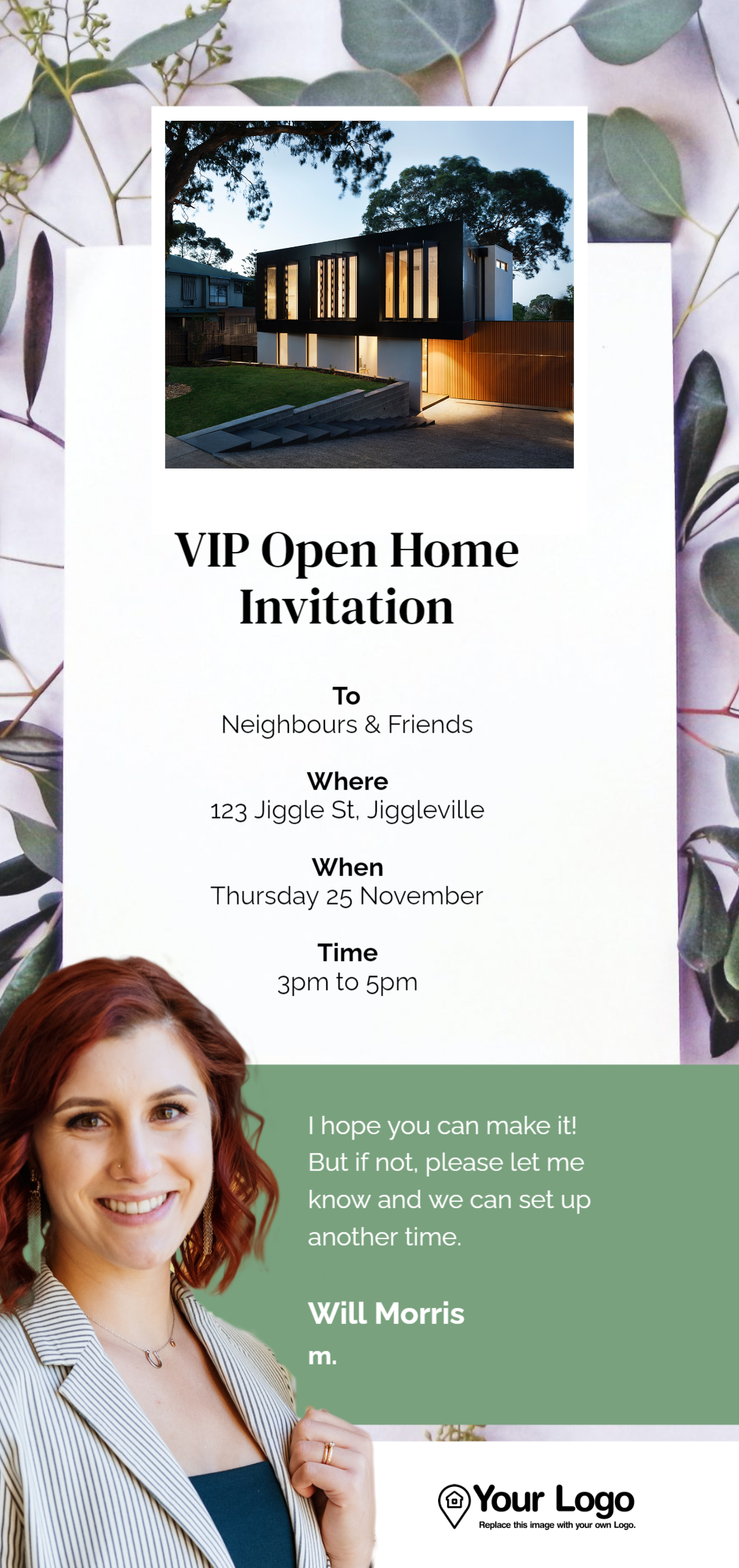 You can then share these invitations with your subscribers, or send them directly to anyone who might be interested in the luxury property. Alternatively, you could post them on your social media pages.
2. Instagram Stories
Social media is a popular marketing channel among real estate agents. In fact, 90 percent of realtors use Facebook to promote their listings, while 52 percent use Instagram.
Since you're promoting a luxury property, you'll want to use high-quality photos that highlight its best features. Instagram is an image-focused platform, which makes it an ideal channel for this purpose.
You can use one of Jigglar's Instagram Stories templates to display full vertical images of your luxury property:
Users can then swipe up to visit the listing page and see more photos of the house. Alternatively, you could pique their interest by posting a "coming soon" image: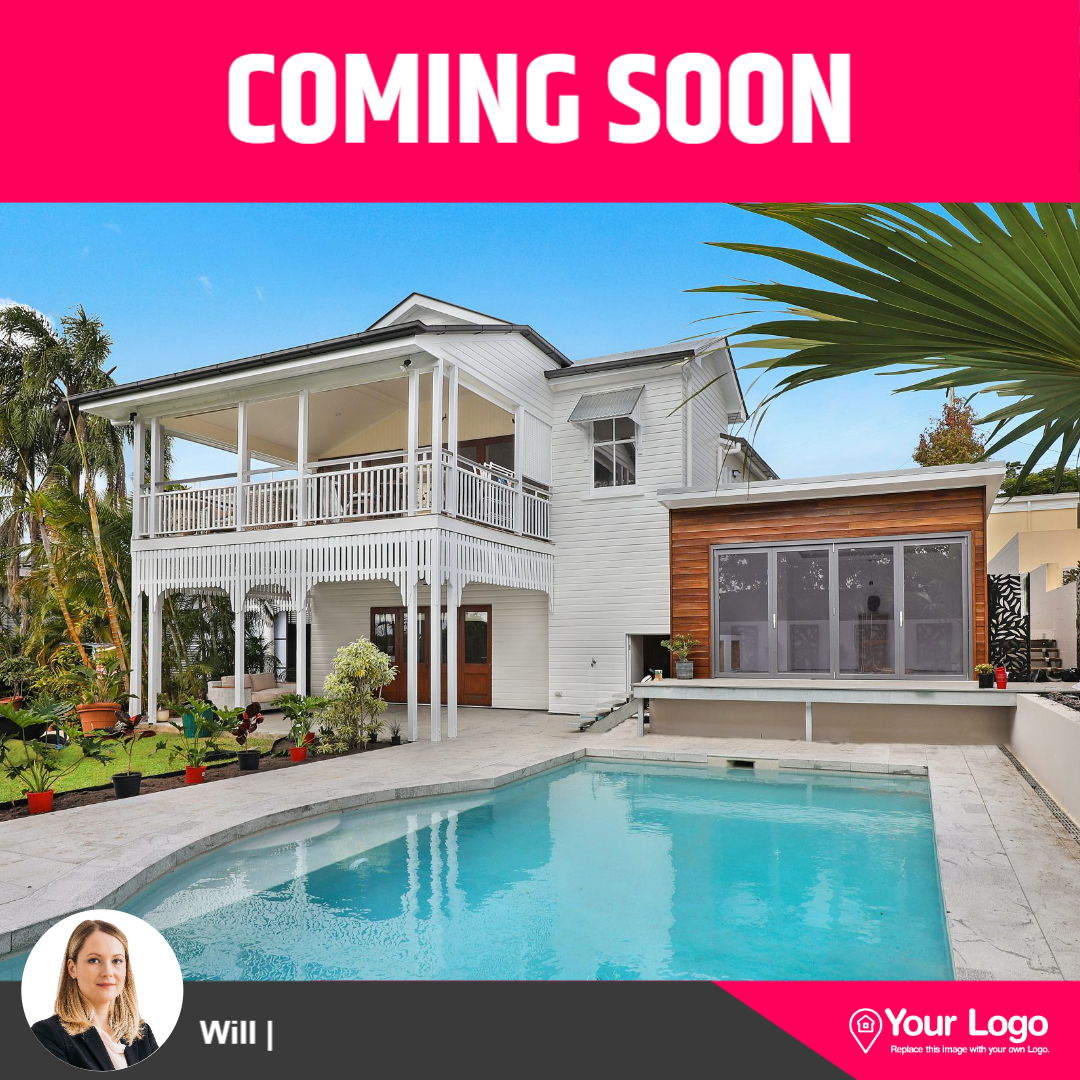 You might then provide a bit more information in the caption, letting users know that you'll soon be listing an exclusive property. This can help keep them hooked.
As you may have noticed, these templates contain your real estate logo and agent photo. These elements are important, as they can help users remember where they've seen the ad and who's promoting the property.
3. Facebook Ads
You could also market luxury real estate properties through Facebook ads. In 2022, this channel had over 1.9 billion daily active users worldwide. This means it can help you reach a wide audience, or at least a significant number of people in your area.
Once again, you'll want to use beautiful images that can make your luxury property stand out. At Jigglar, you'll find a large selection of Facebook templates that you can use. These contain placeholders for images and key details about the property: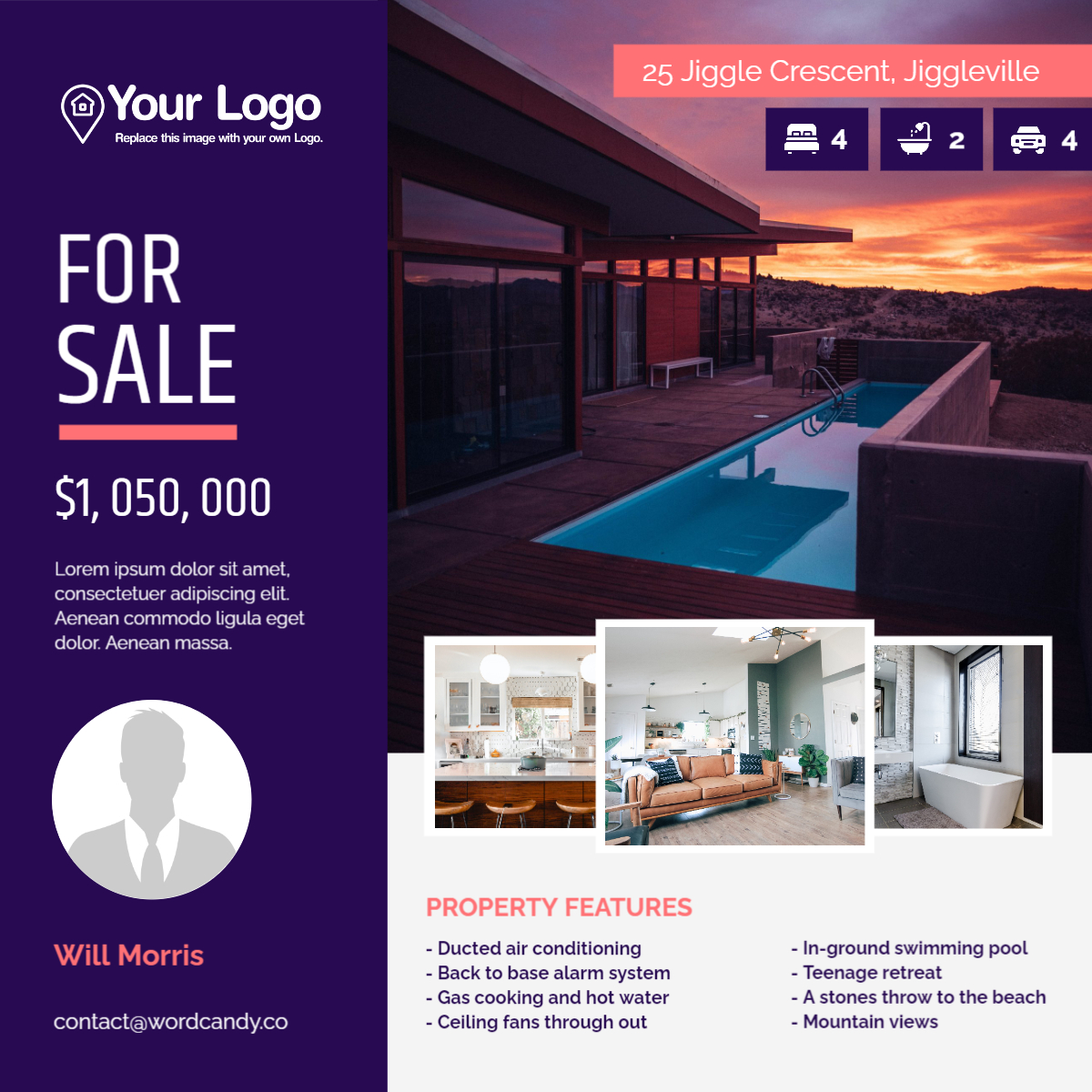 Alternatively, you can omit the features list and simply focus on the images and contact details: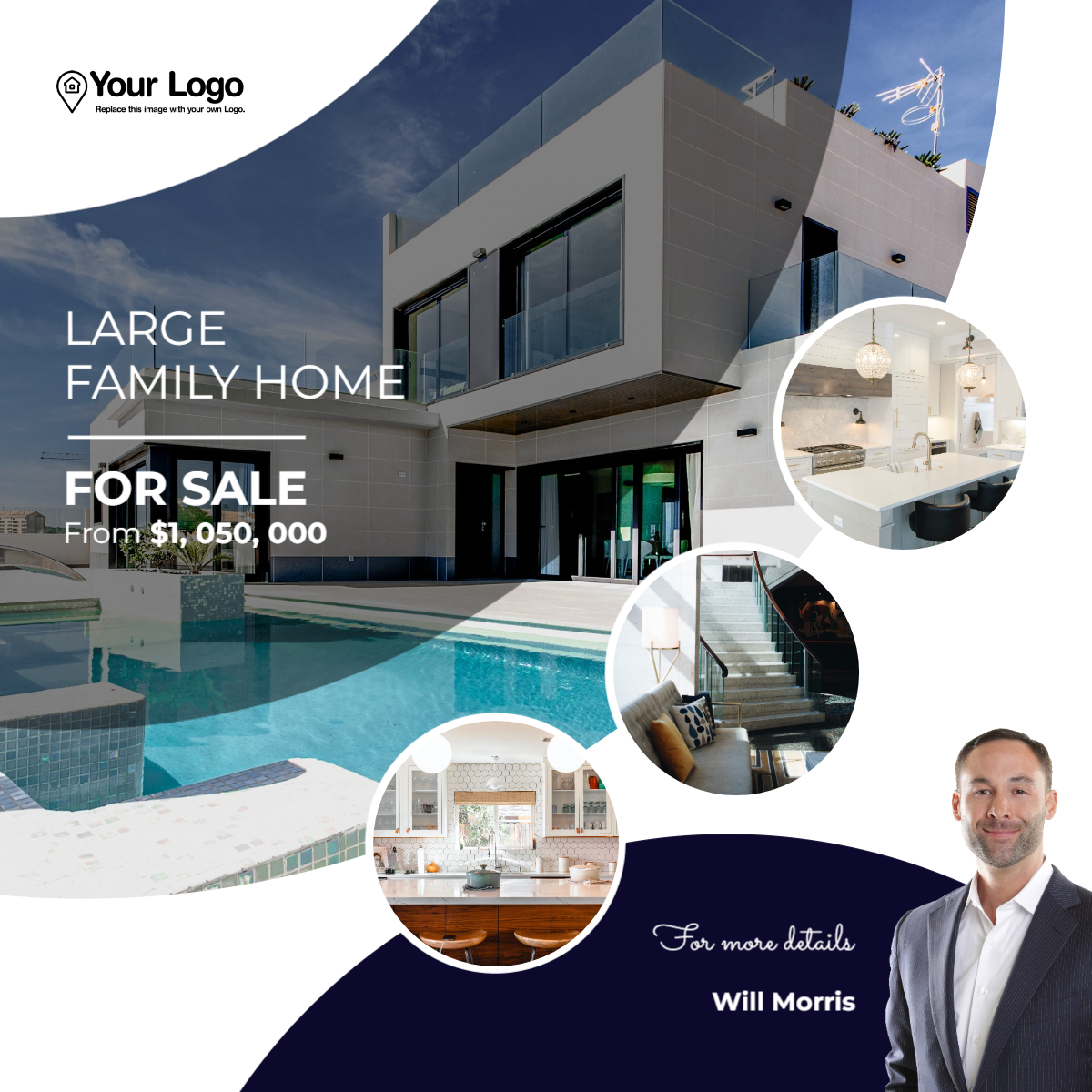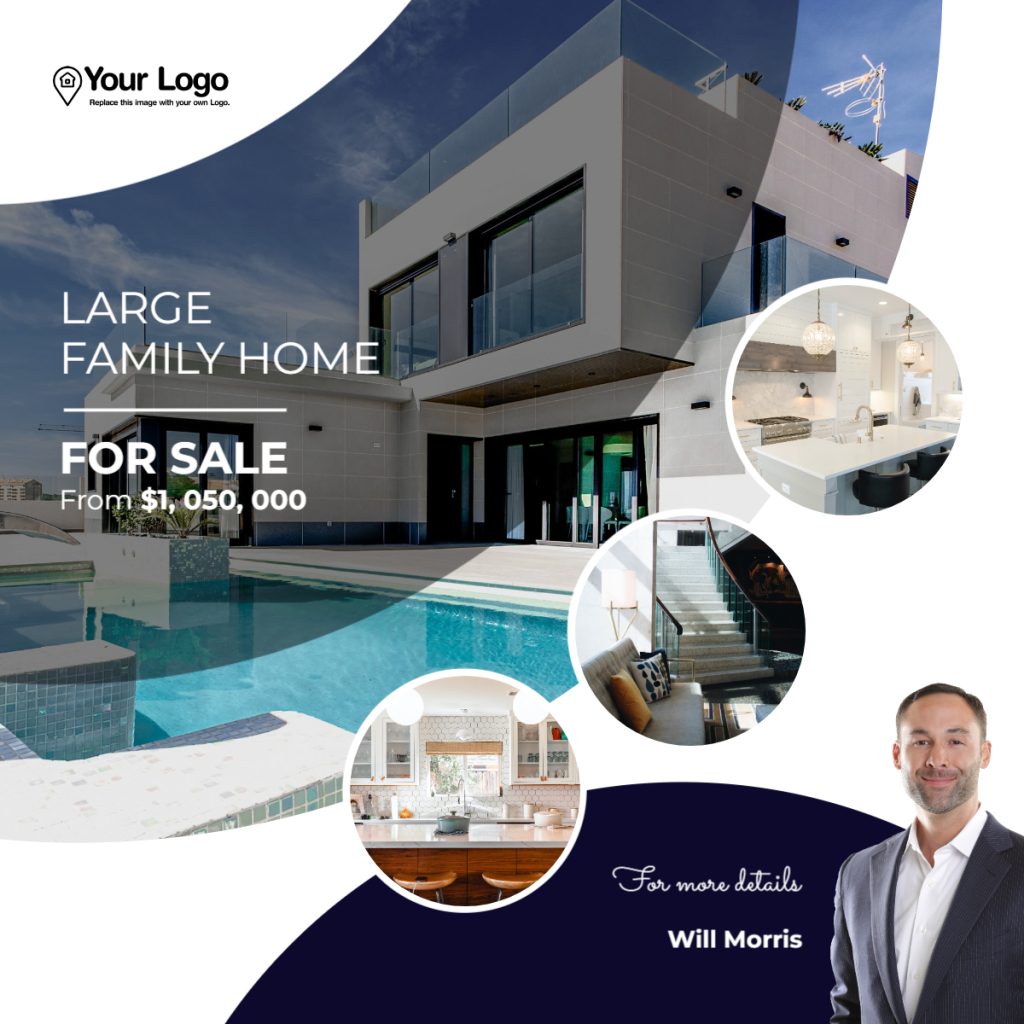 You can post these graphics on your Facebook page and expand your reach by creating ads. Just remember to include a link to your website or listing page, so that interested home-seekers can easily learn more about the property.
4. Newsletter
According to Mailerlite's 2023 email marketing report, real estate newsletters have an open rate of 41.59 percent and a click-through rate of 8.68 percent. These numbers exceed the average in all other industries, showing that email can be a very effective tool for realtors.
Therefore, you might also want to market luxury real estate properties through newsletters. This doesn't require much work if you use a Jigglar template: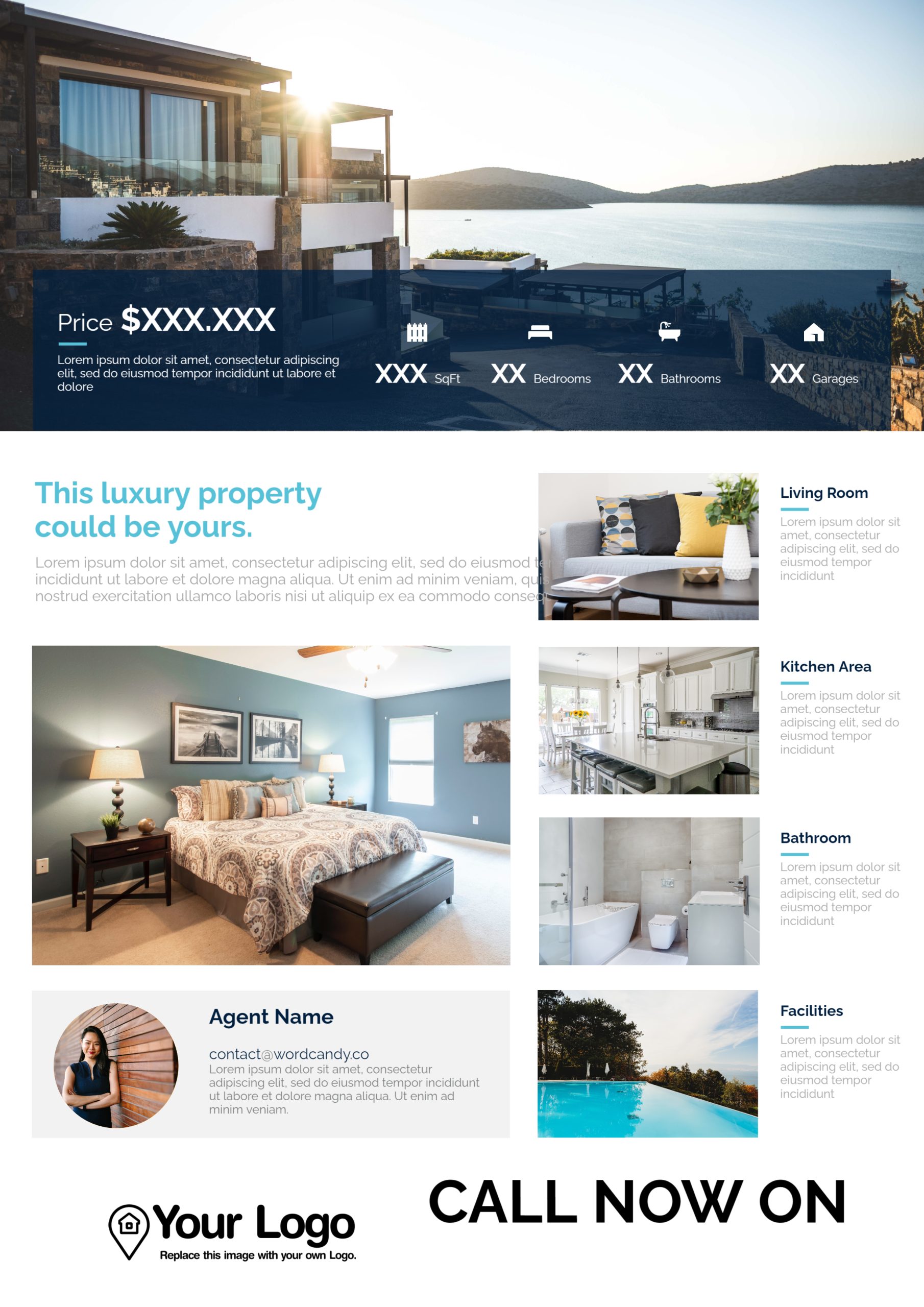 You can simply add the key details about the properties, upload a few photos, and email the newsletter to your subscribers. If you have multiple luxury properties, you can list them all in the same email to save time.
Conclusion
Luxury homes can bring in a lot of revenue for your real estate business. Therefore, you'll want to make sure that you're using the correct methods to promote them.
To recap, here are four effective ways to market luxury real estate properties:
Host open-house events.
Give a sneak peek of the property in Instagram posts and stories.
Create Facebook ads.
Promote your listings in a newsletter.
At Jigglar, you'll find professional, real estate templates for different channels, including Instagram, Facebook, and email. Sign up for a free trial today!