As you may know, 'farming' is real-estate talk for marketing methods that enable you to find new leads in a specific area. There are a lot of ways to farm for leads, including asking for referrals, social media advertising, and of course, using flyers.
Real estate flyers for farming are low-cost marketing technique that can yield high returns depending on your offer. In this article, we're going to show you several real estate flyers for farming from the Jigglar archives. Let's get to it!
1. Referral Offers
One of the best ways to farm for leads is by putting your real estate network to work. As a realtor, you probably share leads with other agents all the time. However, by making it official that you're willing to give out referral fees, other agents will be much more likely to reach out to you: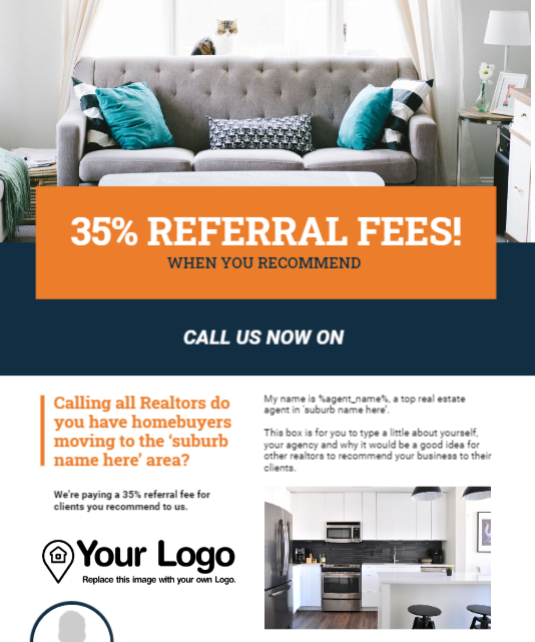 The advantage of this flyer is that you don't need to distribute it door to door. All you have to do is make a list of the real estate offices that you want to reach out to and make sure enough copies of your flyer get into their hands.
2. What Pandemic?
In a lot of areas, real estate sales ground down to a halt during the pandemic. Although there are still restrictions in place depending on where you live, home sales are starting to go back to normal.
If you have customers that held off on listing their homes during the pandemic, now is the time to reach out to them and talk about selling.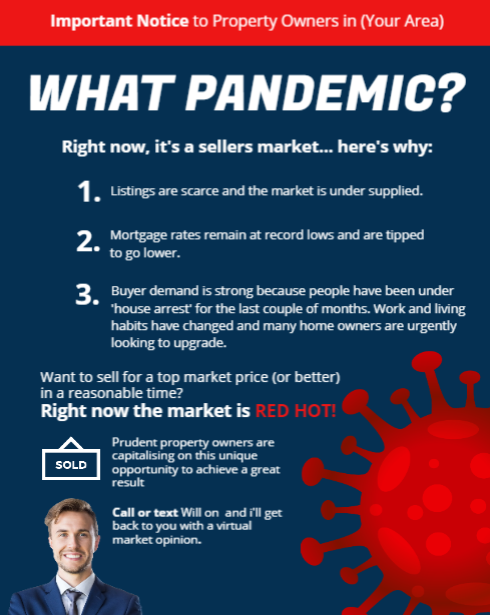 As a realtor, it's your job to convince sellers that the time for waiting is over (particularly in the middle of the U.S.). That means sharing your knowledge about the market and explaining why the market is so hot right now.
Once neighbors see that another homeowner in the area puts up that first sale sign, a lot of them might follow and you want them to be calling you.
3. Just Sold Flyer
The best time to send out real estate flyers for farming within a neighborhood is right after you sell a property in that area. If you sell a home over asking, a lot of neighbors might ask themselves "How much could I get for my home?".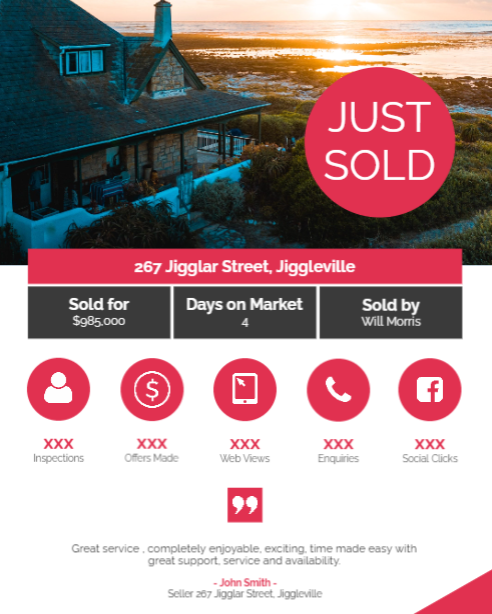 This simple 'just-sold' flyer is all about numbers. You tell homeowners how long it took to make the sale, how much money the sellers got, and at the same time, you show them that you also promote properties on social media.
4. How Long Have You Been Searching for a Home?
Searching for a home can be an incredibly stressful process. As a realtor, you're equipped to help buyers find the perfect home much faster than they would on their own.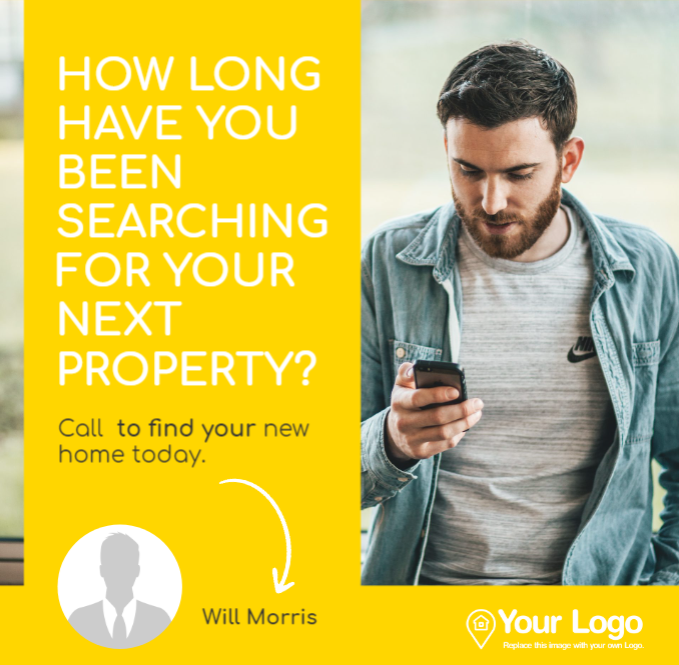 Your target with this flyer are buyers that are tired of looking at properties on real estate websites and having to deal with sellers directly. What they need is a professional that can advocate for their needs and that just happens to be you.
5. Holiday Real Estate Flyers
Holidays aren't just a reason to sit back and take a day off or to host a party. They're also an excellent opportunity for you to send themed flyers (or postcards!) around each holiday.
For example, if Halloween is coming up, you can send this spooky flyer from the Jigglar archives: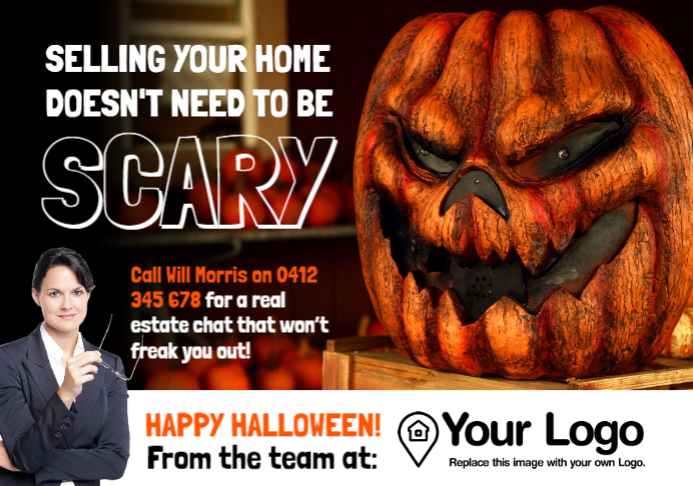 Using Jigglar, you can upload a photo of yourself to replace the default one the flyer template uses. If you're not a fan of the font, you can also change it in a matter of seconds.
With Jigglar, you don't just get access to Halloween real estate flyer designs. Our archives include options for almost every major holiday, including Christmas, Easter, and more. All you have to do is look at the calendar, check out what holiday is coming up, and find the right Jigglar template for a flyer.
Conclusion
Using real estate flyers for farming is a low-cost marketing technique that can yield a lot of new listings for your business. Printing flyers doesn't have to be expensive and with Jigglar, you won't have to pay for design work either.
Instead, you can use any of the many Jigglar flyer templates, add your contact information, and modify them in any way that you want. Once you're familiar with how Jigglar works, you can have several real estate flyers ready to go to the printer in a matter of hours.
Are you ready to design your first real estate flyer for farming? Try out Jigglar for free and get started using any of our templates.