'Just sold' flyers or postcards are a fantastic way to let everyone in a neighborhood know about the properties that you've sold in the area. Those real estate flyers encourage homeowners to consider listing their properties and they can let others know how much houses in the area are going for.
On top of helping you promote your business, a just sold flyer can also double as a valuable lead collection tool. In this article, we'll introduce you to five just sold flyer examples and templates that you can access using Jigglar. Let's get to it!
1. Show Off Multiple Recently Sold Properties
One of the best ways to establish yourself as the go-to real estate agent in an area is to let people know that you consistently close property sales. This just sold flyer template enables you to do that by showing off multiple recent deals: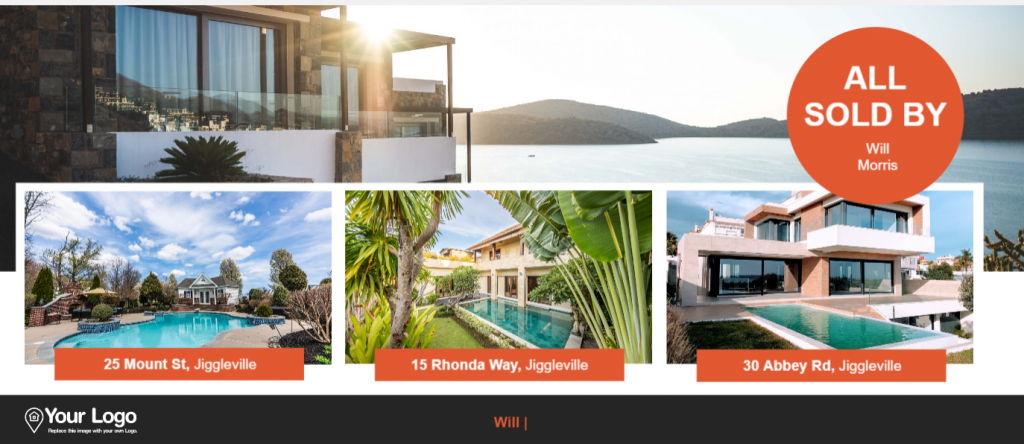 With this design, all that you need to do is replace the pictures and addresses for each property. While you're at it, make sure that you include your business logo and contact information so interested parties can contact you right away.
2. Give Homeowners an Idea of What Their Property Might Be Worth
If you want to encourage property owners to list their homes, a great way to achieve that is by giving them an idea of what kind of money they might be looking at.
A lot of people might be reticent to get an appraisal, even if it's free. With this listing, though, you show them a number and give them a look at what that recently-sold property looks like: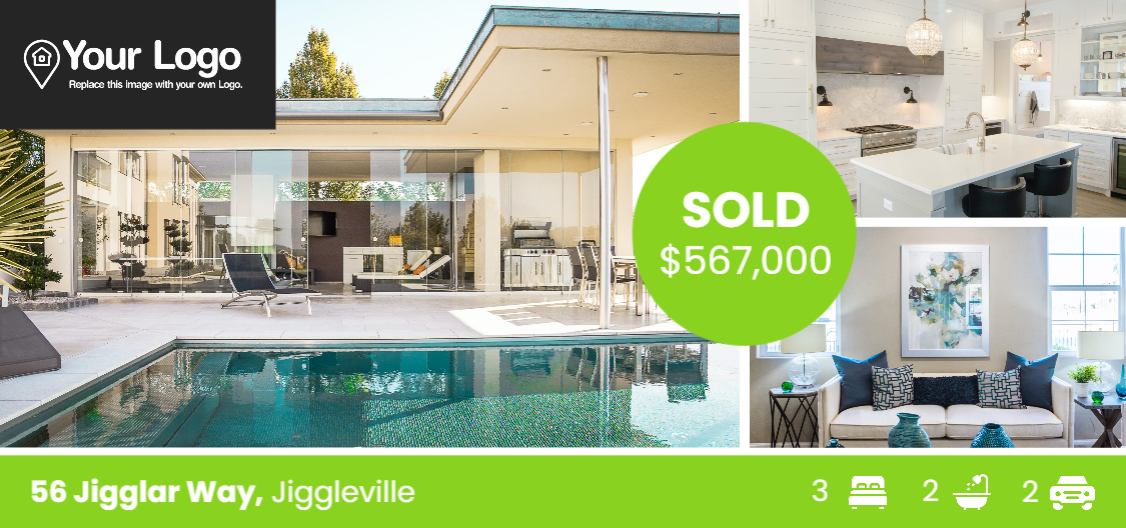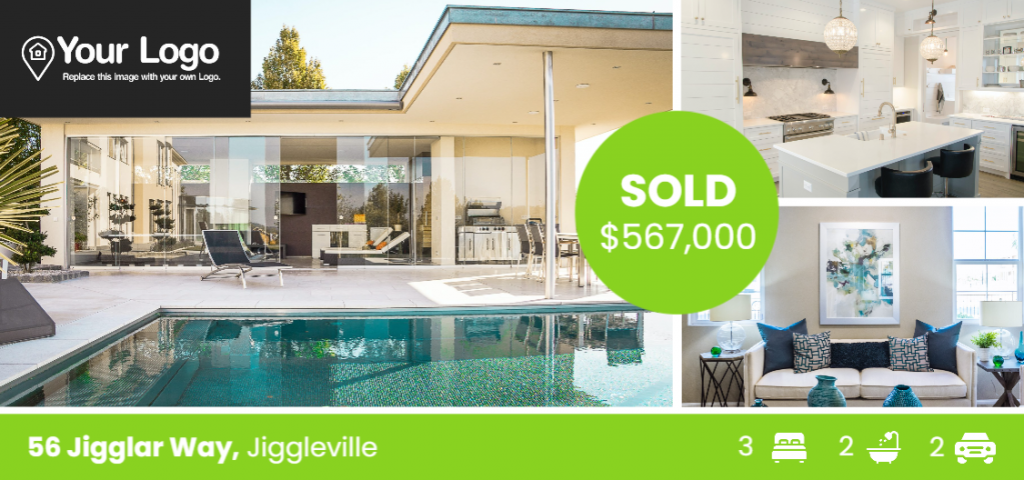 Notice that the flyer includes information such as the number of bedrooms and bathrooms, which is critical so others can compare that property to theirs.
3. Show Off Your Auction Numbers
This just sold flyer design is as minimalist as it gets. It shows off the property you just sold as well as the address. However, the real heart of the design are the numbers: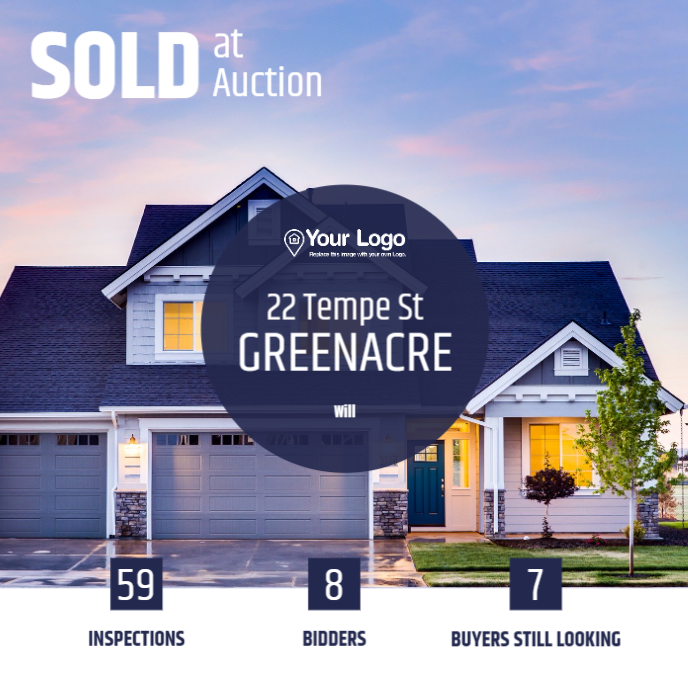 In a nutshell, those numbers tell homeowners what kind of interest and bidding war they might be looking at if they decide to list. By including a Buyers still looking counter, you also let them know that the market is still hot, so now's the time to jump in.
4. Use Your Just Sold Flyer to Discuss Your Business
Just sold flyers don't need to be minimalistic affairs to be engaging. If you want to use the opportunity to talk about your real estate agency and the services that you offer, you can, as this template shows: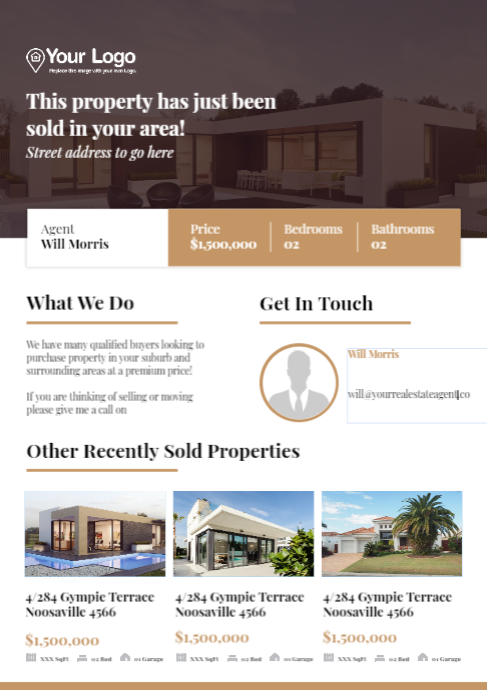 With this full-page design, you can include everything from your business information to the prices of your recently sold properties, and even a headshot to build trust with potential clients.
Since you're including a lot of information, it's important that you use the best property pictures that you can. That way, you'll attract the attention of whoever gets the flyer and pull them in so they'll take a look at the numbers and your contact information.
5. Use Your Flyer to Collect Leads
Since just sold flyers can be such a great way to collect leads, it's a smart idea to include a simple form that interested parties can fill out and mail back: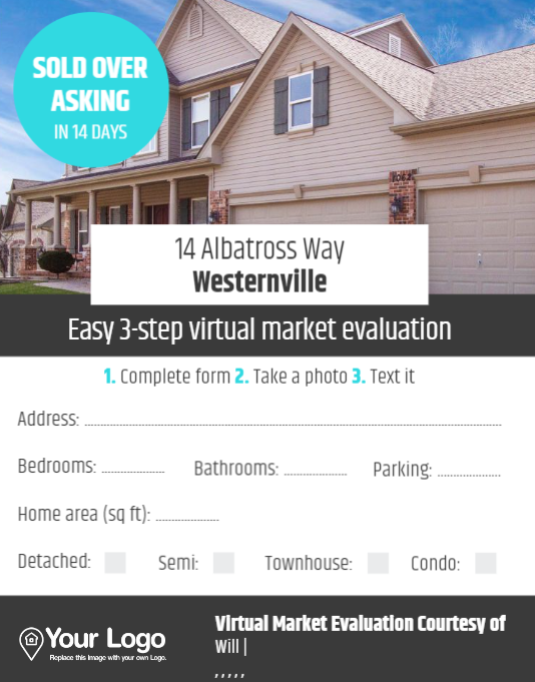 In one fell swoop, you can share information about a recently sold property and ask homeowners to do most of the market evaluation work on their own.
That last part is genius, particularly in a COVID real-estate market since a lot of people might be reticent to have an in-person evaluation. However, by making the process as easy as filling out a form, taking a picture, and submitting it via email, you increase the chances that you'll get more leads.
Conclusion
Just sold flyers can be cheap to print and to distribute. As long as you use the right template, they can help you promote your business and collect leads from interested homeowners.
With a just sold flyer or brochure, you can encourage property owners to consider listing their homes by giving them an idea of what they might be worth. Moreover since you already closed a sale (or more) nearby, it tells them that you're the right agent for the job.
Are you ready to design unique just sold flyers for your business? Try out Jigglar for free and get work right away using any of our available templates!