Flyers come in all shapes and sizes and they can be one of the best real estate marketing tools in your arsenal. If you use real estate flyer templates, you'll be able to come up with amazing marketing ideas in a fraction of the time it would take you if you started designing from scratch.
In this article, we're going to show you five real estate flyer templates from the Jigglar archives that you can customize for your needs. Let's get right to it!
1. The Selling Season
The real estate market tends to heat up periodically and sometimes, you get what we call a "selling season". That's to say, a period where properties get snatched up quickly and, in many cases, they sell for a lot more than the asking price:
This real estate flyer template has two sides. On the second side of the template, you get to explain to new customers why they should consider listing their properties now: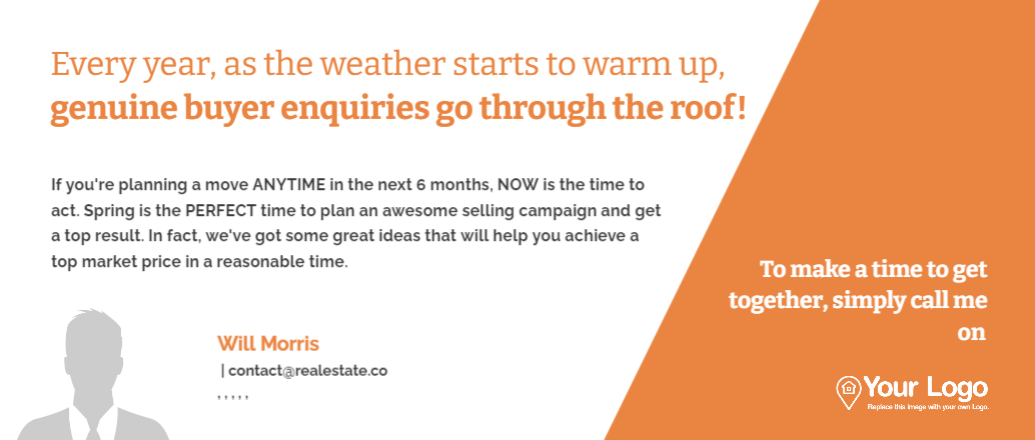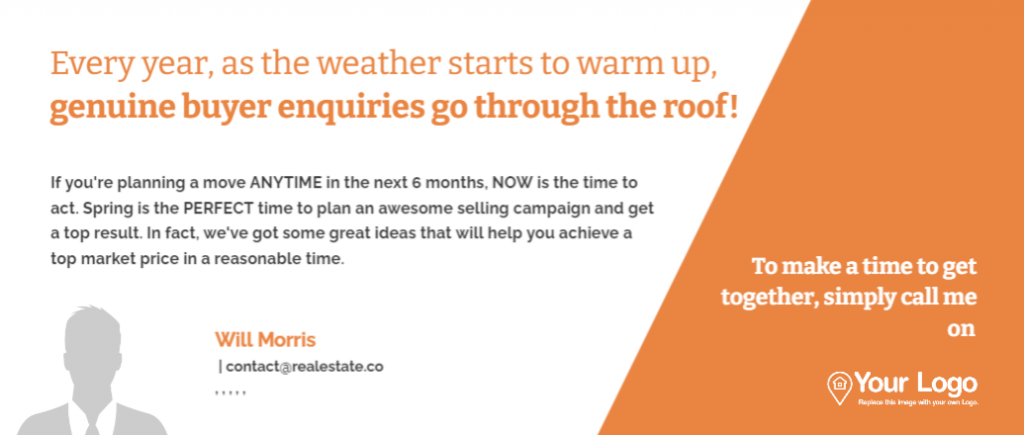 Naturally, every great real estate flyer needs to include a headshot and your contact information. This template also includes space for your agency's logo and a Call-to-Action (CTA).
2. Free Real Estate Flyer Templates
If you want to find new customers in a specific area, your best bet is to let homeowners know about your track record. That means sharing information about recent sales and other successful listings in their area. That's where this real estate flyer template design comes in:
This design includes enough room to let you show off six of your most successful property listings and sales. You also get to include a client testimonial, which is a fantastic way to help build trust in a neighborhood.
3. Stop Paying Someone Else's Mortgage
There comes a time when most people want to stop renting and find the perfect home for their families. This real estate flyer template tells potential customers that now is the right time to stop renting and paying someone else's mortgage:
Both the message and the design are pretty simple in this case. Your main goal with this flyer is to get renters thinking about whether it's time to buy a house and if they're interested, they have your contact information at hand.
We also encourage you to include a headshot because it helps build trust. If potential clients can see who they're dealing with, they're much more likely to reach out to you when they decide to start looking for a home.
4. VIP Open Home Invitation
A successful open home is one that gets dozens of visitors. The more attendants that your event has, the more likely it is that you'll get at least a few serious offers for the property. This VIP open home flyer template is perfect if you want to drum up excitement for a new local listing:
This flyer template lets neighbors know that you're dealing with a top-of-the-line listing and it gives them all of the information that they need to attend the event
You can also use this template for virtual open home invitations if that's a service that your agency offers. In that case, you can include some information about how to join the event or ask people to contact you so you can send them an invitation.
5. How Much Is Your Property Worth?
In a lot of cases, people hold off on listing their homes because they have no idea how much their property is worth. Contacting a realtor seems like too much trouble, so they keep putting it off indefinitely.
With this real estate flyer template, your goal is to offer homeowners the opportunity to get quick, hassle-free home valuations with a single phone call:
For this design, we encourage you to include a headshot where you look as professional as possible. By putting a face next to your name and contact information, you automatically look more trustworthy. That means that potential clients will be much more likely to pick up the phone and to give you a call.
Conclusion
Getting access to free real este flyer templates can make marketing your business a lot easier. You can use flyers to promote open homes, encourage homeowners to list their properties, offer free home valuations, and much more.
If you use Jigglar, you can get access to dozens of free real estate flyer templates with unrestricted access for 30 days. You can customize every template to your needs and use the service for as many projects as you want.
Are you ready to get to work on your first real estate flyer? Try out Jigglar for free for 30 days without having to add a credit card!