As a real estate agent, your marketing materials can help you stand out from your competitors and attract more clients. Therefore, it's important to make sure you're using professional, aesthetically-pleasing real estate flyer designs for your advertisements.
Fortunately, this is easy to do when you use have an extensive library of templates to choose from. At Jigglar, we can currently provide you access to over 1,200 templates, organized by category, for every type of real estate marketing material you might need. And the list of templates grows every week!
In this post, we'll introduce you to Jigglar as a design tool and discuss the kind of templates you can find inside it. We'll show you what to expect from the editor and the basics of using it. Let's get started!
An Introduction to Jigglar
There are many different kinds of design tools and platforms available today. However, Jigglar is unique in that we don't make ads for every type of business; we make them specifically for real estate professionals. We know what works and what doesn't because we're real estate agents ourselves.
Once you sign up for a Jigglar account, you get access to nearly every type of real estate flyer design template you can think of. You can create ads to promote any kind of listing and edit the templates with ease and efficiency.
This includes property showing and snapshot templates:
It also includes a plethora of "just listed" and "just sold" options:
You can also choose from plenty of postcard promo templates for either digital or direct mail campaigns:
These are just a few examples of the extensive collection of flyer templates you can get access to. Among the additional categories, you'll find ones for social media, agent profiles, calendars, stationery, events, and more.
How the Jigglar Template Editor Works
When you're logged into your Jigglar dashboard, you can choose from the categories to find the real estate flyer design that you want to use:
Once you select your template, designing and customizing it is a breeze. The editor is incredibly intuitive, simple to understand, and easy to use:
To begin editing the contents, you can click anywhere on the flyer. Then, you can drag and drop elements, as well as adjust their sizing. You can also replace any of the placeholder text with your own details.
When editing your real estate flyer design, you can also upload and add your own images. For example, in the above example, you could replace the bottom-right element with your own logo and the image of a photo of yourself.
Along the left-hand side of the screen, you can find the icons for editing and adding elements:
For example, you can:
Create a new textblock
Browse your Image Library or upload an image from your computer
Add new shapes (circle, triangle or rectangle)
If you want to add an innovative touch to your flyer, you can also use our QR Code Generator to insert a scannable image. To do so, you can click on the QR icon: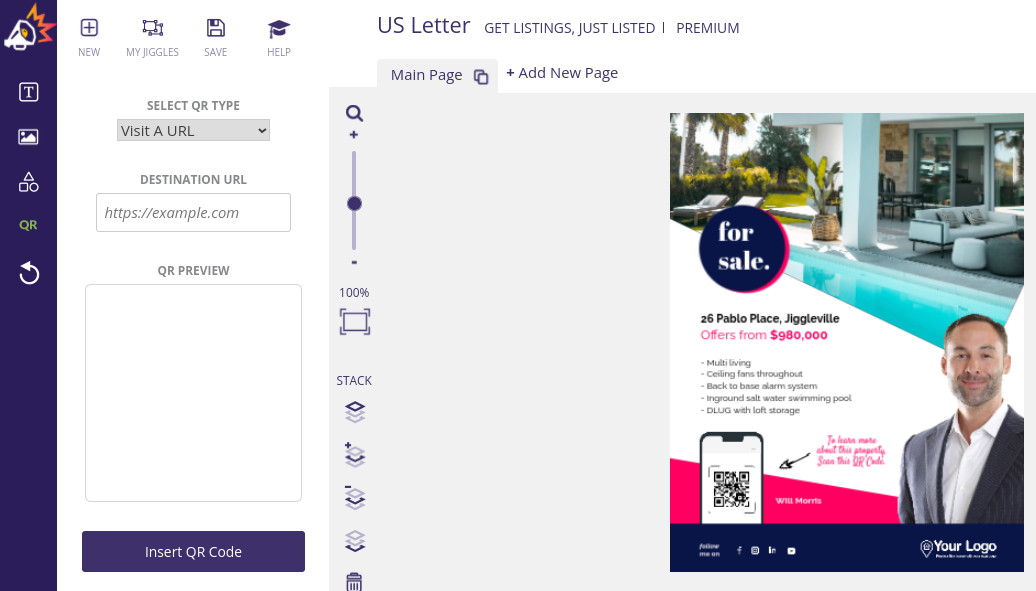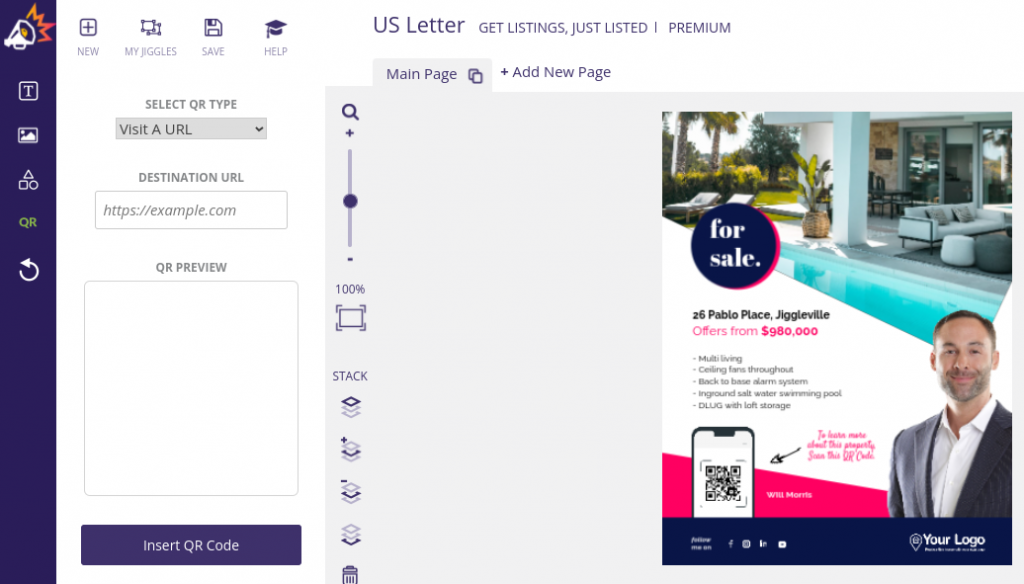 You can choose from four options: Visit a URL, Send an Email, Send an SMS Message, or Call a Phone Number. Then you can enter the destination URL, email, or phone number, and preview the QR code. When you're done, you can select the Insert QR Code button, then place it wherever you want on your flyer.
How to Save and Use Your Real Estate Flyer Design
Once you're satisfied with your real estate flyer design, all that's left to do is to save and download it so you can share it wherever you please. To save it, you can click on the Save icon at the top of the screen:
You can select Save to My Jiggles, then you'll be presented with a variety of options. After you give your Jigglar a name, you can choose your download option:
You can select JPEG Social Media if you want to share it on Instagram, Facebook, and other social networks. However, if you want to print it in-house, you can choose PDF. Alternatively, you have the option to send it as a PDF to commercial printing.
That's it! You can save your templates as you go. Then you can go back to add more or edit your previous ones as you please.
Get Started With Jigglar Today
Are you ready to get access to our collection on real estate flyer design templates? You can by signing up for a free Jigglar account. From the homepage, you can click on the Get started for free button. Then you can enter your email address, name, and set a password to sign up. There's no credit card required!