To help maximize your success as a real estate professional, it's important to continuously adopt new and effective ways of marketing your services. One of the ways you can do that is by using QR codes for real estate flyers and promotional content.
QR codes are an innovative and versatile real estate marketing technology that you can leverage to gain an edge over competitors. It can help you better engage prospects and help generate new leads. Plus, there are so many different ways that you can use them.
In this post, we'll briefly discuss some benefits of using QR codes for real estate. Then we'll provide you with a list of the top six ways to use them. Let's get started!
An Introduction to QR Codes for Real Estate
QR codes are not exactly a new concept. The technology was first introduced as a tracking mechanism. However, businesses across all industries are finding innovative and helpful use cases for them. Among the most popular are advertising, marketing, and communicating with audiences.
Using QR codes for your real estate content can help you stand out in an otherwise crowded industry. More specifically, it can help you boost engagement among your prospects and generate more leads.
A QR code is a convenient, incredibly versatile, scannable image that can be used in a handful of ways. It makes it easy to provide users with more information that can fit on a piece of paper. It also presents an effective method for bringing offline interactions online, whether that be via phone, email, text, website, etc.
Top 6 Uses for QR Codes for Real Estate
Now that we understand some of the benefits of using QR codes for real estate, let's take a look at some of the top uses for them.
1. Send Them to a Listing Video
Videos are excellent tools to incorporate into your marketing arsenal. They're convenient and engaging ways to communicate with potential clients and can help you deliver a lot of information in a brief period of time.
This is why you might consider using a QR code to send users to a listing video: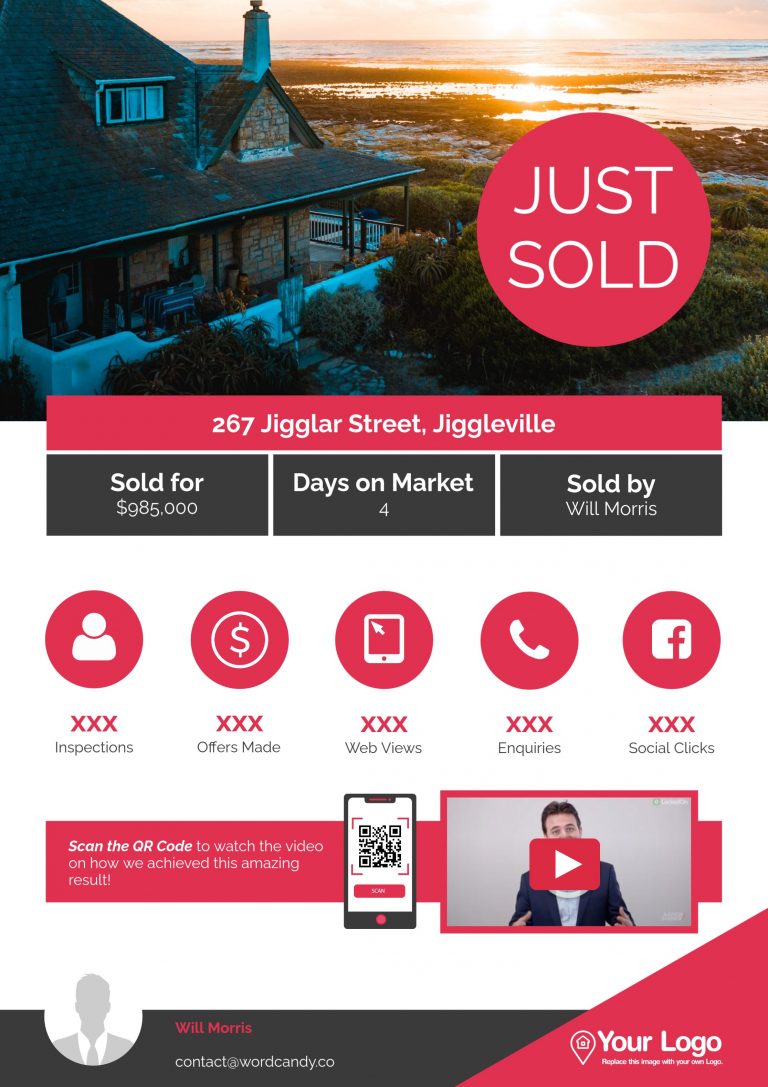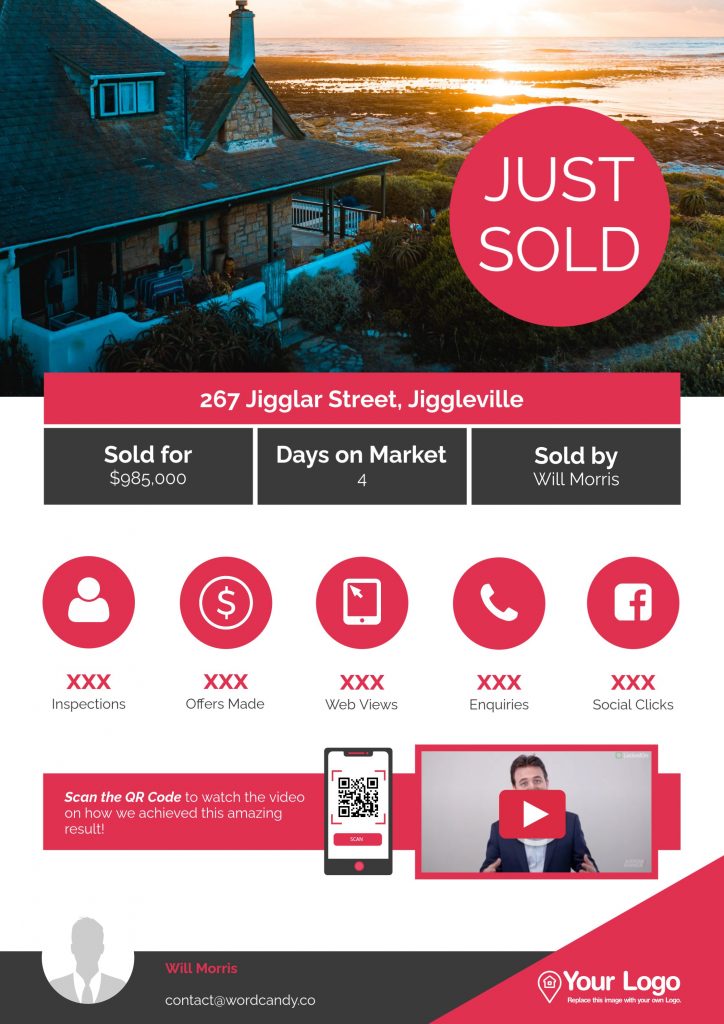 This is worth considering if you already have marketing videos on your website or other video platforms. You can easily update the video URL connected to the QR code depending on which listing you're currently trying to promote.
2. Send Them a Listing Page on Your Site
As a real estate professional, you likely have a real estate website where potential clients can find your listings. However, helping them easily arrive at your site can be challenging. QR codes can help.
By printing the QR code on your flyers, postcards, and other marketing materials, you provide your users with a quick and easy way to access a listing page on your website. This eliminates the need for them to have to remember and/or type in a long or complex URL.
3. Send a Text Message
Another way you can use QR codes for real estate is to have prospects send you SMS text messages directly: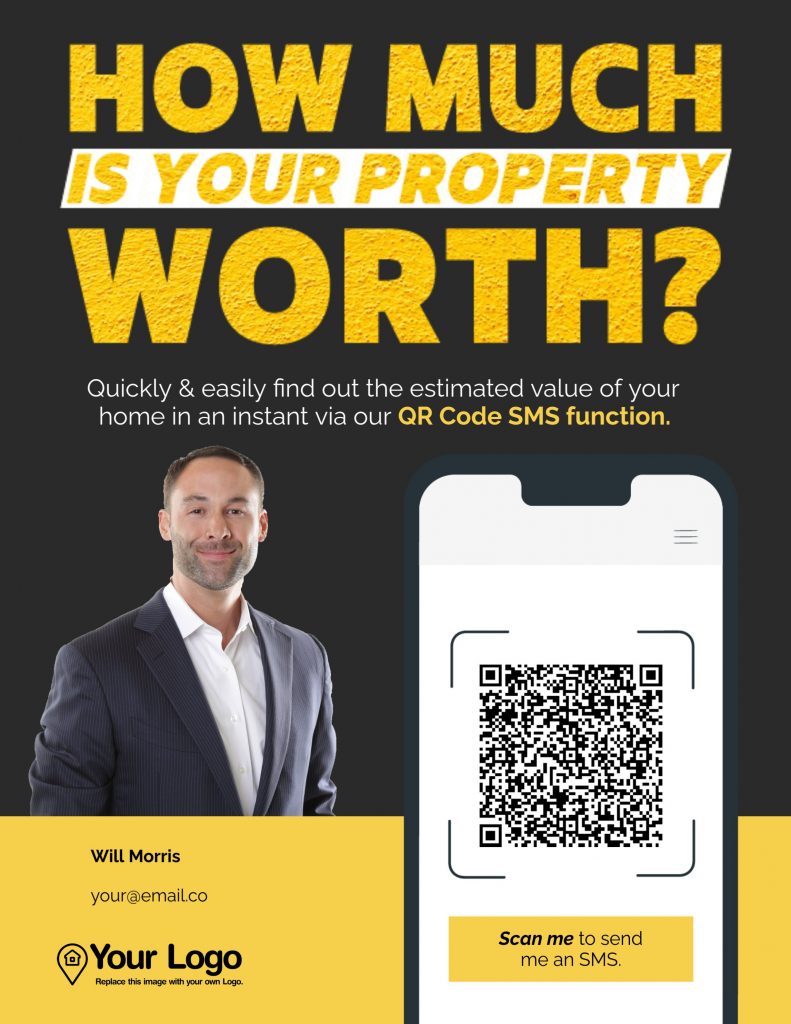 With this method, you can use our Jigglar QR Code Generator to enter prefilled content into the text. Then when users scan the QR code, the message will automatically be sent to you so you can easily connect with them.
4. Go to a Squeeze Page
Perhaps you have a squeeze page for generating leads and collecting information from prospects. If so, you can use a QR code on your marketing materials to help send more visitors to this page.
This is a solid strategy if you want users to take a certain action that would be easier to do online rather than from a printed postcard or material. For example, the QR code can send them directly to a form to sign up for your newsletter, rather than having to manually enter your site URL and find the form themselves.
5. Dial a Phone Number
If you prefer talking to clients directly on the phone, you can use a QR code to make doing so easier. With this approach, users can scan the QR code, then it will immediately bring up your number for them to call.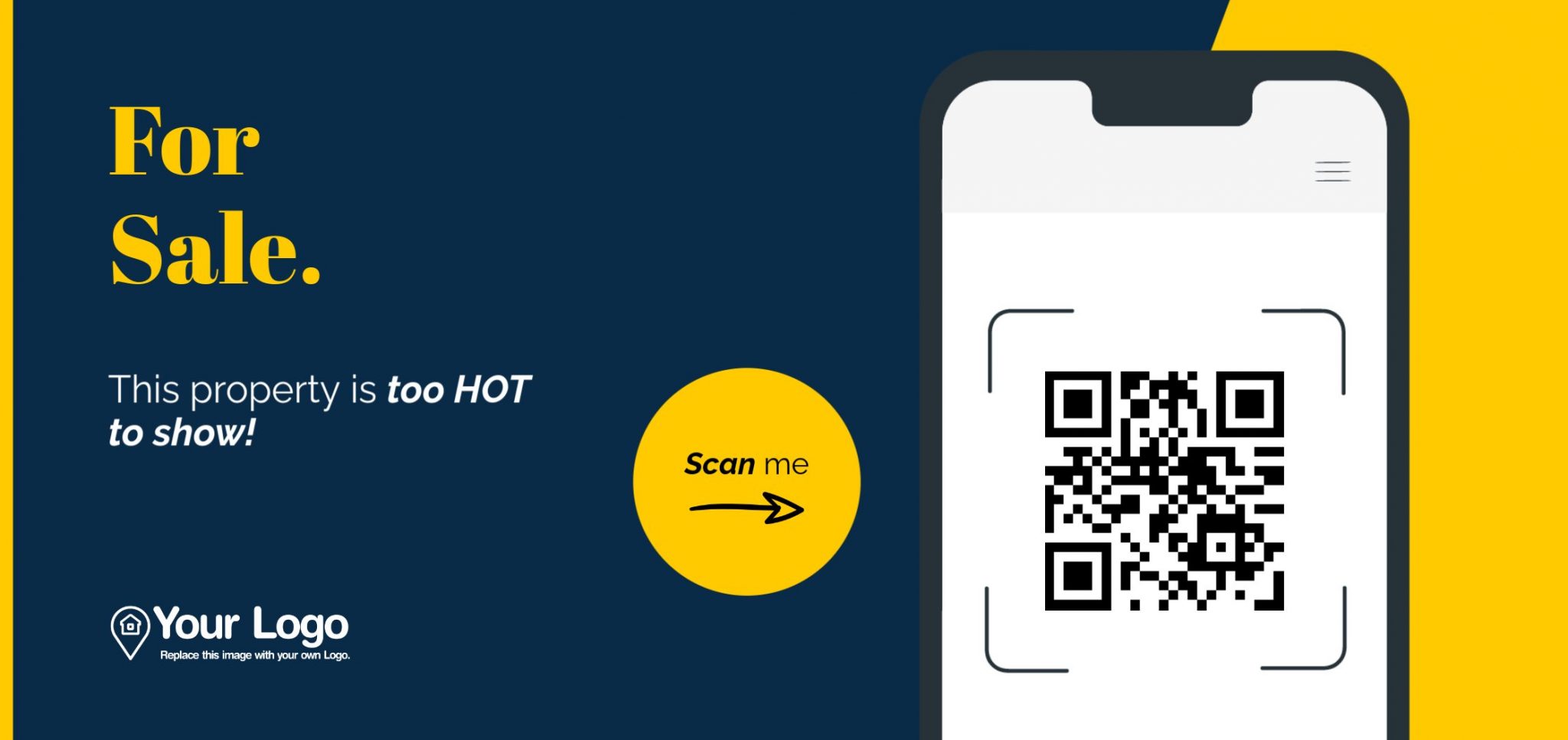 Of course, you can also list your phone number on your business cards, flyers, and postcards. However, adding the QR code makes it that much more convenient for clients.
6. Send You an Email
A sixth use case you can use QR codes for real estate is to make it effortless for clients to contact you through email. This is an excellent strategy for leads who may be interested in getting a valuation of their home or property.
Also, similar to the text message, you can add pre-filled content to the email. That way, users can simply scan the QR code and send the message directly to your inbox.
Conclusion
Standing out in today's competitive real estate market can be incredibly challenging. However, with the right tools and strategy, you can establish credibility and help generate more leads. One way to do that is by incorporating QR codes into your marketing materials.
As we discussed in this post, there are six main ways you can use QR codes for real estate:
Send them to a listing video
Direct them to a listing page on your site
Send a text message
Go to a squeeze page
Dial a phone number
Send you an email
Are you interested in getting started with QR codes for real estate? Sign up for a free Jigglar account today to access our library of templates and QR code generator!