A pre-listing presentation is your first step towards securing a new client. Since this is delivered before the listing appointment, you'll need to ensure that you make a good impression – enough to convince interested home sellers to set up a meeting with you. However, this can be a bit challenging due to the lack of in-person contact.
This is where our templates come in handy. By using a visually impactful presentation, you can help your clients get acquainted with you and your team, and show them what you have to offer.
In this post, we'll walk you through our iPad pre-listing presentation template, which comes with 12 beautiful slides that you can edit and modify as you wish. Let's get started!
Part 1: The Cover Page of Our iPad Pre-Listing Presention
As with any presentation, your first page should immediately capture your client's attention. Visuals play a crucial role in this, which is why we recommend using a large, high-quality photo on your cover: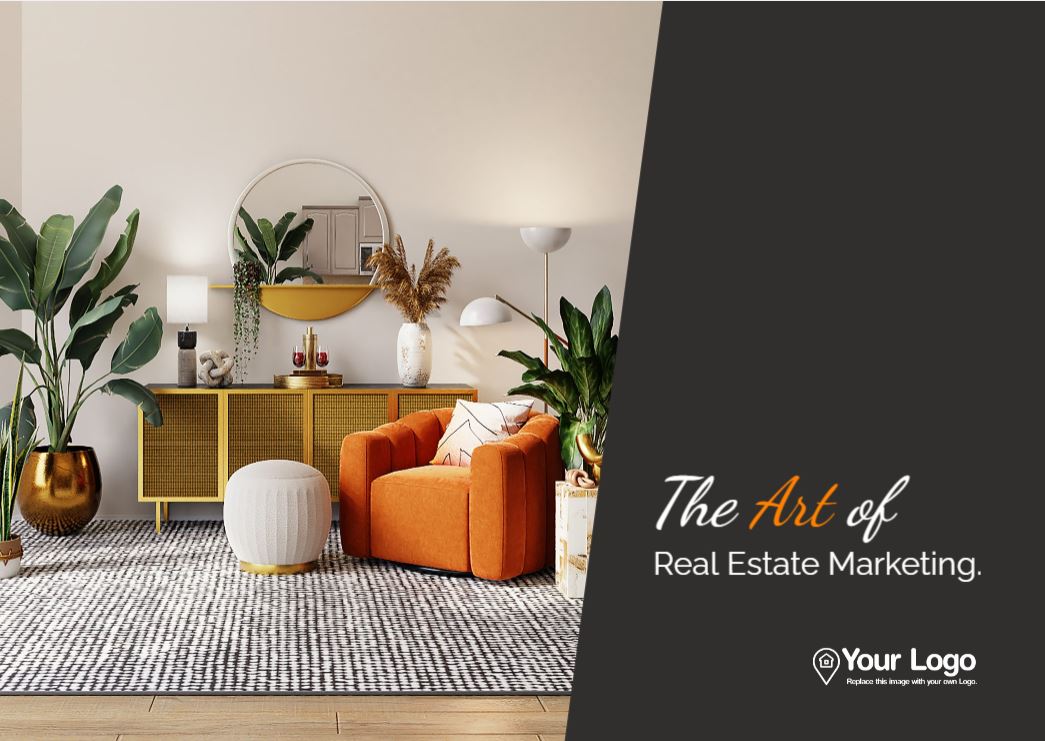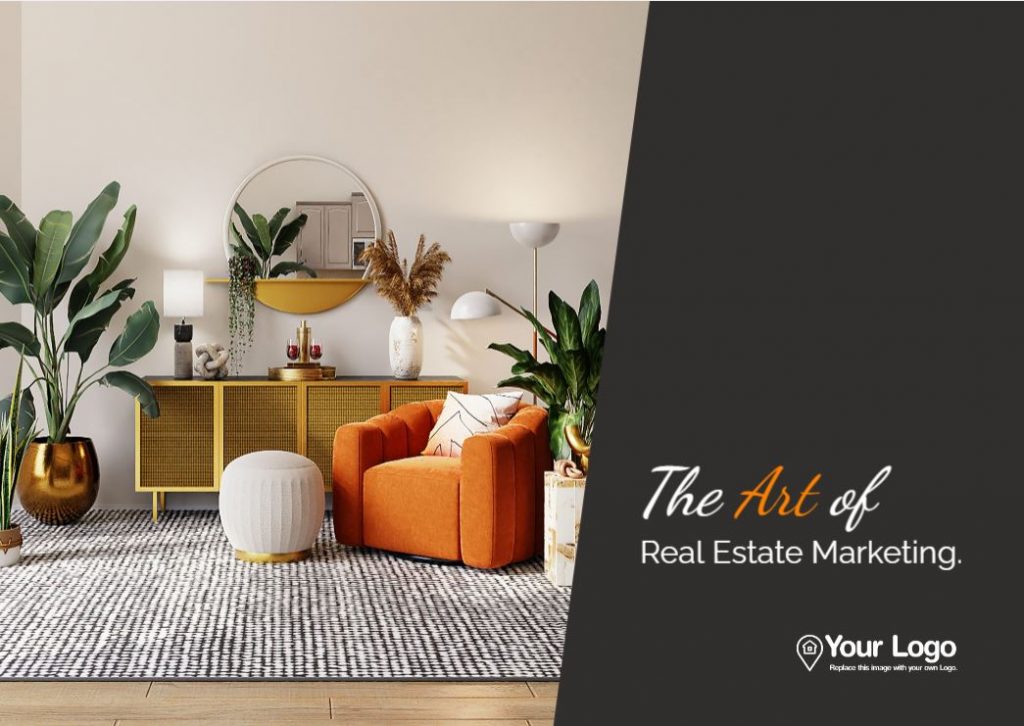 As you can see, the front page also includes the name and logo of your agency. These elements are important as they anchor clients to your brand.
You may also want to incorporate other branding elements into your presentation, including your own color scheme and fonts. Having consistent branding visuals throughout your presentation can help you project a more professional image.
Part 2: A Brief Introduction
Some people may be new to the real estate industry. Thus, you may want to give them a quick induction to recent trends in the market.
An effective way to do this is by providing a few statistics about property sales in your local area: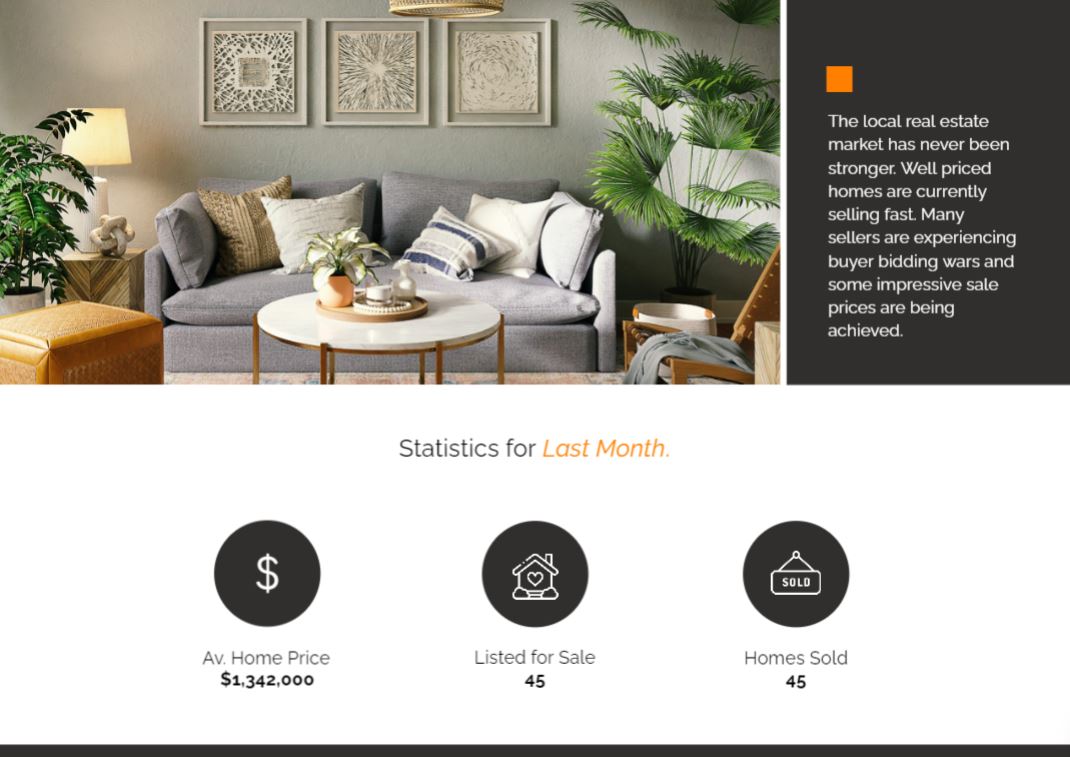 For instance, you could list the average home price and the number of houses sold in recent months. This information can help give your clients a better idea of the current market.
You can then follow up with a brief introduction about yourself: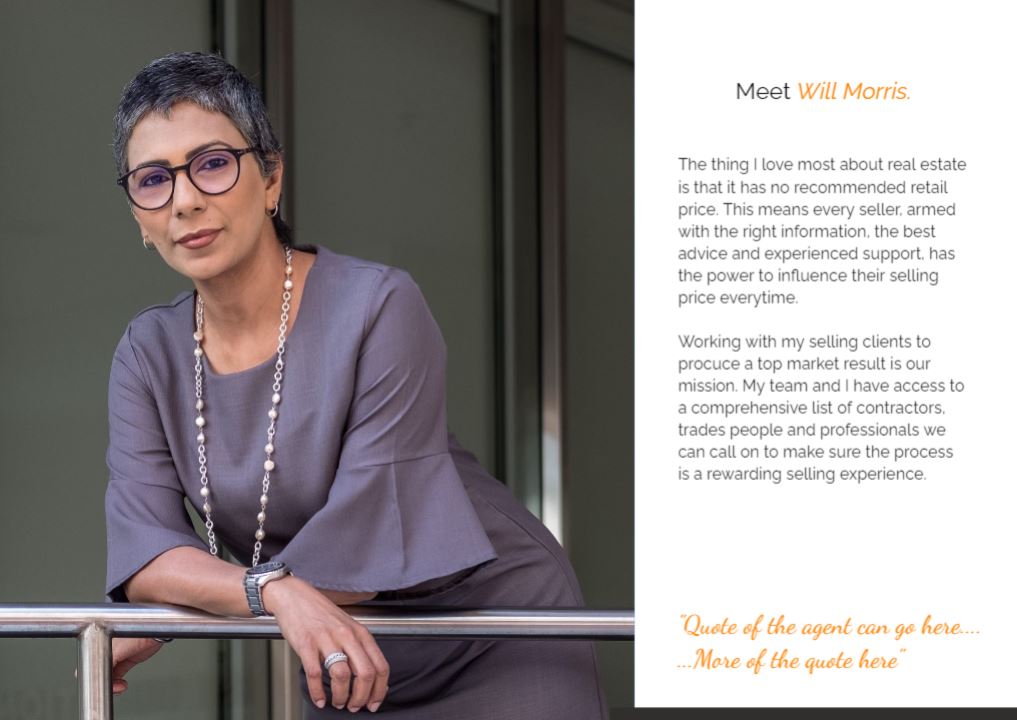 You could talk a little about your mission as a real estate agent, your approach to the market, and the tools you have at your disposal. It's important that you demonstrate your authority in the industry and show clients how you can help them.
Part 3: The Listing Process
Next, you'll need to show potential clients how the listing process works. As we said earlier, some homeowners may feel a little clueless about selling their property.
Our template includes a clear, step-by-step guide to help you get started: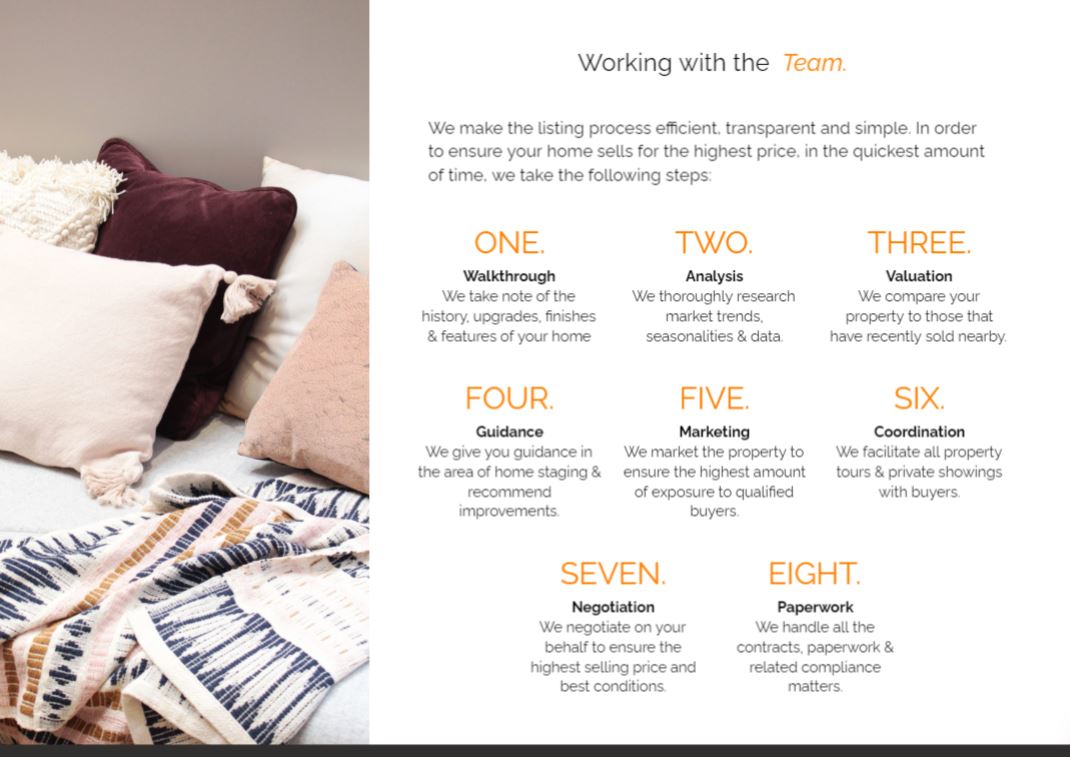 Each stage is visibly labeled and contains a brief description. The point of this page is to give a quick overview of the process. Therefore, we recommend that you only include the most important steps so as not to overwhelm the client.
You might also want to add some information about your pricing criteria: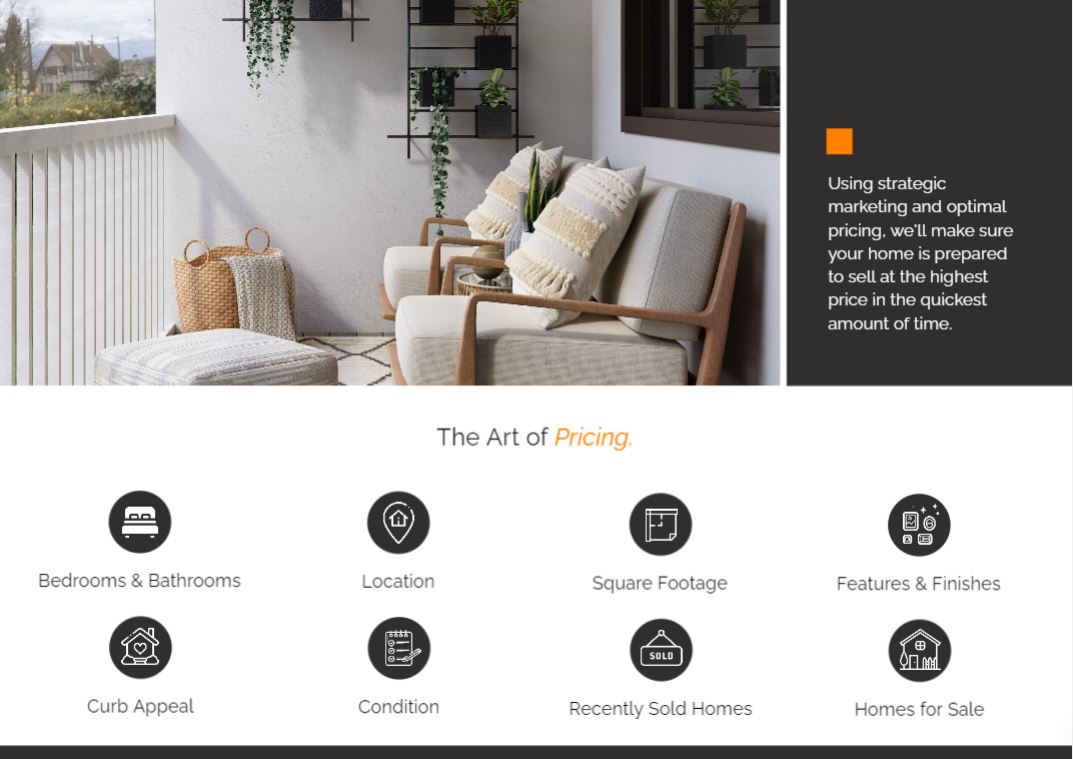 To keep things visually interesting, we suggest using a relevant icon for each item in the list. As you have probably noticed, our template utilizes negative space so that the page looks clean. This also makes your content more digestible.
Part 4: Your Marketing Strategy
Our iPad pre-listing presentation template also includes a section dedicated to marketing: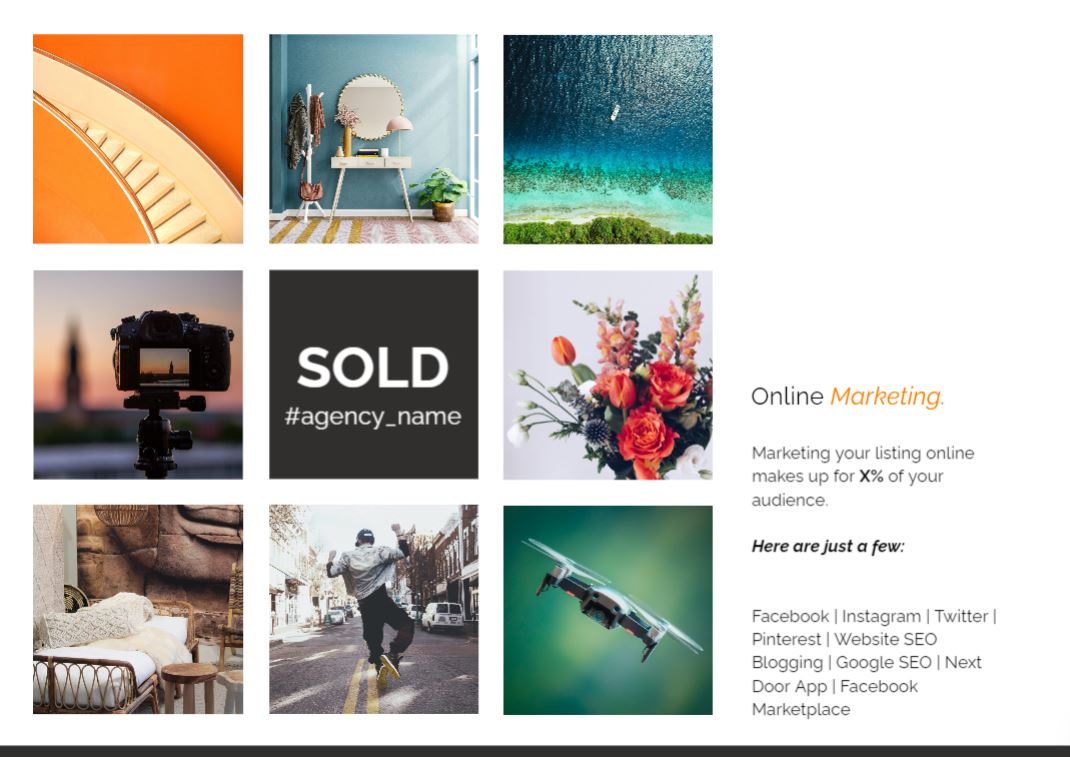 You can use these slides to show clients what promotional strategies you use, including the platforms where you post your listings. You can also showcase your marketing skills, such as your experience with Search Engine Optimization (SEO) and social media advertising: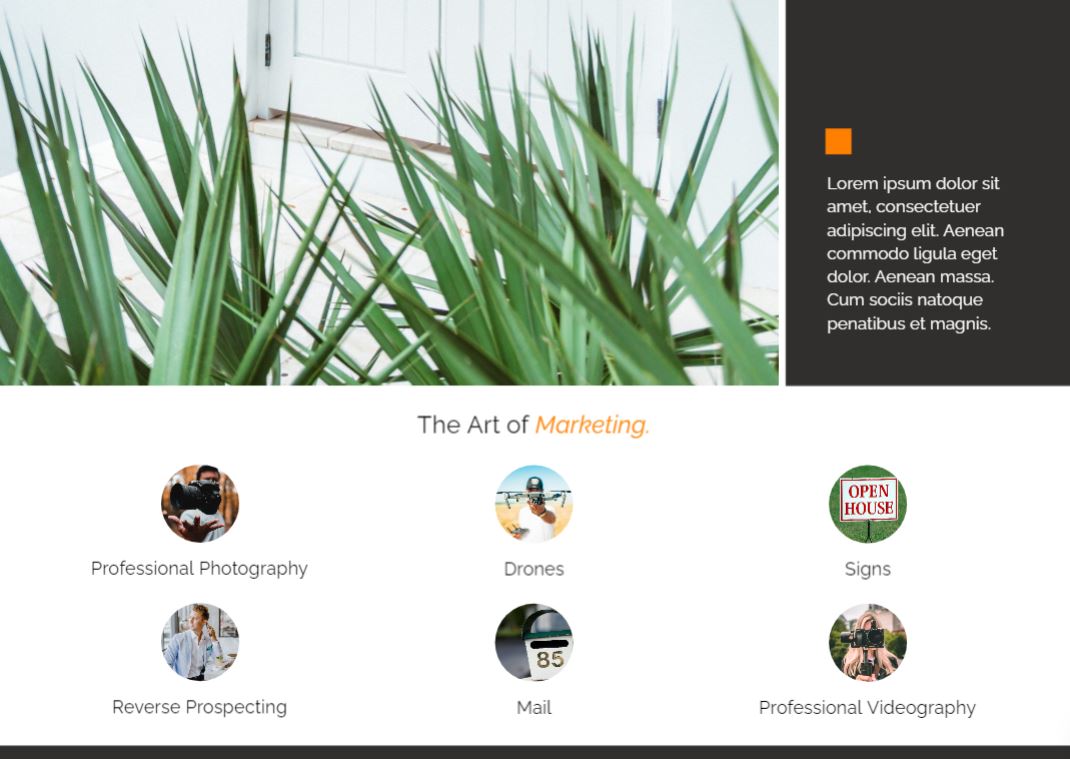 Photography is part and parcel of property listings. Our template helps you show clients that you use sophisticated visuals such as drone photography and videos. Using high-quality imagery in your presentation is an excellent way to prove your creative skills.
Part 5: Your Team
It's also a good idea to provide some information about your core team. Our presentation template contains a slide with neat profile sections: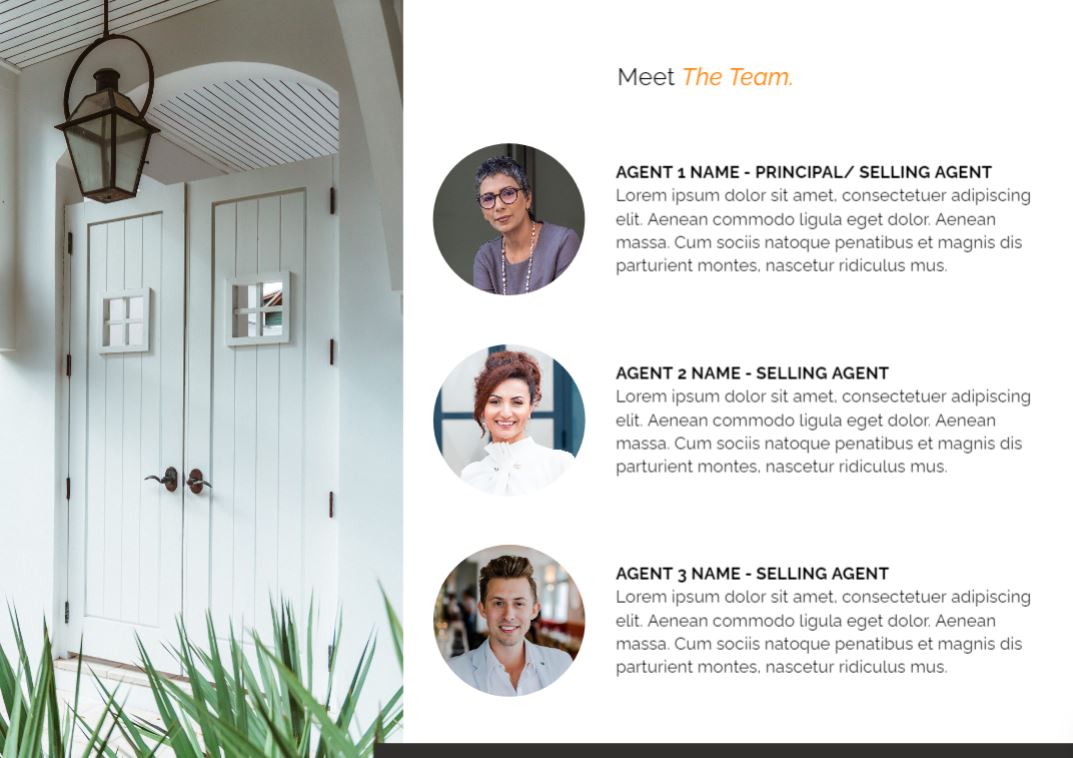 Here you can briefly introduce each member of your team, highlighting their main skills and areas of expertise. For a more personal feel, we suggest using clear portrait shots and informal language.
Part 6: Testimonials and Track Record
Client testimonials are valuable, which is why we chose to include them in our pre-listing presentation template: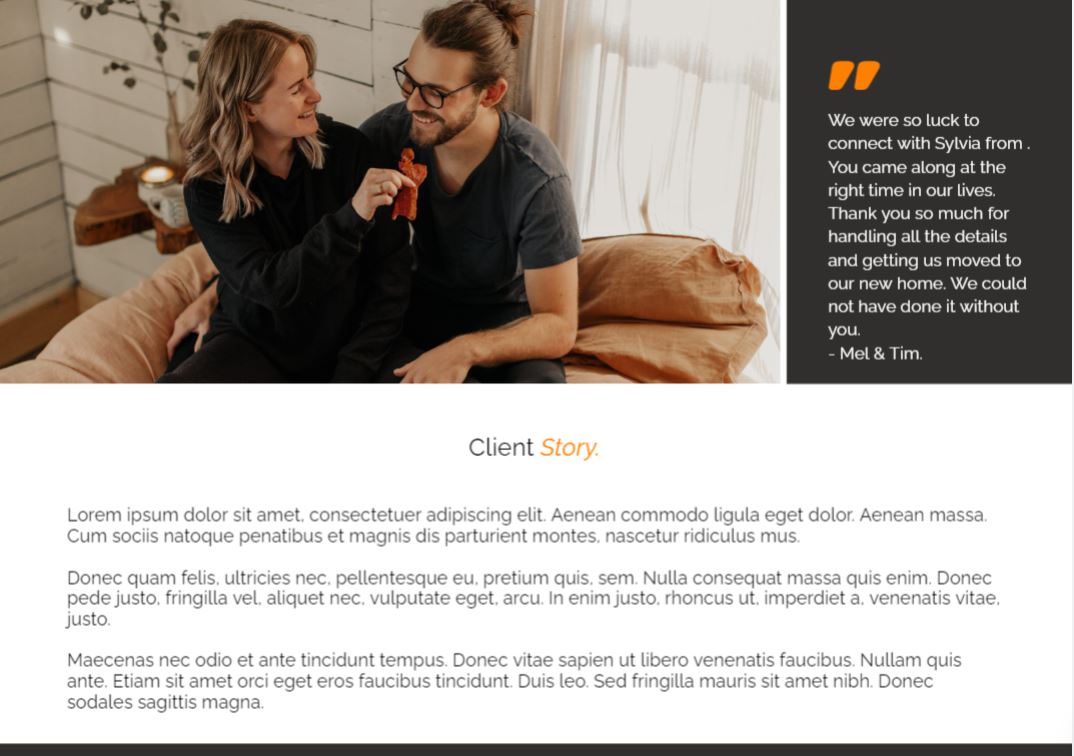 We recommend using photos of real clients and direct quotes. This will make your pitch more authentic, which can help you build trust: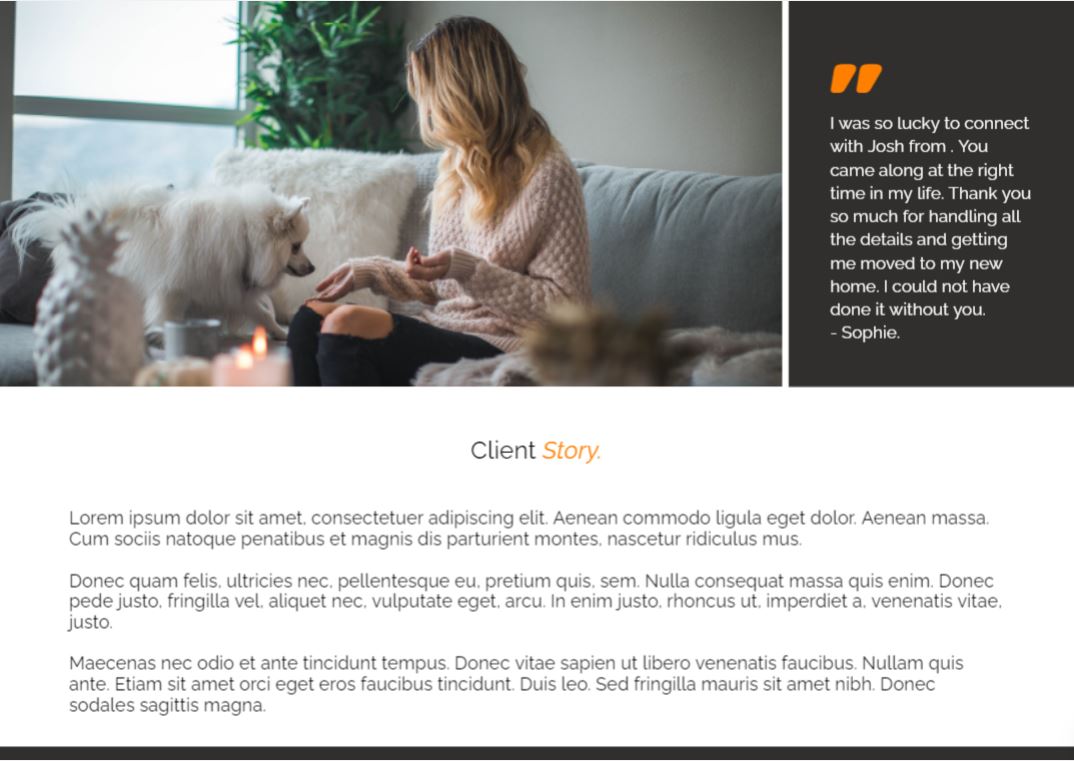 Our template also has a page for your track record. You can use this to showcase your results, such as successful sales in the last few months: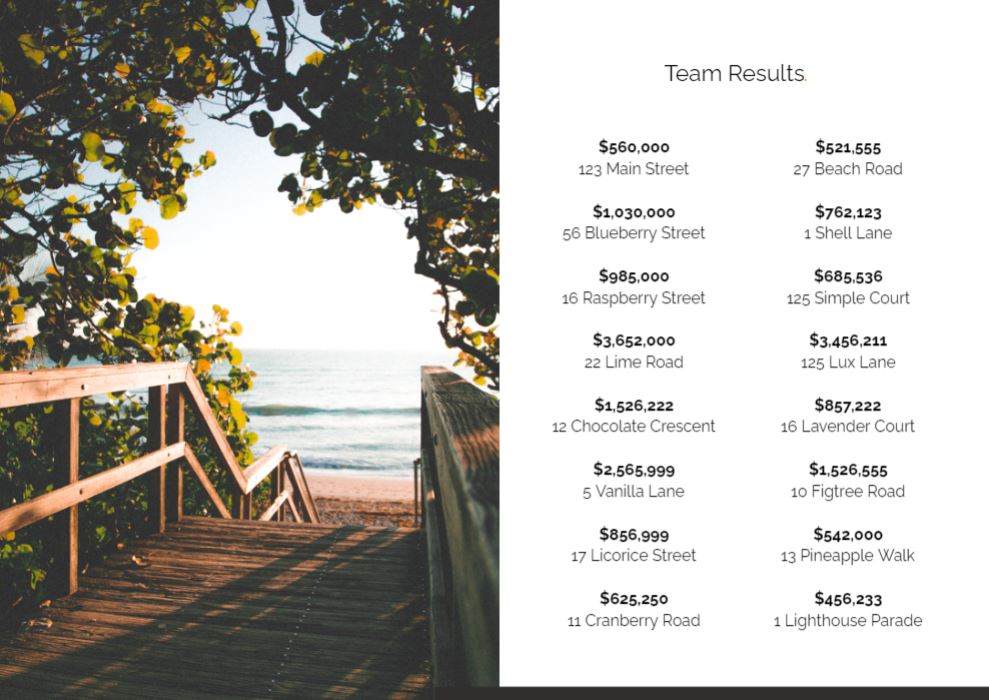 As you can see, the list is very neat and simple. We've placed the focus on the prices, using a bold font to make them stand out.
Part 7: Call to Action
Our pre-listing presentation template concludes with an effective Call To Action (CTA):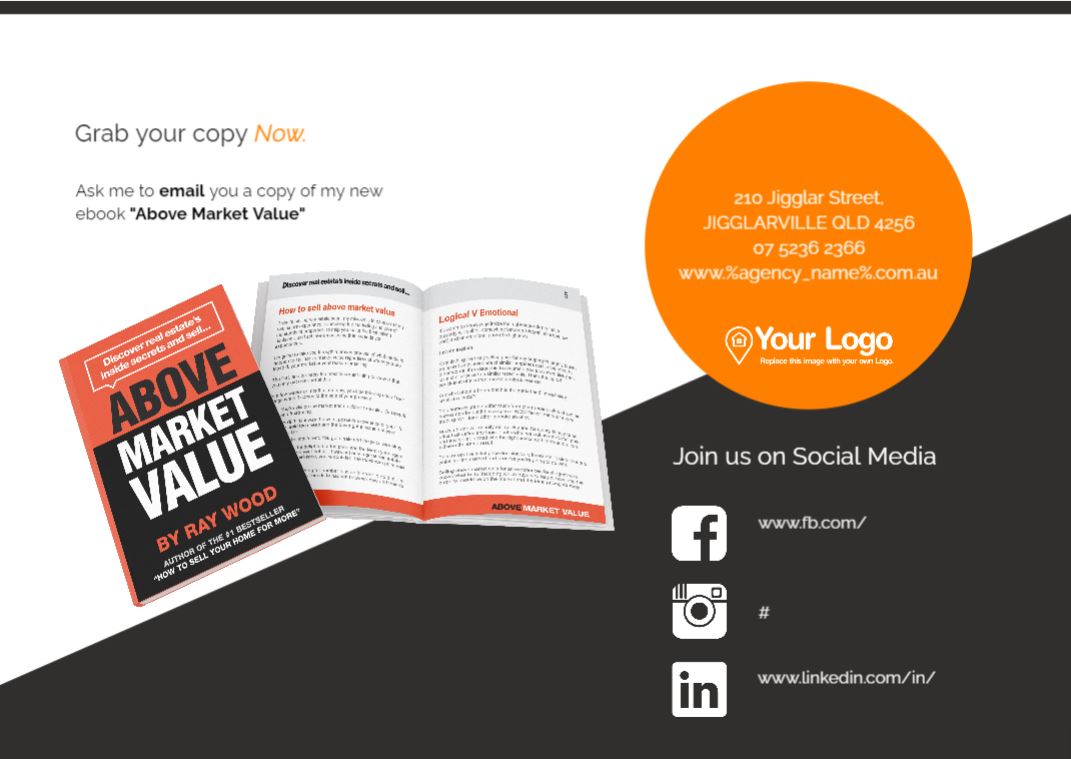 This helps you prompt your readers to take action. For instance, you may ask them to follow you on social media by listing your accounts.
You could also encourage potential clients to get in touch with you or to set up an appointment. Remember to include your contact information, including your office address.
Conclusion
A pre-listing presentation gives you an opportunity to show home sellers what you can do for them, and why they should trust you. Therefore, it's important to ensure that your pitch is impactful and helps you stand out from the competition.
At Jigglar, we have created an iPad friendly pre-listing presentation template that contains all the key components to help you attract new clients. For instance, you can break down the listing process for home sellers, highlight your marketing strategies, and showcase your best testimonials and results.
If you're ready to create your own stunning pre-listing presentation, you can start by signing up for a free Jigglar account!