A listing presentation is like a job pitch. Rather than boring your clients with a simple conversation, it's better to come prepared and impress them with strong visuals. A striking listing presentation sample can help you achieve that but can be challenging to create if you don't have an in-house designer.
Fortunately, you don't need to hire a professional to make a memorable first impression. With our templates, you'll be able to use graphics, stylish fonts, and your own branding to create a stunning listing presentation that wins over new clients.
In this post, we'll discuss what to include in your pitch and take a look at our digital listing presentation sample template. Let's jump right in!
Why You Might Need a Listing Presentation Sample Template
A listing presentation explains your sales process and marketing strategy to potential leads. It should convey your message clearly, and hopefully convince the homeowner that you're the best person to sell their property.
Here are the main ingredients of any listing presentation:
Market analysis: What are the comparable sales figures? How are you going to price the property?
Your marketing approach: How are you going to attract interest to your client's home?
Testimonials: Can you provide social proof that you are trustworthy and competent?
In order to stand out, your presentation should also include:
Your branding: You can include your logo throughout all relevant materials, and use colors that best represent your business.
High-quality visual aids: It's best to use clean layouts and attention-grabbing copy.
Stunning photographs: If your pictures leave much to be desired, you can use retouching services to improve them.
This can sound like a tall order. However, working with a template rather than starting from scratch will save you a lot of time and money. It can also deliver more professional results, as our solutions are 100% focused on the needs of real estate businesses.
You can easily customize your template, populate it with all the relevant information, and focus on practicing your pitch rather than chasing after designers. Best of all, you can sign up for free and see for yourself if this process works for you.
Our Digital Listing Presentation Sample Template for Realtors (6 Key Tips)
Now that we've discussed the benefits of using a listing presentation sample template, let's look at what that means in practice.
1. Opening Your Presentation
The opening page of this template grabs the viewer's attention, with a large background image and your logo at the forefront. It's minimal yet compelling, due to the strategic use of graphics and bold fonts: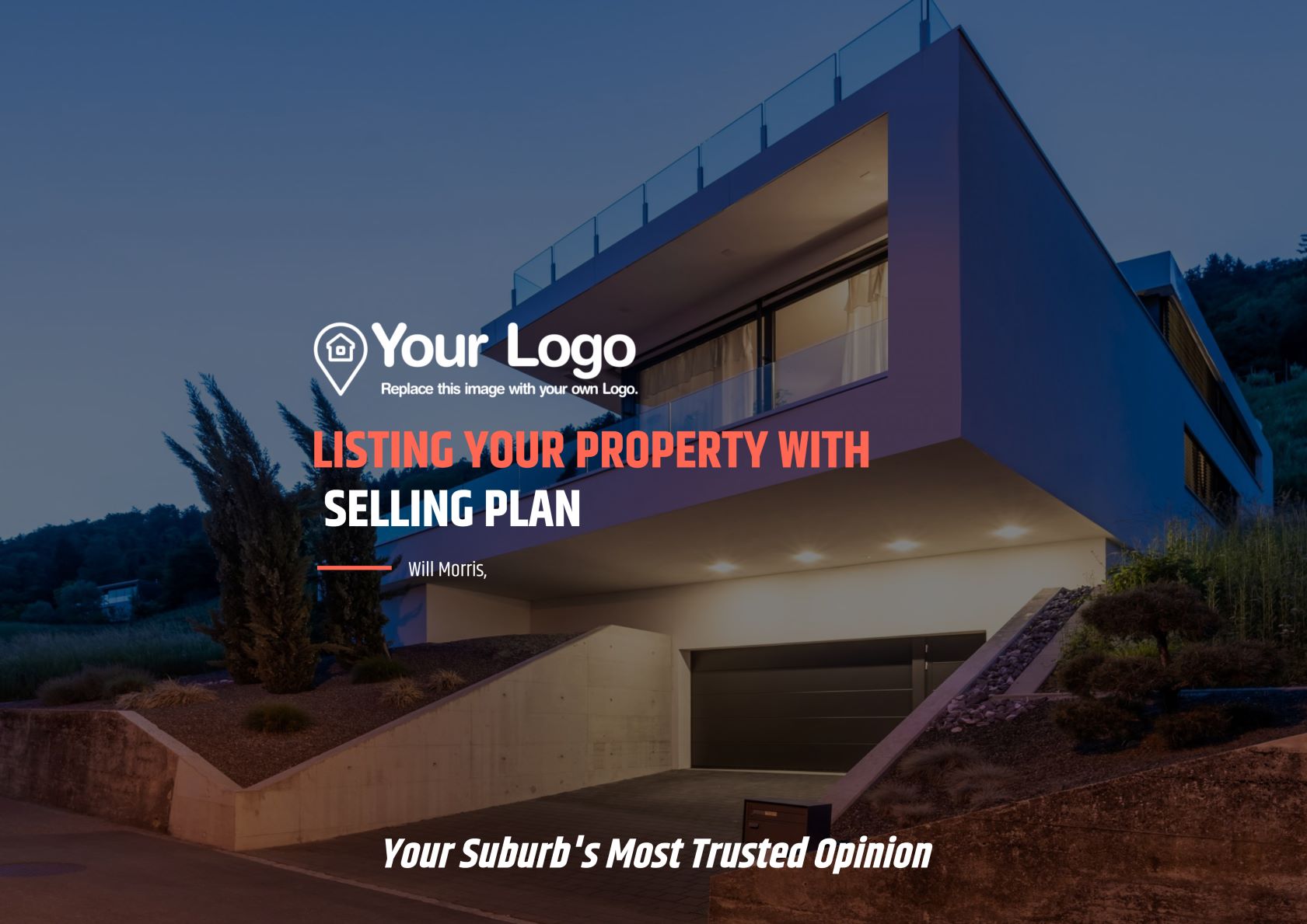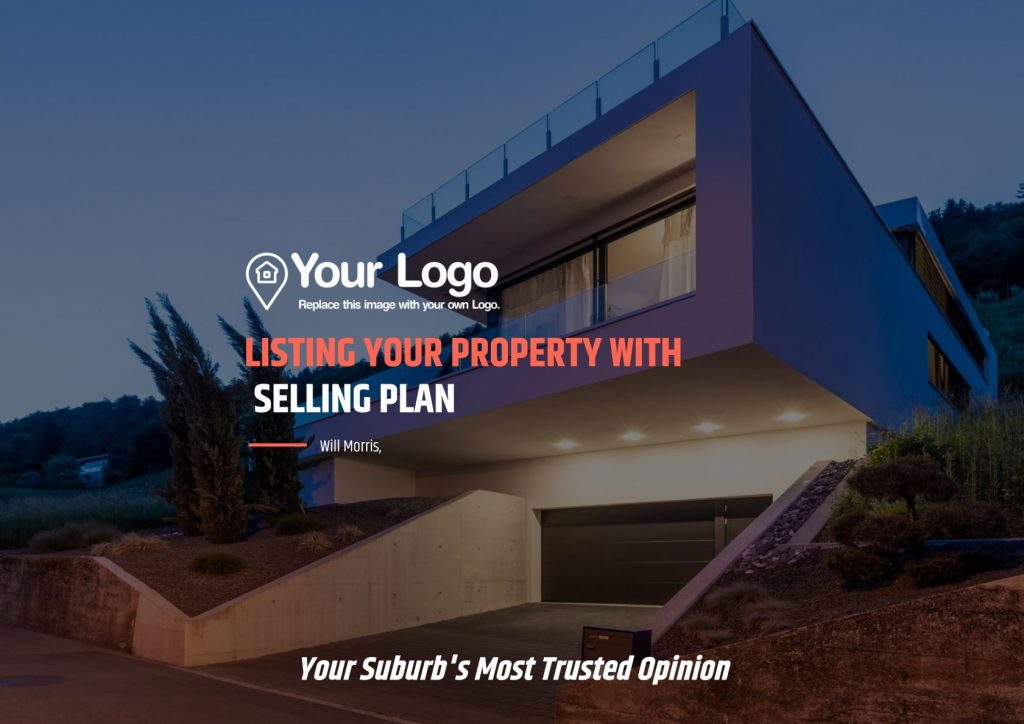 Before you get into the nitty-gritty details, it's best to start by taking your client through a summary of your presentation: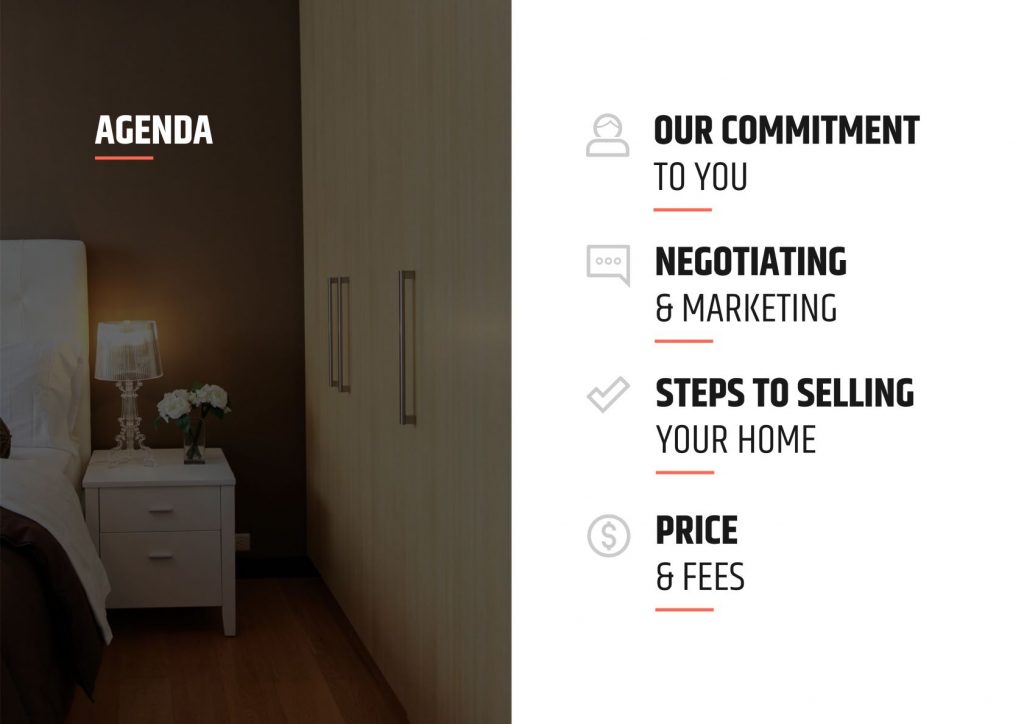 The icons and use of color are designed to lead the eye towards the most critical information: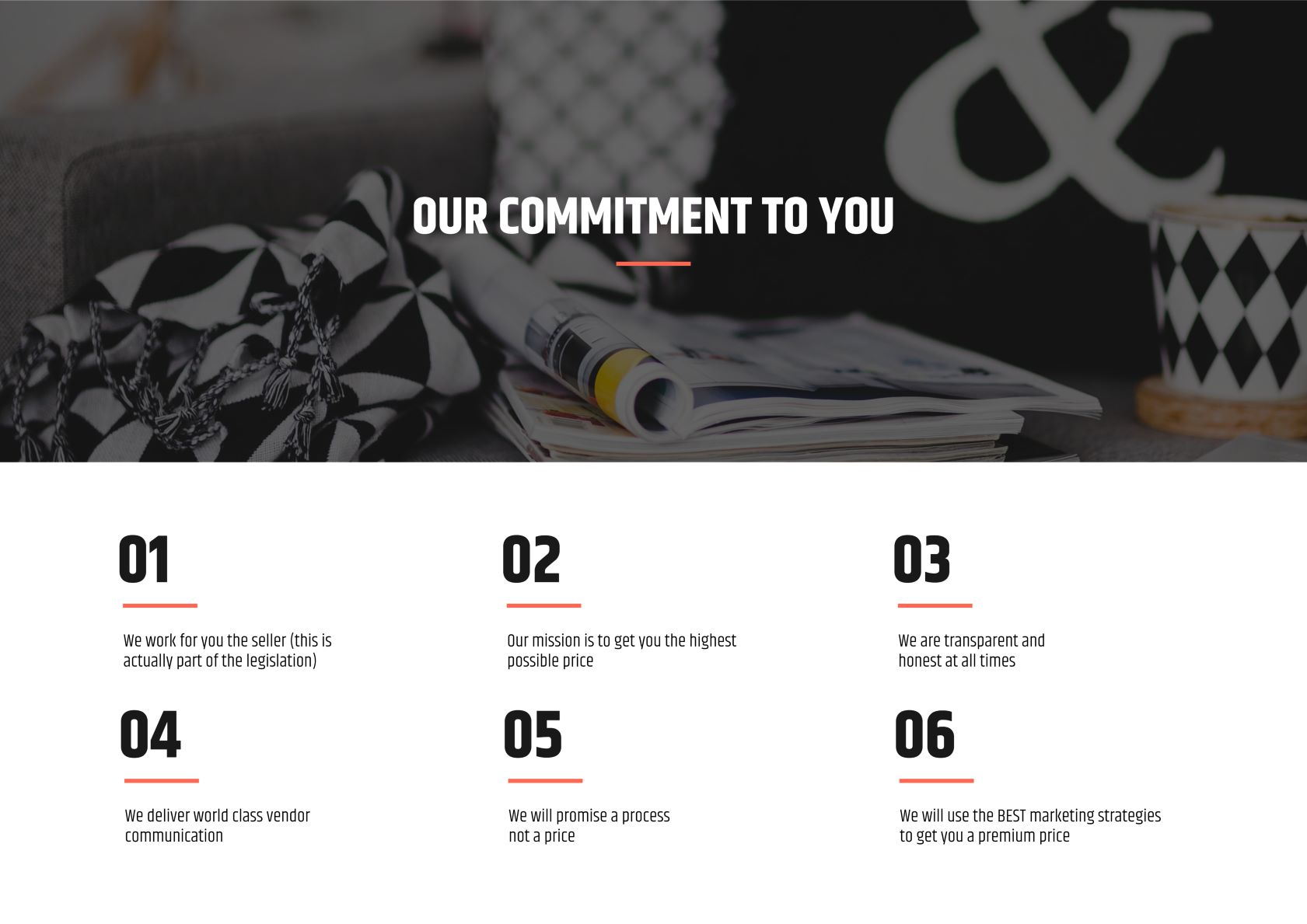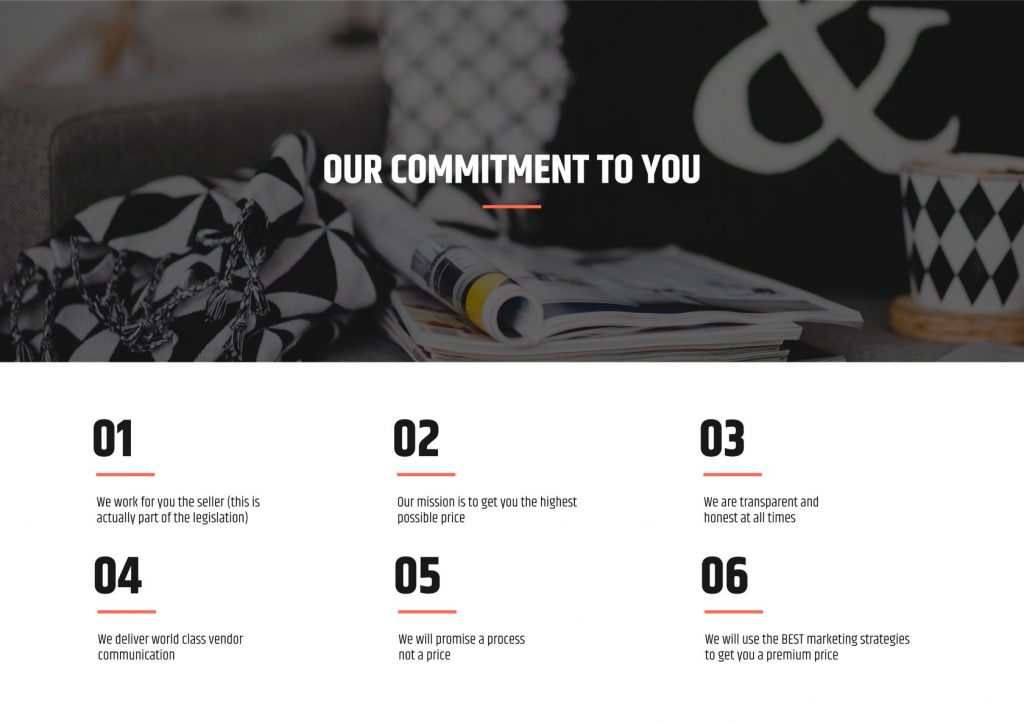 At this point, it's also a good idea to tell the homeowner about your values and mission.
2. Testimonials
On the testimonials page of our listing presentation sample template, you can showcase your best reviews. You can even include a photo of your most recently-sold property, along with details such as the price, offers made, and days on the market: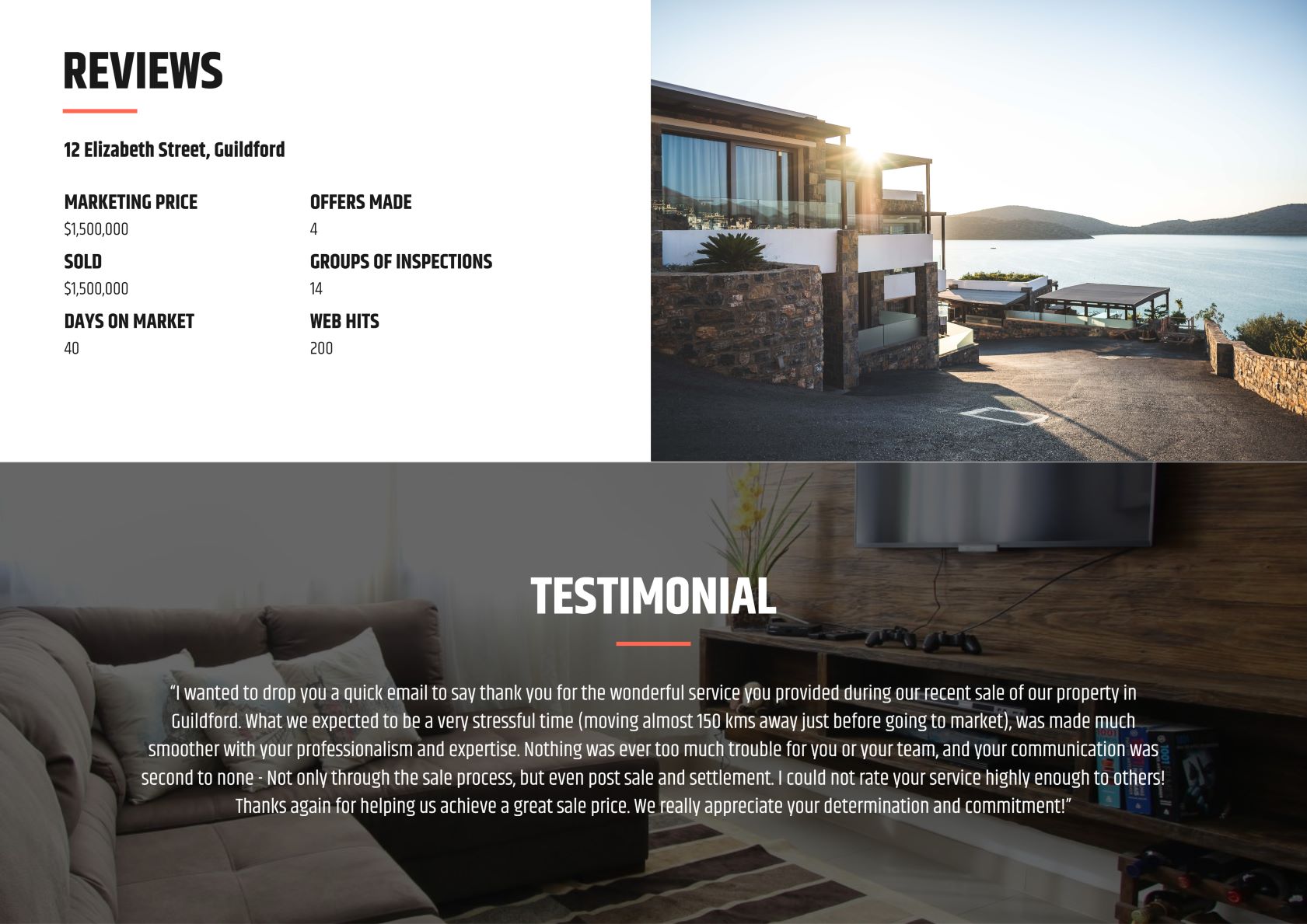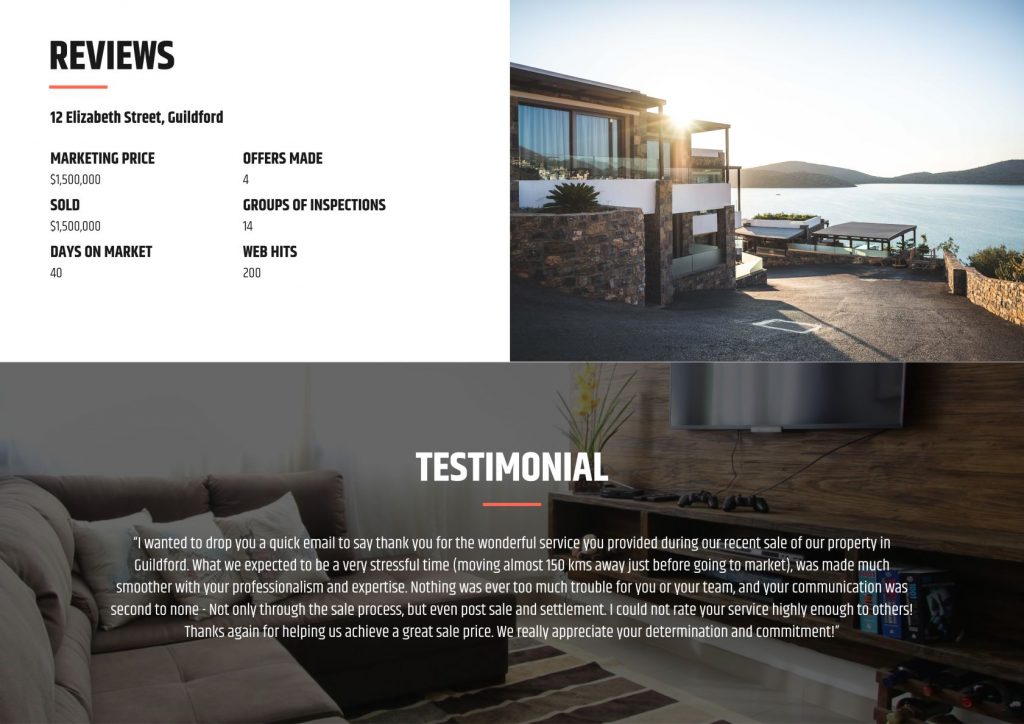 Don't be afraid to use direct quotes, as they provide social proof of your expertise.
3. Marketing Plan
Next it's time to talk about your marketing strategy, and show the homeowner how you intend to deliver top results: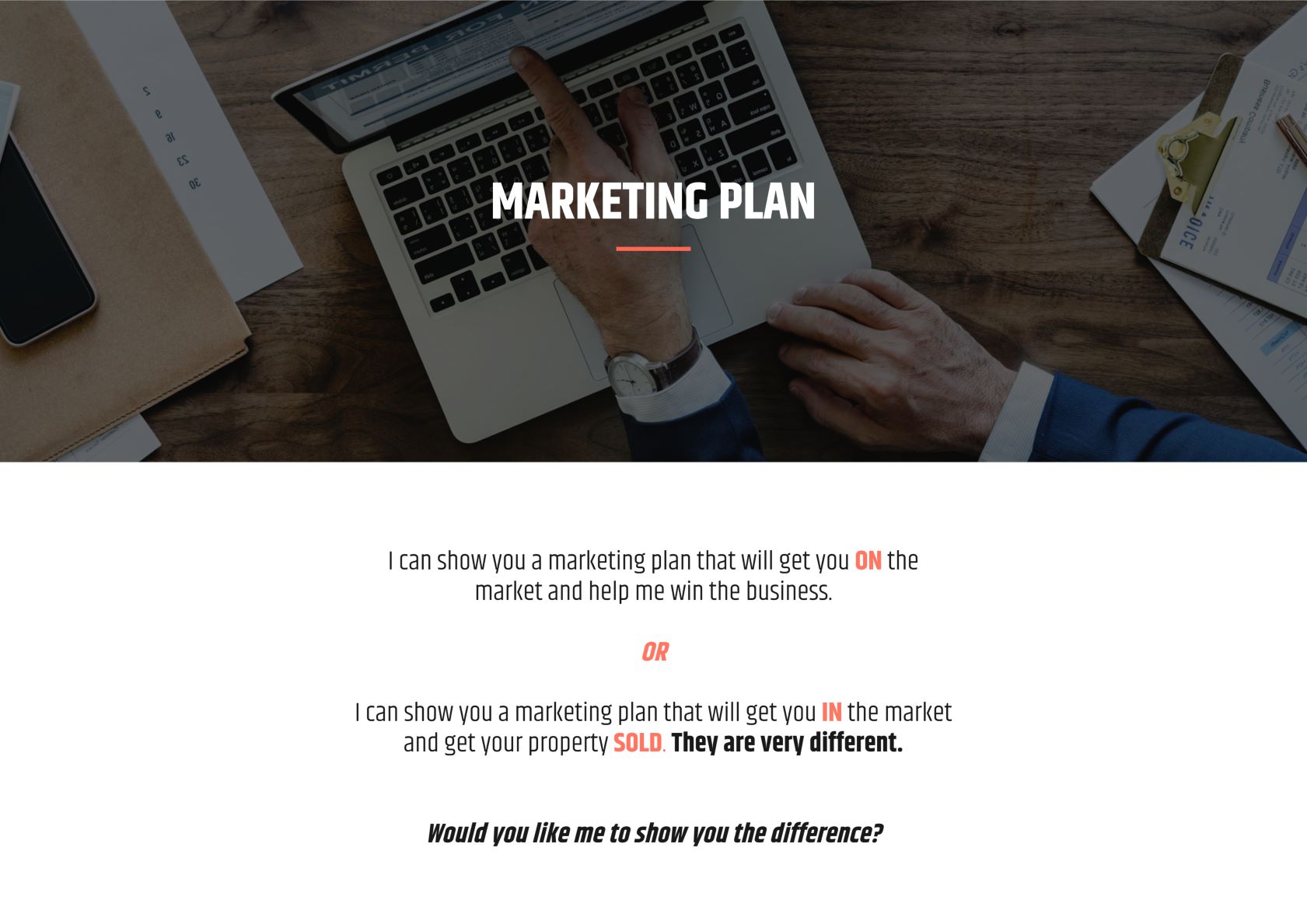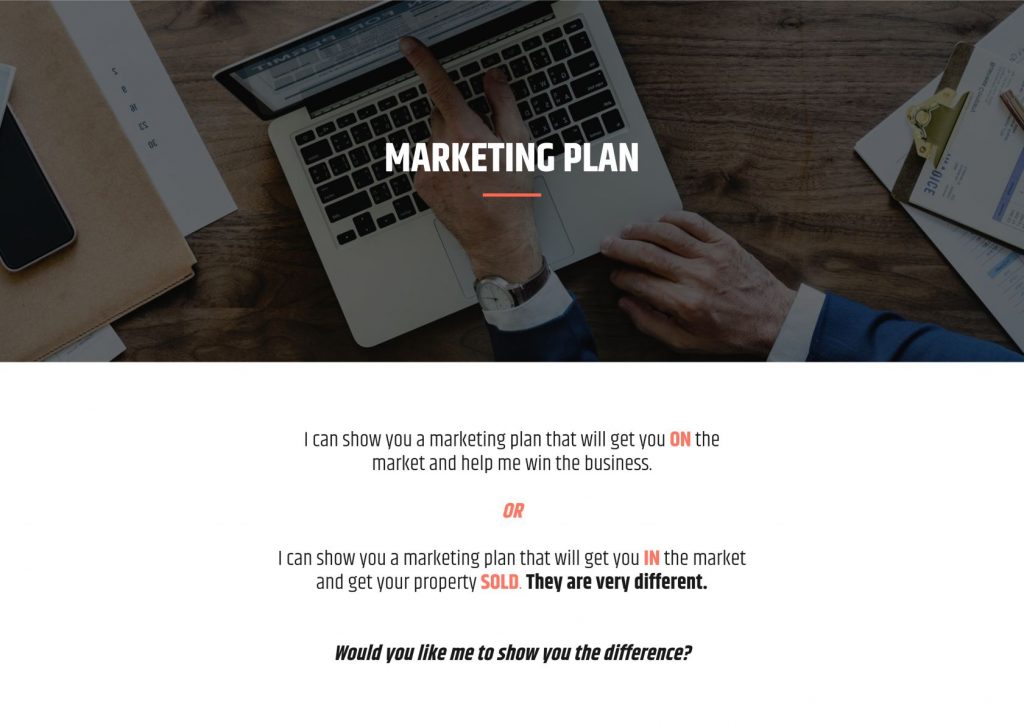 You can start by giving an overview of potential buyers and their backgrounds, while showcasing your best photographs: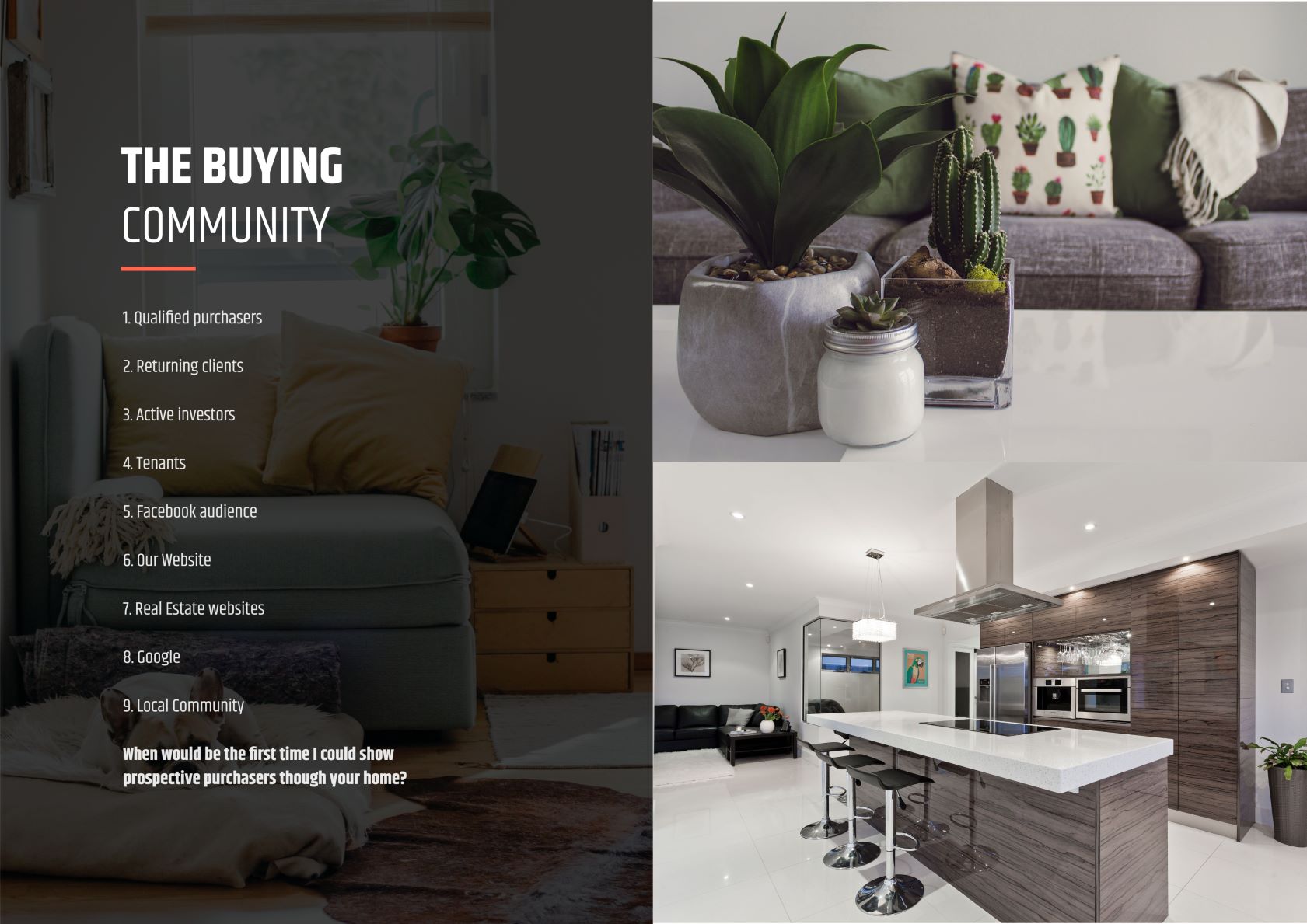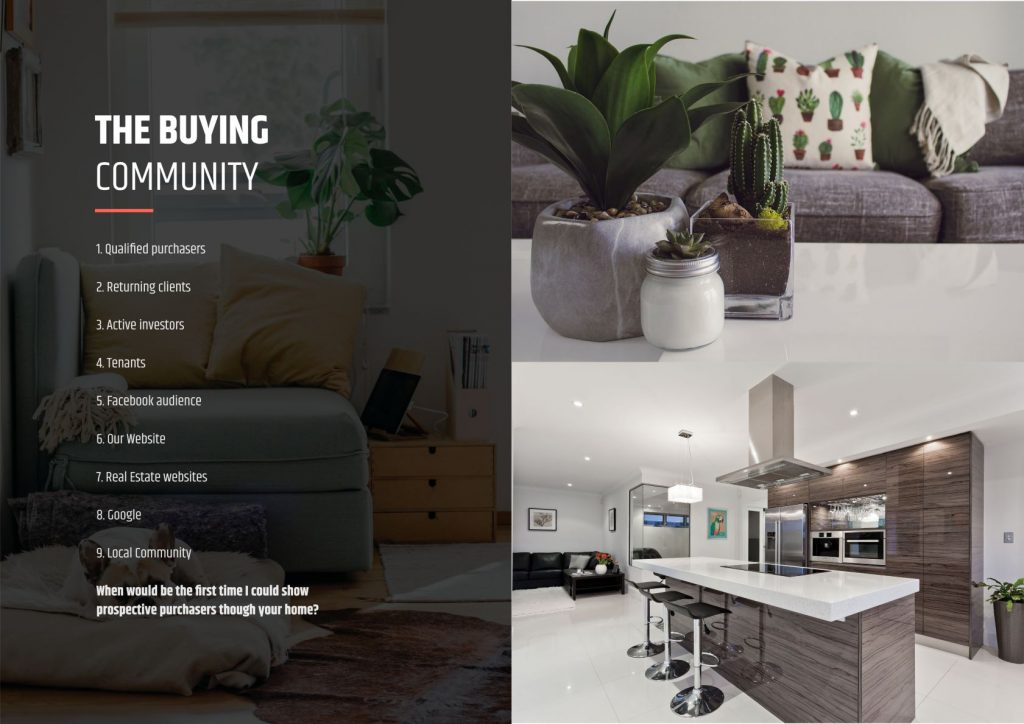 After that, you may want to discuss all the marketing channels you plan to use, such as social media or traditional brochures: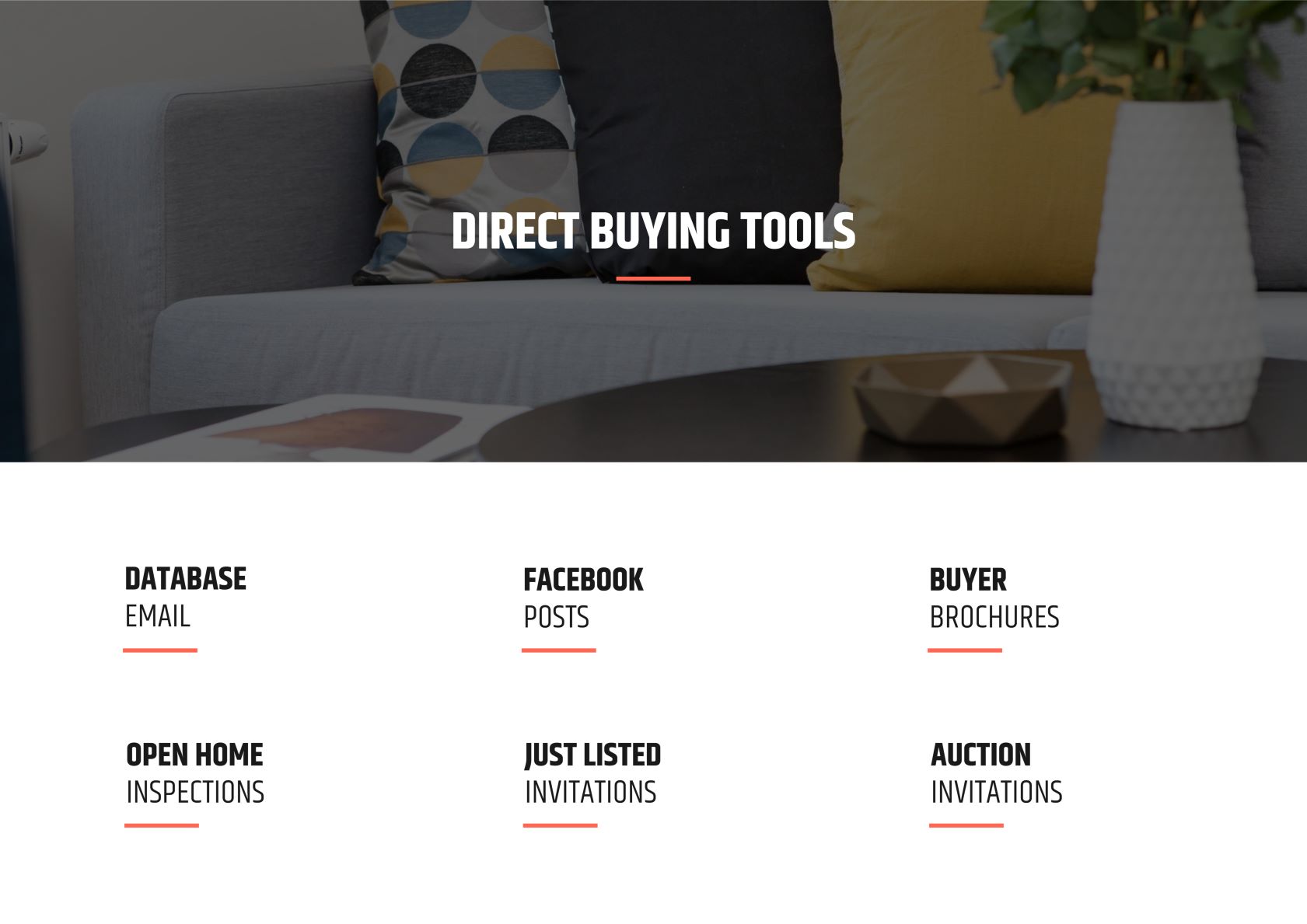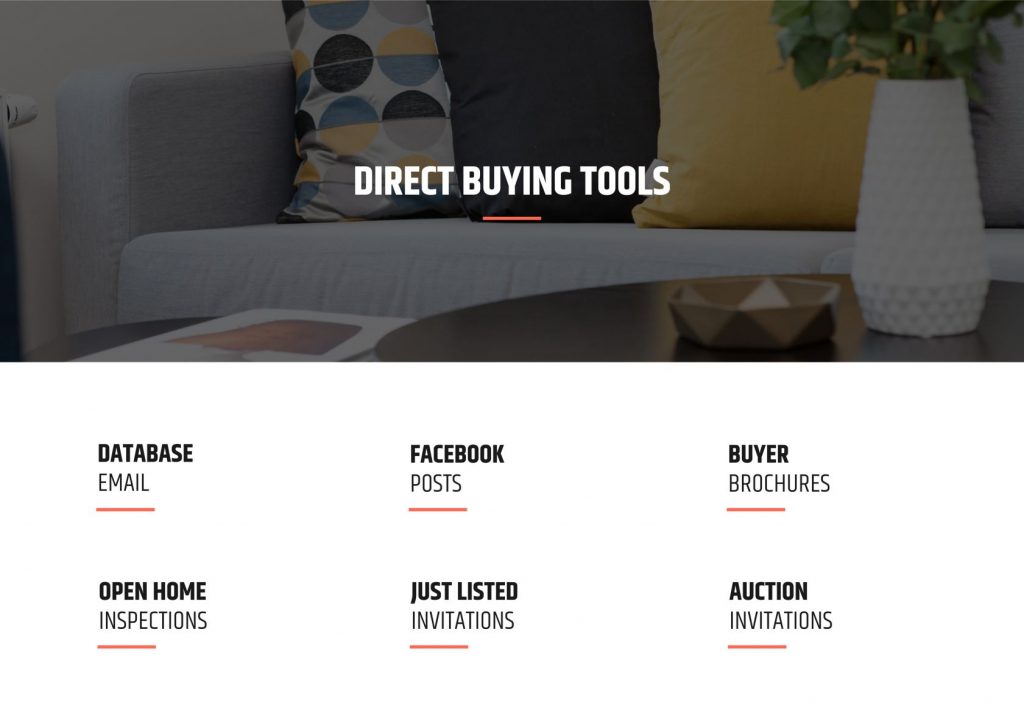 Our template leverages the use of negative space on these pages, so your clients won't feel overwhelmed by too much information.
4. Selling Methods
The next natural step is to discuss your approach to selling: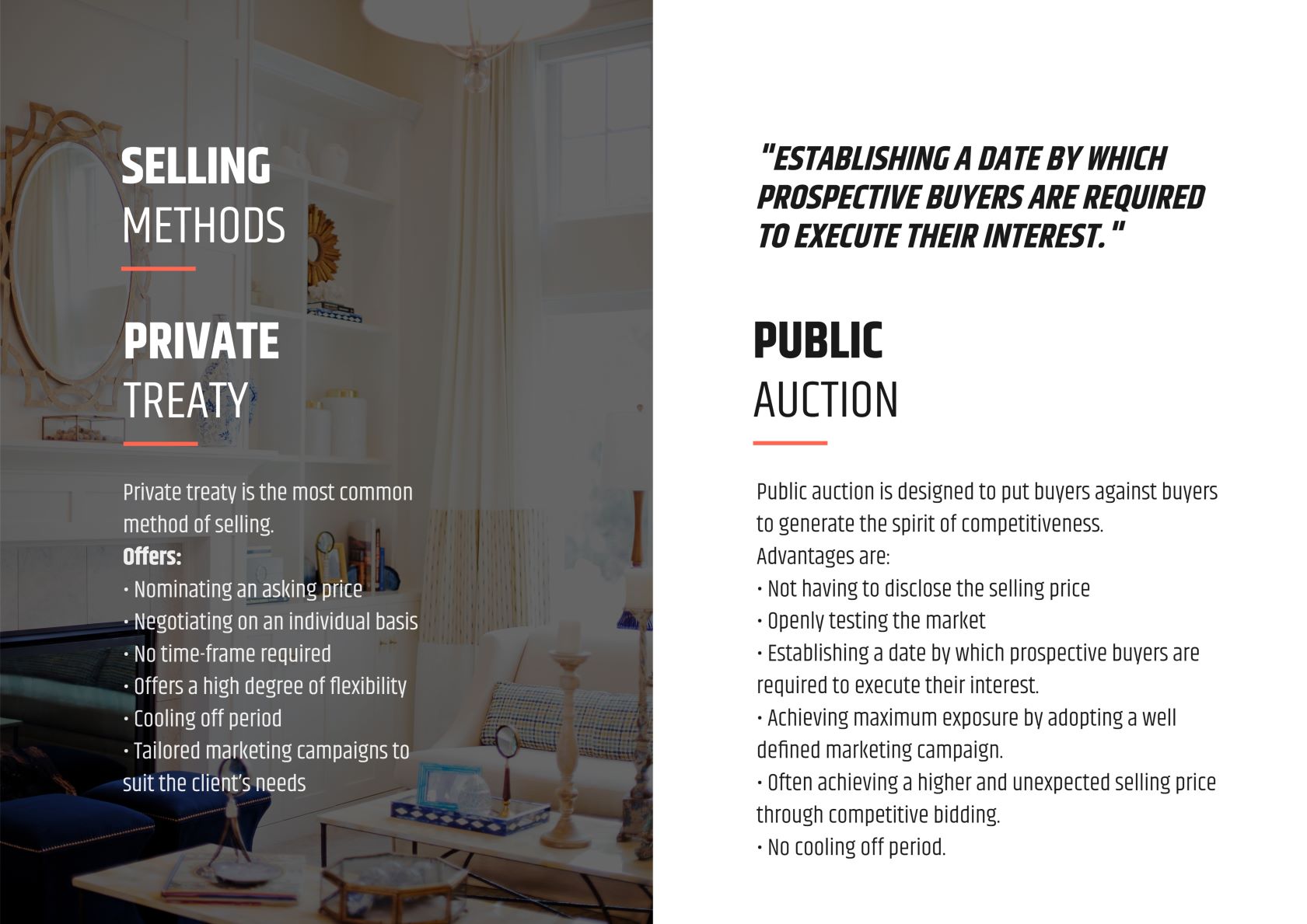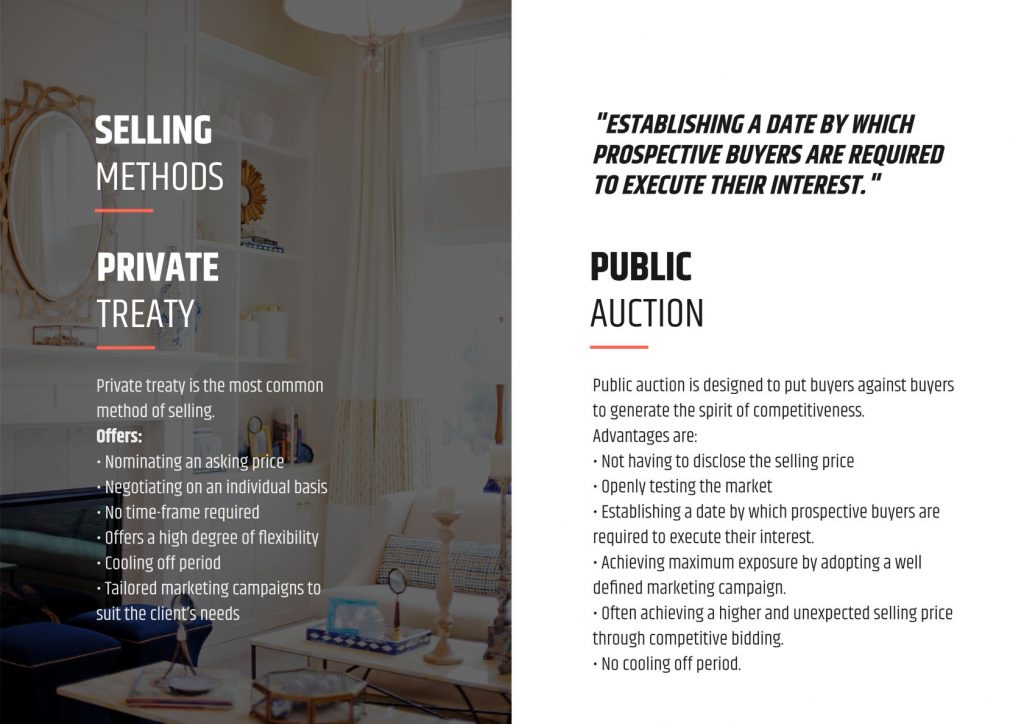 On this page, you can explain the benefits of different methods, and even contrast them so that your client can understand how each one works. The key here is to be transparent and honest.
5. Market Data
Getting the price right means you need to base your rough estimate on concrete facts: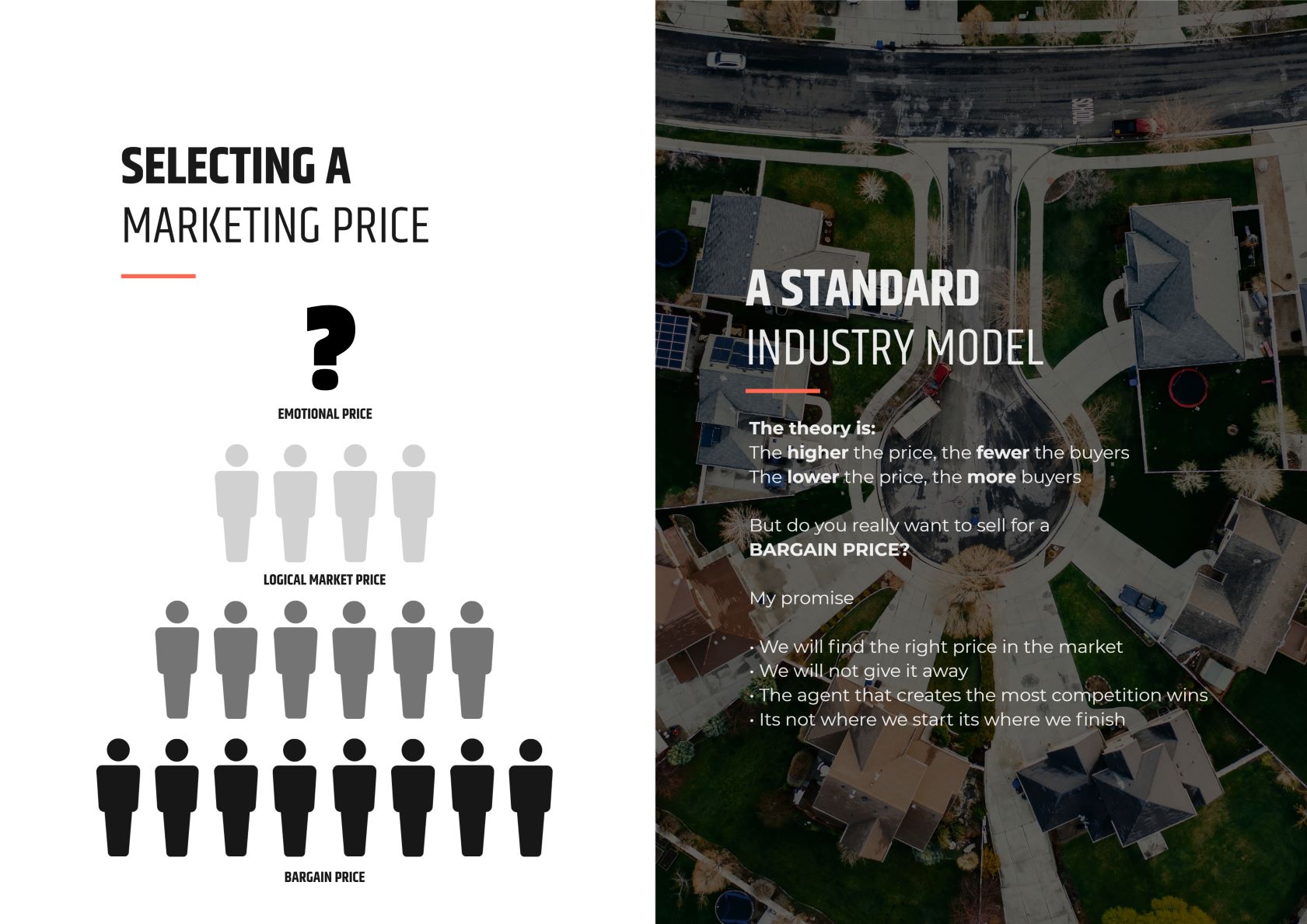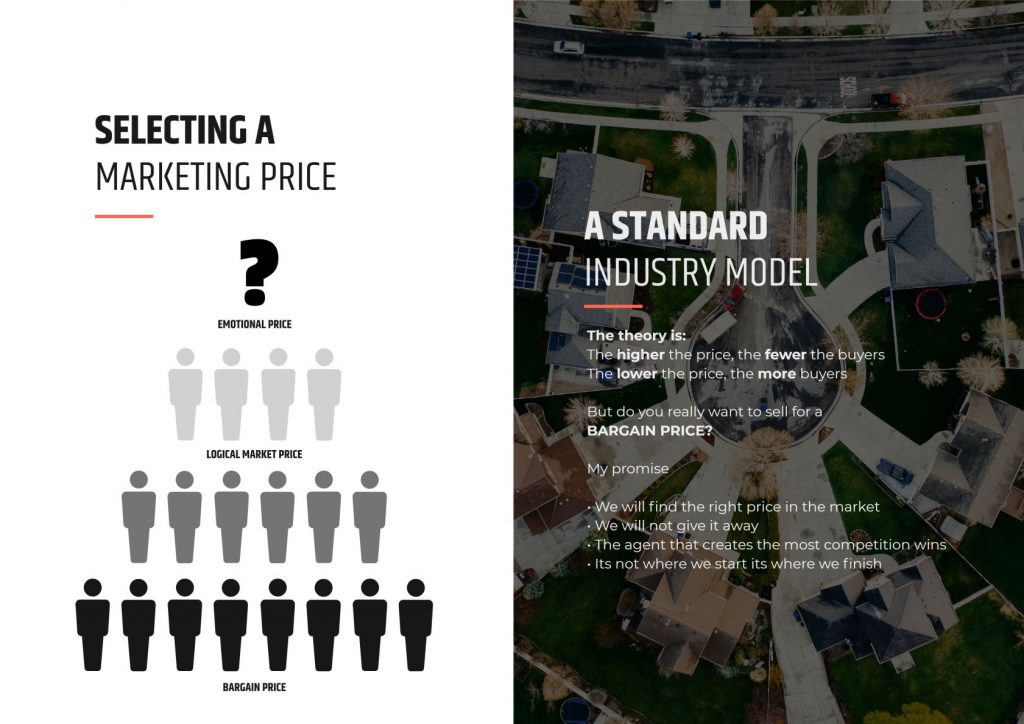 Our template gives you all the space you need to display graphs, facts, and figures without it all looking messy: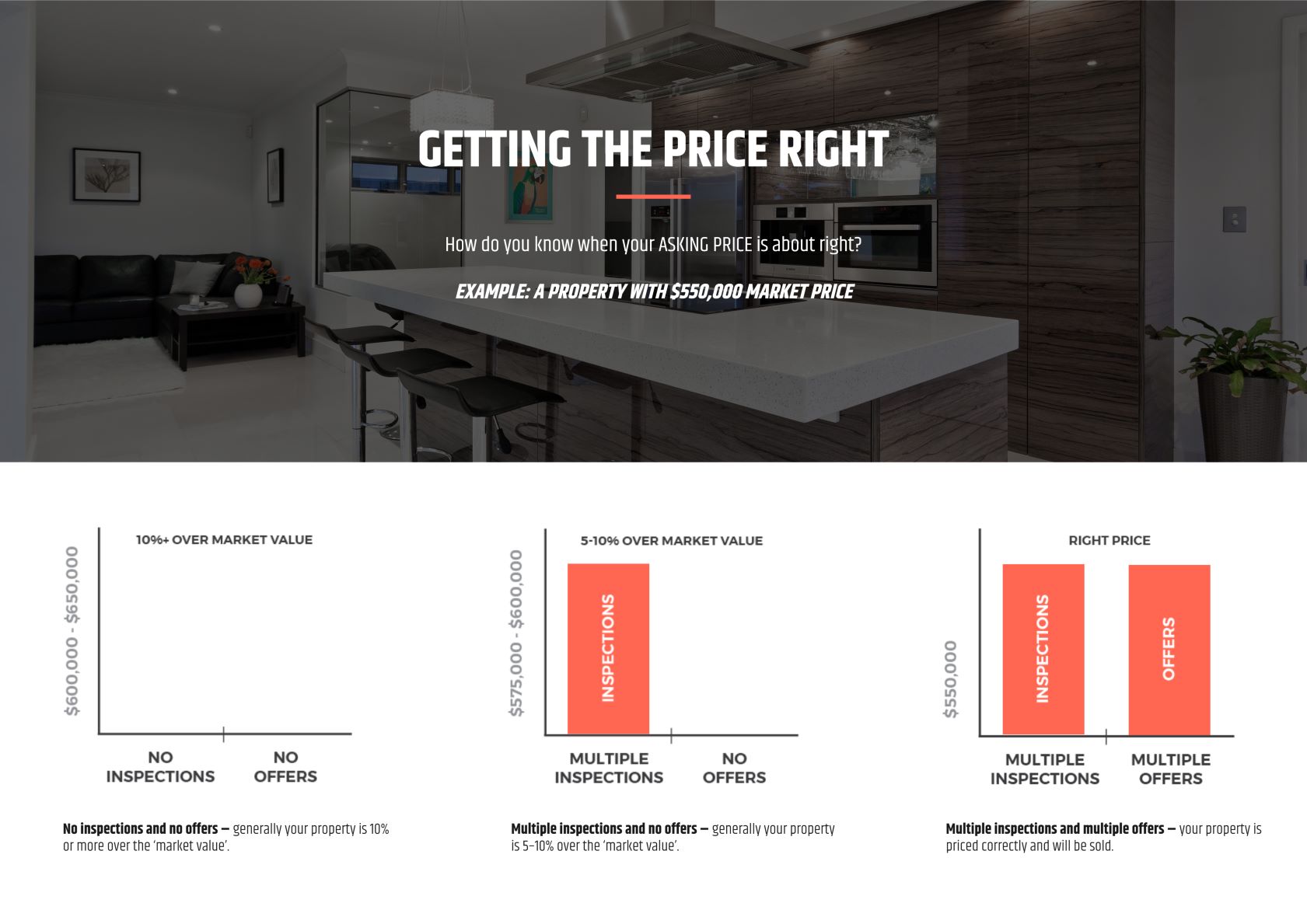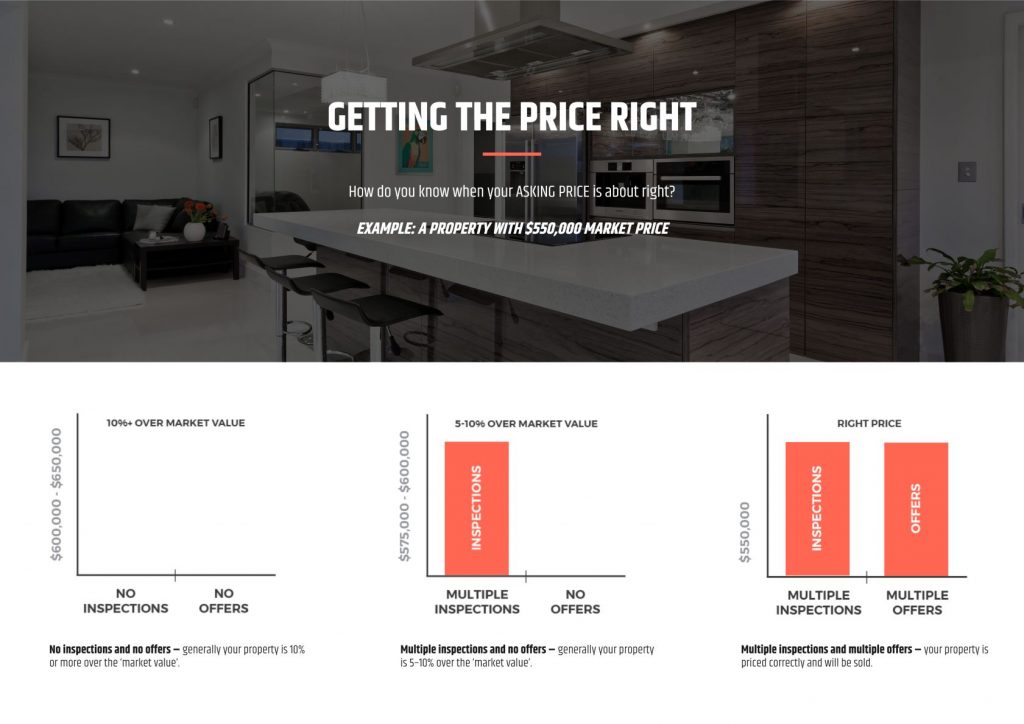 You can customize all of the included graphics to illustrate how the housing market works in your area: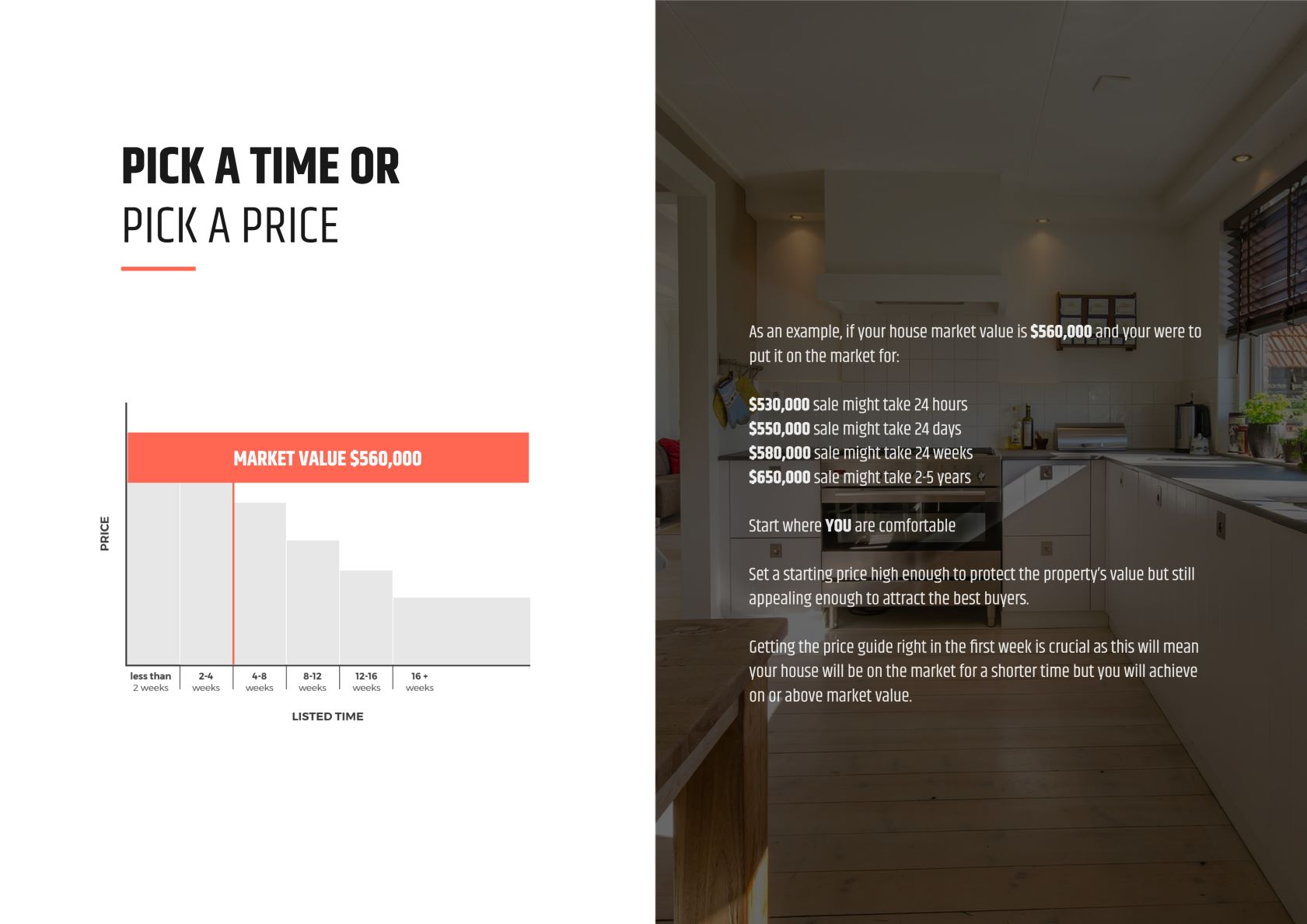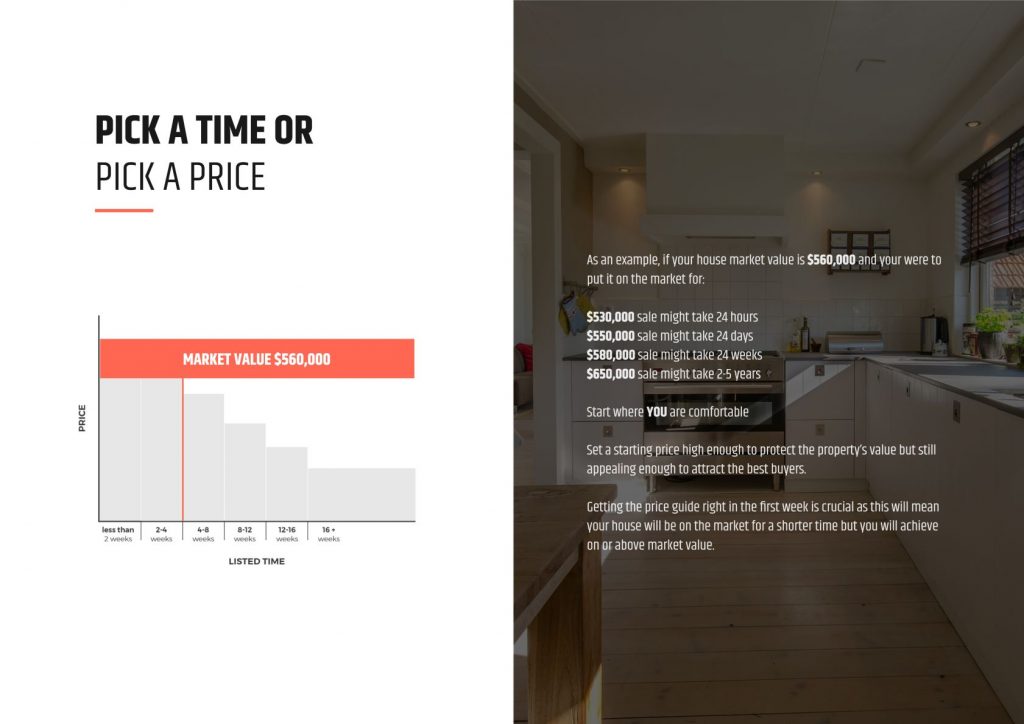 Explaining the intricacies of real estate will also help you manage the homeowner's expectations: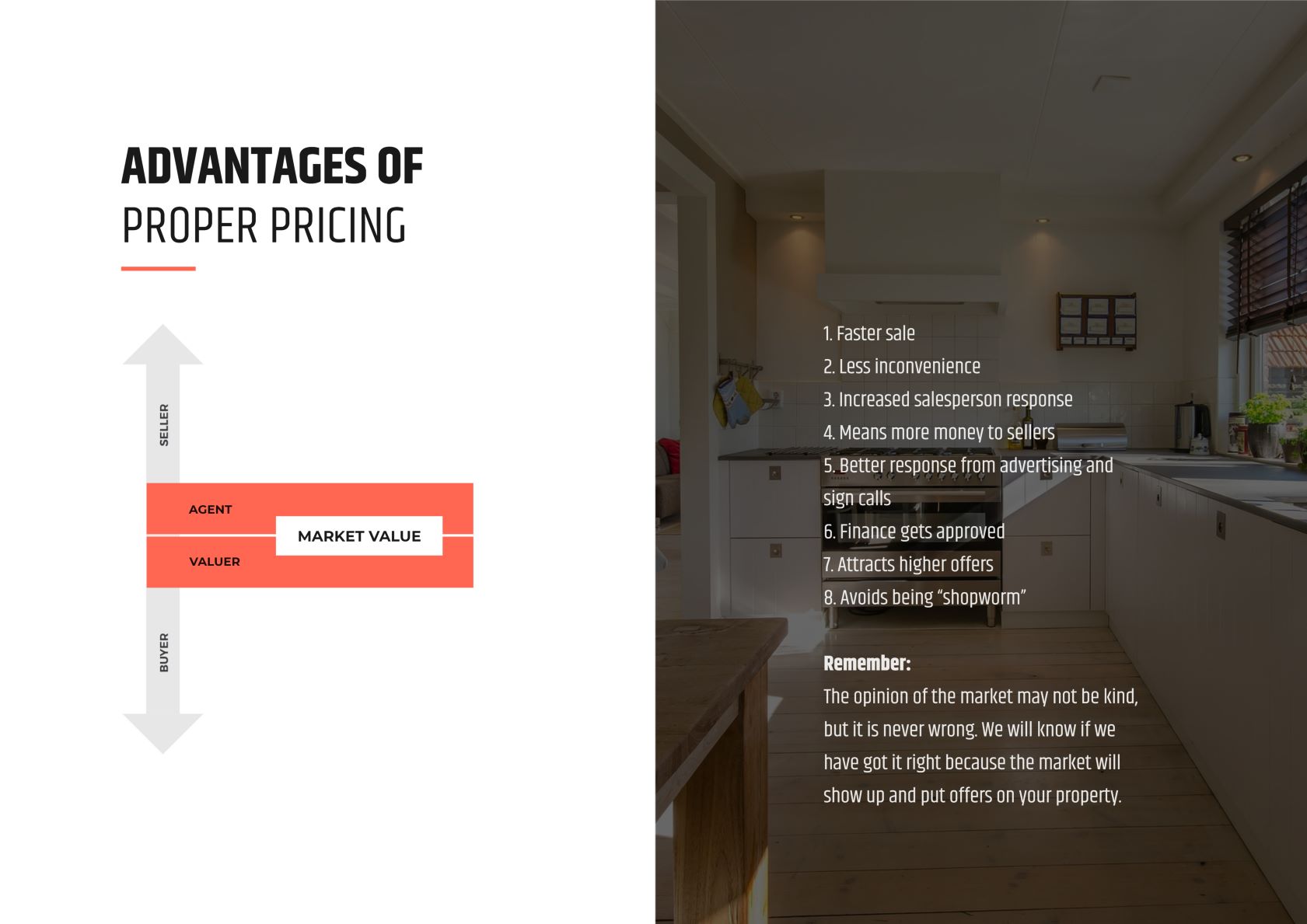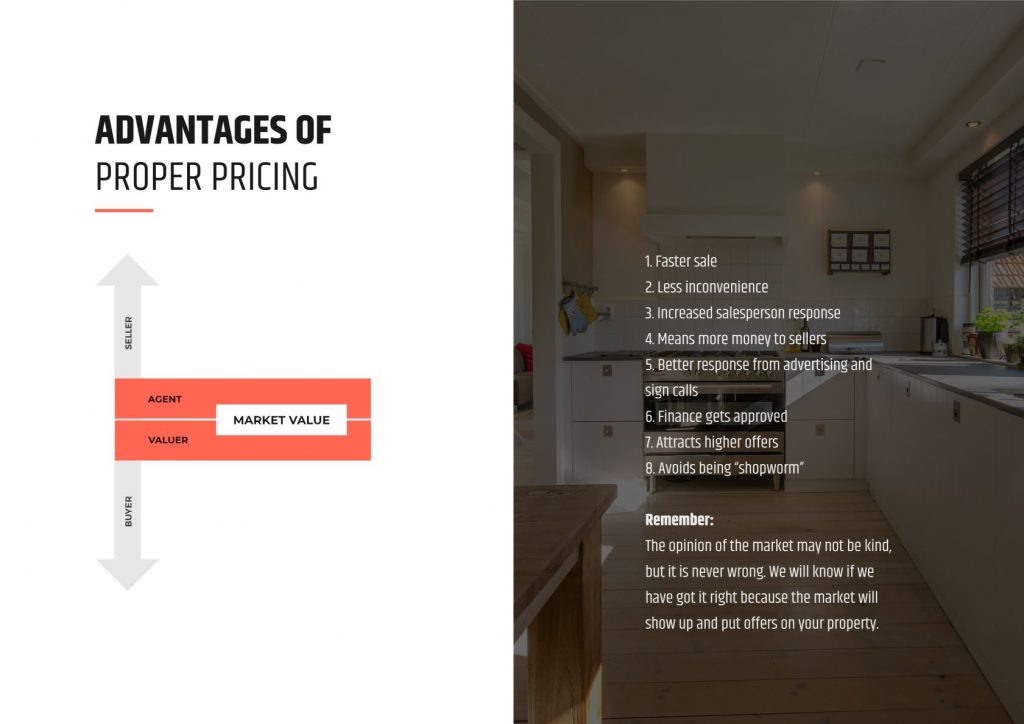 All of these data pages boast a clean and simple design, to help you communicate complex information in a straightforward way.
6. Closing the Deal
To reiterate that you are the best agent to represent your potential client, you may want to end by recapping your expertise and values: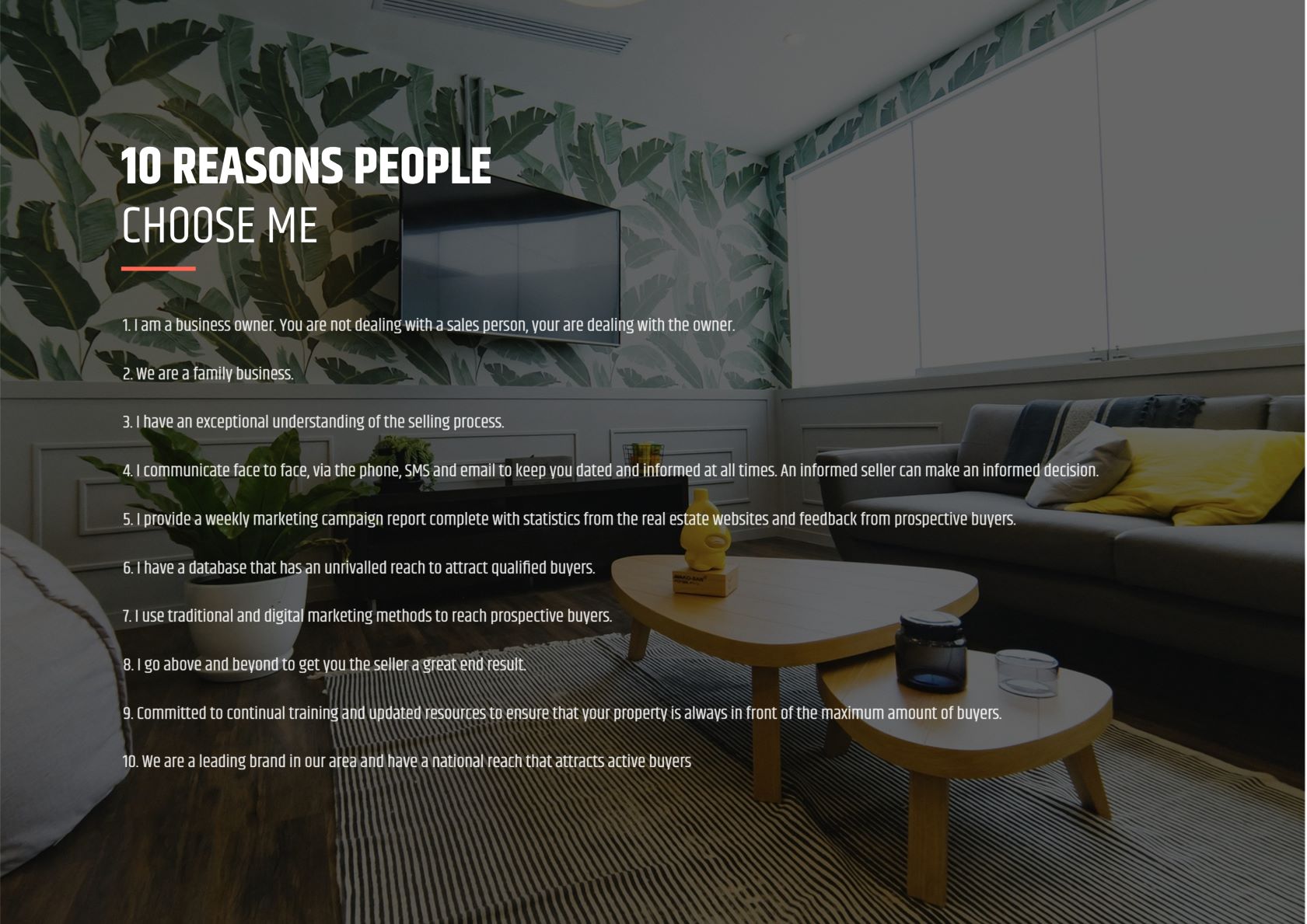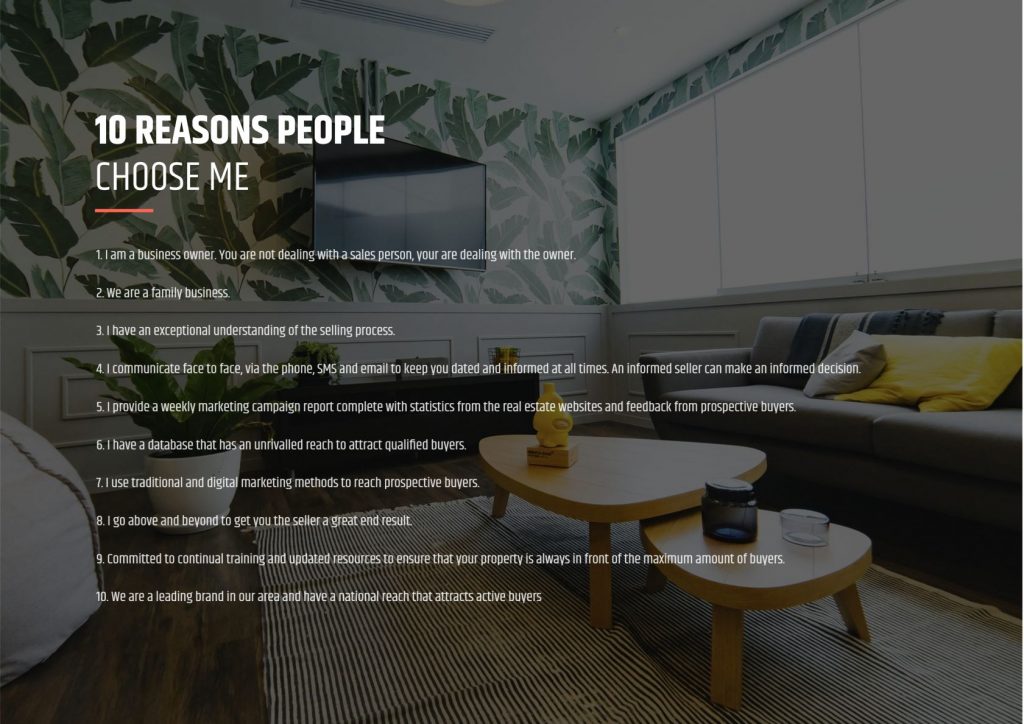 Tell them why they should choose you above anyone else, and make sure your strengths are clear: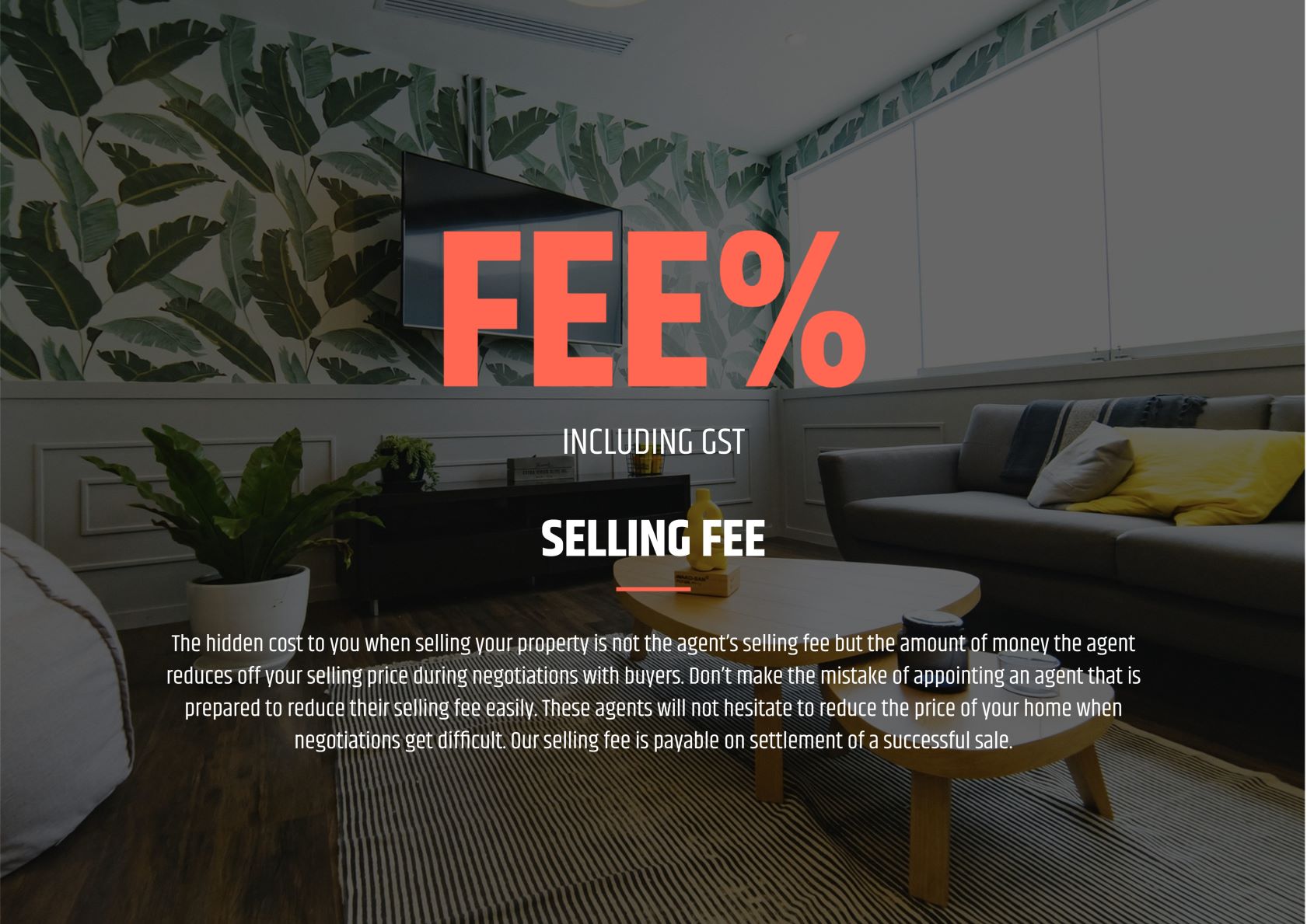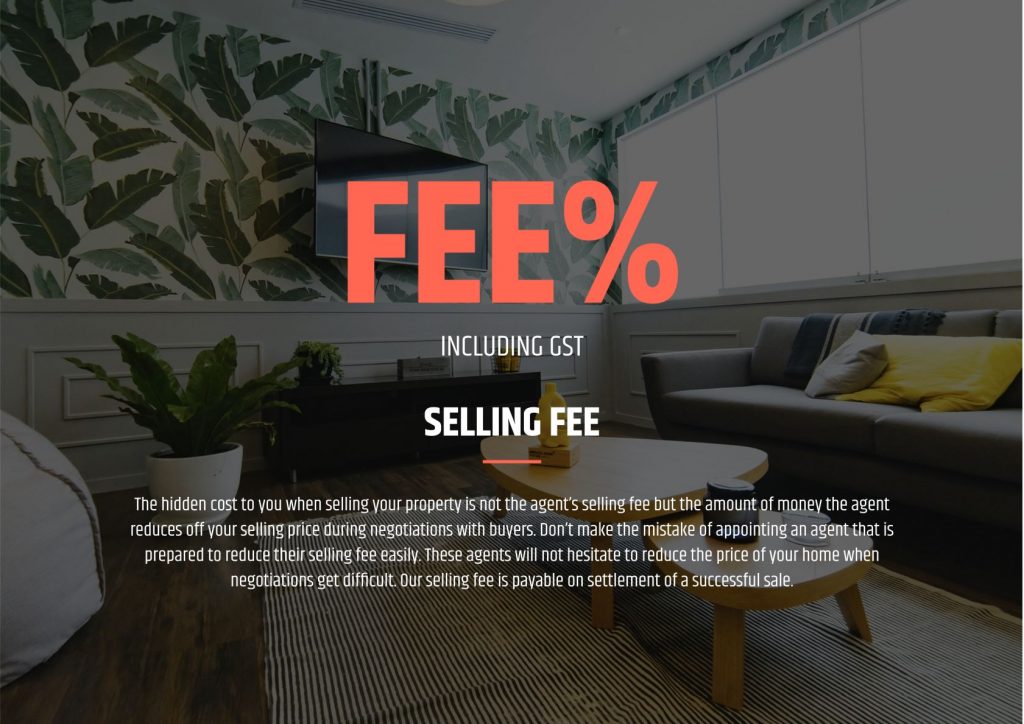 Finally, remember to discuss your fees, and close your presentation with an overview of the next steps: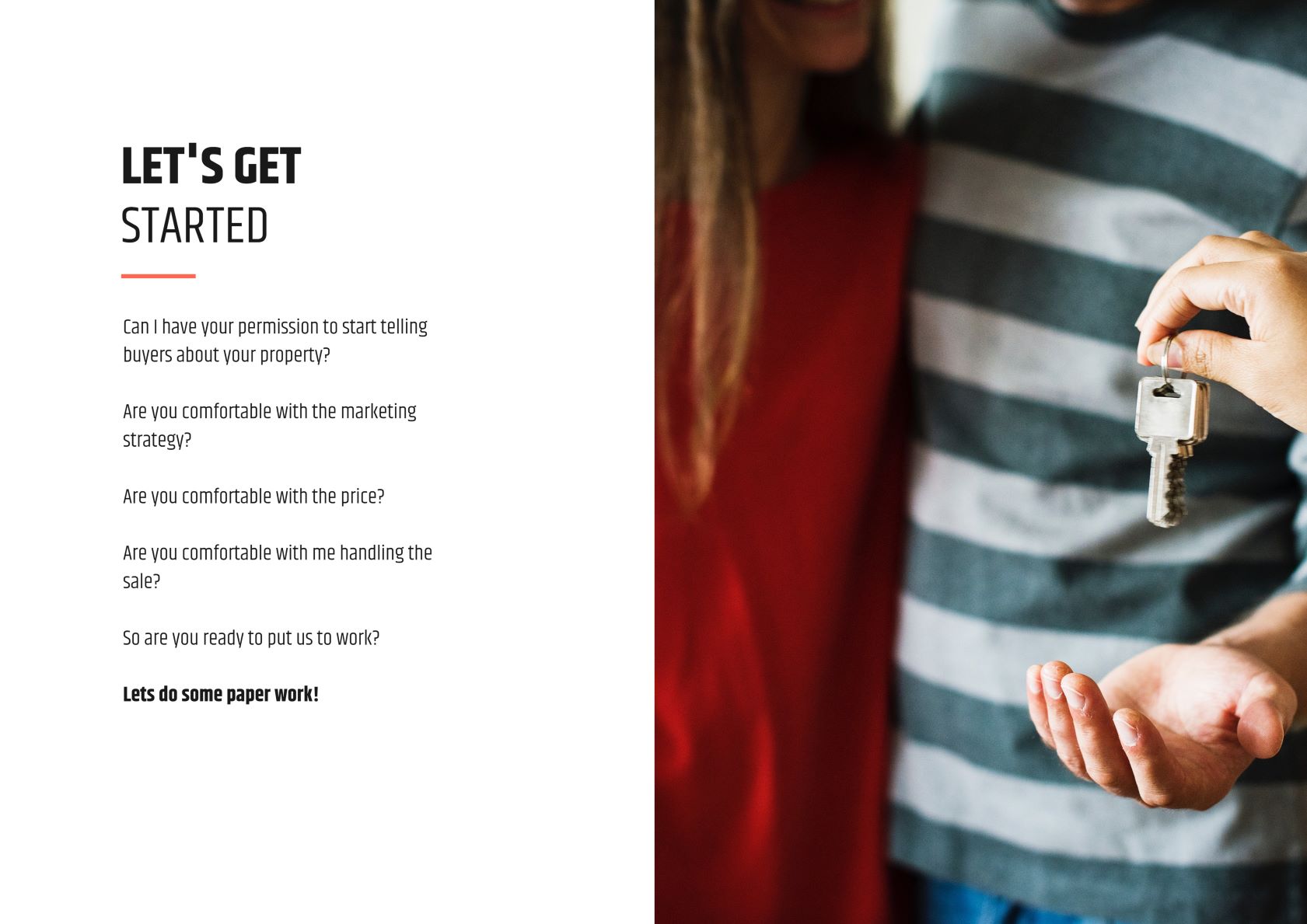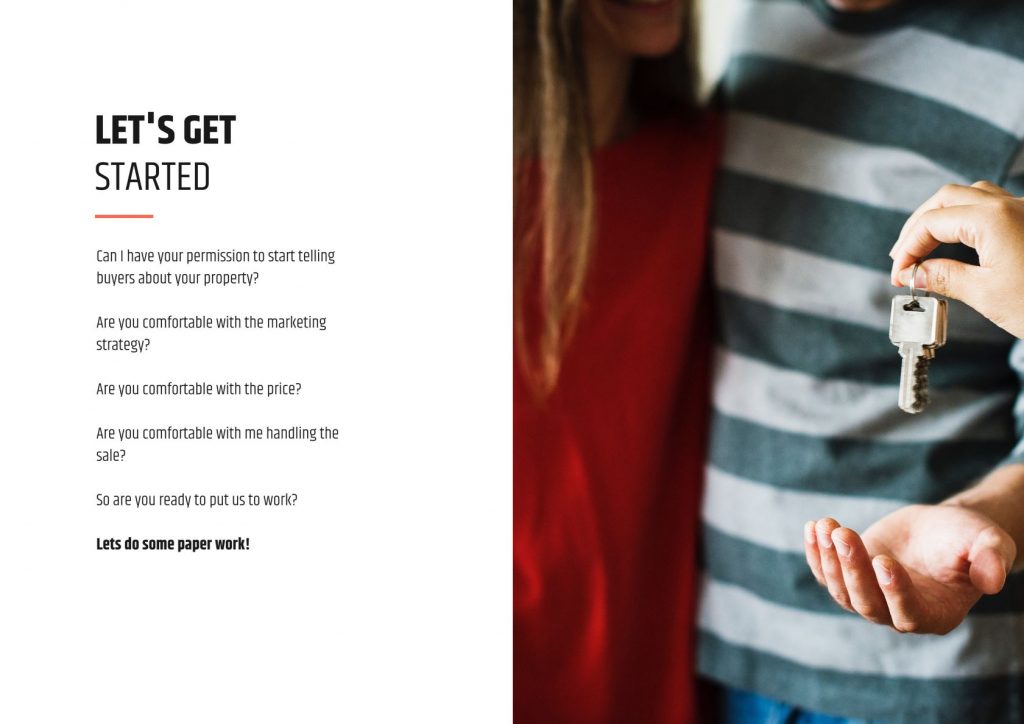 Don't forget to address your client's concerns and ask for their feedback. After all, your presentation should focus on their needs first and foremost, so the owner feels comfortable entrusting their home with you.
Conclusion
Sometimes your real estate expertise is not enough to seal the deal. If you want to stand out from your competitors, you'll need to supplement your pitch with something extra. Incorporating visuals can undoubtedly help you grab a homeowner's attention.
With our listing presentation sample template, you can easily create a fantastic proposal without any experience in design. We provide you with digital tools that are built for real estate, so you can get more listings and sell faster.
You'll get access to leaflet templates, marketing strategies, and more through your Jigglar account. Best of all, you can get started for free!