Selling a property is often just as much about marketing as it is about getting the best possible listings. If you want potential buyers to get excited about a property, they need to know it inside and out. One of the best ways to show a listing remotely is with a property information sheet for real estate.
A property information sheet contains all of the information that clients need to decide if they're interested in a house. Once they know the listing well, you might get an offer right away or you can schedule an in-person viewing. In this article, we'll show you four information sheet real estate templates from the Jigglar archives that you can use. Let's get to it!
1. Executive Property Profile
The "executive property" profile is a sixteen-page template from the Jigglar archives. That template enables you to show off every aspect of a property. That includes its standout features, information about the neighbors, and much more: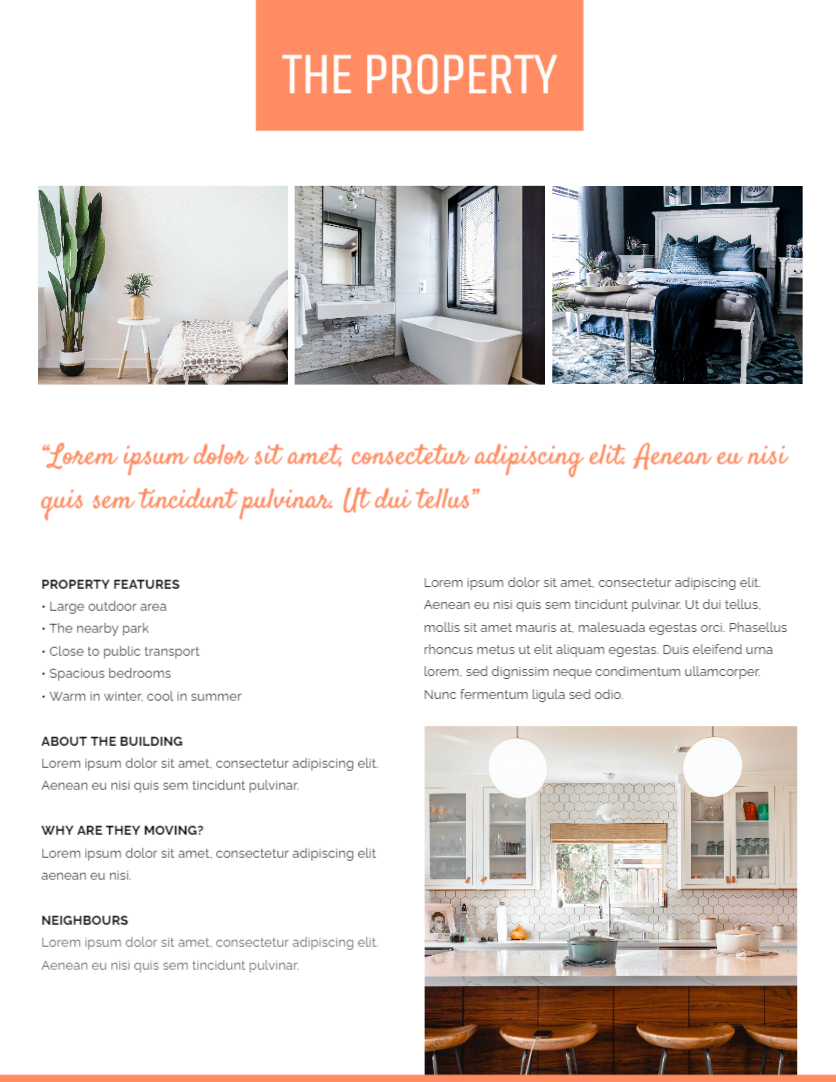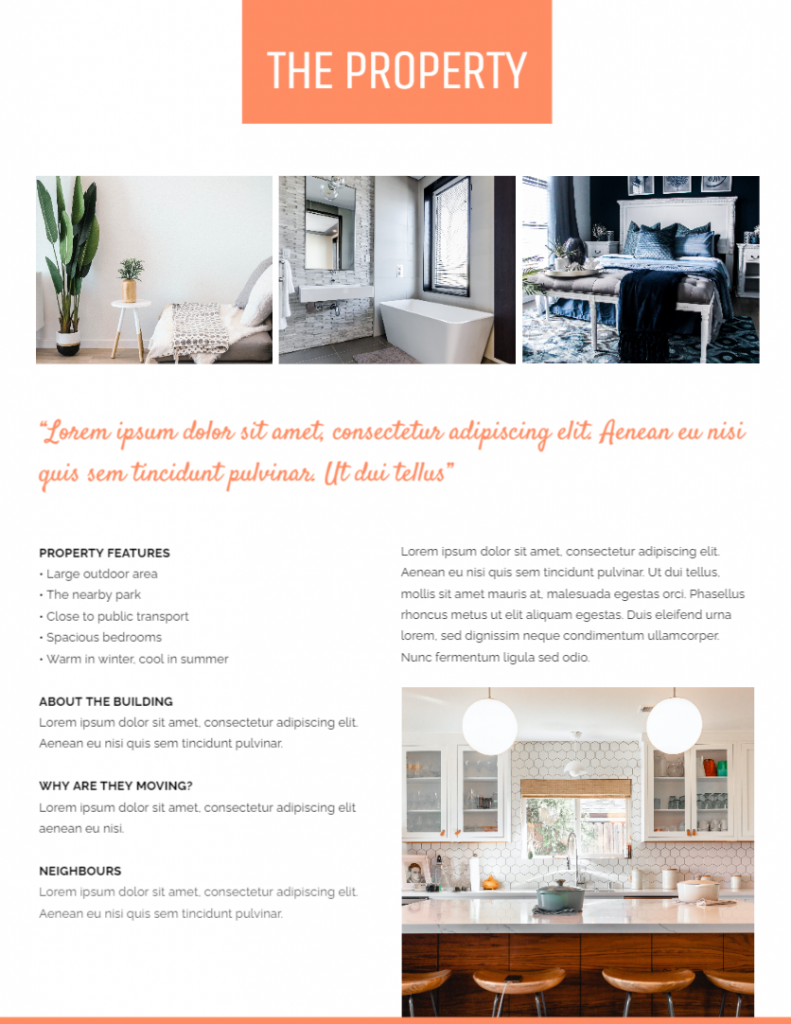 With a full property profile, you can paint an entire picture of what a listing offers. The template also includes sections where you can show off your recent sales to build trust with potential buyers: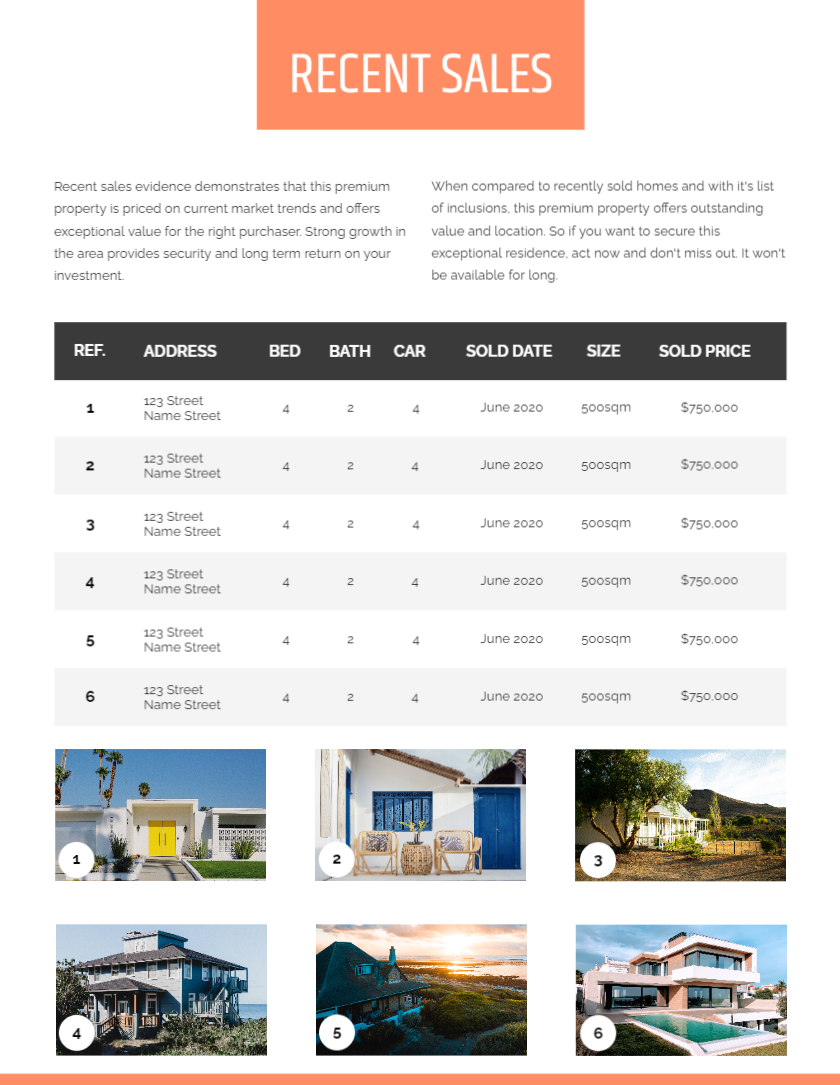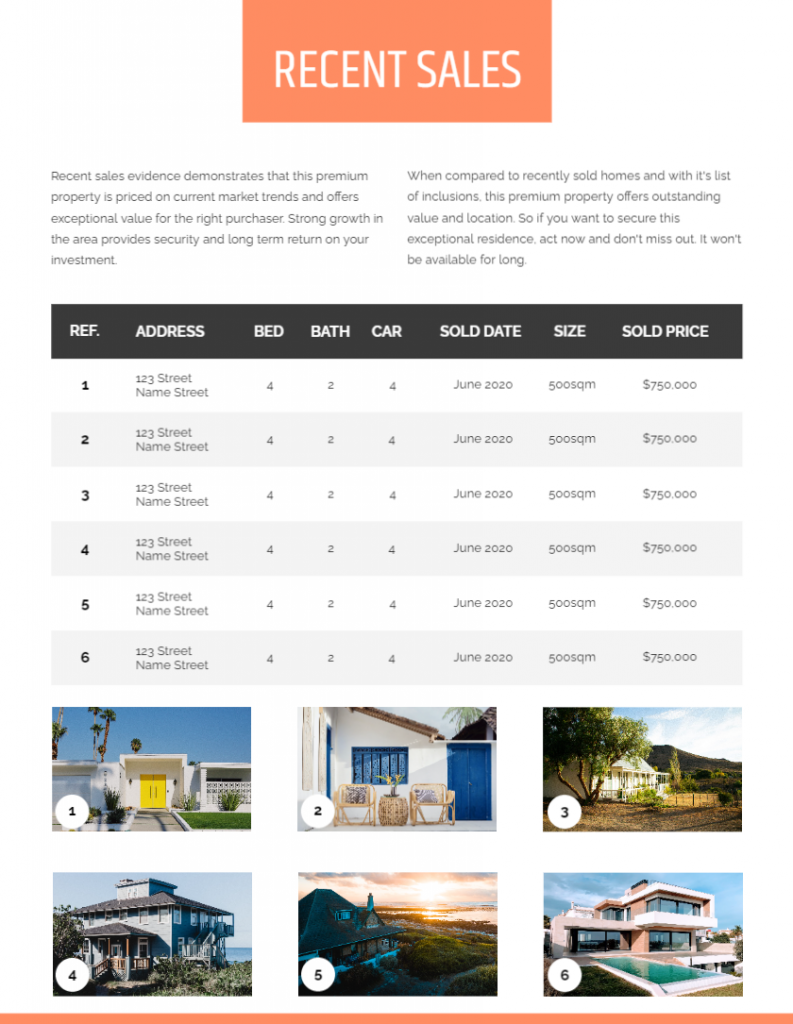 This property information sheet for real estate works best for high-end homes. Discerning buyers are likely to want as much information as possible before they make an offer on a house or schedule a visit. With this profile, you can show that you're a professional and give clients access to all the details that they need.
2. Property Case Study
Sometimes, a full sixteen-page executive can be a bit too much, particularly if you're dealing with more modest listing. If that's the case, you're better off using a focused property case study template. If you browse the Jigglar library, you'll find several case study templates, all of which enable you to break down all of a property's features: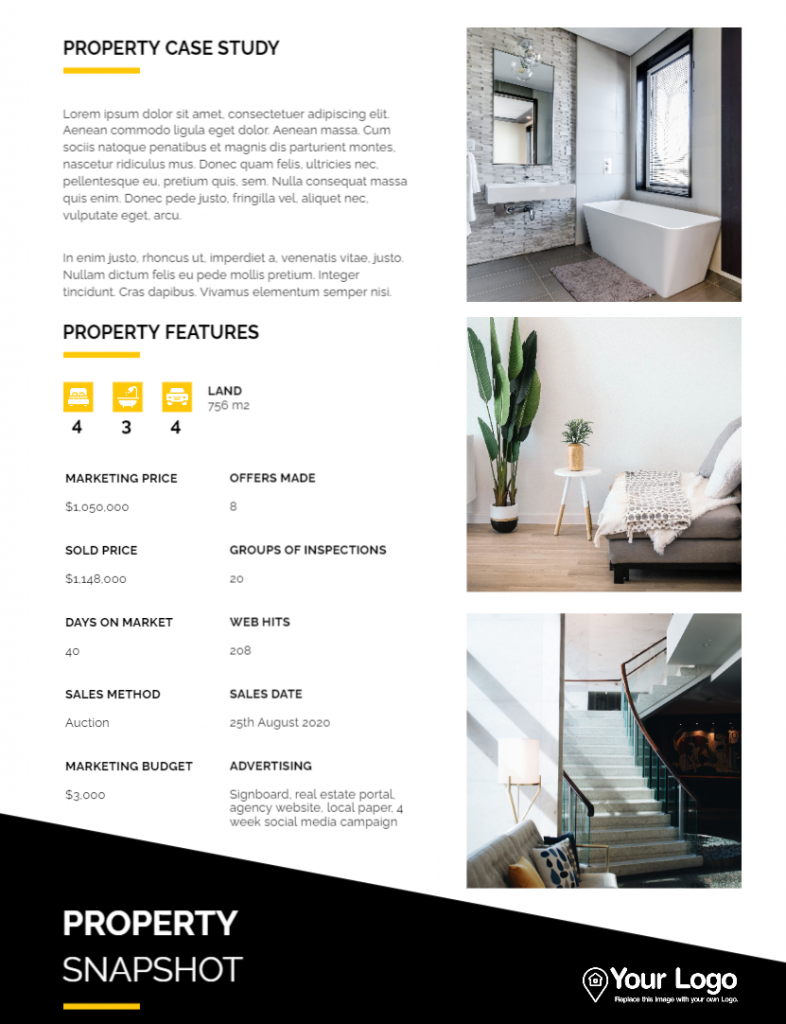 Case study templates are perfect if you're sharing information with other realtors. They enable you to share critical data such as listing price, how many offers you currently have, and how you're advertising the listing.
You can also take case study templates and use them to show off listings to potential buyers. In that case, you'd need to customize the Jigglar templates a bit. For example, you might remove information about your marketing budget.
One standout feature that this property information sheet for real estate includes is a page that shows of similar listings: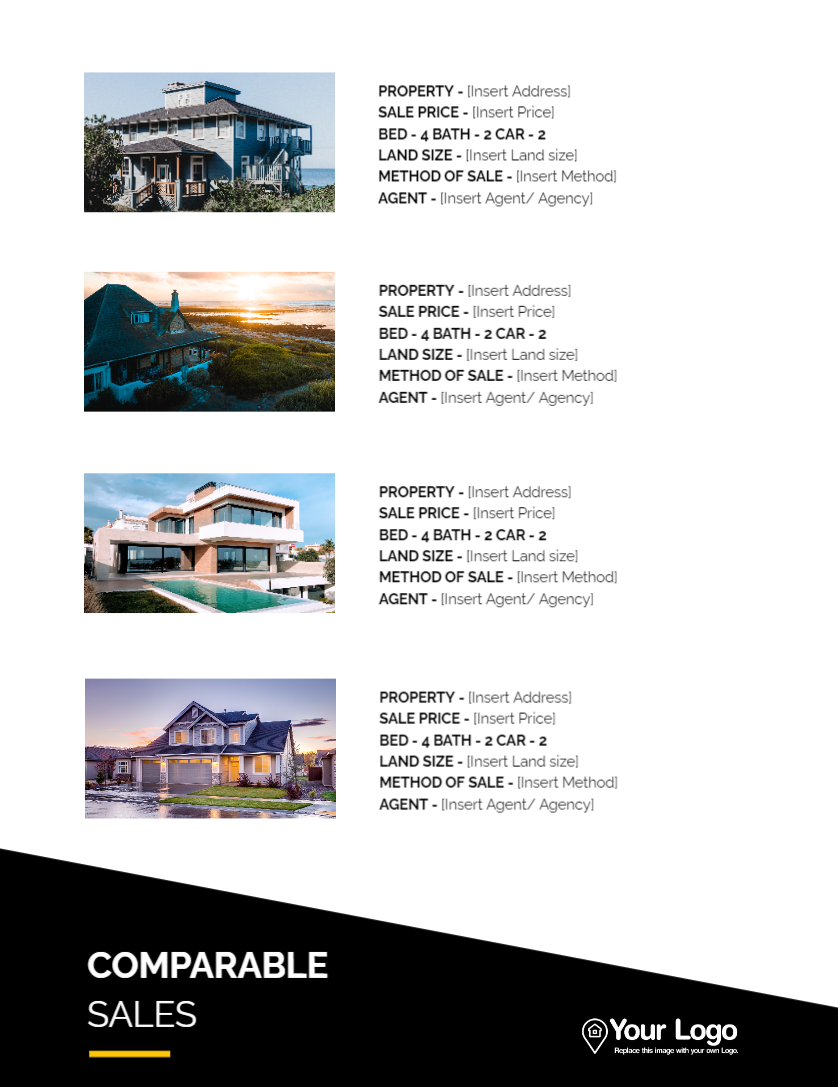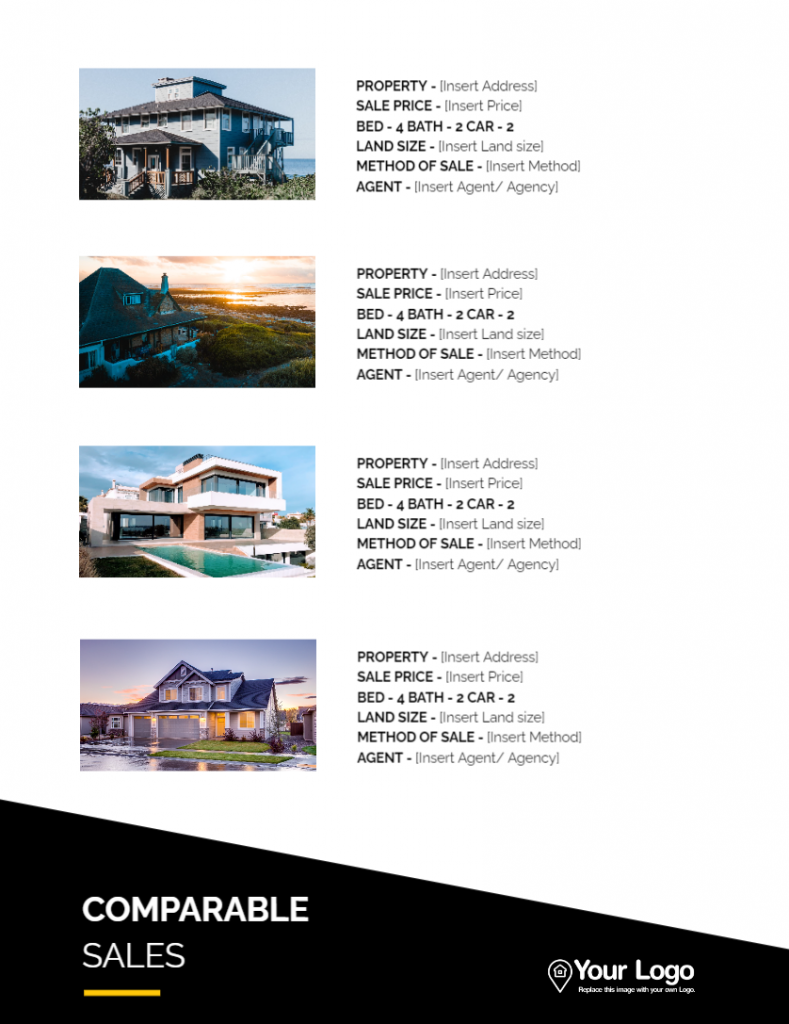 Showing past sales for similar properties enables you to show customers and other realtors what a deal they can get. If the property that you're showing is comparatively better, it'll come out looking as a steal.
3. Just-Listed Property Sheet
Just-listed property sheets are a fantastic way to promote new homes in your portfolio. You can print property sheets as flyers, send them via email, or even post them on social media. Here's a stunning example from the Jigglar library: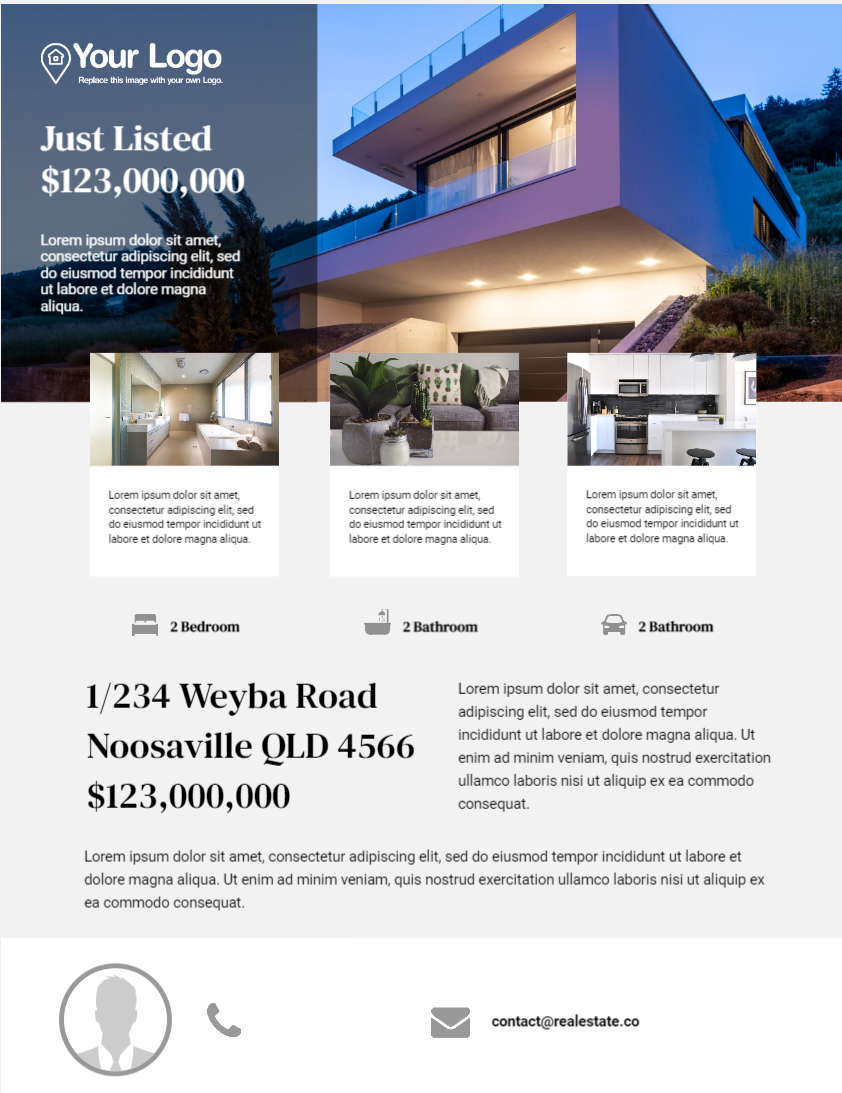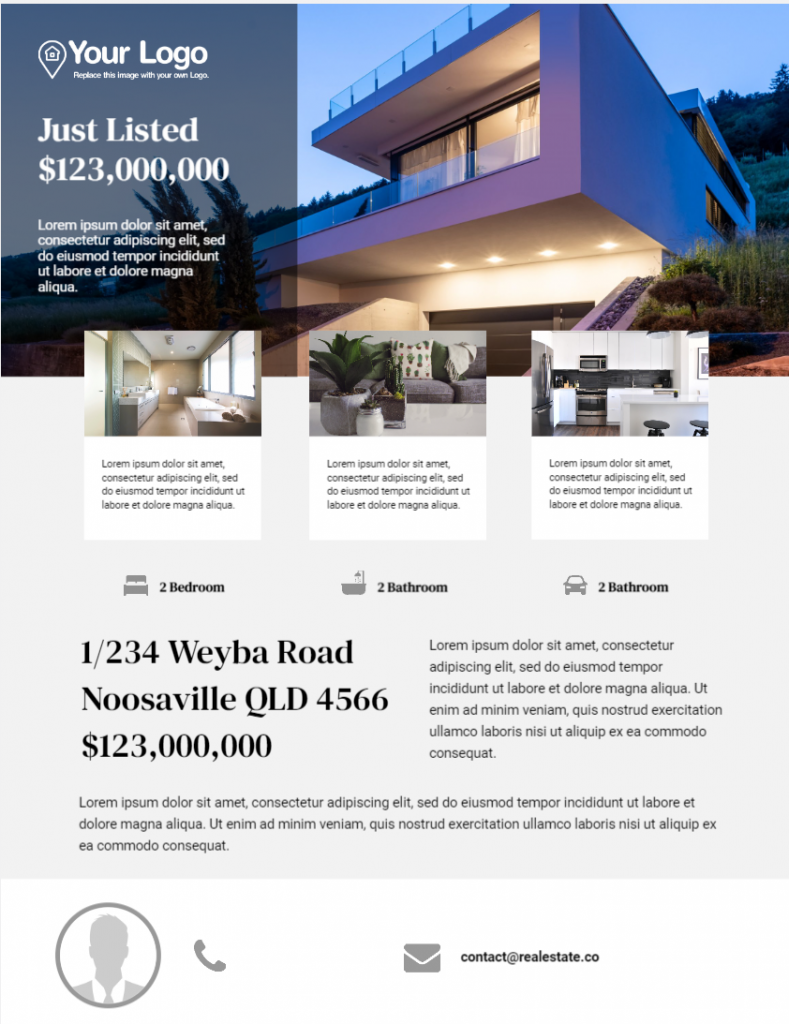 Since we're talking about a one-page property information sheet for real estate, you need to be concise. That template example gives you enough space to include standout details about a property, add a brief description, and show its listing price.
It's also critical that you remember to include a small headshot and your contact information. There's a section at the bottom of the template where you can add your realtor email and phone number.
4. Property Value Estimate Sheet
In most cases, the best way to get a listing is to give clients an idea of how much their property is worth. Any realtor can offer free home valuations, but occassionally, you might get customers that want more in-depth estimates.
This property value estimate sheet template enables you to give home-owners a number that's based on similar properties that you've sold in the past: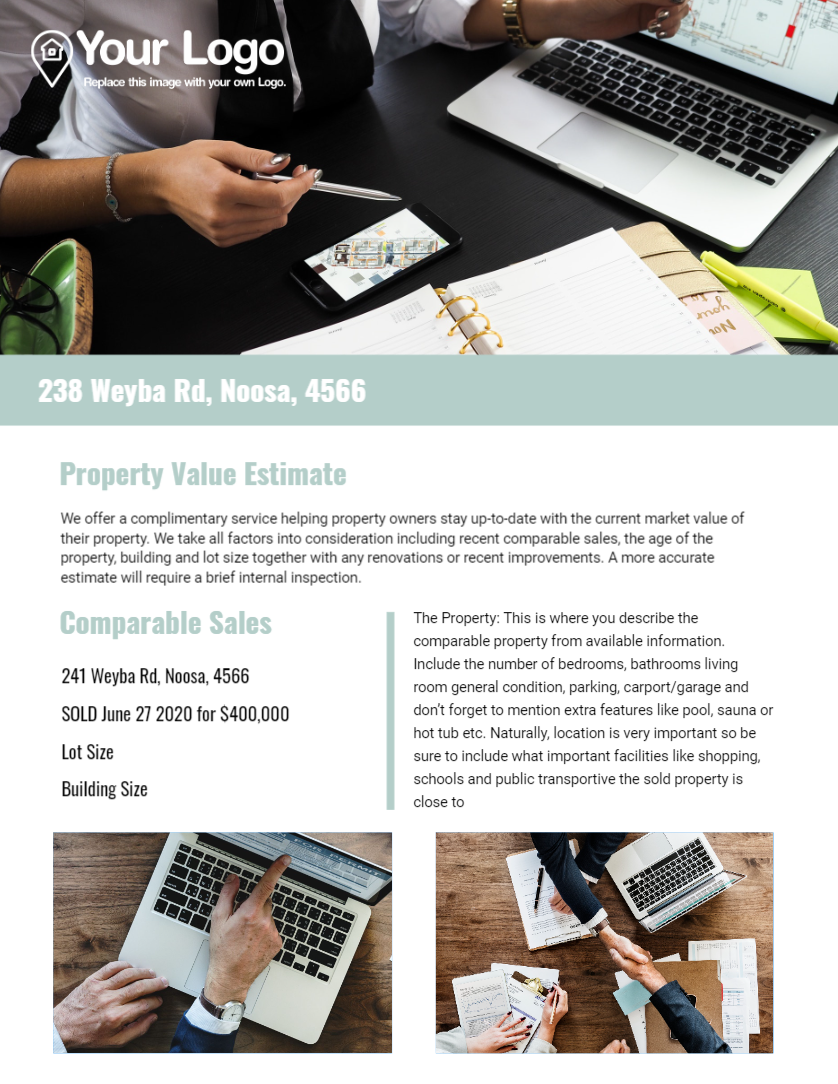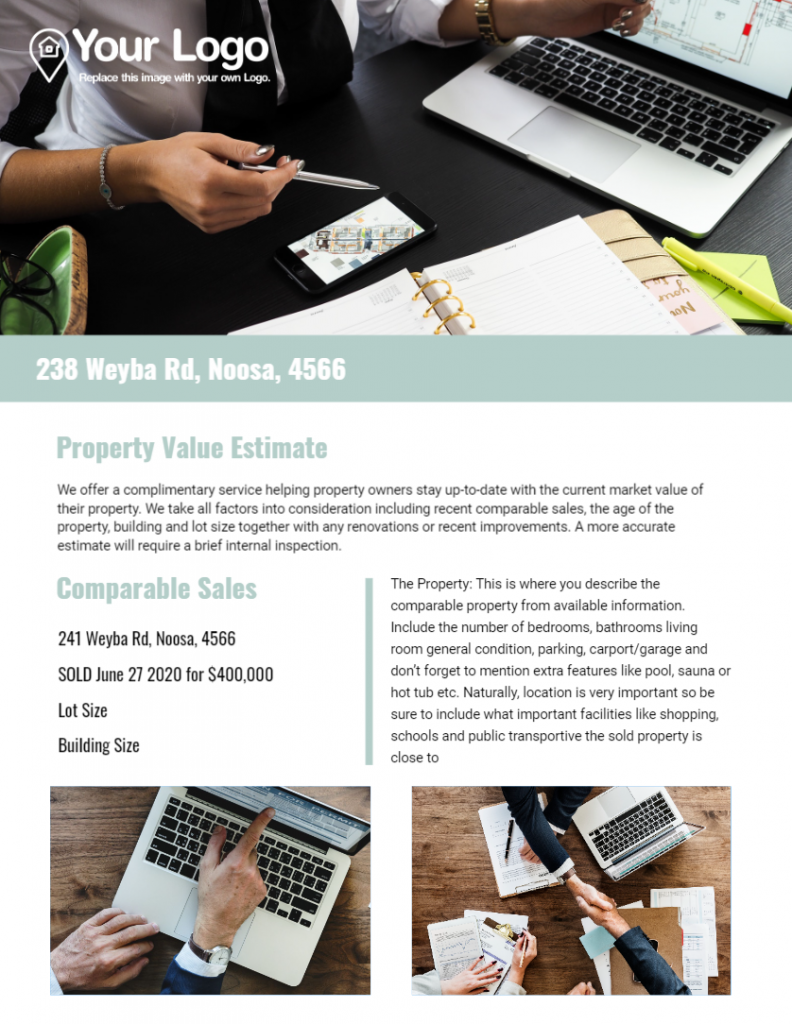 This approach enables you to give home-owners an estimate that's anchored by a recent sale. Moreover, it enables you to show off the fact that you've successfully sold similar properties in the past.
Conclusion
In some cases, the right property information sheet for real estate can be just as convincing as an open house. If you include as much data as you can in your property sheets, customers will trust you more and they'll be able to make informed decisions.
If you're using Jigglar, you get access to plenty of property information sheet templates that you can use. Some templates include over a dozen pages, while others are just one page long. Shorter templates work perfectly as flyers or social media posts. For longer information sheets, you'll probably want to use email.
Are you ready to get to work on your first property information sheet for real estate? Try Jigglar for free and check out all of the templates that we showed you in this article!