It's easy enough to create an open house flyer template using Word, but the results are often lackluster. Microsoft Word can do a lot, but it's decidedly not a design tool.
With Jigglar, you can get access to stylish open-house flyer templates that outclass anything you can cook up using Word. Plus, the platform enables you to make almost any change you want, so templates become unique designs.
In this article, we'll talk about open house flyers in general and then we'll show you five Jigglar designs to inspire you. Let's get to it!
Why You Should Be Using Open House Flyers
There are a lot of ways to advertise upcoming open houses in any given area. You can use ads and social media, for example, both of which can provide excellent results.
Sometimes, though, your best bet is to go physical. Open house flyers work great because they're cheap, you can distribute them en masse, and they help you attract local leads.
With flyers, you can target surrounding neighborhoods and locals at a much lower cost than with other marketing methods. By combining multiple approaches, you can ensure your next open house is packed.
4 Open House Flyers Templates You Can Use
All of the designs you're going to see here are available if you're a Jigglar user (sign up for free). Plus, they're fully customizable, so you can use them as a starting point for truly unique designs.
1. Open Homes Are Re-Opening
It's no secret that the pandemic affected real estate business in a myriad of ways. One of the biggest losses for the sector was the inability to show off properties through open house events.
Depending on where your properties are, though, you might already be able to re-open. With the flyer, you can make sure potential buyers know that open houses are back on the menu, so to speak.
2. Virtual Open Home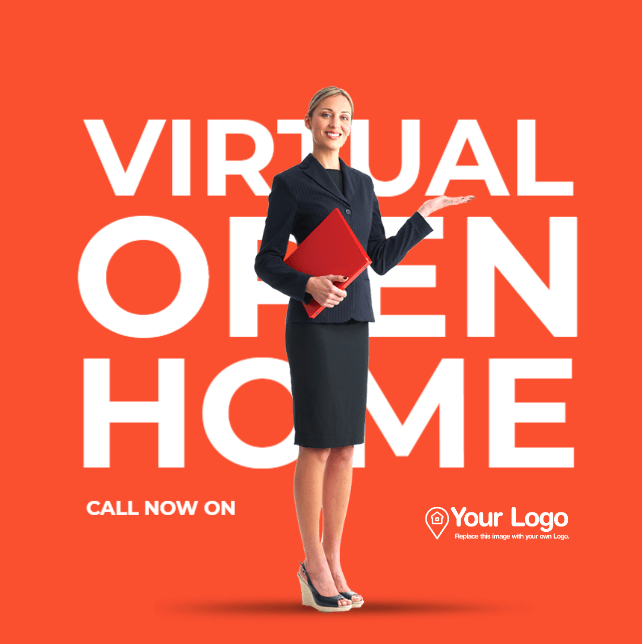 In modern times, there's no reason why physical distance should prove an impediment to you showing off homes to potential buyers. If you have a mobile device, you can easily conduct open home tours via video call.
With this virtual open home flyer, you tell anyone that's interested they don't need to re-arrange their schedule to go for a tour. All they have to do is arrange a call and with your help, they'll be able to inspect their potential future home.
3. VIP Open Home Invitation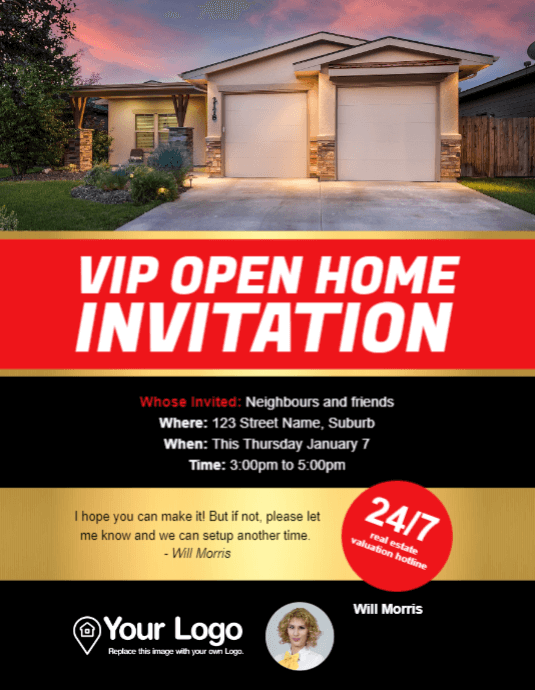 One great way to drum up excitement for new properties in the market is to plan VIP open home events. By framing the property with an upscale open home flyer design, you tell potential clients that house is one to be on the lookout for.
Unlike the previous flyers we've shown you, this one explicitly shares the home's address and the time of the event. That information is key if you want as many people to attend as possible. Plus, it frees you from having to field dozens or hundreds of calls asking for that information.
With this luxurious design, all you have to do is enter the information for the house you want to show off and upload your real estate agency's logo.
4. Open House Feedback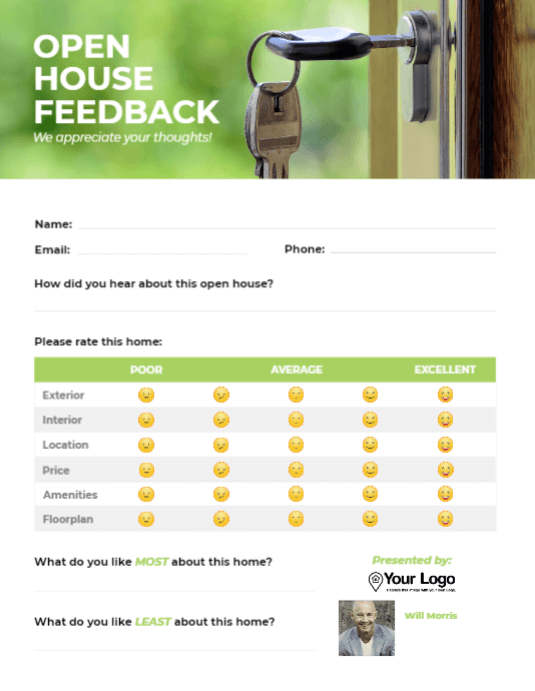 One of the best ways to ensure future open houses go off without a hitch is to learn from past events. That means asking what could've gone better, what visitors liked the most, and more.
With this open house feedback flyer or form, you can enable attendees to share their thoughts with you before they leave. All you have to do is hand out flyers to everyone that comes to your open house and collect them before they leave (do remember to give out pens, though!).
For the best possible results, we've made this feedback for as easy-to-use as possible. All visitors have to do is circle the option that best reflects how they feel and you get the feedback you need.
Conclusion
Designing an open house flyer template using Word is an uphill battle. Instead of a word processor, you should be using a specialized design tool. Better yet, you should use a design tool built with real-estate businesses in mind.
Jigglar offers you a broad library of open house flyer templates you can customize in a matter of minutes. In some cases, all you have to do is upload your logo, change a few captions, and you have a flyer or a social media post ready to go.
If you're ready to upgrade your open house flyers, check out Jigglar for free.