To generate a steady stream of clients to your real estate business, it's important to use the right marketing materials. However, figuring out ways to differentiate yourself from your competitors and make your content stand out can be challenging. This is why we recommend using real estate flyers to get listings.
You can use flyers in so many different ways. The key is having a large selection of choices to choose from so you're always prepared for any occasion, season, and prospective client.
In this post, we'll start by briefly discussing the benefits of using flyers. Then we'll provide you with a list of 21 real estate flyers you can use to get listings. Let's jump in!
Why Use Real Estate Flyers to Get Listings
Today, many real estate professionals rely on tired or outdated techniques for finding new clients. For example, while posting on social media can undoubtedly be a helpful strategy, it's not necessarily the most effective one.
To truly stand out to prospects and grab their attention, it's essential to think outside the box. One of the ways you can do that is by using beautifully designed real estate flyers to get listings.
There are many advantages to this approach. First, there are infinite ways to design and customize them to make them compelling and informative. They're also incredibly inexpensive to produce and distribute.
Another benefit of using real estate flyers to get listings is that there are so many different ways to use them. For example, in addition to using the traditional printed and mailing postcards, you can also turn them into online content. This makes it easy to share them through social media, email, your website, etc.
When you use real estate flyer templates, these materials also become effortless to create and update. You can easily and quickly replace the placeholder content with your information and tailor the messaging to your specific target audience.
21 Fresh Real Estate Flyers To Get Listings (Updated 2022)
Now that we've covered how flyers can be an asset to your real estate business, it's time to get into the best ones to use. Below are 21 fresh real estate flyers to get listings this year.
1. Get Property Ready for Sale
First-time sellers are often overwhelmed and unsure how to navigate the process. They want someone who will be knowledgeable, trustworthy, and helpful to guide them through the journey. Using flyers such as this can help show that you're there to help proactively, particularly in areas they may be most concerned or uninformed.
2. Open Homes
If you have multiple open houses coming up, this flyer can be an aesthetically pleasing and helpful way to showcase them. It lets you maximize the space on the front to help engage your audience while including the need-to-know details on the back.
3. Sold By Winter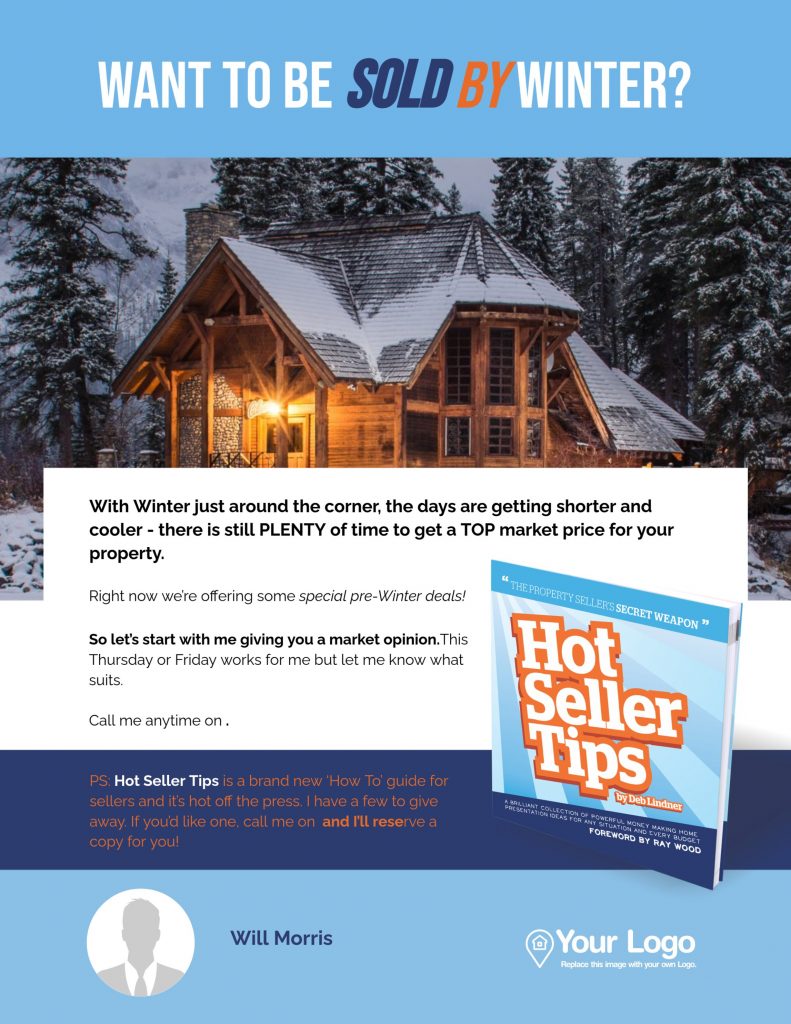 Different seasons bring about various opportunities to target potential customers and stand out from your competitors. This flyer helps instill a sense of urgency and incentivizes action by tapping into a prospects' need or desire to sell during a particular time of year.
4. Spring Property Value
Using seasonal flyers is a great way to mix up your marketing strategy. It highlights that you are updated on the latest trends and that this time of year is a good time to get properties on the market. It also poses a question that implies you can provide a near-immediate answer.
5. QR Code Scan
Using QR code real estate flyers to get listings can be highly effective because they help clients conveniently get in touch with you and learn more information. They are also a quality lead generation tool because it's a passive way for you to collect prospects' contact details.
QR codes are innovative and minimize the steps needed for prospects to reach out to you. This distinct Call To Action (CTA) benefits both parties.
6. Just Sold
Just Sold flyers are a powerful way to establish authority and expertise as a real estate agent. They communicate that you're successfully selling in the area and that you can help others, too. It's a subtle yet informative way of demonstrating your credentials and letting your results speak for themselves.
7. Median House Price
Specific phrasing and images can evoke different emotions in people, especially when it comes to advertising. This flyer is an excellent example of how you can communicate to potential sellers that acting now is a good idea. It also shows that you're knowledgeable in the housing market for that specific area.
8. Apple Watch Giveaway
If you want to get peoples' attention, offering something for free is a great way to do that. For example, you can use real estate flyers to help generate leads by running a giveaway. "Now" and "giveaway" are power words that can drive results.
9. AirPods Flyer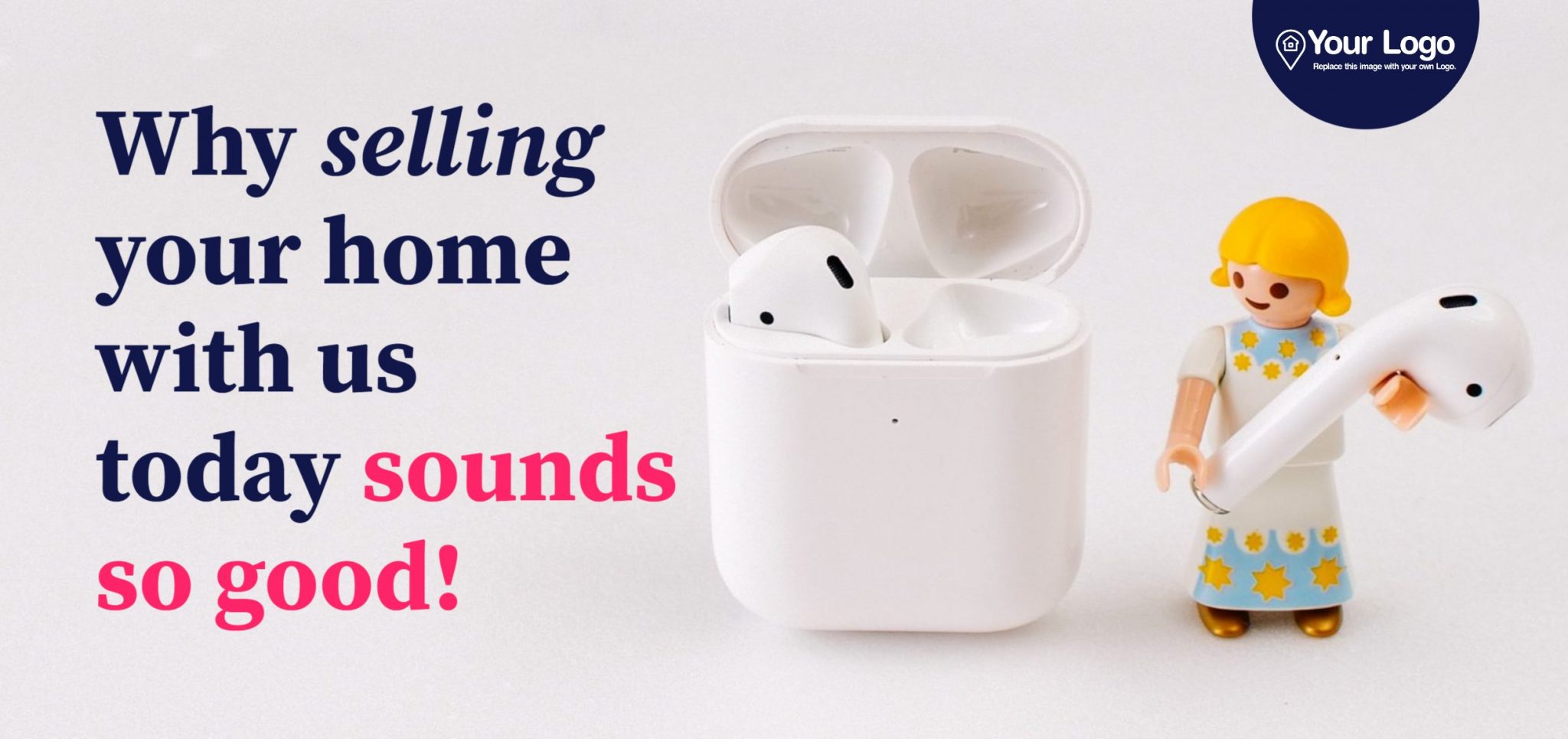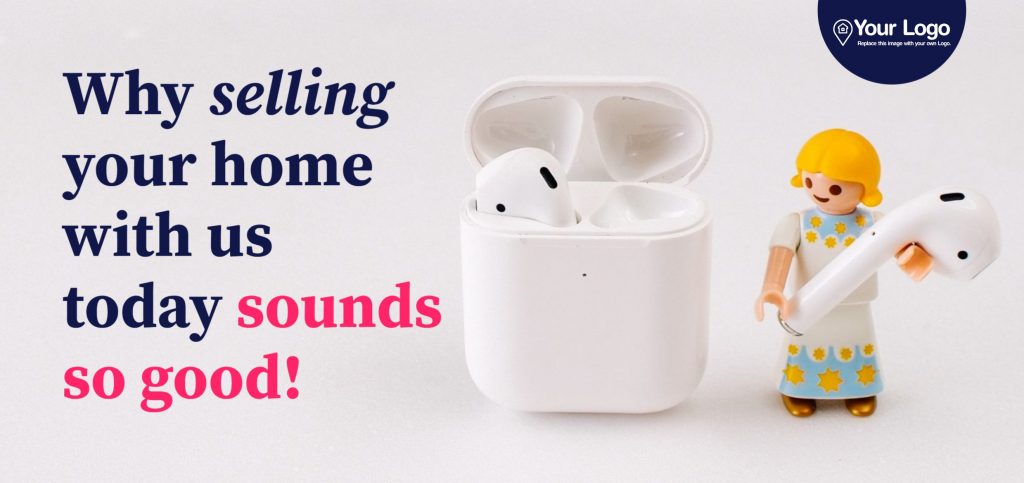 You can incorporate a creative image and play on words to help stand out from the traditionally mundane types of real estate advertisements. This approach can both entertain and interest sellers.
10. Going Nuts Flyer
Again, getting creative with your images and messaging can be a fun yet effective strategy. It can make your marketing and brand seem more personable and, therefore, approachable and trustworthy.
11. New Brand
Using flyers that present a clear CTA is important. This is especially true if you're a new real estate agent or rebranding and want to communicate how you can help with your clients. The information is presented clearly and in an enticing way.
12. 10 Questions to Ask Your Agent
Sometimes being overly promotional can have the opposite effect of your intended. Potential clients need to believe that you genuinely want to help them.
One of the ways you can do facilitate that is by using real estate flyers to provide them with helpful, meaningful information. This also enables you to answer common questions and address concerns that may have before they even get around to vocalizing them.
13. A Collage of Sold Properties
A Sold Properties flyer is like a catalog you can use to showcase your experience. It can help communicate to potential clients that you're prepared to assist them and that you're able to promote and sell properties similar to their own successfully.
14. Free Virtual Staging
If you have a free service or opportunity to offer clients, why not advertise it on flyers? Few things grab peoples' attention faster than the word "free". That enough can help draw prospects in, but then you have plenty of room to explain the details and benefits of what you're offering.
15. Sold Under Contract
One of the easiest ways to use real estate flyers to get listings is by showcasing properties you just sold. Instead of simply telling potential clients about your experience, these types of flyers show them. You can include a surprising amount of information to help illustrate the positive experience a past client had working with you and how effective you were at your job.
16. Emergency Numbers
As we mentioned, it's smart to provide potential clients with materials they can actually use. One way to maximize the likelihood of people noticing and holding onto your real estate flyers is by using them to provide relevant, helpful information, such as the emergency numbers for that specific area. It's an opportunity for you to show that you care, and it's a way to promote your brand in a non-irritating way.
17. Sell Quietly
Most traditional real estate marketing materials use a similar format. For example, you might see a realtor's name, number, and logo. However, if you really want to get noticed, you might consider using text and imagery that aren't the norm for real estate marketing.
18. Just Been Listed
Using a localized approach to real estate marketing can be quite effective. Street flyers and specific mention of suburbs can instantly grab residents' attention and generate responses. Of course, the bold design is hard to ignore, too.
19. Just Been Sold
This flyer works for the same reasons as the above one. It's a great example of how you can use real estate flyers to get listings by speaking directly to a desire that a prospect might have (in this case, knowing how much their home would sell for in the area).
20. While You Were Sleeping
If you want to generate as many leads as possible, it's essential to instill a sense of urgency. One approach for doing so is informing people that they're missing out on potential opportunities to maximize their property value. Bonus points if you can incorporate specific numbers, rather than just generic, vague phrases.
21. Virtual Real Estate Help
Sometimes the best flyers are the ones that get straight to the point. For example, you can use your real estate flyer to get listings by clearly stating the specific services that you offer that can help, then providing them with a clear CTA.
Conclusion
Standing out as a real estate agent can be challenging. It's a competitive market, and figuring out which marketing methods to use isn't the easiest. However, one powerful way to help grow your business and boost your lead generation is to incorporate well-designed, unique flyers advertisements.
As we discussed in this article, using real estate flyers to get listings is beneficial for various reasons. They're convenient, inexpensive, and versatile. Plus, as demonstrated with the above 21 examples, there are so many high-quality options to choose from no matter what area of real estate you specialize in or who your target audience is.
Are you ready to get started with your own flyers? Sign up for a free Jigglar account today to access all these real estate flyer templates and more!