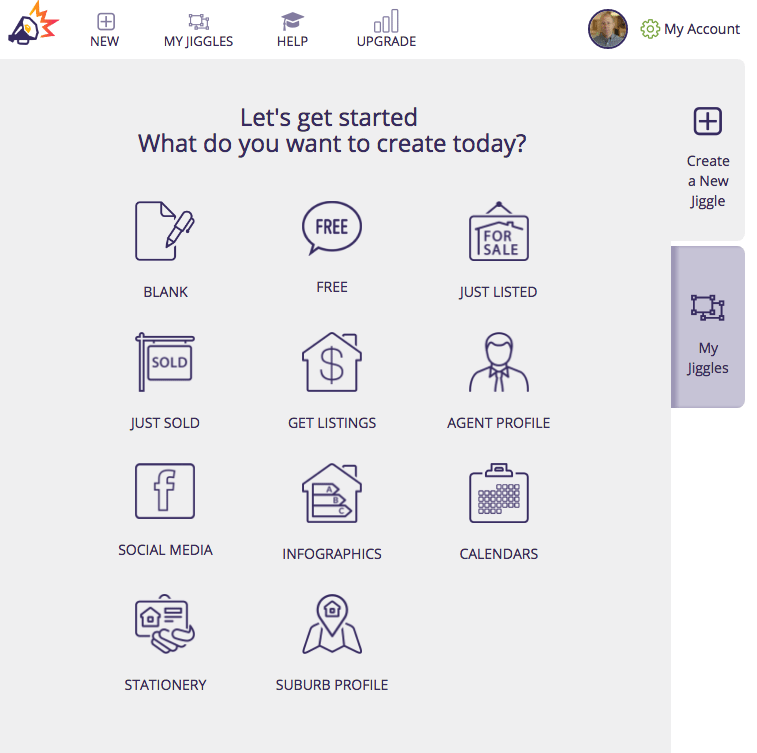 Jigglar is an online creative marketing platform for real estate agents… but there's a little more to the story.
I'm Ray Wood and I'm a real estate agent.
Sometimes real estate is easy and sometimes it's not.
When the economy changes, the real estate industry gets hit hard.
It's not just that prices fall, the thing that hurts our industry most is the fall in sales volume and in the early 1990s, that's exactly what happened.
We'd just launched our brand new real estate business in Melbourne's South Eastern suburbs at the worst possible time.
The boom was over. Agencies were closing and sales teams were being dismantled as agents moved on to new careers or went back to their old jobs.
We had no rental management business to 'live off' and very few contacts. We were literally starting from scratch.
I learned an awful lot about marketing in those years and discovered some breakthrough ideas that helped me reach out and connect with potential sellers.
Surviving meant getting noticed and offering a compelling point of difference to sellers in our area.
Naturally, not every marketing idea worked but I persisted with the things that did while always looking for new ways to change the game and stand out in a very crowded market in an industry struggling to survive.
But I faced a major problem:
My best marketing ideas were letter drops, creative flyers and cards designed to engage my market and help me build new contacts.
I understood the power of relationship marketing but to have relationships, first you need contacts.
Coming up with ideas was no problem but getting them designed to look great was another story.
I learned early in business that real estate is more about what you keep than what you make but month after month, our 'creative design' bill was enormous.
Don't get me wrong, the graphic designers were amazing and if I wanted their skills I had to pay but the cost of designing and producing quality marketing to get leads and listings was a massive expense for any real estate business, let alone a new one.
Thanks to the power of our ideas we not only survived, we prospered, but were permanently scarred by the high cost of creative graphics and design.
I believe the best real estate agents are really entrepreneurs and entrepreneurs like to control things. Up until now, accessing proven affordable graphics and design has been out of our control and I can tell you that's something our industry doesn't like.
But along came the Interwebs and our world changed forever as stunning opportunities gave rise to new ideas and momentous change in almost every industry.
Fast forward to today and my business partner at Bestagents, Aaron Shiner and I are always coming up with cool ideas for our members to give them a compelling point of difference but we still need to get them designed.
However, my old problem was still there only now, graphic design was way more expensive! There had to be a solution.
A few years back I felt technology had progressed to the point where we should be able to build an easy-to-use online platform that would allow agents to access a wide range of proven templates and marketing tools for a fraction of what the design gurus were charging.
I dreamed of something fast and simple that provided an exciting user experience.
Something with pre-loaded templates you could quickly access on your desktop computer then edit, download and print in just a few minutes.
And even something that would give you the option of a blank canvas to create any kind of marketing you wanted with cool font options and almost all the flexibility and function of a super expensive graphics software package without the complex learning curve required to make it work.
And best of all… it could be done on a shoestring so any salesperson or business owner could enjoy all the advantages offered by an expensive graphic designer, at a fraction of the cost.
My experience as a partner at LockedOn (An online real estate contact management system) told me good software development doesn't come cheap.
I knew what I wanted but didn't know how to get it.
You know when something happens and it's so important you remember where you were when it happens?
Well it happened on the train, heading in to Sydney after a meeting with Aaron in Sydney's west. It was a beautiful spring day and as the train rattled through Blacktown, Parramatta and Homebush, an idea began to take shape.
Instead of spending everything I had on hiring developers, why not team up with the people we needed to make it happen?
John 'JB' Banitsiotis heads up Mediamojo, a dynamic and feisty graphic design and marketing company out of Noosa Heads on Queensland's Sunshine Coast. We go back a long way and if anyone could help me get this off the ground, it was him.
I called JB, and despite being a graphics guy and understanding the ongoing future business threat involved, he liked the idea a lot and could see the obvious advantages a service like this could offer the real estate industry.
He promised to give it some thought and in the following weeks, I stalked him hard!
There was no way Aaron and I could do this alone. I love the thrill and excitement of getting a start up off the ground but the more I thought about it, the more I realised we needed some capable partners who brought all the right skills and experience to the table.
Aaron and I are marketers. Selling is hardwired into our DNA. We get out of bed each morning looking to pitch something to someone and we knew we had an epic idea but we'd have nothing to sell if we couldn't get JB and a very good developer on board.
After working with John and his Mediamojo team on various projects over time, we'd been super impressed with the work of Brisbane software developer Josh Kohlbach and JB thought Josh would be a perfect fit.
Josh and his team had the smarts to make this happen but his business was booming. Would he really take a gamble on this crazy startup idea?
I don't know the exact story but I do know JB pitched Josh fairly solidly for a couple of months until he said yes.
From there, things started to take shape but we needed a name. We needed something quirky and memorable and fun. Something we could play with and create a cool logo for.
And most importantly, we needed the .com domain… but all the names we thought of were taken.
Then one night, JB and I are Skyping ideas back and forth and BOOM!
I see his message that Jigglar.com is available.
"Let's buy it" He said… so we did.
Josh and his team went to work on the interactive user platform that creates and edits all of our designs over the following months and things began to take shape.
I can't write code and I'm not a web developer so I decided my job was to be that annoying kid in the back seat constantly asking "Are we there yet?"
JB and his creative team started to make great designs and set up the colors of most major real estate brands so agents could quickly customise their ideas.
Each time I logged in to my Jigglar beta account, I was buzzed to see more and more cool templates.
Then one day Josh gives us the green light to launch our baby and here we are!
I know that our journey is only just beginning and there's a lot of work to do but having these guys as partners makes it all worthwhile.
And it just goes to show the power of an idea!
It's exciting to work with great people and my partners and I are blessed to be part of Jigglar and this exciting ride.
If you're a Jigglar customer then we're all in this together. You're riding with us and we're proud to be a part of your success.