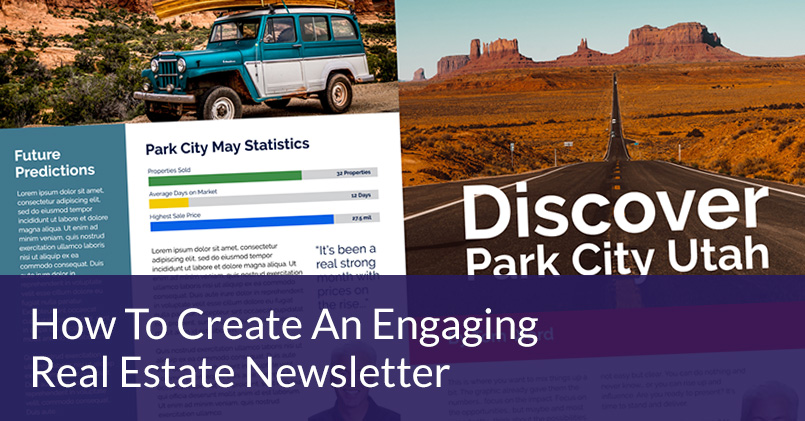 I'm going to show you how you can quickly create a beautiful real estate newsletter template complete with great copy and stunning images that will inform and engage property sellers in your area like nothing else.
I'll also share some ideas that virtually guarantee your newsletter will get into the hands of more people in your community to help position you as the trusted real estate authority in your area.
Sounds expensive right? I mean how could you possibly build and customize a real estate newsletter template that looks so professional for less than 2 or 3 thousand dollars the graphic designer will charge you for their time and creative? …and that's even before printing!
Well buckle up and stay tuned because in this article you're going to LOVE the way you can create an engaging real estate newsletter for peanuts!
3 Rules For Your Real Estate Newsletter Template
A great real estate newsletter is engaging, informative and visually impressive. It's also one of the most effective ways to build your authority and personal brand.
Problem is, most agents ignore the proven formula and waste time and money on something that doesn't really cut through all the marketing noise and make real connections with their target market. If you're a new agent this means wasting precious time on things that don't give you results.
But never fear, creating a professional grade newsletter template is just about to get way faster and cheaper for you if you follow this guide.
Below you're going to find out:
How to cut out the middleman (that expensive graphic designer) and do it yourself
Some great sample copy you can simply cut and paste ideas from and edit
Where to source great images for free
At Jigglar, we wake up thinking about the very best ideas we can share with agents to help them win more listings and make more sales. And because we actually are real estate agents, we understand the massive challenges involved with getting a message into the hands of property sellers.
So here is a proven formula for creating a freakin' awesome newsletter that you can quickly build in Jigglar. I'll take you through the essential must-haves and all the content ideas you need to get you started.
By the way, creating awesome newsletters is obviously a visual thing so I've created a short explainer video showing you exactly what to do.
First off, I want to suggest you follow these rules to give your real estate newsletter template REAL impact. Then, I'll give you the steps to build your content and create your newsletter inside the Jigglar app on your computer.
Rule #1 – Use great images & graphics
If you're expecting someone to read a heap of copy, forget it! You might write better than JK Rowling or Stephen King but this is not the place for hundreds of words.
An image is a thousand times (made up stat but it's HUGE) more likely to engage and grab attention so get a great photo and tell people what's going on. Do you remember the newspaper? Do you recall how they use photos to grab attention with a comment underneath? That's your formula. Keep your copy brief.
If you go to Unsplash.com you'll discover thousands of royalty-free professional grade images you can quickly download to your computer hard drive, upload to your Jigglar images library and use in your newsletter.
Rule #2 – Keep your message about your market. Not about you.
Here's a great way to basically guarantee your message is widely circulated; Keep your message about your market and promote people in your community. That way, they'll help you get the word out.
Let's say you promote your favorite coffee shop with a great pic on your front page. Talk about the experience of going to the shop. The smells, the taste of the coffee and how awesome the owner is. I'm also going to take you through that shortly in greater detail.
Rule #3 – Don't make it all about real estate
If you're not buying or selling right now, you're probably not that interested in real estate.
Market trends are good to know, but why not broaden your reach by talking about your community?
4 Steps To Create A Real Estate Newsletter Template
Creating a newsletter template doesn't have to be difficult if you're doing it yourself. That's the whole reason we created Jigglar to help the DIY folks create professional grade marketing on a budget.
Here are the 4 steps that you need to follow in order to create your newsletter in Jigglar.
Step #1 – Decide what content will go into your newsletter
What or whom are you going to feature?
Take a look at the wording you're going to replace in the template for each article and calculate how many words you're going to need.
Step #2 – Choose what images you will use
There are plenty of free images online at sites like Unsplash.com.
Step #3 – Start A Word Document To Write Your Copy

Setting up the copy you want to use in your newsletter is much easier when you set it up first in a word doc.
When you're writing copy, think of the way a good movie starts.
There's usually an opening scene with drama or action that sets the mood and grabs your attention. Let's say you're writing an article about a local coffee shop under an image of you and the barista or owner. Your copy might go something like;
'Andrea's coffee blows my mind. I could tell the coffee here was going to be great because there were so many people waiting to order in a small shop that is well off the beaten track. Andrea's Coffee is hidden away in a back street but the upside is there is lots of free parking close by. The smell of roasted coffee almost gave me a caffeine buzz and as I ordered my low-fat, double-shot latte I wondered if they sold roasted coffee beans I could take home. A quick scan of the big colorful blackboard behind the counter told me I could. In fact, all their coffee is fair trade and lovingly roasted on the premises. I think I just found my new happy place.'
Remember the golden rule… write as you speak. This lets your personality out. As they say, make sure you don't let perfect get in the way of great.
PRO TIP: Here's a trick I discovered a few years back when I was stuck for ideas: I go to the Notes app on my iPhone and press the record button on my keyboard. This lets me translate my spoken words into text I can quickly email to myself. I then import it into a word doc and edit. You can do the same on Androids.
Writing Copy For A Property
Most marketing copy for real estate is dead boring.
It's cold, clinical and reads like the ingredients list on a can of pet food.
Great copy is your chance to take your marketing to the next level and impress your reader. So instead of describing what a property is, describe what it does and don't be afraid to personalize it. Imagine you're a journalist describing the experience.
The next step is to identify the three main features and showcase them in your copy. These features will be the things that really stand out and will probably be the same features that attract your buyer.
Let's say your listing is a new, one-bedroom apartment/condo with great views and gym for building owners and tenants. Your copy needs to reflect the experience and excitement of coming home to your own private sanctuary.
A don't be afraid to think and write like the buyer you're looking for. That's the magic connection you are trying to create and the right buyers will see themselves in the 'photo'.
Something like:
'The first thing I noticed was the view. I stood there and drank it in. I felt like I was standing on the top of the world and it was something I would never grow tired of looking at. Even on a dull day, light floods through to every corner of this immaculate private retreat. The open-plan design actually looks bigger than it is and I could imagine hosting a dinner party for 8 around my extravagantly expensive Italian dinner table. One look at the gym, which takes up almost half the second floor, told me I belong here. Plus I'll be saving $100 a month on gym fees!'
How To Talk About The Market
If your market is great and prices are strong and moving, you can easily come up with the copy to share this good news with property owners in your area.
But it's when property values are softening or even falling that agents sometimes struggle to communicate the facts while staying positive.
And a word of warning here if I may. The current state of the property market, good or bad, is not your fault.
I notice many agents feel some responsibility or even guilt when a market starts to fall away. This is ridiculous because nobody controls the market. All we can do is the very best with what we have.
All your marketing needs to reflect the fact that you are not only a real estate authority in your area, you are also the agent with the best solution.
I think there's a great way to stay positive while communicating an accurate market summary the lets your readers know exactly what's going on.
Keep in mind, the media loves to run a real estate market into the ground with any shred of evidence. But we are marketers. We are here to support our selling clients in any weather.
If your market has fallen and sellers are spending longer on the market, you are way better to give examples of recent sales and speak in general terms about market conditions and potential trends.
For the last 20 years, most agents have never really had to be worried about a flat or falling market so they could always report record sale results and massive bidding wars but for many, those days are over and these agents and their sellers are coming to terms with a market where values are not growing quarter on quarter.
This copy doesn't need to be lengthy. You can say all you need to say in a few paragraphs and finish with a call-to-action offer of assessing the readers current real estate value.
In conditions like these, you might use something like…
Market Holding Steady In A Changing Economy

Recent sales in and around Your Area over the last month provides plenty of evidence that prices are holding steady. While the average days-on-market for real estate listings in our general area indicate that number has increased by 5% since last quarter there are many sale results that show significant buyer demand.

The sale of 27 Smith Street in Your Area is a good example. The property sold in less than 30 days and attracted substantial buyer interest resulting in a minor bidding war.

I can report that the sellers were pleased with the result having purchased a smaller home nearby.

Many sellers are contacting us to establish current market value so please call or text (number) if you'd like me to stop by.
Step #4 – Create Your Real Estate Newsletter Template In Jigglar
The final step and the fun part is logging in to your Jigglar account, hitting the GET LISTINGS icon on your dashboard and creating your newsletter.
To show you how everything comes together, there is a video shown above. Scroll back up and watch it because it takes you through everything you need to know about creating your real estate newsletter template.
Here are some points to remember that will help you stand out from the crowd.
Conforming is for boring agents. Go out of your way to be different and get noticed
Profile local business owners or identities whenever you can. Remember, the more you feature others, the higher your circulation. Champion others in your community and watch what happens!
Use great photos with light and dark sections so you can throw headings over them for maximum impact
Speaking of photos, find a way to get your personal marketing photo on a transparent background for increased impact
Celebrate the experience and delight of whatever it is you're profiling
Whether you're talking about a local business a place or a property for sale, the magic happens when you write about what it does, not what it is
Stay positive and confident in a 'flat' market. You can still report accurately on trends and results without sounding negative
Remember, Jigglar is the only online marketing platform made by real estate agents for real estate agents.
It's also the only real estate specific app that goes deeper to help agents win more listings and make more sales. It's ideal for creating your next real estate newsletter template (and much more!). You can get a free account here.