Are you struggling to get new leads? Securing an open house can be key to success. However, to make the most of that opportunity you'll need to plan ahead. That's why using open house sign-in sheet templates can elevate your game.
Along with safeguarding the interests of the homeowner, open house sign-in sheets are vital for reaching potential clients. Many people are reluctant to share their private details, so the template you're using should be simple and compelling. We understand that lead generation can be challenging in these times, but don't worry – we've got a solution.
In this post, we'll show you an effective sign-in sheet template and a few other essentials to bring to your next open house. Let's get started!
Why You Should Use an Open House Sign-In Sheet
There are many benefits of using open house sign-in sheet templates. For instance:
You boost your chances of making a sale if you follow up with your attendees.
Even if you don't make a sale on this occasion, your open house leads might be interested in viewing other properties.
You can analyze the information from your sign-in sheets to better understand your potential clients' demographics, and what types of properties they prefer.
Finally, you can build and nurture relationships that will benefit you in the future.
An open house sign-in sheet should include your name or the name of your agency, as well as the property's address and the date of the open house. Then of course, you'll need fields for attendees to fill in their own information.
An effective registration form usually features a table where visitors can leave their names and phone numbers (at the very least). If you require additional details, consider what you want to learn about your leads and make sure your sign-in sheet comes equipped with suitable fields to capture that information.
3 Open House Sign-In Sheet Templates You Should Try
Now that we've covered the advantages of using open house sign-in sheet templates, let's look at three essential items to bring to your next event.
You can try all of the following templates for free if you sign up for our 30-day trial. Our templates are easy to customize even if you have no graphic design experience, which will save you a lot of money. You'll also get access to many other resources designed specifically for real estate agencies.
1. Open House Register Template
First up, this template is an essential must-have that captures your visitors' names, phone numbers, and email addresses. It's clean and easy for people to fill in, which is crucial if you expect a lot of interest: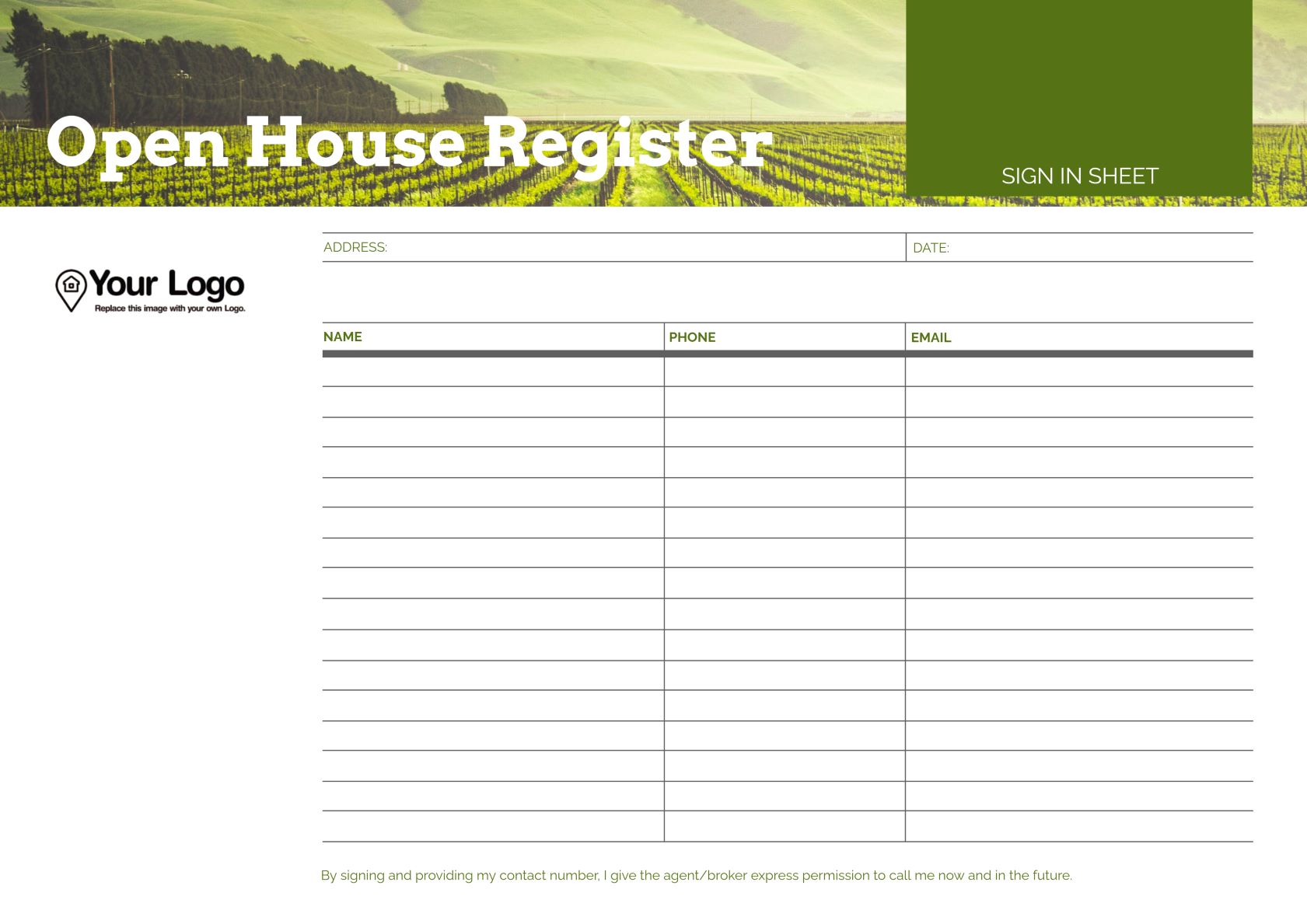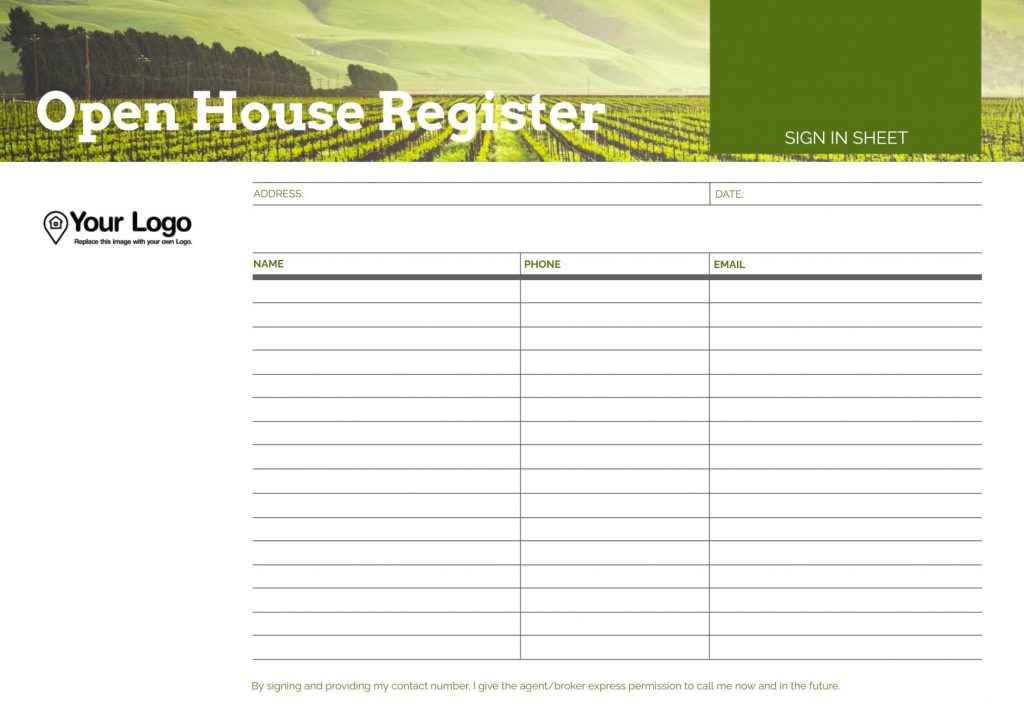 You don't want your registration area to be too crowded, as it might discourage others from using the form.
There is a note at the bottom of the sheet informing attendees that you might contact them in the future. There is also room for your logo, the property's address, and the date. Of course, you're free to replace the image and adjust the fonts to match your unique branding.
This template is handy if your goal is to gather basic information that's easy to process. Also, it's a perfect way to gain new leads for your email newsletter.
2. Open House Feedback Form
An open house feedback form asks visitors to rate the property. Our template includes a handy table where visitors can indicate how they feel about certain qualities of the house, such as the location, price, or interior.
There is also room for your logo and contact details, and you're free to add your own graphics to make this template entirely yours: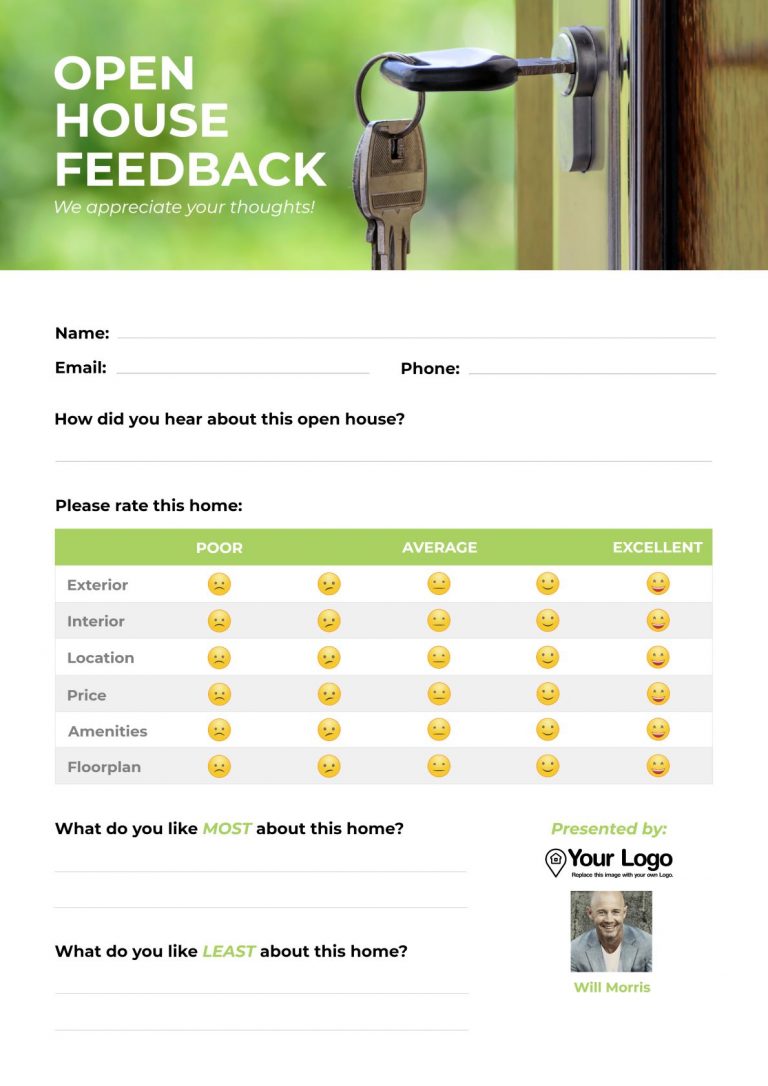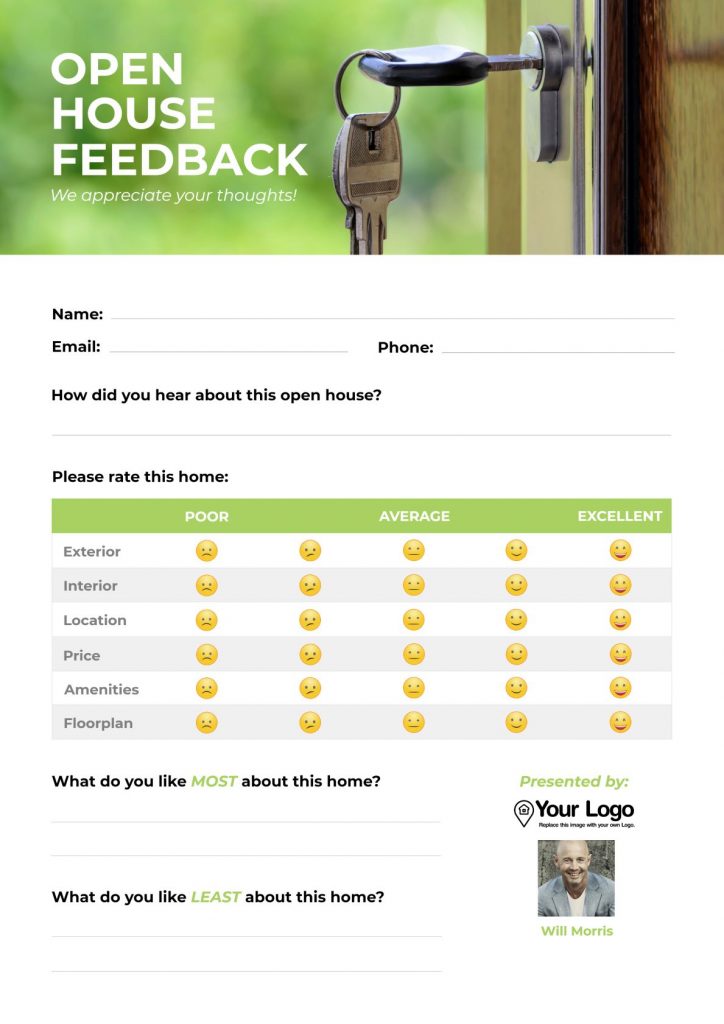 The default questionnaire asks what respondents like least and most about the property. However, you can add other questions to get key data from your leads. For example, you may want to ask about their current budget, if they have a specific timeline for buying, or if they're interested in selling.
There are many other ways you can leverage this template. For instance, you can analyze the collected data to determine whether your attendees are time-wasters or serious potential buyers. On average, only 25% of leads are legitimate, so the last thing you want is to chase after someone who has no intention of purchasing a home.
3. Doors Are Opening Again
Finally, we have an 'doors are reopening' leaflet that's particularly relevant to the current times: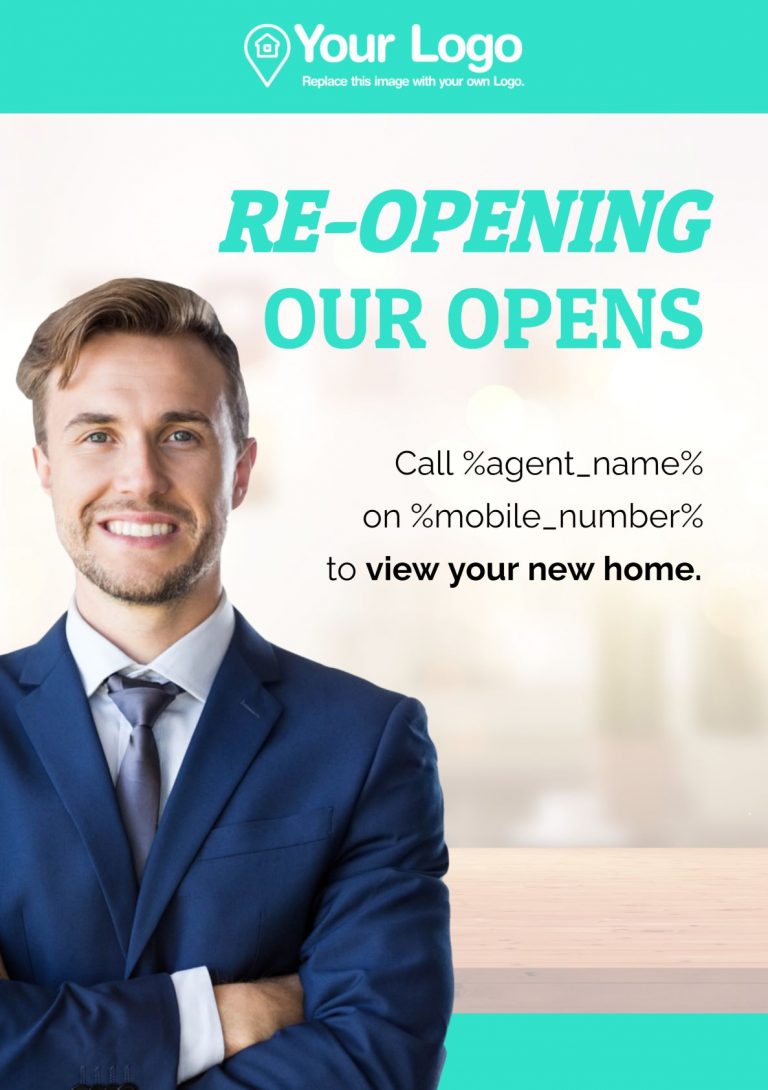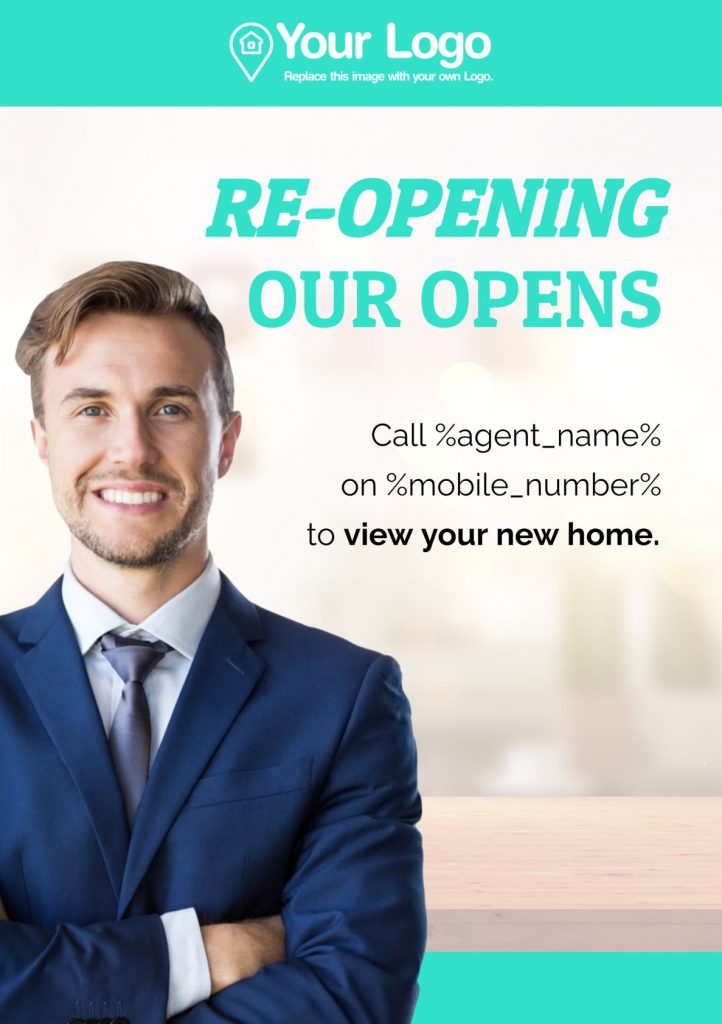 The restrictions due to COVID-19 are lifting in many places, which means there are new potential buyers and sellers for you to target. If you followed our coronavirus advice for realtors, you've probably spent your lockdown time wisely, focusing on building up your contact list. Now is the time to reach out to those leads, and show them that you're ready for action.
A simple leaflet like this is perfect for social media, or as an extra marketing material to bring to your next open house. Being able to adapt to change shows that you are reliable and resilient. These are the perfect qualities to display to potential leads, who have probably also been hit hard by the pandemic: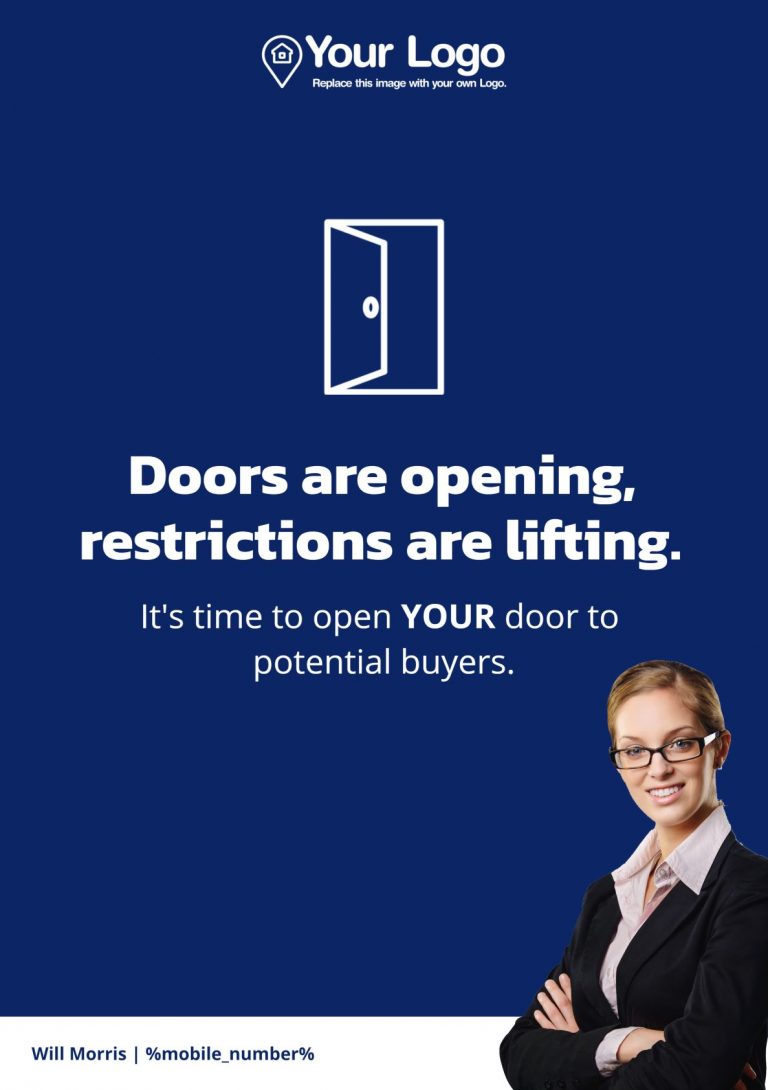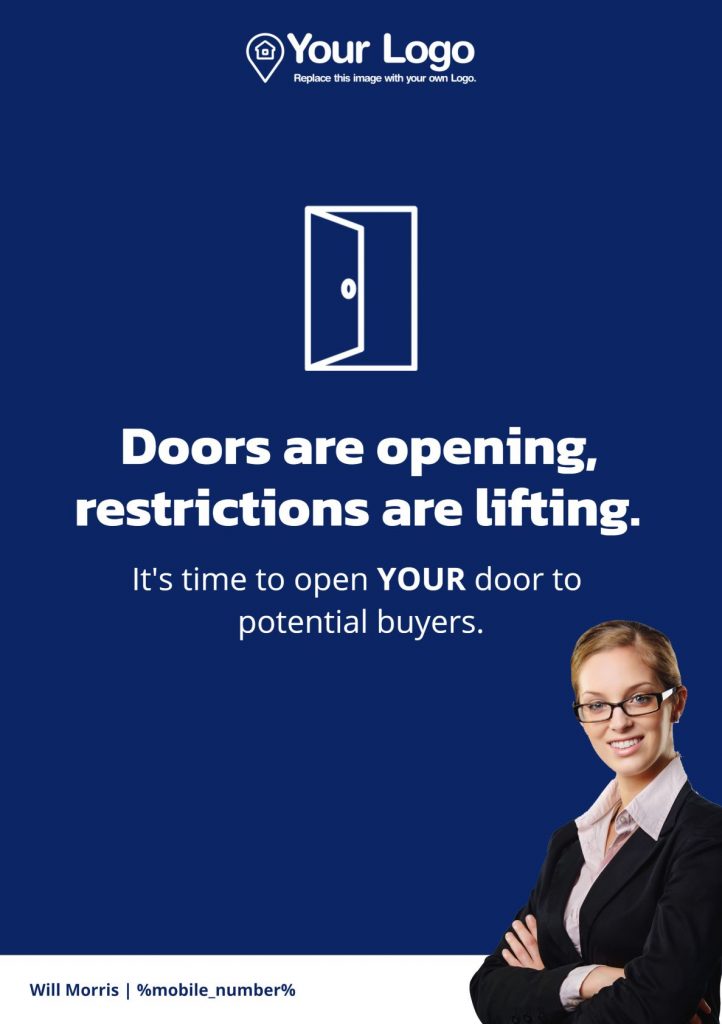 To customize the template, you can simply fill in your contact details and include your logo. Alternately, as with all of our templates, you can tweak this one to suit your exact market and needs.
Conclusion
Open houses can be an excellent opportunity to connect with potential new clients. First impressions matter, so it's important to use open house sign-in sheet templates that look clean and professional.
Realtors need to step up their game these days, so bringing just a registration form to your event is not enough. In this post, we've shown you three essential templates that can help you return to business as usual. With a sign-in sheet, feedback form, and 'reopening' leaflet, you'll be well prepared to make new contacts and nurture existing leads.
Here at Jigglar, we make it easy for you to create brand-consistent flyers, so you can focus on the other aspects of your business. Signing up is easy, and you can get started for free!