This is a repost of an article that was featured about Jigglar on Inman.com written by Craig Rowe – see the original article here.
Get started with a Jigglar account for free here.
The online digital creative studio Jigglar is now available for teams to set branding standards, collaborate on projects and better serve their audience
Jigglar is a web-based creative platform for building everything from Happy Easter postcard campaigns to real estate e-books, and it has recently announced the launch of Jigglar Teams.
Inman reviewed Jigglar well over a year ago, saying that Jigglar offers more editing freedom than Canva.
Thankfully, nothing has changed with the new feature.
Real estate teams looking to fortify brand consistency or new teams looking for a solution that is affordable and flexible on which to base their marketing should give this fun, innovative and marketing-centric platform a trial run.
Teams using Jigglar have the ability to include one or 1,000 people on an account. And while every marketing professional likely shuddered at the idea of that many people having input on a document, know that Jigglar gives the admin account the power to enforce branding standards and lock-down visual assets within a listing flyer, social media post or whatever else is being digitally assembled to sell property.
Team marketing admins have the ability to build templates and share them with specific agents for them to enter data such as price adjustments, bonus room photos and new headshots without impacting the established and oft-required brokerage information.
Users can select logos and images from their Team Library for insertion into a "Jiggle," the term used for a Jigglar project.
Admins can switch and access other team accounts when needed, and new people can be added in only a few clicks. It also allows the admin to assign management role for specific projects, such as larger community brochures or extended omnichannel campaigns.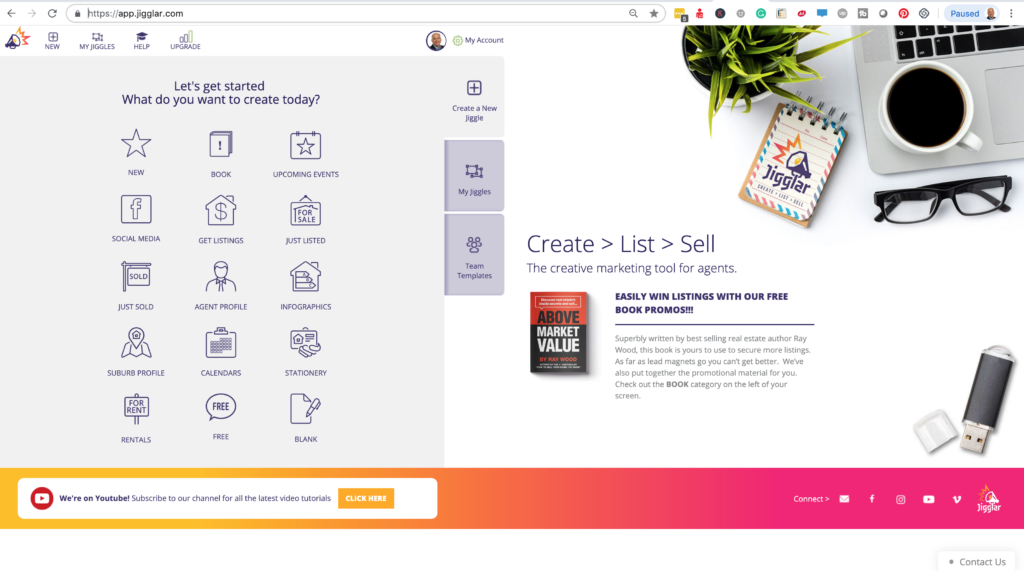 A tool like Jigglar can become a valuable competitive advantage for real estate agents because it offers efficient, modern marketing capabilities without the expensive installs, training and learning curve of the one-time industry standard — Adobe Creative Suite.
Jigglar's creative team is constantly adding more templates to its library of designs, ensuring a fresh new look whenever needed. This translates into faster creation of new materials and outreach tactics never growing stale.
It should be noted that while Jigglar makes design easy, it can still be dangerous in the hands of an agent pressed for time or lacking visual creativity.
Thus, a true marketing specialist should still be at the helm of your online marketing to compound your return on investment.